POV Holder:
?
Next POV
July 18th
POV Used
?
POV Ceremony
July 20th
HOH Winner Team 1:
Liz
HOH Winner Team 2:
Shelli
Nominations 1 :
Jackie & James
Nominations 2:
Jason & Johnny Mac
Battle of the Block Winner
James and Jackie
Next HOH/ Next BOB
July 23rd / July17th
Original Nominations:
Jason & Johnny Mac
Current Nominations:
?
Have Nots
?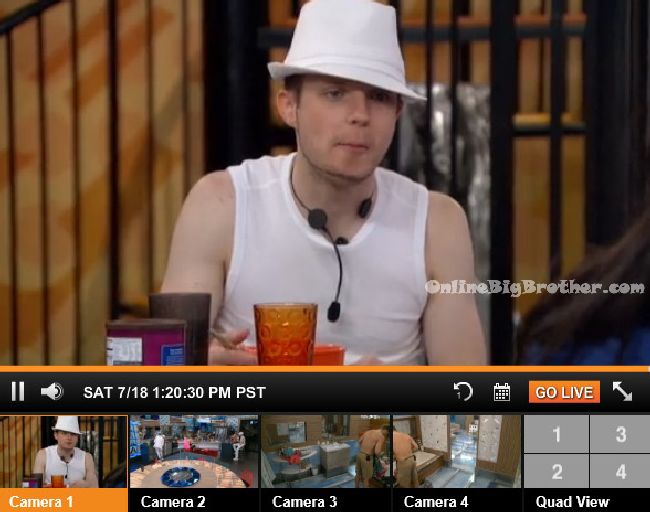 TRY the Big Brother 17 Live Feeds FREE for 1 WEEK:
Click here
to ensure your live feed subscription supports OnlineBigBrother.com at no extra cost to you.
12:20pm – 12:50pm Bathroom –
Vanessa, Austin and Shelli talk about how they're waiting for "them" (Johnny Mac, Julia & Jason) to come out of the diary room to do their backstreet boys. Austin says I'm waiting for them to do this "Whack street". They're in there setting it up. Getting their pagers. Austin says they've been in there for at least 30 minutes. Clay says dude they are rehursing for ever! This is a legit show! Austin says they probably gave Johnny Mac a guitar. Big Brother blocks the feeds.
There is a lot that will likely happen today: house guests will draw veto players, play in the veto competition, Whack Street Boys dance/beepers, Have-nots will be assigned (Likely as punishments in the veto competition), and the havenots will learn their extra food this week is grunge cake.
The feeds return to Johnny Mac, Julia and Jason in their Whack Street boys outfits. (They had just performed a dance routine for the other house guests while the feeds were blocked.) Liz says it took a long time to learn the routine. They talk about how someone came in to teach them the routine. Jason says we can't do any boy band copy righted moves either. I didn't know dance moves were copy righted. They told us don't sing any boy band music. Vanessa says its awesome they (Liz, Johnny Mac and Jason) get called with the beepers. Liz says its funny because we're not even allowed to wear white and now look at us. Jackie says you guys are amazing. Jason comments that they've been building all day.. it must be a night comp. Johnny Mac says I've never worn white pants before. Jason says we're on strike .. you're TLC'ing us. Jackie says hopefully you don't have to do it in the shower. Jason says if I have to do it in the shower I will burn everyones shoes. Jackie asks why? Jason says because that's what TLC did when they learned they were making no money because they signed a sh*tty contract.
Watch the next week of the Live Feeds for FREE:Big Brother 17 Live Feed Trial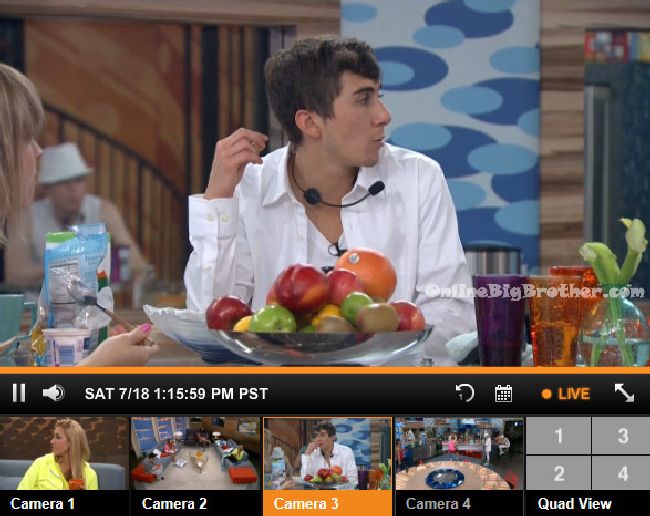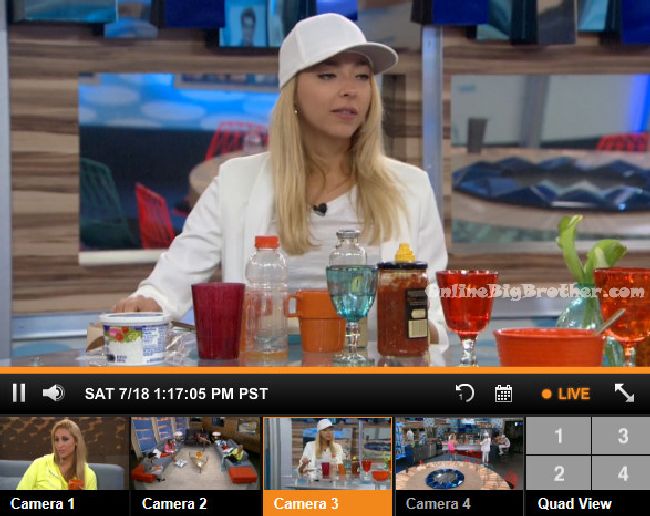 1:30pm – 2pm Big Brother switches the live feeds to the big brother live feed highlights … likely for the Veto Players to be picked.
When the live feeds return – The house guests are leaving the living room. Jason says this just puts more fire in me. Steve tells Jason if its the reward / punishemnt its better for you because people will be going for the rewards. Jason says that if is me Vs Johnny Mac still on the block I will not do him dirty
Up in the HOH room Shelli and Clay talk to Meg. Shelli says the veto pick is pretty good in Jason's favor. Meg tells Shelli Jason isn't coming after you if this has anything to do with Day. Shelli says I would like to save Jason if I can. Meg says Johnny Mac would be pretty solid up there if he stayed up. Meg says that Audrey is going to make up stuff about Jason. Meg says this week will be a lot dirtier if Jason is still up there. They talk about the possibility of putting Audrey up on the block. Vanessa says James, You, I will, Clay will not vote out Jason. Meg says that Jackie and Becky will not vote out Jason. Vanessa says I don't think there is anyone that isn't down for this. Meg says if James or I win the veto will have to take him down.
Veto Players Picked: Shelli, Jason, Johnny Mac, Vanessa, James, Meg,
Veto Host: Steve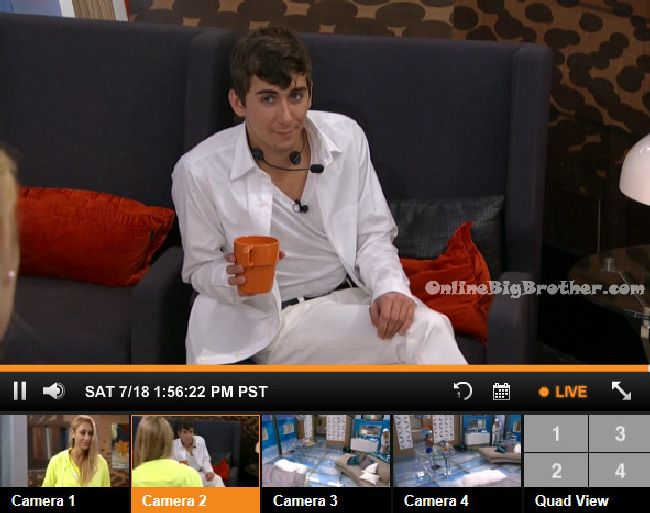 2:10pm – 2:20pm James joins them in the HOH room. Vanessa asks would it make it easier if someone else wins so that you don't have to make a choice on who comes off? It might be worst case if you win Shelli because then you're fully responsible for taking someone off and putting up a replacement. Shelli says if its a luxury competition I am going for money and trips. Shelli says I need to be forced to make the decision. Its better if one of the noms win the veto. James says if one of us win the veto what do you want us to do? Meg says I said we would pull off Jason. James says okay. Jason is ready to run through a brick wall. Johnny Mac is the veto king. Meg says that she doesn't think anyone wouldn't be on board with Audrey going. Vanessa asks James is there anyone that would vote to keep Audrey over Johnny Mac? James says I don't think anyone would vote to keep her. Clay asks if for some reason she escapes this week and you won HOH would you promise to target her (Audrey). James says oh for sure. Meg says she would too. Vanessa says I've already said I would. James says you already have 4 votes solid. Clay says Shelli doesn't vote. James says oh shoot. They think it will be a unanimous vote. But wonder if there would be another random vote. Shelli says I'm ready for the bomb. I don't want anyone leaving here saying Shelli is doing this.. They all agree they won't say anything. Clay says either way we have time after the veto to think about it.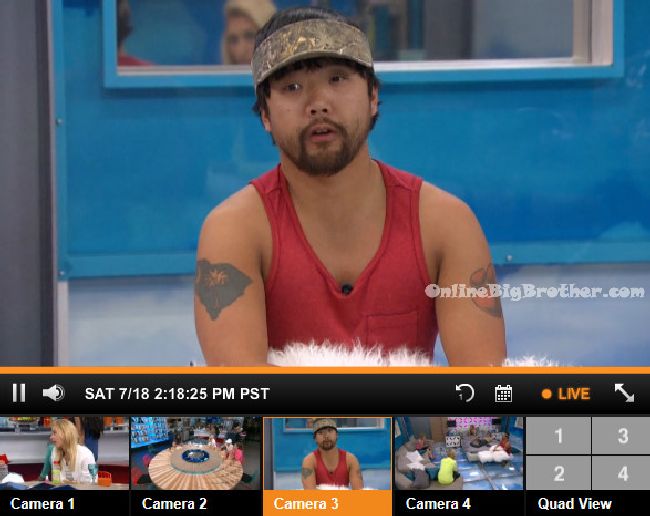 2:25pm Vanessa asks Austin is it good for me to win it? Austin says yes, you want to win it. Its good to have control in a helter-skelter world. Austin says this is going to change everything. Its good for Shelli it gives her the chance to make relationships. Audrey joins them and asks what she's doing. Vanessa says I don't know I just need to win it. Audrey asks what do you think is the worst case scenario? Vanessa says I'm not thinking negatively. I've already told you I don't like to think to far ahead. Audrey says I think you and Shelli both have a great shot at it.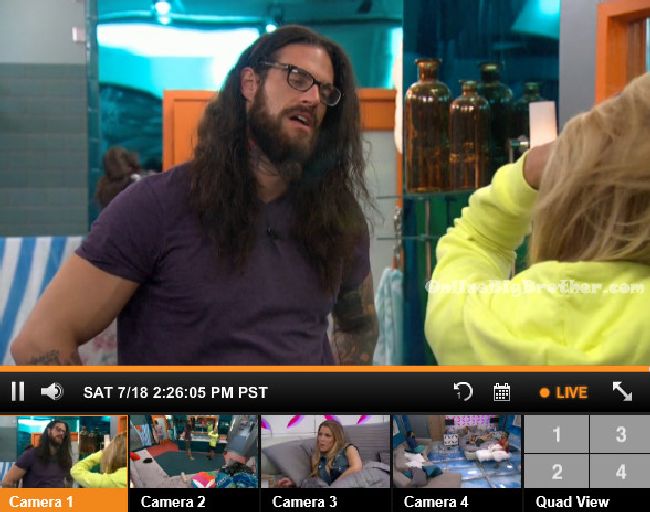 2:30pm – 2:50pm Jackie joins Shelli and Clay in the HOH room. Shelli says oh yeah you wanted to talk to me last night didn't you? Jackie says no I didn't .. Audrey said that. I took your advice to talk to her more and then she does that. Jackie asks did you guys vote to keep Jeff? Were you the other two votes? Johnny Mac Joins them and asks so whats the plan? Shelli says go out there and win it like you do every week. There really isn't a plan this week. I assume it will get used. Johnny mac leaves. Shelli tells Jackie to answer your question .. sadly no we were not the other 2 votes to keep Jeff. Jackie says aw damn I thought maybe he got you in the last second. They wonder who the votes were and why no one will come clean about it. Jackie says that Austin is weirding her out. Shelli says I get the same vibe too. Shelli explains the chaos and stress of the night trying to decide the nominations. Shelli tells Jackie I think Austin coming down to tell you, you were the pawn .. I think that was to protect you. Jackie asks why? Shelli says I think he likes you. I don't think he strategically thinks through things a lot. Jackie says okay I can give him that. But this is the third time I have been told I might be a pawn with his people. Like why am I a target for his people?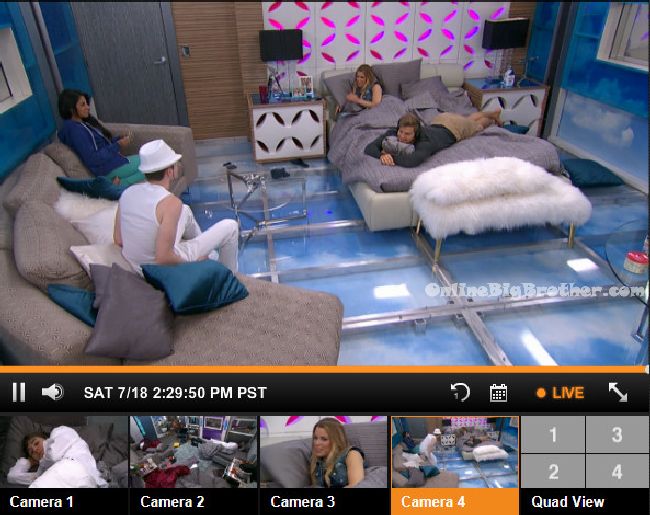 2:35pm Storage room – James tells Audrey that he will probably pull Jason down if he wins because he picked me to play in the veto. I'll have to tell Johnny Mac. Audrey asks they didn't talk about replacements did they? James says no they didn't. Its too early to think about that. Audrey says I don't think I have anything to worry about. James says yeah especially with Shelli up there. If it was Liz then maybe but.. Audrey asks why did you hear something. James says no. Audrey says no one really knows where she stands. Audrey asks are you going to try and win it? James says yeah I don't like throwing comps. Audrey says either way I think Johnny Mac has pretty good shot at staying. James says I think Shelli won't try and win it because she doesn't want more blood on her hands. Audrey says I think the opposite it would be better if she did win it because then she wouldn't use it and not get any more blood on her hands. I think the replacement would be Steve. Otherwise it would have to be me or Vanessa and I don't think they would do that. Audrey says I could see them putting up Meg against Jason.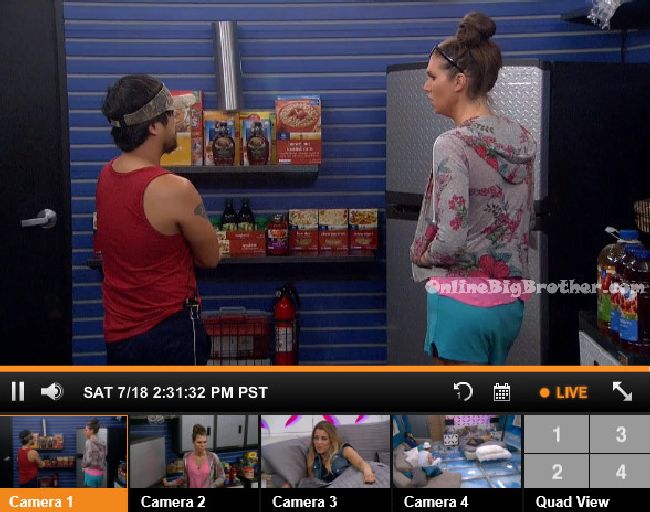 2:50pm Julia paints Austin's nails in the kitchen.
[envira-gallery id="122385″]
3:30pm Lots of shit chat about music.. Waiting for the POV to start.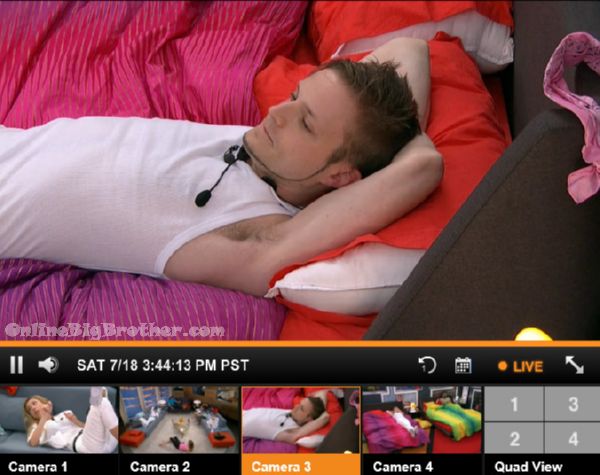 3:42pm James and JohnnyMac
James says he's going to be fine this week. everyone has his best interest.
Johnnymac says this is the 12th competition he's been in.
James – No way 12
JohnnyMac – I've never been on the block past the veto.
James's- there's going to be a lot of people pretty scared if you win HOH
James thinks because so many HOH's have put JOhnnymac up he'll have a easy time choosing targets.
James says he's been nominated 3 weeks in a row
JohnnyAMc – it's a b1tch
Johnnymac – you know James you never put me up I appreciate it.
James again tell Johnnymac he;'s safe this week.
4:21pm Chit chat waiting for Veto
Jason tells them Perez Hilton was on Celebrity Big Brother and he was Vile, says he set gay people back 20 years for how he acted on the feeds. Jason doesn't like him says his website isn't even popular anymore.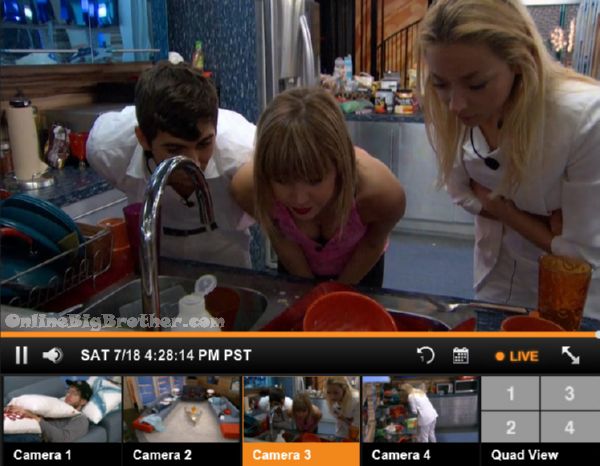 4:29pm They watching the ants hauling all the food back to their nests.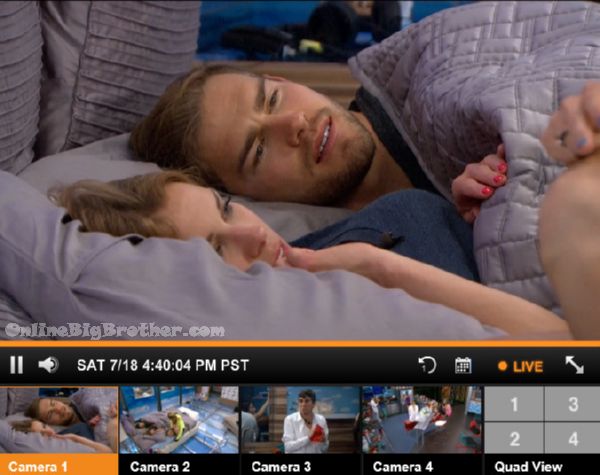 4:39pm HOH Clay, Shelli and Vanessa
Sounds like the plan is to backdoor Audrey.
Vanessa – it's the best that I win
Clay is thinking it's better for them to have JohnnyMac up against Audrey. If it's Audrey and Jason she might have a chance.
4:48pm feeds down for POV competition.
6:31pm No feed never
Live Feed subscription gives you CBS All Access thousands of archived shows. Live Shows like Big Brother, all the Big Brother Seasons, and 24/7 coverage of what is happening inside the Big Brother House. Plus there's flashback that lets you go back to any second of the feeds and rewatch what happened. Simon and Dawg will index the season just watch the parts worth watching. All this for $5.99 a month try it out 1 week free. Support our efforts and get your feeds via a link on this site. Live feed subscription Sign up
[polldaddy poll=8983592]
Share it YO!!
Tweet