POV Holder:
?
Next POV
July 18th
POV Used
?
POV Ceremony
July 20th
HOH Winner Team 1:
Liz
HOH Winner Team 2:
Shelli
Nominations 1 :
Jackie & James
Nominations 2:
Jason & Johnny Mac
Battle of the Block Winner
James and Jackie
Next HOH/ Next BOB
July 23rd / July17th
Original Nominations:
Jason & Johnny Mac
Current Nominations:
?
Have Nots
?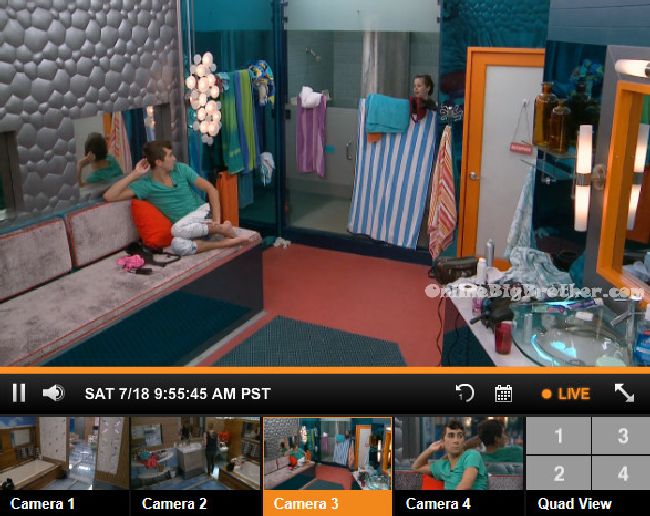 TRY the Big Brother 17 Live Feeds FREE for 1 WEEK:
Click here to ensure your live feed subscription supports OnlineBigBrother.com at no extra cost to you.
9:40am Big Brother wakes up the house guests. Meg is showering and talking to Jason. Meg wonders if anyone would take him off. Jason says that its pretty much me. Unless I can get myself off and then they're going to find someone. Meg thinks something is going on. Jason says she (Shelli) is not the backdoor type.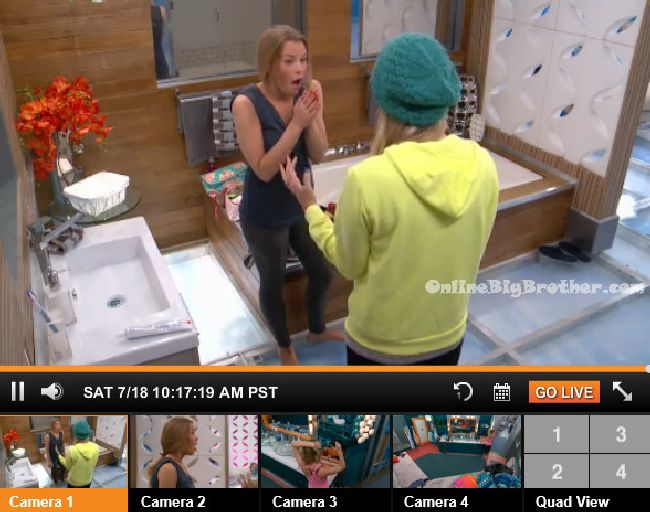 10am – 10:40am HOH room –
Clay brings Vanessa up to the HOH room to talk to Shelli. Vanessa says I'm sorry people were up so late coming up and bothering you. Shelli says that Johnny said Austin told him to pick him. Then Austin came and told me that John picked him. I don't know why he is playing like there is some ulterior motive. I believe John. That he (Austin) approached John. I get to pick who the house guest choice is. Vanessa says she doesn't think Austin is untrustworthy. I don't think he is untrustworthy. I don't think he has ill intentions. I think he can be immature and emotional. I think he has a good heart. Vanessa asks who do you want to do it? I felt like I was sleeping with (Audrey) the enemy. Knowing this bit*h is sleeping next to me. Talking sh*t about me right in my HOH room! Right after I told her I was going to do a campaign to clean up her image. Its worse than what Jeff did because she was actually an ally of my. I loath her. Vanessa says I am ready to win the veto and then use it. I want to stand up and say I'm going to use it and I really hope you put up Audrey. Shelli says wow!! Vanessa says I am ready to publicly go off on her like I did to Jason. I believe Jason over her. Clay says Audrey says that's how you know I'm not lying when I swear on my life and I caught her in a lie that she said that. Vanessa asks what did she lie about? Clay says EVERYTHING!! Vanessa says I will call her out! I have so much so much! The hypocrisy of it. The audacity of it! Vanessa thinks Audrey is panicking because she thinks I told you everything. Clay says you, me and her are on the same page with how we feel about her. Vanessa says my feelings are hurt. I don't understand I was so kind to her. Vanessa says maybe she is like clinically paranoid. Clay says she is trying to stay week to week. She will say anything. Vanessa says I am boiling inside! Something is about to explode! Way more than I did with Jeff! Shelli tells Vanessa she doesn't want to explode 2 weeks in a row. It will look like you're a loose cannon. Vanessa says I always knew I couldn't trust her but never thought she would do this! Shelli says that Audrey thinks the best cast scenario is the veto isn't used. Vanessa says I hate sitting next to her. I hate it!! Shelli heads to the diary room. Clay says Audrey can't know anything.. she might get drawn for the POV. Clay tells Vanessa that he trusts Jason way more than Audrey. I feel really good about James. I think he is trustworthy for now. Vanessa asks who do you think Audrey is better to go up next to? Johnny Mac or Jason. Clay says people might keep her because she's a bigger target. Vanessa says I think is better she's up against Jason. Clay says but she has way more to campaign against Jason. Vanessa says we have the votes. Vanessa says If I win the veto I would make it clear we want her out and that no one should trust her. In private we can just tell people if they're seen talking with Audrey they would be a target.
Try the Big Brother 17 live feeds FREE for 7 DAYS:Subscribe Now!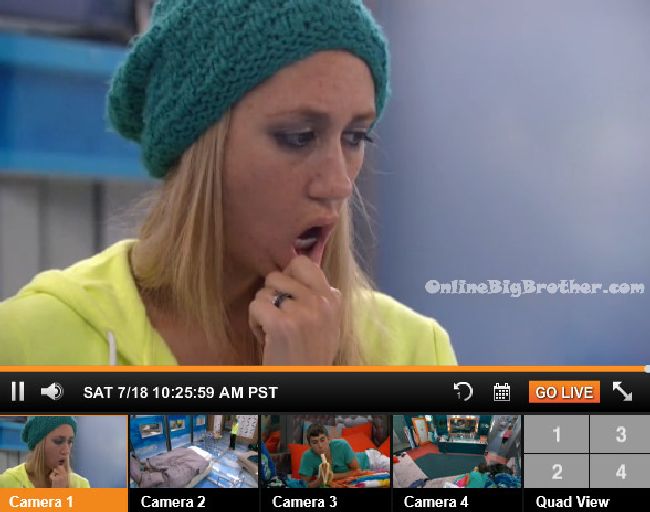 10:45am – 11am Vanessa asks Clay what Shelli meant about being able to trust Austin. Clay says we have to watch what we say around him which makes me wonder what's the point. I know he is a number and wouldn't do anything intentionally to hurt us. I don't think he is disloyal. He looks out for his own self interest. Like him running down to tell Jackie she is the pawn. If someone said they were going to send him home. I wouldn't be upset about it. Vanessa says right.. I think its good to have him over the next few weeks because he brings Liz and Julia. I have the same concerns about him too. I think he misses Liz now. Clay says he gets more and more emotional. It's fine but I think it will be the death of him in this game. If he left this week I wouldn't lose sleep about it. I don't think he is on the game level that you, me and Shelli are on. Vanessa says I can't tell you how much I want Audrey gone. There is no point in having her her. She isn't loyal and we can't count on her vote. I don't think she has our back with the seeds that she plants with people. Clay says when you talk to Shelli we can't push it on her. She is scared if she puts her up she might not go home. She knows that Audrey has to go though. Vanessa says I can guarantee you she would go home with every fibre of my being. If she wants to throw out our alliance .. she has alliances with people too. Vanessa says I admire you for how well you keep it in around her. I want to go off on her. Mad respect. Austin joins them. Austin says this one I definitely want to win. They talk about how the POV might be the reward / punishment one. Austin says that might be why they haven't picked havenots yet too. They talk about how paranoid Audrey is and how this is the last week she should be paranoid. Clay asks Austin did you ever tell Jackie she was a pawn. Austin says no. She pulled me into the parlour room and said that I think Liz might use you as a pawn.. you should go talk to her. Clay says if Audrey gets picked just re-enforce to her not to use it if she wins.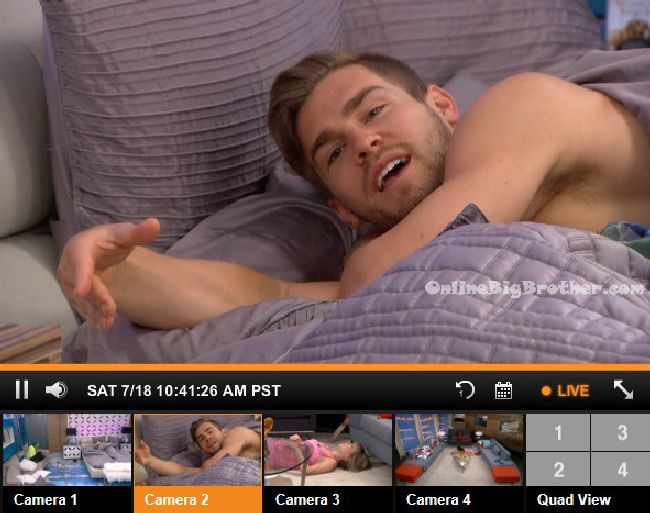 11:10am – 11:20am Johnny joins them in the HOH room. Austin tells Johnny Mac to pick him to still pick him if Johnny asks if we knock out people we knock out Jason? Big Brother blocks the feeds. Austin says if Julia does come in the house and the other side wins HOH .. I think they would just put both of them up.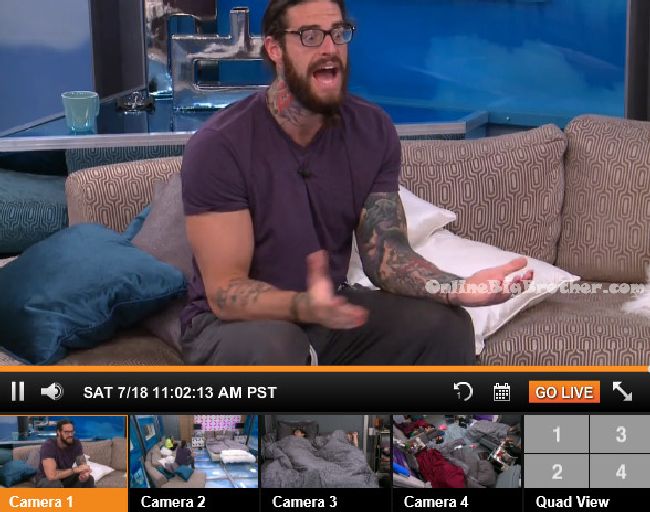 11:20am – 11:35amClay and Shelli are alone in the HOH room. Shelli is crying. She asks Clay if he talked to Austin and wants to know what everyone else thinks. Shelli says she wants to trust Audrey. Why can't she just .. Clay says I know. We'll figure it out. Clay says I said SHelli has to do what she wants to do. It's her choice. I said that you were terrified if you put up Audrey and she stays. Clay says you have done so much for her and she does not deserve your time in this game. I'm not saying she is a bad person but she does not deserve your time in this game. She is a threat and has voiced that she is coming after you. What is she doing to help your game. Shelli says you're right. That's a good point. Clay says if you don't want to be the person to put her up then don't. I will try my hardest to win next week and put her up. Shelli says I am not worried about Vanessa. Her being that upset helps me. Clay says you're asking why can't she just be loyal. You don't know what her game is and if she's getting paid to do things. She might just be trying to get week to week. Shelli says that's not a great argument because someone like her deserves it. Clay says she might being doing it just because that's the way she is. Shelli asks what if there was some type of twist and she stayed and came after you. You know she would do it just despite you. Clay says if you don't do it. …you know for damn sure we will do it next week. Vanessa will, Austin will. The plan was never to backdoor her and your reasons would be justifiable. Shelli says some things would come out and I would need to give reasons. Vanessa is going to go off and I don't want her to look unstable.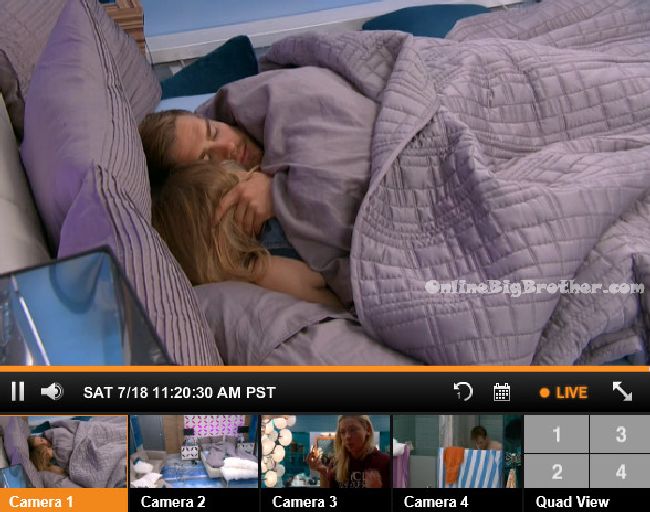 Bathroom – Vanessa tells Austin what he did / said up there was perfect. That's what I love about you. Vanessa tells Julia and Austin I would be so depressed if I didn't have ya'll. People that I can trust.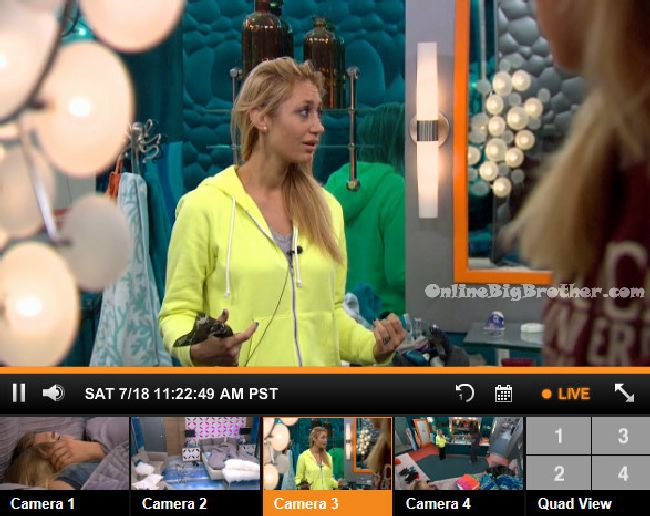 11:40am – 12pm Big Brother blocks the feeds. Vanessa comes up and tells Clay and Shelli that she really appreciates them talking and asking questions together. That's what an alliance should be. It's hard to find. Ya'll are good people. You two are both really really sweet people. Shelli says awe that's nice to say. Clay says its nice to feel valued. Vanessa says I know it was hard for you to tell me what Audrey said. I really look up to Clay for the way he handles it around her. My inspiration is you. Vanessa tells Shelli that if you picked me I would use it if I won it and you wanted me to. I am really good at campaigning and will make sure everyone votes for her to go. Vanessa says that she can guarantee how Austin and Liz vote too. Shelli says we will talk more but depending on what happens with the POV things are about to get crazy!! Vanessa and Shelli head down stairs.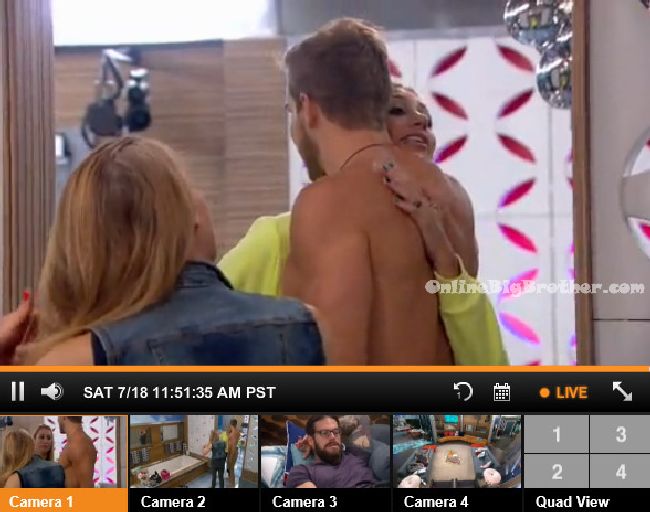 Live Feed subscription gives you CBS All Access thousands of archived shows. Live Shows like Big Brother, all the Big Brother Seasons, and 24/7 coverage of what is happening inside the Big Brother House. Plus there's flashback that lets you go back to any second of the feeds and rewatch what happened. Simon and Dawg will index the season just watch the parts worth watching. All this for $5.99 a month try it out 1 week free. Support our efforts and get your feeds via a link on this site. Live feed subscription Sign up
[polldaddy poll=8983592]
Share it YO!!
Tweet