Want to watch the Big Brother Canada 5 live feeds but live outside of Canada?
Bypass the geoblocking with HideMyAss VPN and be Canadian Anywhere: VPN Help Guide
Big Brother Canada 5 Week 3 Nomination results
Nominations are happening soon. OFFICAL **Neda says she will be putting up Cassandra and Jackie. Primary target is Cassandra secondary if POV is played on Casandra is said to be Gary. Eviction is a world away so none of this is in stone. (The pawn always seems to go home)
Tomorrow the Power of Veto is played**
10:00am Neda and Kevin
Neda tells Kevin they have their 5 votes and EMily and Dillon enough to evict Cassandra.
She's not worried about Cassandra coming back pre jury they'll just get her out again.
Kevin wonders who leaves if CAsandra wins Veto, JAckie? Neda says it's pointless they should get rid of Gary. (Ohh shit)
William comes in and wrestles with Kevin.

Dillon's got all the moves

Neda tells Demetres that Cassandra is the only person that threatened her game. Neda tells Demetres she wants him to play in the POV to win it so it's not played.

11:13am Ika and Cassandra
Ika – I feel like EMily and Dillon feel safe
Cassandra – they are safe they are not going up
IKa says the other people that are in trouble would be french connection, Jackie and Cassandra.
Ika says Neda knows what she's doing and when she says she doesn't she's lying.
11:18am Ika and William Storage room
Ika says it might be Cassandra and Jackie. If that's the case they should get rid of Cassandra. William says Cassandra is like a shield for them.
11:40pm Jackie and NEda HOH
Noon Cassandra and Neda HOH
12:32pm Jackie and Cassandra Bathroom
12:40am Jackie and Ika
12:45pm
Neda tells Ika that Cassandra threw everyone under the bus.

1:00pm Jackie Neda Bruno HOH

Cassandra and Ika bedroom.
Cassandra goes over her conversation with Neda. Says she only brought up Dillon and Emily as targets. Ika plays dumb says that Neda never gave her a solid answer of who is going up.
Ika calls Dillon and Emily "Dumb and Dumber" Adds that she;'s pissed that Neda is so close to them all of a sudden.
CAssandra- everyone is going into her room saying Dillon and Emily
Ika – I don't want to go into her room..
Ika – Sindy is so F***G annoying she's shady as hell
They agree Sindy doesn't like Ika she's jealous of Ika.
Cassandra – she (Sindy) has something against you.. don't let your guard down.
Cassandra tells Ika that she doesn't need Sindy she has CAassnadra "And I'm never going away from you"
Ika says Neda is pissing her off.
Cassandra – my favourtie Newbie is Dre
Ika agrees.
Cassandra – Jackie is trust worthy she's loyal.
Ika says the problem with Neda is so many people respect her and will vote for her to final 2.
5:03pm Feeds down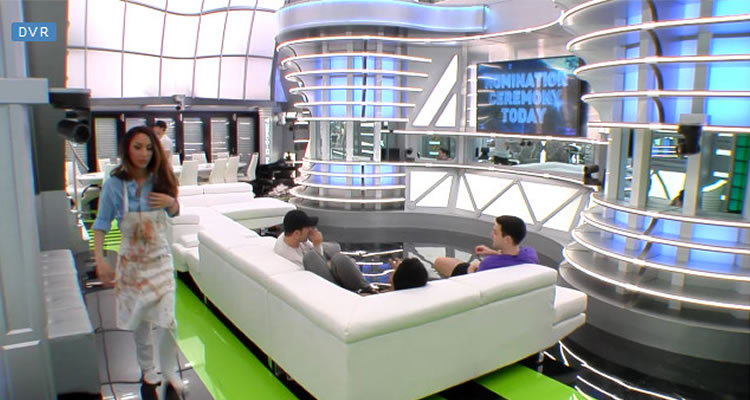 5:49pm Feeds back Nominations haven't happened yet!!!
Have nots picked.. William, Cassandra
6:05pm jackie and Dre
Dre says that Cassandra threw all their names out to Neda.
Jackie – I feel so betrayed.
Jackie asks her to pull her away if she gets "heated"
Dre says Cassandra is the bigger threat.
Jackie points out that Cassandra didn't even give Dallas a vote that proves how disloyal she is.
Dre – do you feel it's newbie vs veteran war
JAckie – I don't think it's like that.. doesn't feel like that.. 2 vets outta the door
Dre – they are going to turn on each other..
While this conversation happens Neda is downstairs with a collection of other houseguests. She says after her alliance was shattered Sabrina became a useless player and that is why they kept her around. Demetres pointed out that Sabrina won 20 grand. (Sabrina added so much freaking value to the feeds that season.)
6:52pm Kevin and Karen Storage room
Karen is complaining about the game and how manipulative people are. She's talking about Dallas in particular. (If you watch the Kraken hour on youtube this is an example of 9 Kraken moment.)
Prior to this conversation Cassandra was in the storage room with Kevin saying she didn't think Neda would put a Vet up. (She's fishing for info)