Want to watch the Big Brother Canada 5 live feeds but live outside of Canada?
Bypass the geoblocking with HideMyAss VPN and be Canadian Anywhere: VPN Help Guide
Catching up..
Dallas was evicted by a vote of 12-0 his pots and pans from last night didn't work.
Neda won the HOH. She's safe until Jury so should have no excuse to make a big move.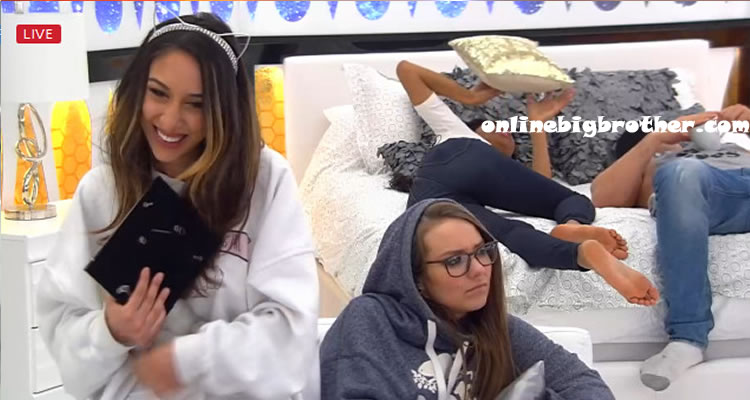 9:09pm Ika and Jackie
Ika says people are waiting for others to trickle out so they can be the last ones in the HOH to say something to Neda.
Ika- it's crazy how comfortable Dillon and EMily are.. They don't look worried at all
Ika – Something's up
Jackei – I don't feel comfortable.
Ika – nope.. She's (neda) is sitting on Emily right now
Jackie wants to get to jury get to finale
Ika says she never made it to Jury her season she went out the following week.

9:14pm Cassandra and Ika storage room
Iak says she's scared because Emily and Dillon are so comfortable.
Cassandr a- I don't think she'll put up 2 vets she wants Vets in Jury
ika thinks Neda will put people that respect and like her in Jury
Ika says Dillon knows Jon in real life so he'll vote for her, "She trusts him"
Cass – think she'll put 2 newbies up? think she'll put me up?
Ika – I don't know
Cass – I'm worried about Dre and Jackie..
Ika doesn't think she'll put 2 girls up but Jackie might go up
Ika doesn't see Neda putting her up Cassadnra now claims she doesn't see herself going up.
CAss – i'm surprised, why did she want it so bad..
Cassandra asks Ika to put a good word in for her.
CAss – f*** I knew all the answers.. I knew the tie breaker,.
Ika – Tomorrow's nominations.. I'm going to bed
9:20pm Bathroom Kevin, Demetres and Ika
Kevin and Demetres are fist pounding. they say they have nothing to worry about this week and will go with whatever Neda wants. Ika and Kevin point out how nervous Jackie and Cassandra are.
9:22pm Storage room JAckie and CAssandra
Cassandra points out that EMily and Neda are best friends now. Wonders if the noms will be Dillon and Jackie.
Cassandra wishes they had won HOH "WE knew everything"
Jackie wonders if someone intentionally "Moved them" Feeds cut (HOw convenient)
9:25pm Ika and Neda bedroom
Neda's sketchy this sketchy that..
Ika – why are we keeping EMily and Dillon around.. I don't get it
Ika says if Neda puts two girls up on the block "It might look bad for you brand" (HUH)
Neda is leaning towards putting up Jakcie and Cassandra
Dre comes in
Neda says Dre is safe this week.
Neda – the house wants Jackie and Cassandra
Neda says Cassandra has made a final 2 with everyone in this house..
Emily and Bruno HOH
Emily says ?no name given? said she doesn't like Ika and Sindy and that she's going to put them up
Bruno warns her to watch out what she says around her.
Emily – I hope Neda puts her up.. I get to breath for a bit
Bruno – we killed it last week.. Killed it.. So good you're still here.. I need you here..
9:45pm Kitchen Gary and Ika
Ika – Cassandra and JAckie are on going on the block
Gary – good
Ika adds that Neda make a deal with Dillon, Emily, Kevin, Bruno, Sindy are together
Gary – that' a lot of people
Ika says that Neda, Kevin and Bruno is well protected in this house. Those 6 people are in something.
Gary – I dunno that's a lot of people, First things first it's not me
Ika – as a replacement.. I thought she said your name.. did she say Gary or Karen
Gary – as a replacement.
Gary – Neda is well protected. (No shit she's got the power)
Ika – Dillon knows Jon in real life..
Gary – I wish I knew what it's like to have a large group of people
Ika laughs says they do Dre, William, her and Gary
Ika – how are we going to win..
Gary – by playing it week to week.
10:00pm Gary and Karen
Gary says JAckie sketches Neda out "It's a mini her"
Gary – I wonder who she wants out of the house.. Neda knows the game and she knows I'm a strong player. I know she's keeping tabs that this is the second HOH I'm 1 away.
Gary says Risha was never given a chance. Gary says he met her thinks she would have really "Sexed it up"
Over the speakers jackie is called into the diary room.
Gary – she's got to go next..
Karen says the french connection and Casandra is trouble
Gary says when Cassandra goes the french connection will be looking for "another mother"
Gary says William is "Confused" says he doesn't know if he's "Fem or Masc" "red or Blue" "Up or down"
10:23pm Neda and Dre Bathroom
Neda says Bruno and Kevin are not after Dre.
Neda says she was excited about Cassandra being in the game "Two Persian girls dominating"
Neda – do you agree with that decision Jackie and Her
Dre – I thin Jackie is really cool
Neda says she's going to make it really clear that JAckie is not the target Cassandra is.
Neda lists off the people that want Cassandra out: Ika, Dre, William, Dillon, Emily, Gary
Neda – I can control Dillon to go after guys over you guys..
Dre is worried about Kevin and Bruno
Neda says everyone "you" talk to says Kevin and Bruno so she suggests they let everyone out take them out.
Neda – everyone has admitted to me tonight that she's made a final deal with them
10:46pm Neda, Kevin and William
Neda tells William he's safe this week. After Neda leaves kevin says to William neda told him he's safe too.

11:12pm Ika and Dre
Ika fill Dre in that Neda has a deal with Dillon, Emily, Bruno, Kevin
Dre wants Dillon, Sindy, Emily, Kevin and Bruno gone.
They both want to keep Cassandra but would rather keep JAckie.
11:50pm HOH Neda and Emily

11:55pm HOh Dillon and Neda
12:12am CAssandra Ika and Demetres poolside
(CAssandra Ika and Demetres poolside)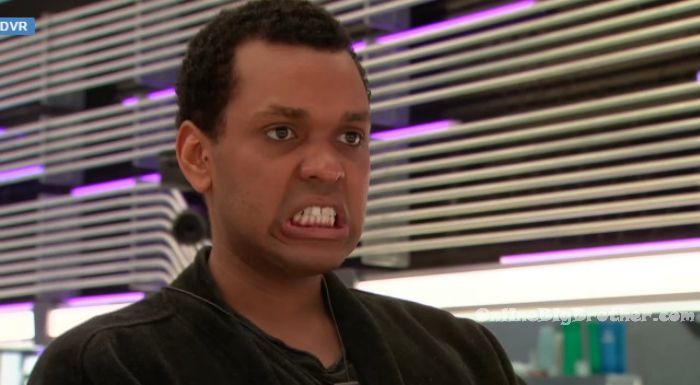 1am Bathroom – Cass and Gary. Cass – can I vent? Why is Neda Canada's vote? One week, the next week she wins HOH. Why is she the favorite and not me? Gary – everyone is a favorite. Cass – why is she is she winning? Gary – she's not winning, she's just in the future. Cass – can we get to final 2, you and me? Gary – yes. Cass – I didn't get a letter. This is like the only competition I could have won. Gary – there are so many competitions you can win. Cass – that use my brain? Cass – Lets make sure we're not nominated. Gary – lets not hustle though. You think we should hussle? I don't want to talk to her (Neda) and make her feel like I'm begging her to not put me up. If you're going to do it, do it. I'm not going to beg her. Cass – what if she puts you and me up? She wouldn't. Gary – she wouldn't dare. I don't think she would put us up. It's too early, she knows we'll attack her. If she puts us up, we will attack. Cass – if you win, you'll take me off? Gary – B***H If I win I'm taking myself off. Cass – no if its just me up there. She's not going to put us up together. Gary – of course. Duh! Cass – I think it will be Karen and Jackie. Gary – Karen and Jackie! Done! That's what the nominations are. Cass – if you do talk to her .. your job is to push Jackie or Karen or anyone else but us.
1:30am All the house guests are sleeping.