Quick Big Brother Spoilers
Head of Household:  Turner
Nominees: Taylor and Brittany
POV Players: Turner, Taylor, Brittany, Alyssa, Monte, Michael
POV Winner: Michael
Veto Ceremony:
Havenots: 
Lock your ranks in before midnight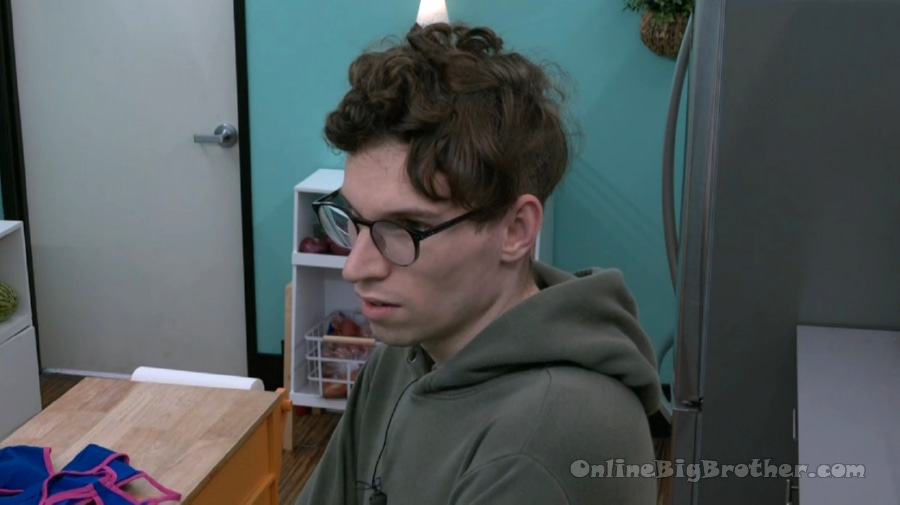 9:19 am Michael and Brittany
Michael says he talked a bit to Alyssa she says she's very stressed about what to do. He told her that the three of them will talk. "she did hang out with Turner last night maybe an hour or so"
Michael – she said 'my mind's just racing because of all the things Joe said'
Michael – maybe we talk to her first then leave out some of the stuff about Kyle until we talk to Monte and Taylor
Michael – who do you think we should talk to first?
Brittany – I was trying to think through all possible scenarios. Say we talk to Monte and Taylor today I just want to be cognizant that we're..
Michael – using this for game
Brittany – or this white savior bullshit that's not.. you know what I mean. That's not our intention that not how I want it to be construed. Also how..
Feeds flip to Terrance brushing his teeth.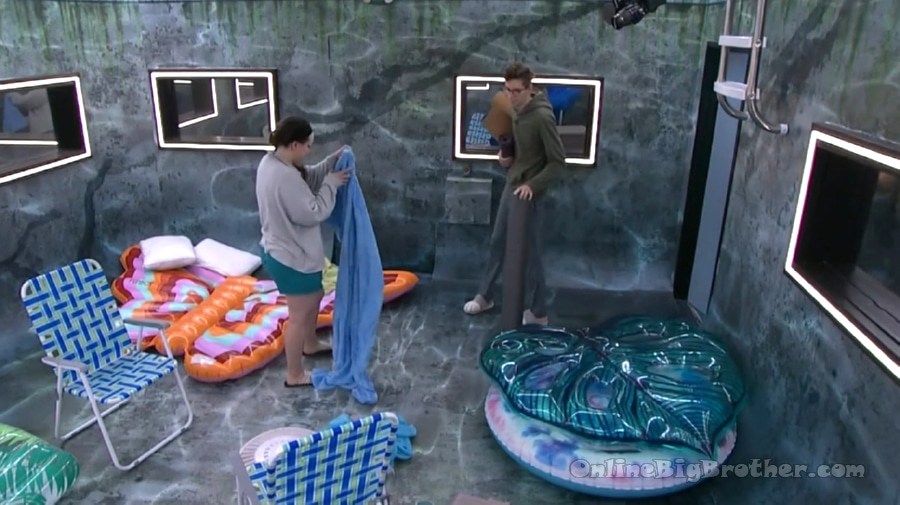 9:42 am – 10:50 am Monte, Taylor, Michael and Brittany
They all meet up in the have-nots room to talk about Kyle. I assume Britt and Mike will tell them that Kyle was worried about a cookout2 forming. Maybe Monte told them about the pound. Who knows. The feeds are not showing this conversation.
(We can discuss in the comments below why CBS won't show this conversation.)
10:36 am Kyle and Terrance
Terrance – First thing in the morning Michael and Brittany says they are going upstairs to stretch. I was on the bike.
Kyle – Monte, and Taylor on the block.
Terrance – that's what I'm saying
Kyle – I trust him ISH..
Terrance – I want to put him up instead of us.
Kyle – If Alyssa is up next to Taylor He's sending Alyssa home. If you go up I don't trust it.
Terrance – same page.. samge page.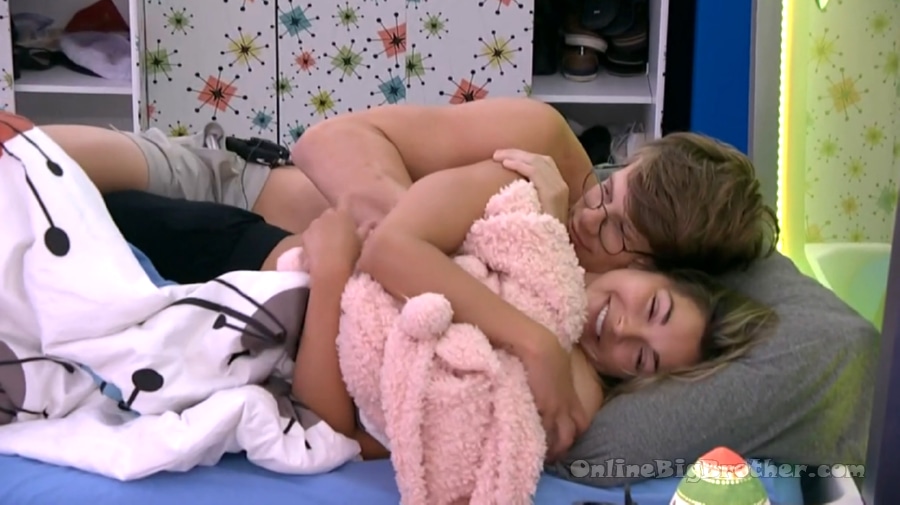 10:38 am Kyle and Alyssa
Kyle – you are amazing. Everyone is up there.. Monte, Michael, Taylor, and Brittany they're up with Turner right now. I just talked to Terrance he was like Yeah they're all up here.
Kyle – we have to make sure it's Taylor and Monte. If you go up next to Taylor I think Monte sends you home.
Alyssa says she told Turner she's not comfortable going up.
Kyle – it has to be Monte then it will flip I bet..
Kyle – I trust Monte but I trust you and Terrance 10 times more. Him and Taylor had a week to bond.
Terrance joins them.
Kyle – we got to talk to Turner us four before Monte cause Monte is going to go in there like 'I was on the block last week' he'll come up with a laundry list of reasons it should be Alyssa, or you or me.
Alyssa – I told turner last night I didn't want to go up as a pawn he said we can talk it as a group
Kyle – I don't want to take the risk of losing one of our numbers.
Alyssa – one of us can't go home on Turner's HOH
Terrance – taking away one of our votes. it makes me nervous
They talk about Monte wanting to disguise they are working together. They will bring this up when pushing for him to go up as the pawn.
Kyle says Turner trusts Monte a TON. "Why put the risk in Monte's hands"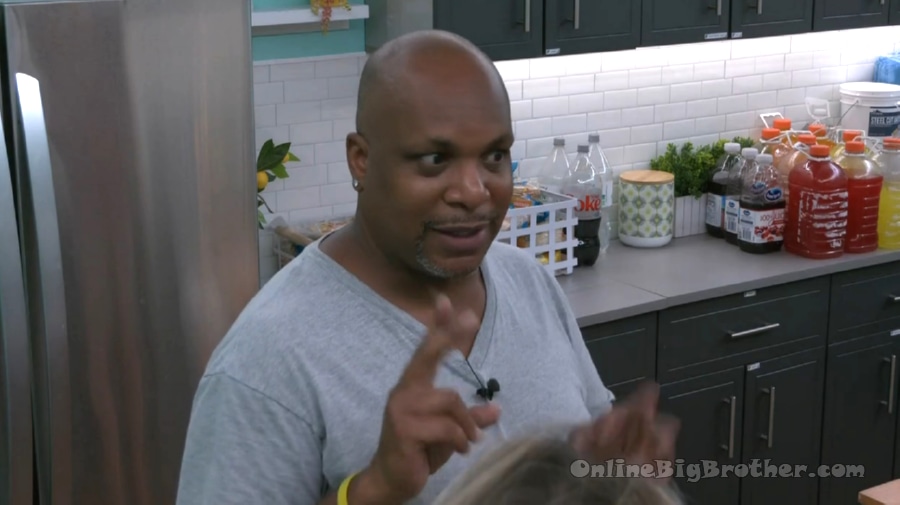 10:51 am Kyle, Alyssa, and Terrance
They've figured out Turner is still sleeping in the HOH. Michael, Brittany, Taylor and Monte have been in the have nots "For awhile"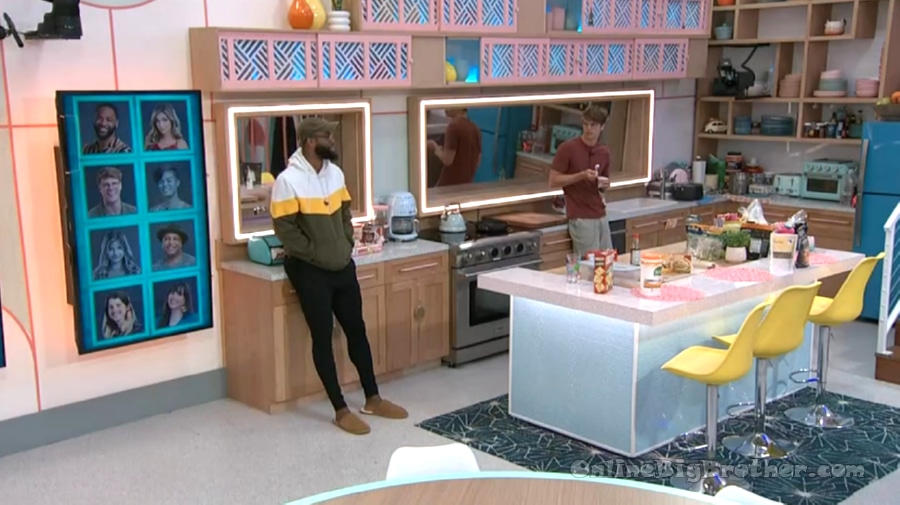 10:55 am Monte and Kyle
Monte – they pulled me up there and were trying to figure something out I guess. It wasn't anything Concrete
Kyle – what are they even going to try to do
Monte – I have no idea dude..
Kyle – something to save Taylor?
Monte – he's told Turner he's taken down Brittany so like at that point I don't know what there is to talk about. I think they think maybe I'll go up as the replacement. I don't think Turner would want to put me up.
Kyle – trying to get you out over Taylor?
Monte – that's what they think
Monte – I didn't tell them anything about us
Monte wonders who Turner will put up says Terrance will be the easiest option
Kyle – Terrance won't be okay with that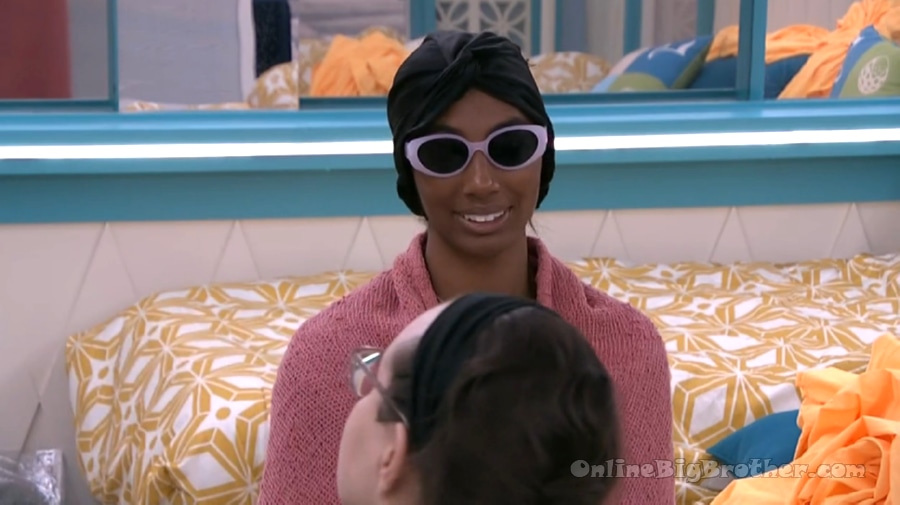 11:07 am Brittany and Taylor
Taylor – crazy shit
Britt saying this game is harder than she thought.
Taylor – love you
Britt – love you to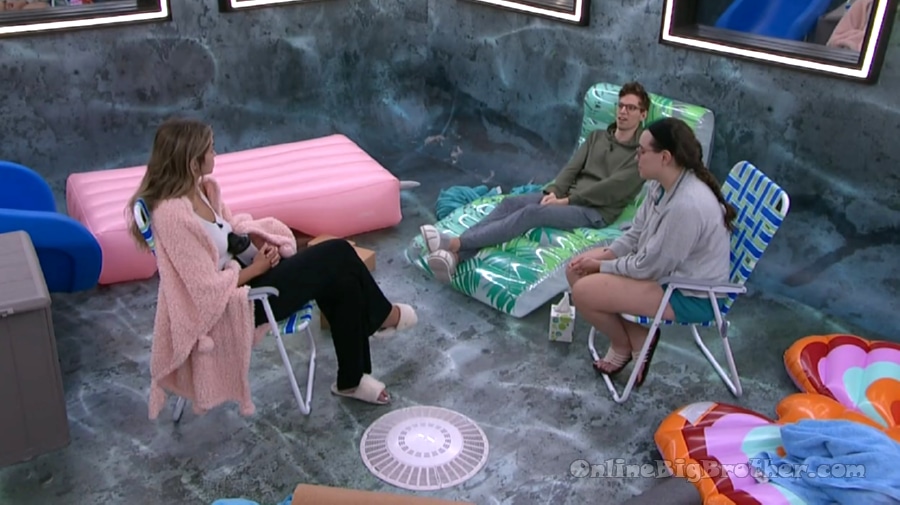 11:16 am Alyssa, Michael, and Brittany (They're rehashing the entire season. Spill the leftovers)
Michael says he's going to spill everything to Alyssa. They start with the Ameerah week.
Michael says Joe and Kyle were acting like double agents.
Britt – I thought it was taking it too far but whatever..
Feeds flip .. when we're back They're talking about the five swatters
They go over Taylor's HOH. Micheal mentions how messy it was. Brittany says they were trying to do things for TV.
Michael says that Taylor was not happy about the veto but Joe was in her ear the entire time about Alyssa. 'She's clowning you '
Michael – Getting Taylor all rilled up
Brittany says Kyle wasn't doing anything malicious.
Michael says Kyle has had her back on instances.
Michael – there has been instances where he has stuck his neck out for you but on the same token there have been times when he's made it clear.. maybe he was just doing damage control.. .Apparently, he told Taylor I regret not using the veto.. maybe he was just saying that because he knew Taylor and Joe weren't happy about that decision..
Alyssa – are you going to have the same conversation with Terrance?
Michael – I don't know I don't have a good personal relationship with Terrance. There 8 people in the house now 7 people know everything. Who cares if Terrance finds out
11:54 am Michael, Brittany, and Alyssa
Michael – He was basically saying the people of colour in the game have a unifying goal and they're closer with the other people of colour in the game and they will turn on us. So without saying the 5 white people ought to stick together he is saying us five need to stick together without putting that label on it. It was very clear.
Brittany – Kyle is a nice person he's not being malicious I don't think he's probably aware of the things that he was saying was coming off that way also. We would never say.. We don't want this to be construed that we're using this for game.
Brittany – I said to Kyle you can't assume there is another cookout because there was a cookout last year. Are you looking at these two groups like that.. do you see what you are saying?
They go on about how there was no evidence of a cookout 2 forming.
Alyssa says she never saw that a cookout was forming. "I did hear what Taylor said about Jasmine I thought that was a respectful beautiful thing I didn't think it was for the entire game just her HOH"
Brittany mentions to going back watching the season and finding out you were inaverdenalty in a white alliance.
Alyssa – I appreciate you telling me that that is something I wouldn't want to be part at all.
Michael – to be honest with you I would like to see Kyle leave this week. I'm going to talk to Turner about this. I just don't feel like.. if it f**s my game over so be it.
Michael – this is a weight we had to carry.. This goes beyond the game. I won't be a part of it.
(a new dimension of BigBrother game play)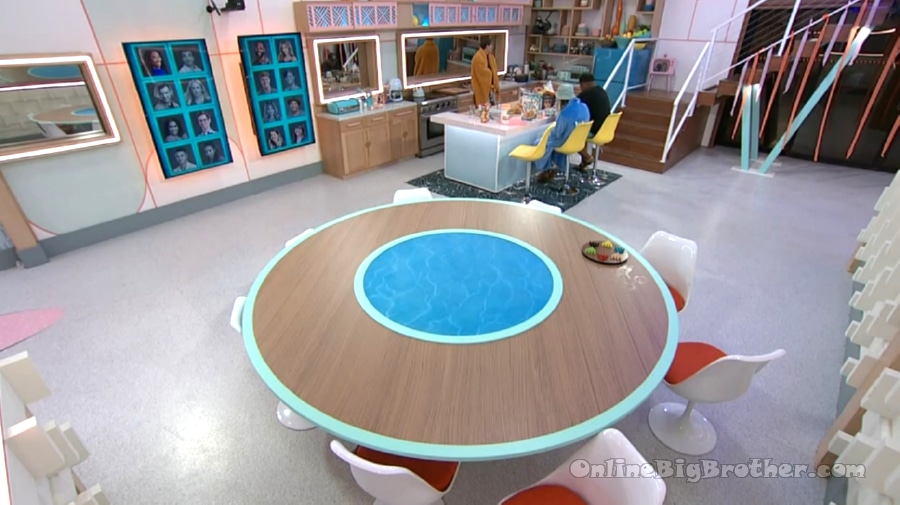 11:50 am Terrance, Turner and Kyle chit chatting about camping.
Without reader support this site and these spoilers wouldn't be possible.
Please consider a donation to keep the madness going.
Any amount is greatly appreciated!