Quick Big Brother Spoilers
Head of Household:  Turner
Nominees: Taylor and Brittany
POV Players: Turner, Taylor, Brittany, Alyssa, Monte, Michael
POV Winner: Michael
Veto Ceremony:
Havenots: 
Lock your ranks in before midnight
Current Plan – Michael plans to use the veto on Brittany. Turner plans to put up Terrance or Alyssa with Taylor as the target.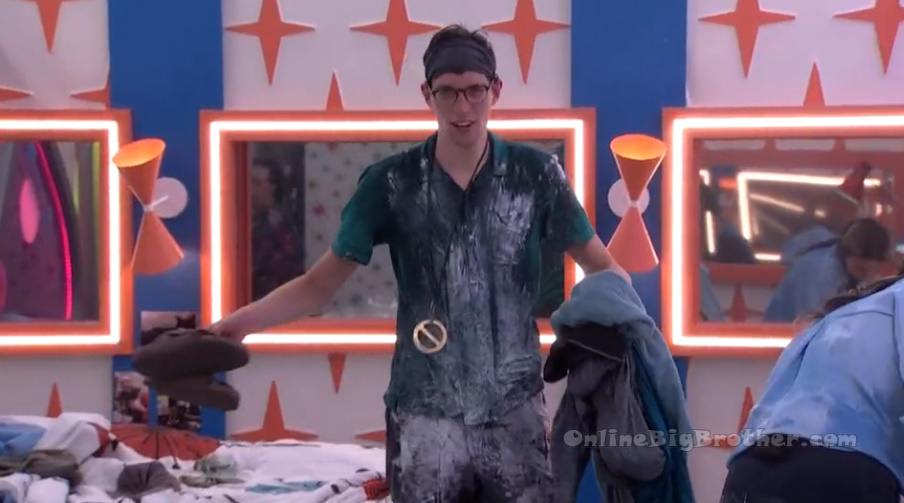 7:30pm – 10:30pm Big Brother blocked the feeds for the Power Of Veto competition.
Michael WON the VETO!!
The veto competition was the slip slide veto where you have to race back and forth to fill up a big / small container.
Kyle – Well.. how do I plead my case to go to this movie? Taylor – as an ally to the LGBT community.. It does look good.
They talk about the competition and how they thought there would have been a cash incentive prize for filling up the small container but there wasn't.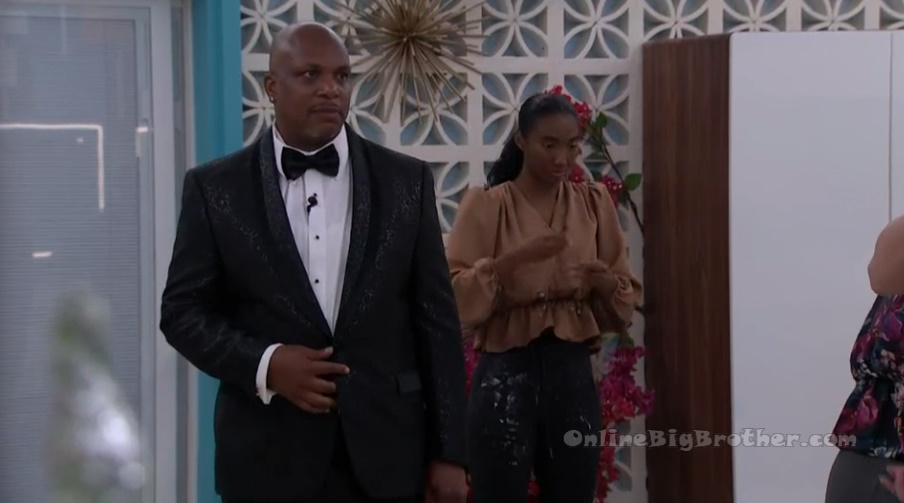 10:45pm Kitchen – Kyle and Monte
Kyle hopefully we get the yard tonight.. Monte – yeah you know. Kyle – there is no way. Monte – I am curious how long it will take to get that rig out .. you never know. Kyle – true.. hopefully at least tomorrow morning. Everyone is probably just going to go to bed tonight. Monte – yeah I am gassed. I hear them already working so.. Kyle and Alyssa head to the bathroom. Kyle to Alyssa – you fell like 10 times? Alyssa – no maybe 5. Kyle – Monte didn't fall once. Turner didn't really fall much. Michael fell once. Taylor maybe once. Alyssa fell like 18 times. Michael joins them. Kyle – I am taking credit for that win because I warned you about not eating the hot pocket.
10:47pm Bedroom – Terrance and Taylor.
Taylor – What's on your mind. Terrance – Well what its going to be tomorrow .. or Monday. I mean I can paint the picture but what the f**k. Its just one of them days.. Taylor – I don't know who comes down.. but I think its obvious who goes up. Terrance – MMmmm.. Yeah. Taylor – so if there is a chance we can work through my discrepancy then I would appreciate it. But if you want to hold off and take some time I am good too. Terrance – Oh I don't care about that. I am still here G! You do it again, I'm a kill you. Taylor and Terrance laughs. Taylor – that's fair. I will tell you the whole story of that crazy a$$ week whenever you want … but here we are again. 4 for 4 tied. Terrance – I think they might put me up .. but you never know. That's the one thing you never know. Taylor – I feel like you have something to say. Terrance – no I just came to chill with you.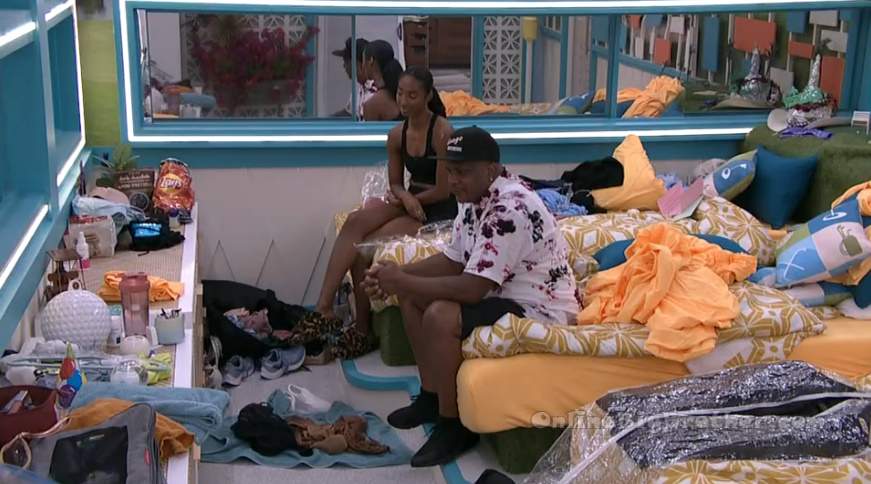 11pm Bathroom – Michael, Kyle and Brittany.
Michael – who had the biggest wipe out? Kyle – I don't even know because I caught them after. I think Alyssa had the most gnarly ones although she wasn't going that fast. Kyle leaves the room. Michael – Oh my God! Brittany – so good! I know this goes without saying but don't pick me for the movie. Go make friends and do whatever you need to. Who do you not want talking? Michael – exactly! Brittany – Turner gassed out. His endurance was not good. There were times when he was doing laps around me but then I was going faster than him. Michael – I just started and was like don't let up! Get the PRIDE Veto! Brittany – it was awesome. I was scared Turner was going to get it he was really going. Michael – I know.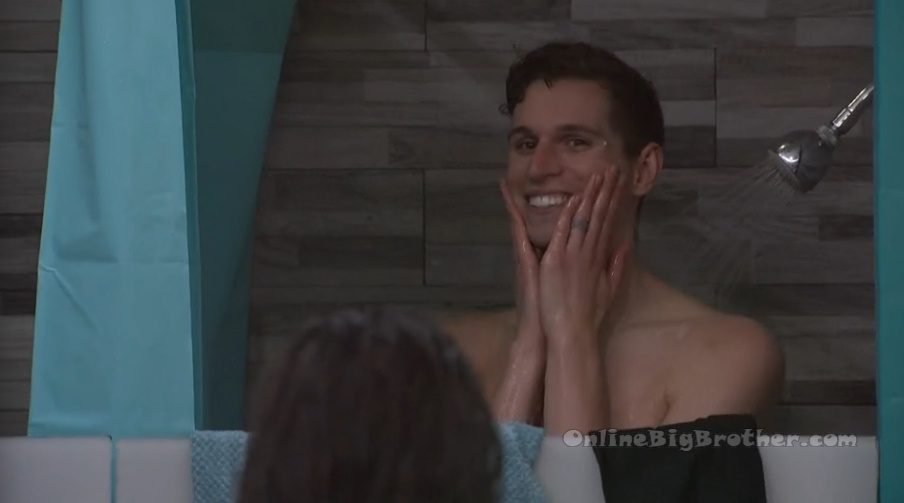 11:08pm HOH room – Turner and Monte. Turner – I figure he is probably going to pull down Brittany. We'll figure it out from there. Monte – yeah, yeah. Its all good bro!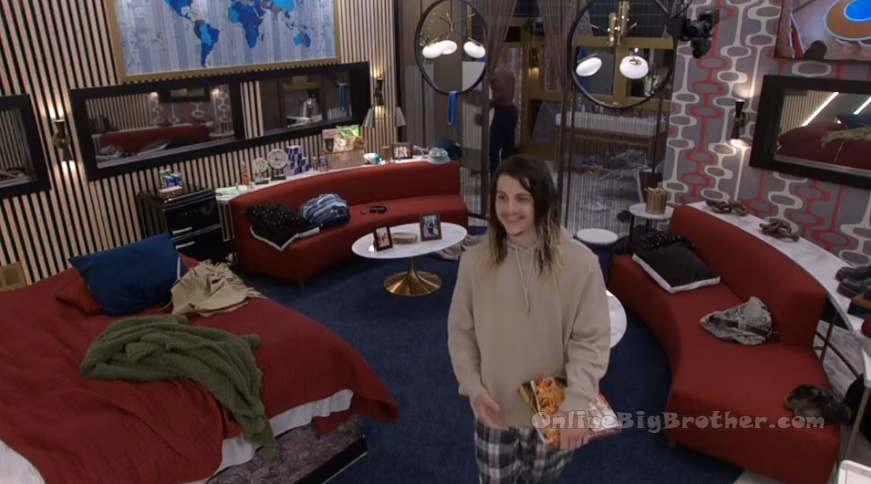 11:15pm Bathroom – Michael and Brittany.
Brittany – this is precisely why this didn't make sense to do… because you're going to use it on me right?! Michael – yeah. I just have to talk to Monte and Taylor so I can push for Kyle. Brittany – I know. Turner is against us anyways.. might as well. Now he's got me and you pissed and he didn't need to. You didn't have to do that. Michael – nope. Brittany – that's why you don't do that. Michael – thank you for pulling my chip (player pick). Brittany – Oh my god! The last one! And I am so glad I got to pull it too! Michael – yeah, what a day! Brittany – I wish I had gotten to fill up mine .. that was embarrassing. I was last but just barely.
11:30pm Bedroom – Michael and Brittany.
Michael – Do I take Terrance or Monte? oh no I only get to pick three (for the movie screening). Oh so I am picking those three maybe? Brittany – yeah, that makes sense. And two more are from Dyre Fest. And I think that is good with Taylor since you're not going to use the veto on her at least. I think that is great. I think this is big and we need to be transparent. Michael – and I plan on telling everything to Alyssa. Even if she asks about week five. Brittany – I don't know that is one of the weeks that she hasn't been pressing me on so I don't know if we even need to. Brittany – the showmance did her dirty for 8 weeks. I could be wrong but I get the feeling she is ready to jump ship. Michael – and it doesn't really matter because if she is with them she is with them no matter what. Brittany – oh my god this is turning into your HOH week. Michael – I say we talk to Turner last.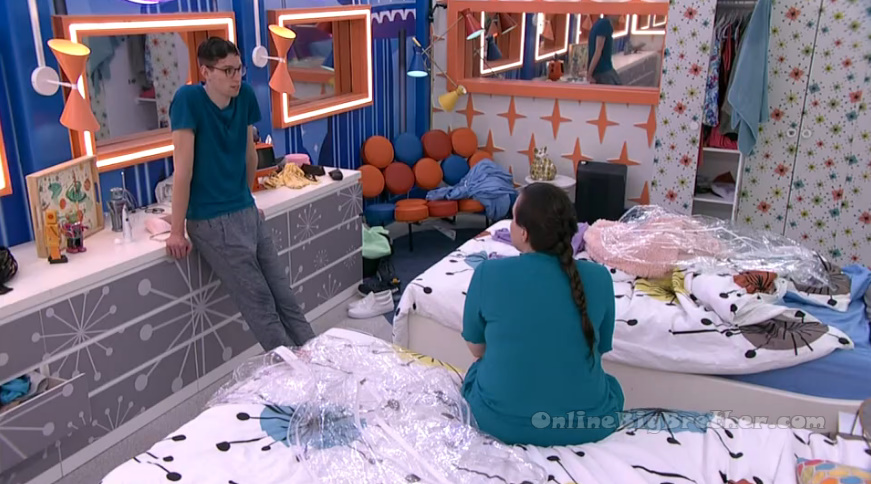 12am Bathroom. Brittany and Kyle chatting. Kyle – I might go to sleep. Brittany – you should. Kyle – I think I will. Michael did tell me that she (Jasmine) was utilizing her birthday week to stay safe that is an amazing point that he hasn't told me yet.. that is so funny to me. I really don't want to go home on my birthday week. Never in my life have I ever thought of my birthday as a week.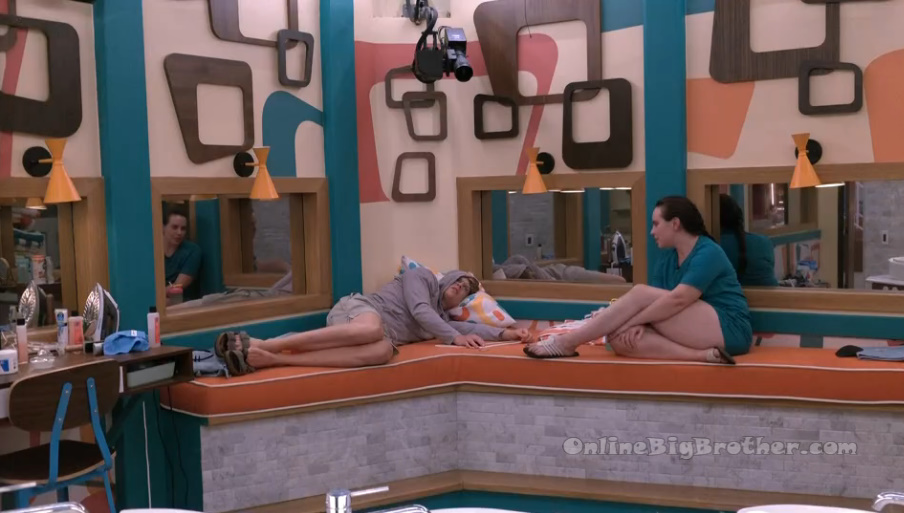 12:15am – 12:30am HOH room – Michael and Turner.
Michael – I plan on picking you for the movie. Turner – I planned on picking you as well. I felt like that would be f**ked if I didn't pick you. I appreciate that. I super appreciate it. As far as the veto usage I can go first or you can go first. Obviously ideally don't tell anyone this because before Taylor came to me and she was like is there a bigger target and I was like yes. I wasn't going to tell her no. Taylor is the only person in the house I feel genuinely betrayed by. Her explanation .. well its easy to blame things on Joseph because Joseph isn't here. Like feeling excluded from whatever she was making. Honestly it made me feel some type of way. Michael – yeah. Turner – So Taylor is who my personal goal for this week is but I would love to collaborate on this idea with you. I assumed you would not use it or take Brittany down. Michael – yeah I think my initial thought would be to use it on Brittany. I think she is expecting me to use it on her. So I guess that wouldn't f**k things up too bad. Turner – I am fine if you use it on Brittany dude. I really like you and I really like Brittany. Michael – okay. Do you have any idea what you would do for a replacement? Turner – I honestly don't .. it would either be Terrance or Alyssa. That's who I said was going to go up anyway. Do you have preference of one over the other. Michael – not really. Turner – unless you would rather someone else up. Michael – I think if the goal is that you want Taylor out this week.. Turner – are you fine with that? Michael – personally I really like Taylor but we're at the point where I like everyone. I am personally okay with that. I think Brittany would be okay with that. Turner – I get the vibe that she is furious with her. I also hope .. I would love to know your thoughts .. I hate that I had to put Brittany up .. not as a pawn but because I didn't know what was going on in her mind. Do you think next week.. because I put your homies up .. and I also put Brittany up. If one of you wins HOH do you think I am going to f**ked on that front? Michael – No. Turner – are you sure about that. Michael – nope. Turner – okay good! I am glad that if you are HOH, you're not upset with me so I appreciate that. Michael tells Turner that he also told Alyssa she could come to the movie screening. They agree to talk again later.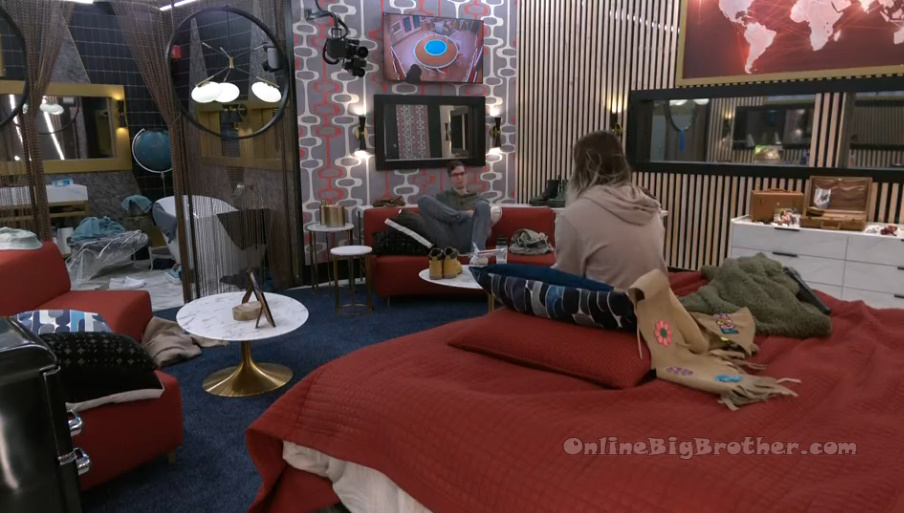 12:50am The house guests give their bedtime shoutouts and movie recommendations in the bathroom.
1am Bedroom – Michael and Taylor.
Michael – maybe we can all talk tomorrow but the options are if I leave it the same.. Taylor – its me. Michael – its you. If I pull you down, Monte goes up. If I pull Brittany down, Monte goes up. So what do we do? Like they're against us either way. I would rather try try try to get him to put someone else up.. because we're going to go up next week anyway. Taylor – exactly. Michael – so maybe we can formulate a plan of attack. Taylor – here we go! Taylor leaves. Michael talks to the camera – how do we get out of this situation? So now I am in the club with you .. five vetos!! KC I know you're in there too. Five vetos! Unreal! I just tied a big brother record tonight. Gosh if I win HOH, its 7, 5 and 3. Or 7, 4, 3. I would have the HOH record too. Or two more HOHs and I've tied it but why stop there. The target on my back is already huge! Not winning is not an option anymore. I never wanted to be in a position where I needed to win my way to the end but here we are. If you have a good enough social and strategic game you don't need to. I thought I was, I thought I was setup a lot better. I am going to pull a hail mary and try to get Kyle on the block.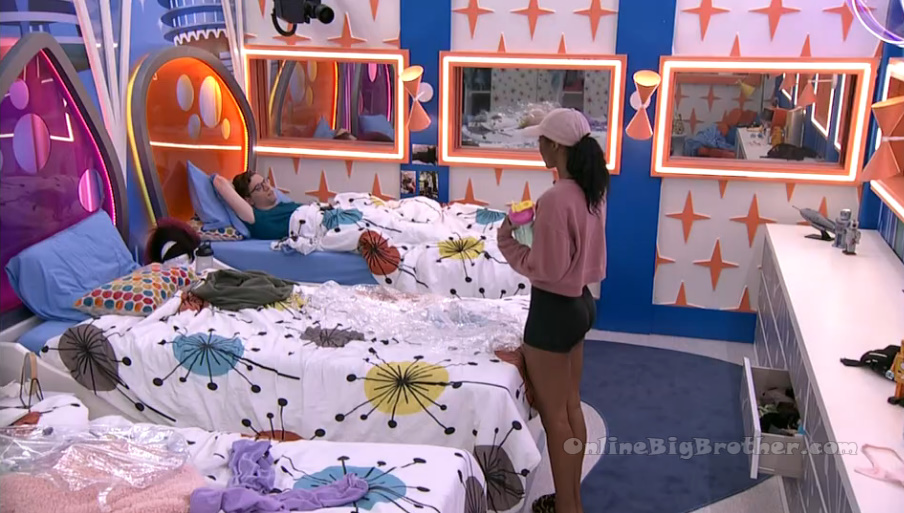 1:08am – 1:25am Bathroom – Monte and Kyle.
Kyle – well, what can you do!? Monte – I tried. Turner probably had the best shot. Kyle – no, it was a wrap from the second it started. Like we take our shot (at Michael) next week, like everyone has to realize its the house vs Michael right now. Monte – logically when someone is just dominating the game.. everyone needs to get on board. Kyle – He's going to be able to play in every veto moving forward. Heaven forbid he wins HOH next week .. and then he is going to take out me, you or Turner who were the biggest threats to winning veto. Monte – how do you think you would have done in that comp. Kyle – yeah .. no!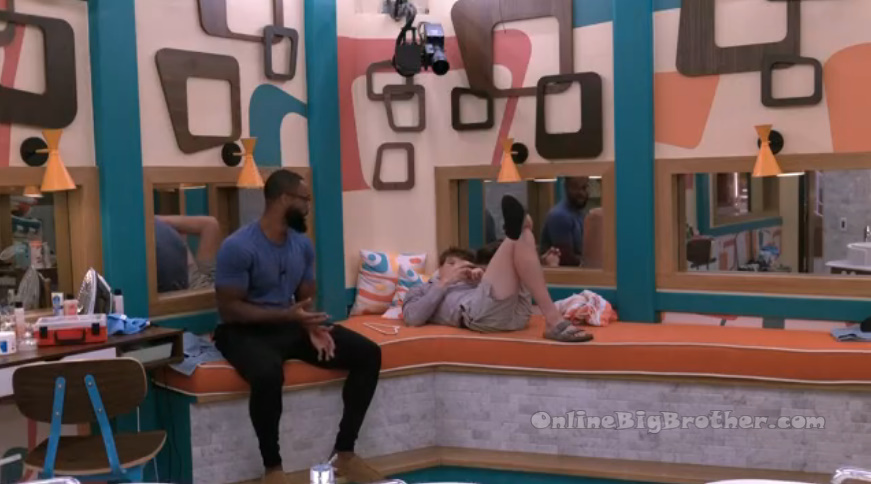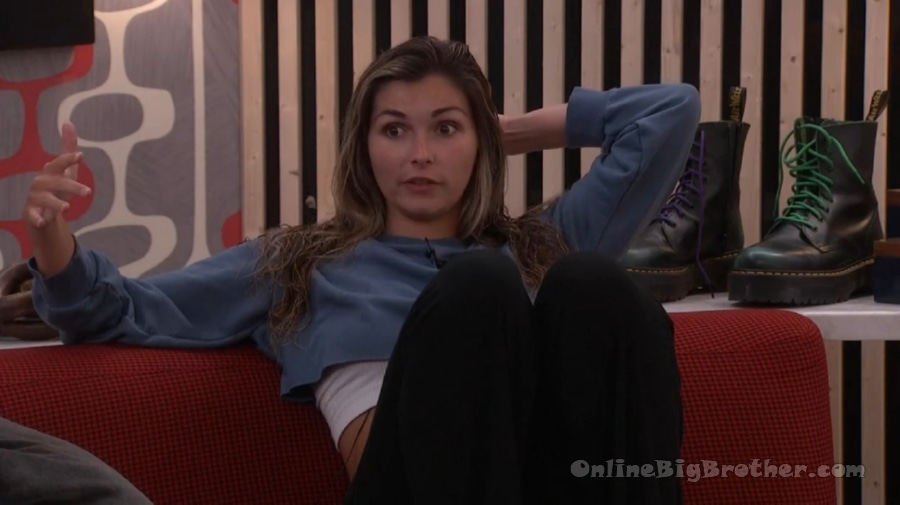 2:10 am HOH Room Alyssa and Turner
Turner – Tomorrow me, You, Kyle, Terrance, and Monte get into a room and we say who is comfortable with being a pawn this week and if people are comfortable. .. someone says I am okay great you are the pawn. People can give pros and cons why they are not comfortable with being the pawn.
Alyssa says Brittany and Michael want to talk to her. "I assume it's about the leftovers"
Alyssa – Brittany pulled me into the storage room 20 minutes ago and said 'Michael is going to tell you everything about the leftovers tomorrow'
Alyssa – Now I get to hear it again from Michael and Brittany at the same time even though Brittany already told me everything
Alyssa adds that Taylor will also want to tell her.
Turner – you are going to hear everything 5 times this week. All you have to do is act like you don't know
Alyssa says she never talked game to Monte before. If she's on the block and Monte flips then they have 3 people to vote her out and Taylor stays.
Turner – you've been working with Jasmine and Ameerah all these people that throw alliances around like loose change.. When Monte is in an alliance that's not how he works. I'm going to figure out who is fine with being a pawn.
Alyssa – will anyone be fine?
Turner – yeah.. people have a lot of trust in what we've been dealing with
Turner will make note that she doesn't want to be a pawn.
Alyssa – I'm stressed
Turner – you are in a group with people that have your back. Me and Kyle would never do anything to put you in harm's way.
Alyssa brings up an argument she and Kyle had after the Veto.
Turner – I know Kyle likes you and I heard he's (Michael) picking you for a movie tomorrow.
Alyssa adds that Taylor is going to want to tell her about the leftovers too.
Turner says people outed Po's Pack to him like 5 times.
Turner – Taylor will say the same thing. Taylor has been up your ass more than anyone else.. what the f*** does she say she's going home this week who cares? You can tell her to f*** off that's so crazy.. I just let her talk every single time we're in here I just stay silent and she continues to give me info.
Turner – the other day we were talking I was telling her Joe told me you and Brittany were trying to start something. She said it wasn't only me and Brittany, it was also Michael.
Turner – why would you tell me that? She doesn't have any idea what she's going in this game. She has no idea how to play this game.
Turner – if she asks for into she's on the block you don't have to give her anything. I don't feel like she has the upper hand. She's going to go home you have the power.
Turner tells her don't worry about Kyle "He loves YA"
Alyssa – Loves YA I hope that's true.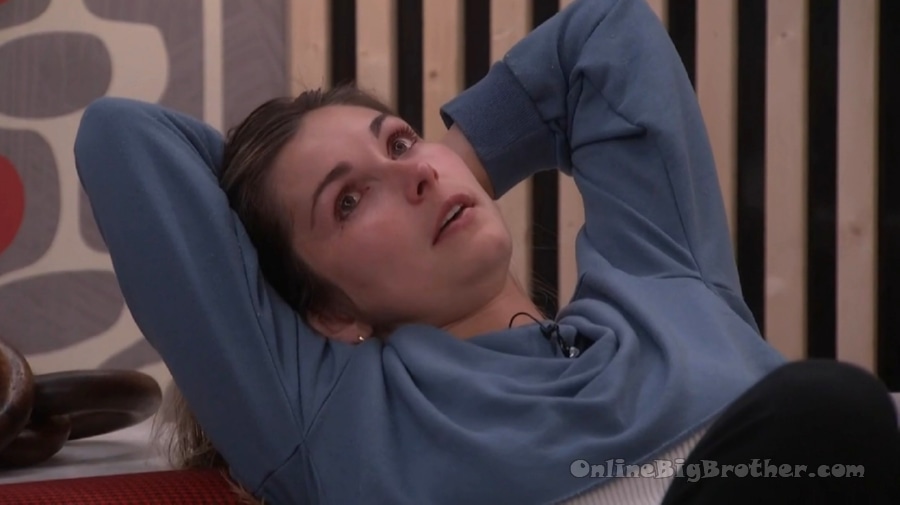 Alyssa starts to tear up and says she's upset about Kyle's lying The entire game. "Brittany saying that him distancing himself was him preparing to vote me out"
Alyssa – he did distance himself I did experience that. Was he at one point preparing to vote me out?
Alyssa – he lied to me every single day for a month. So now great now we can be together because it's okay for you to tell about your alliance and spill everything.
Turner – we were told you were doing the exact same thing by Taylor, Michael, Joe and Brittany. You were going to vote him out.. that's what we heard.
Turner – we heard you had no problem voting Kyle out and that you were SAVAGE
Turner warns her that Michael and Brittany are going to try to hurt the relationship she has "If they say anything about me let me know or Kyle know."
Alyssa says turner is the one person in the house she trusts completely.
Turner says once Ameerah left the entire side of the house had no idea what to do. Nicole and Daniel tried but they were "Awful at it"
Alyssa says she feels bad that Monte was up last week. Kyle as up last week and Terrance is up every week.
Turner – if you end up on the block it's not a blindside you will know beforehand. It will only be if you are comfortable with it.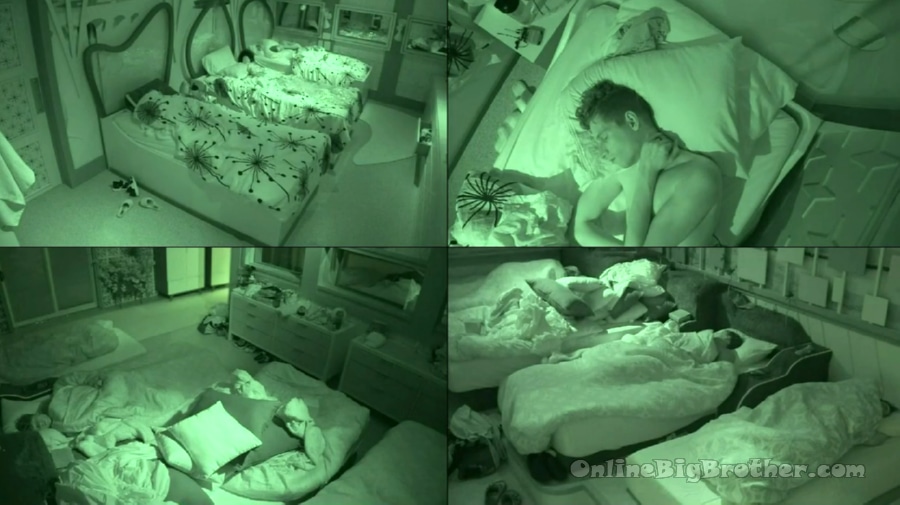 3:55 am Zzzzz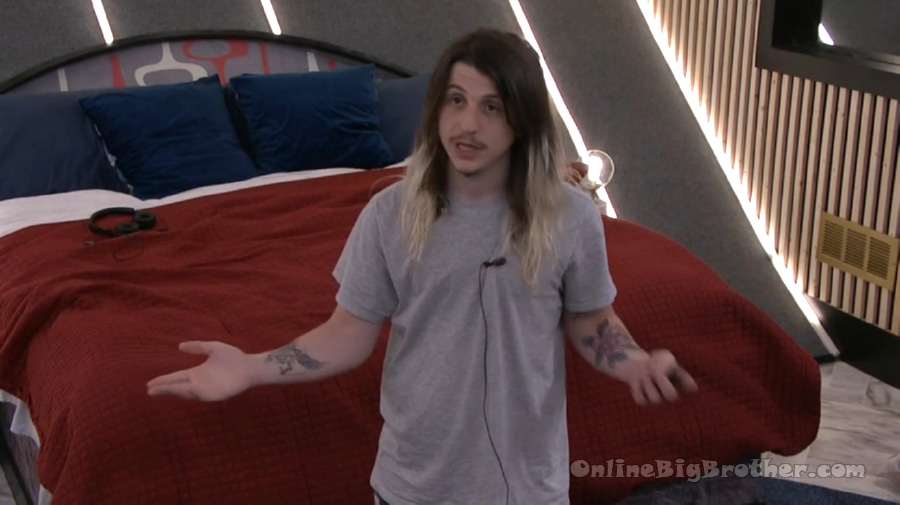 4:43 am Turner alone
Turner – the veto did not go exactly as I would liked.. BUT check it out. Taylor as far as I am concerned is worst for my game than Michael. Michael just happens to be better at the game. Do with that info what you will. As long as he takes down Brittany I have no problem with getting Taylor out this week. Especially since she was the one saying I was the first one out of the leftovers.
Turner – Ameerah was trying to say I was the first one to go home.
Turner – I think Taylor got overconfident. She has to go home this week I don't want her here anymore. I saved her game week three and then she's going against the family. You don't go against hte family C'mon dude. Can't send Michael home this week. I guarantee Michael will take Brittany off the block. I get it.
Turner – Alyssa seems to be having a tough time with this all. I just need to ease her into playing the game.
4:50 am Zzzzzz
Without reader support this site and these spoilers wouldn't be possible.
Please consider a donation to keep the madness going.
Any amount is greatly appreciated!