Quick Big Brother Spoilers
Head of Household:  Turner
Nominees: Taylor and Brittany
POV Players: Turner, Taylor, Brittany, Alyssa, Monte, Michael
POV Winner: Michael
Veto Ceremony:
Havenots: 
Lock your ranks in before midnight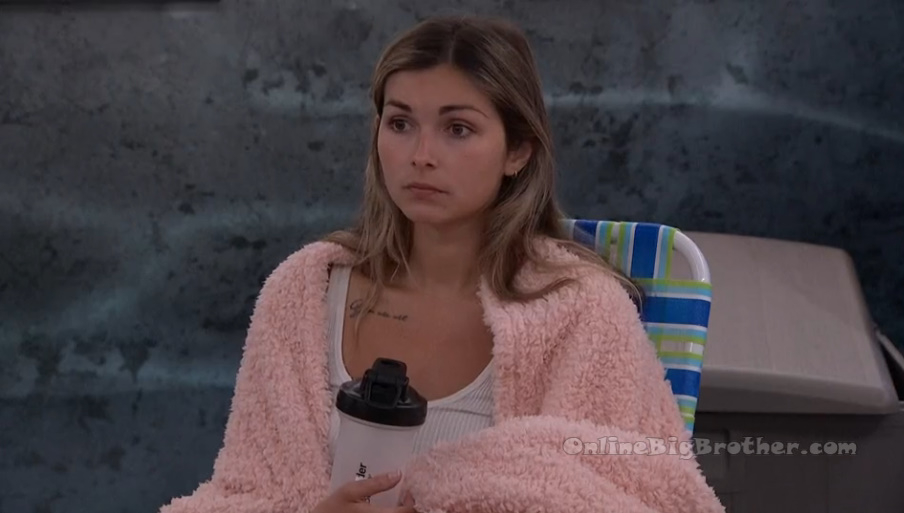 12:15pm Havenot room – Brittany, Michael and Alyssa.
Alyssa – but now everything is out on the table and we don't know how this game is going to play out. Michael – legitimately everything. Alyssa – I wish I had more to give about my game. I very much appreciate you letting me in and now we can just move forward. Michael – its a lot to throw on you. Brittany – now you have a history of everything that happened since week 2 and now we just move forward. Alyssa – I am going to take time to process this and I hope I don't have to have this conversation again with Kyle later but.. Brittany – and if you have any questions .. like I am sure you're not going to get the exact same conversation from Kyle as you got from us. Michael – call me in and I will say everything I said to you in front of Kyle. Brittany – me too. Michael – I mean I would rather not have Kyle know all of this but if it comes down to that because I know you and him have a close personal relationship and I am not going to expect you to just flip that switch off and like I am done with Kyle. And like this was probably not smart for my game for me to share some of this stuff about what Kyle has said but I would rather lose the game than sit on stuff that Kyle has said .. And I am willing to say that to his face. And I will say yup Kyle I am pitching for you to go home this week. Brittany – and since you and Turner are closest with Kyle you deserve to know and just play your own game and make your own decisions. We're not trying to say that you need to do anything about that. I would just hate if I were in your shoes to find out later and be like oh my god Brittany and Michael knew this is what they were a part of and they didn't tell me?! Alyssa – I really really appreciate that. And whenever you talk to Turner. Michael – I will talk to him as soon as I can. Alyssa – then maybe him and I can have a conversation about it. Then I'll take time to process later and hopefully I can still go see a movie with you. Alyssa leaves. Michael – I feel at peace no matter what happens. Brittany – honestly doing this at the end of the day .. even if it causes me to go home how I would live with myself afterwards. Like I am so on the same page with you. I am just so glad that you came to that conclusion and brought that to my attention because that is how I would feel and I would have that regret. Michael – oh I would have .. and if I had won.. great but I still would have left this experience with regrets. This probably isn't smart for our games. And I never thought I would come in here and be like this is not the smart game move. Brittany – and this comes back to thinking about who I want to be. This challenges this a lot! Michael – and about what made Kyle feel comfortable .. like I should have spoken up more.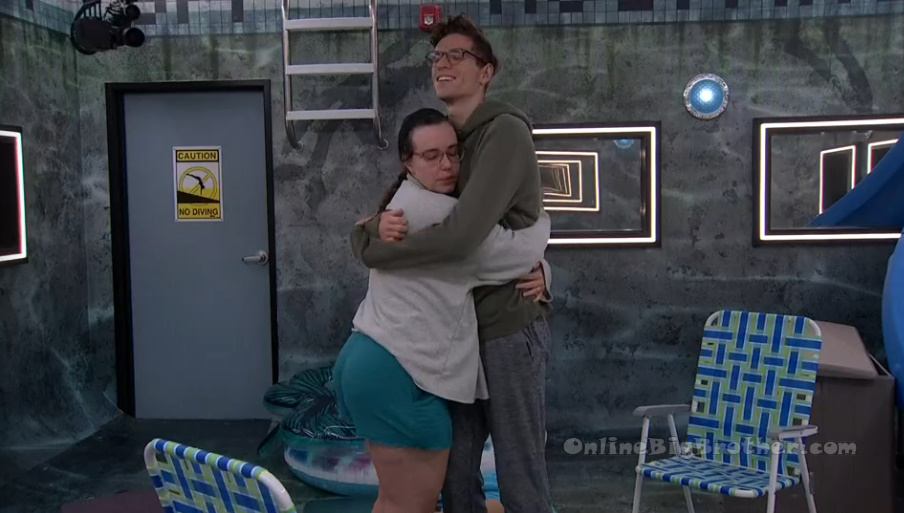 1:12pm Bedroom – Kyle and Alyssa.
Kyle – sorry for last night. I was upset and tired. I am sorry. I felt bad and you were down there with Michael and I wanted to be up with you. Alyssa – I just didn't know what to say. Kyle – I feel dumb.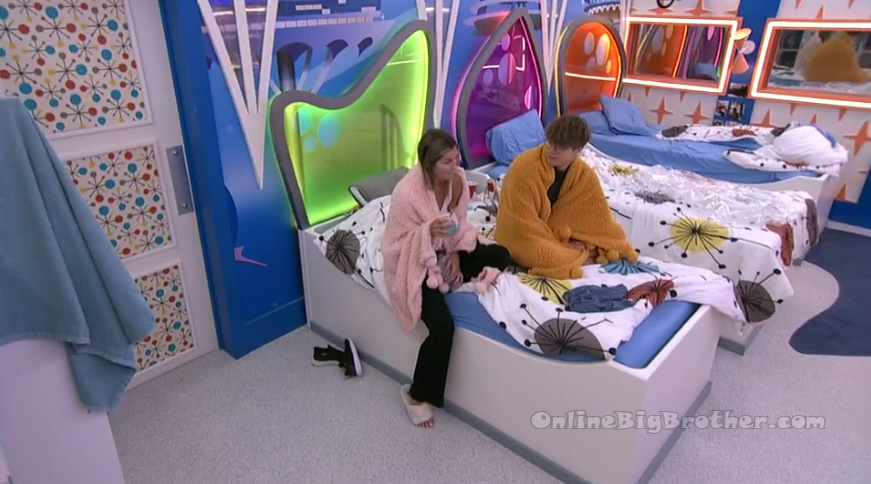 1:20pm HOH room – Turner and Michael
Michael – There is some information that I've had for about two weeks or so and I have been kind of struggling what to do with and I am just going to lay it out on the table because I don't know if you're even aware of this but your name has kind of been brought into it. Its going to be uncomfortable. Turner – I have some information that I am going to be uncomfortable sharing too .. so just as long as we're in the same boat. Michael – essentially Kyle pitched to me … like kind of planting seeds during my first HOH and then a little more but basically pitched to me an all white alliance. Turner – WHoa! Michael – this is very uncomfortable and I would never ever ever make up this in a million years. Tuner – I know that. Michael – but essentially what it came down to and how it started was back on my first HOH he was looking ahead in the game to when the leftovers get to seven. He said how I see the alliance broken down .. Monte, Joseph, Taylor are close and at that point I was like I don't really see them as a trio but whatever .. he was saying that he was seeing them being close but that me, you and Brittany.. like those were the divisions and he was like we could have Alyssa as our number because I think that Indy, Jasmine and Terrance are closer with Monte, Joseph and Taylor and I think they're going to turn and pick us off first. I remember thinking I don't necessarily see the breakdown being that way but also like thinking about how the optics of that don't look good. Turner – yes for sure! Michael – And then at the end of my HOH he was about to say something and then he said no I can't say that I am going "to get cancelled" if I say that. And then the following week on Taylors HOH after he won the veto and he was safe for the week. Brittany and I were having a conversation and he came out a little more explicitly said the five of us should work together and Taylor not wanting to put Jasmine up and send a black woman home on her HOH is a concern and the words that I know and I will quote "as a straight white male that" and this part I will paraphrase ..but the sentiment was that makes me uncomfortable if decisions are being made on that because that is going to put me on the bottom of the totem pole. I was very uncomfortable about that. And then he had further conversations about like relating it to the cookout .. the cookout last year all had a unifying goal and that is what brought them together and I see that is what is happening and they're going to pull in and basically naming the other persons of colour in the game. I don't feel good about just holding this information. He was basically saying .. I mean he has always said that he's had you and Alyssa.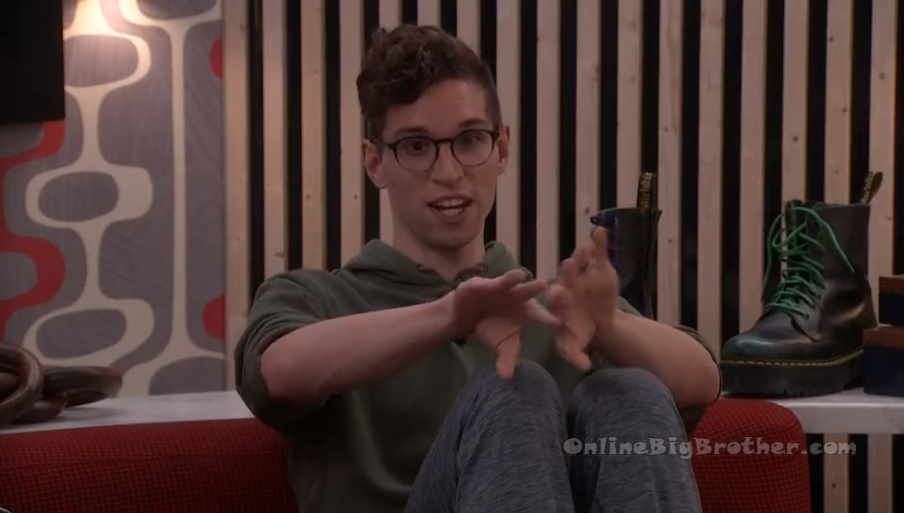 Brittany joins them. Michael – I just wanted to bring this to you because he is putting your name in it. Turner – I am sure you're the same I don't like someone saying my name in a group setting without me knowing especially when that is the backing behind it. I mean YUCK! Brittany – you can see how's something like this goes beyond game and brings in reality. Turner – Oh for sure .. very messy and uncomfortable! Brittany – just really messy and uncomfortable. There were a few initial conversations… like I guess because I wasn't seeing things like that I didn't internalize what he was saying or suggesting what was happening inside the house. So I guess for me there needed to be more rounds of confirmation before I would bring it to anyone else. Like what evidence is that based in .. because I am not seeing that it is playing out that way. We are even having conversations like where are these groupings coming from!? Like MoJo workouts I could see that. I was like where is this coming from. So then we had a one on one conversation and I was like look at what you're suggesting here like just look.. and he was like and he was like BUT the COOKOUT. And I was like AghHhhh.. Like my mind didn't even go there. I was like maybe he is suggesting something that he is not even realizing. I was just like heads up do you recognize what you're saying .. he was not like oh my god Brittany.. I can't believe it. I didn't think of it that way. SH*t! When the answer wasn't that it was BUT actually.. we saw the cookout last year. For me that was.. Michael – and I want to say that I don't think that Kyle is a bad person .. I don't think he was doing these things maliciously. Like I don't want this to come out like I am coming up here just to sh*t talk Kyle. Turner – this information isn't going to leave this room. And if I did tell Kyle you would know because he would freak out. Like this makes me almost emotional because I hate that. That is the worst thing I've heard in my entire life. Brittany – I would regret at the end of the day if I went home and didn't say this and not doing anything about it.. it really questions the person I want to be. Michael – obviously we didn't agree to be a part of that but even just staying silent and allowing that to happen around us .. like I still don't even feel okay with that. Brittany – I feel like I did that with Taylor when Daniel was going after her and I just sat there. We're just presenting this to you and obviously you do with it what you will. I was just trying to think if I were Turner and I was inadvertently in an alliance .. in a side of the house that I did not know where that reasoning might have been based from … like I would hate for you to find that out by watching back the season later. Turner – oh definitely. I now understand why you introduced that this was going to be uncomfortable. I am glad you told me that. Michael – I just don't want to leave here whether I win or lose and know that I sat on this information and potentially let decisions stem from here. Turner – please be honest .. if Taylor goes home on my HOH would you guys be pissed? Michael – I wouldn't be pissed based on what she has said and throwing me into conversations that have never happened. Brittany – personally I am very good friends with her and we have talked game.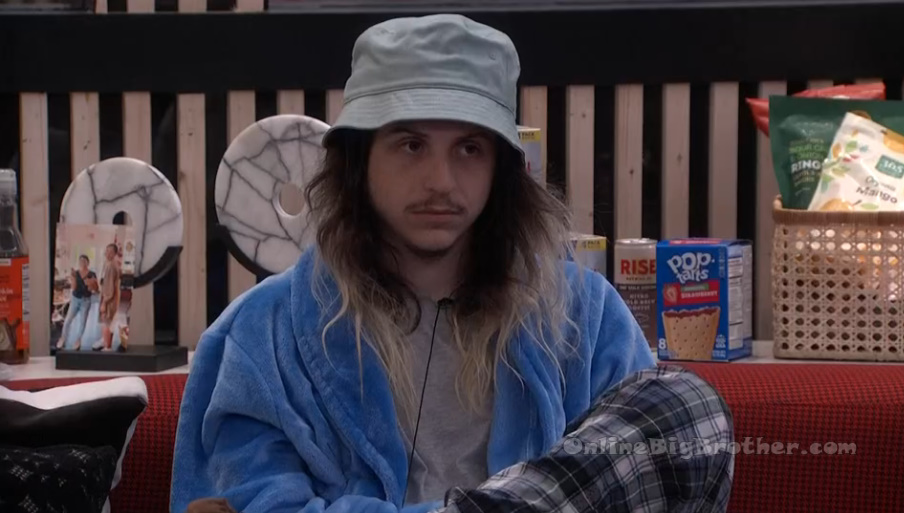 2:08pm Bedroom – Alyssa and Kyle.
Kyle – I just feel alone.. I don't know what is going on Michael and Brittany are up with Turner. Like what do you think they're saying to him? Did they (Michael/Brittany) talk about splitting from the leftover and joining with you and Turner at all? Alyssa – yeah. Kyle – is there anything new they brought up? Alyssa is silent and really uncomfortable. Kyle – please just tell me if there was .. was there anything else? Alyssa – I just don't know if its my place to say that. They pretty much made it sound like you were going against other people in the house ..like not giving Monte, Taylor, Joseph a fair shot… like working with them almost. Kyle – why? Alyssa – I don't know… like because they could have possibly formed a cookout thing. Kyle – like a race thing is want they're pitching that I was saying? Alyssa – yeah. Kyle – Alyssa this is like bigger than game… this would ruin my life if this is what they're pitching. Like I would leave the game if this is what they're pitching. DO you believe them? Alyssa – no. Kyle – have I ever made this a race thing… like do you understand this is life changing if that is there pitch.. Like what do I do!?!? That is not true at all!! All I ever said was their reasons for being on the show are strong .. Like Joseph fighting with his mom. Taylor fighting for women. Like what do I do!?! Alyssa – talk to them. Kyle – they're up there with Turner. They've already pitched it to Monte. Now they're telling everyone but me ..painting me as a racist?!?! Like I am going to leave the game. Alyssa – don't freak out. Kyle – what do you mean?! They're calling me a racist trying to start a white thing. Alyssa – that's not what they were saying. Kyle – what are they saying? That I didn't want to work with them because of their skin color? Alyssa – no. I don't think so… just that you brought it to their attention that you didn't want a cookout thing to form. But they didn't say that you were gunning for them because of that. Kyle – how can they do that… like Alyssa I am going to leave the game. If that is what they're pitching.. like nothing is worse.. Like what do I do?! Alyssa – go up there and talk to them. Kyle – oh my god! Kyle leaves.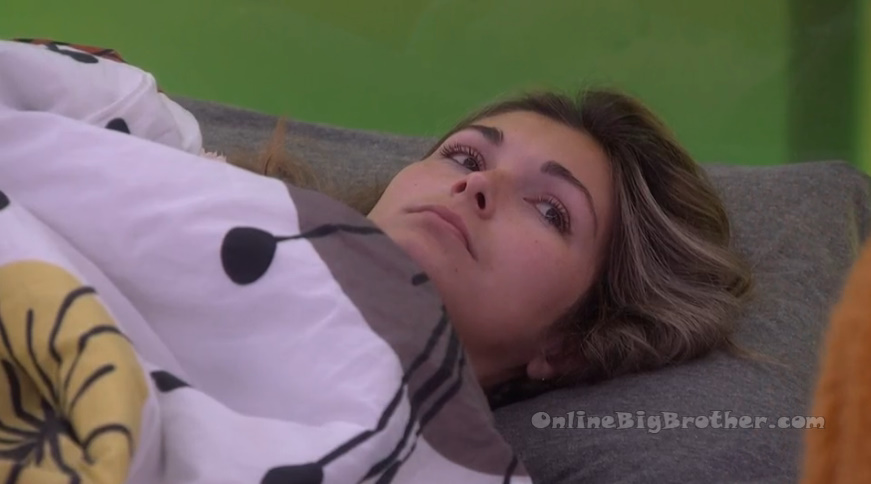 2:30pm HOH room – Turner talking to the cameras.
Turner – I am freaking out! I never thought that I might be convinced that Kyle might not be the best for my game but I feel like I have almost be convinced. WHY would you pitch an all white alliance!!?? Like what are you doing!?! What two brain cells do you have in your brain ..thinking one that that is a good idea and two thinking that is appropriate and three thinking that I would want to be involved?!?? I have no idea what to think. I never thought that someone could convince me that Kyle would be bad for my game but Michael has somehow convince me … but that is what Michael does he convinces people of things. I think Kyle might end up on the block tomorrow because I am going to have to put up a replacement nom. Taylor is still my target but damn they are good at this game because I have been convinced. Did I just hear them say an all white alliance is what Kyle is pitching because that is weird and suspicious .. that is just sus all around. I don't like it. I hate it actually. And knowing they're on tv I don't see kyle's intention of it being an all white alliance to be the opposite of what the cookout did. You don't just say that knowing cameras are around .. you don't just say that unless you want to be cancelled up the a$$! I don't think that was a lie actually. It freaks me out if Kyle was pitching that with my name involved what the hell!? I don't want any part of that. Taylor is still worse for my game. I still might put Kyle up so that I can be in good with them and so that I've done that. I would need a reason for Kyle.. my friggen word!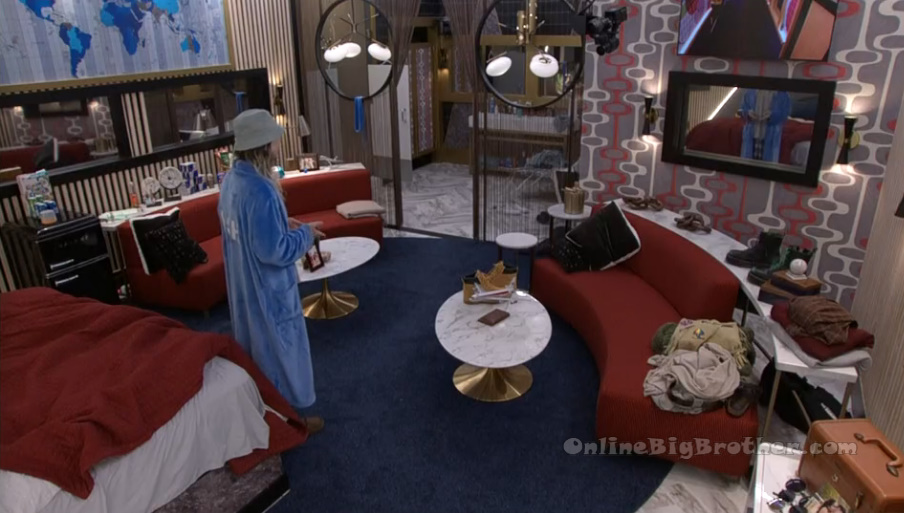 2:45pm – 3pm HOH room – Monte and Turner.
Monte – people have been bringing me up to speed on the whole Michael/Brittany and Kyle thing. Turner – what is it? Monte – like that he wanted to form a group with… Turner – yeah. Okay I just wanted to make sure we're on the same page. Monte – at first I was very hesitant to believe it because Kyle has been very transparent from the beginning but them I wanted to talk about last week. Turner – the one saving grace is I don't think anyone would lie about that on camera. Monte – right. Turner – Like dude! If you're lying about that .. you are F**KED in the outside world. Monte – yeah. That is one very logical reason why I am going to have to believe them. Secondly they kept bringing up very specific things that happened that we know about. Turner – I just want you to know that I wasn't apart of it AT ALL! Monte – no dude. I know you would not have any support of that at all just from your conversations about your support of black lives matter. So I know where your heart is. And also your respect for the culture. Turner – I think that he had pitched that he is a straight white male… and I am not that. Monte – so they pointed out Taylor not wanting to put up a black woman and that is her own reasoning with Jasmine. That could have been an option that week but it wasn't because of how she felt. Then he brought up and I only talked to him about this and this is kind of f**ked up… this is how I kind of lost trust .. I told him… or he confronted me about a conversation I had with Ameerah about wanting to work together. He was like yo is that true. And I say yeah it is true. I said I saw her as a strong black woman in this game that I wanted to work with and we just talked about that from a surface level. Like nothing past that… so he used that to try and say to Michael and Brittany to say that I am working with Terrance of all people that had been yelling and screaming to get me out of the house for the last three weeks. And Jasmine that I just went up on the block against to make sure her a$$ went home. Joe which I can see that because we have always been tight. And then Taylor ..like we just started working with her a couple weeks ago or a month ago.. And she was trying to get me and you out. So for him (Kyle) to come to the conclusion that me and the other black people are working together is just like .. Turner – it is so obvious that it isn't. Monte – it isn't. It was just really sad to hear that. Turner – It just doesn't make any sense. Like there is racism involved in trying to loop all of you together even when that isn't the case. And I hate that and I was almost getting emotional when Michael and Brittany were telling me. Monte – I think you putting Kyle up makes the most sense given everything that everyone knows. Turner – I am definitely going to put him up. I just don't know who… Big Brother blocks the feeds..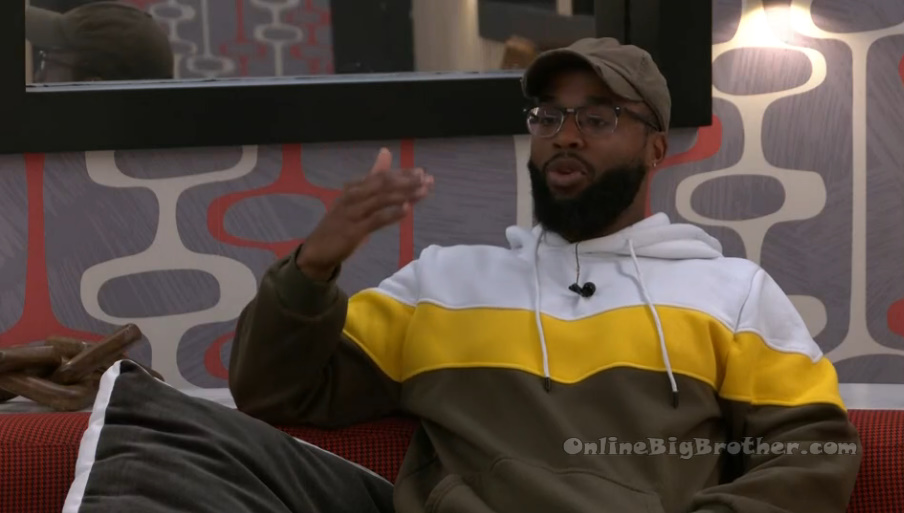 3:18pm Still blocked.. (I think its pretty certain Kyle will self evict over all of this..)
3:54pm The live feeds return.
HOH room – Alyssa and Turner.
Alyssa – who is the third person (going to the movie screening)? Is it Brittany? Turner – Brittany said he didn't have to pick her. Maybe Taylor. I don't know. Alyssa – that would be fun. Turner – yeah that would be a fun group. Probably not Kyle. Alyssa – yeah no way, not Kyle. Turner – he is going to have to be here with Monte and them. Oh my god this is a messy week. Alyssa – yeah that was so heavy this morning. All that Brittany mentioned what that there was something beyond game that she needed to talk to me about Kyle. Big Brother switches the feeds.
Feeds switch back. Alyssa – we shall see what happens with our lives and at the end of the day I support anything that you make (putting up Kyle as the renom) any decision and I love you. Turner – oh dude love you as well. Turner – when I make the decision, it is probably going to be the only decision that I make based off both personal and game because I don't like it but I am going to do it with you and myself in mind. Obviously this will affect us both. If I don't put him on the block unless there is some other house meeting or explosion then I am just going to make myself a target because everybody is on the same page right now. So I am probably going to put him up. I will probably tell Michael and Taylor in the same room as well. I will let you know before hand but I will let you know before tomorrow afternoon as well. Alyssa – will you cut your longer mustache hairs because some are longer than others. (oh my no comment about Kyle going up just straight into the mustache hairs.) Alyssa – thank you for letting me know and for giving me the heads up. Turner – if you ever need to talk I am always here for you. Terrance and Monte .. that's a solid group to keep moving forward with… and whatever happens with Kyle I hope there is a house meeting to get some clarity. I know its going to be uncomfortable no matter what I just hope for best case scenario. Turner – honestly between us .. best case scenario .. I hope it happens after the veto ceremony so that I don't have anymore pressure about who the f**k else to put up on that god damn block. And then people can decide if that argument is valid or not. Not so that he doesn't get the proper chance to defend himself but so that I don't have to… Big Brother switches the feeds.
4:15pm – 4:30pm Meanwhile – Monte, Brittany, Michael and Terrance are in the kitchen making or watching the dinner being made. Terrance and Monte talk about how Kyle has been in the diary room for a long time. Monte – its dead silent in here. Terrance – just replaying it in my mind.. Brittany and Michael would never jeopardize their game like that. Big Brother blocks the feeds again..
5:40 pm Feeds on pound
6:15 pm No feeds wtf?
7:00 pm NO feeds for you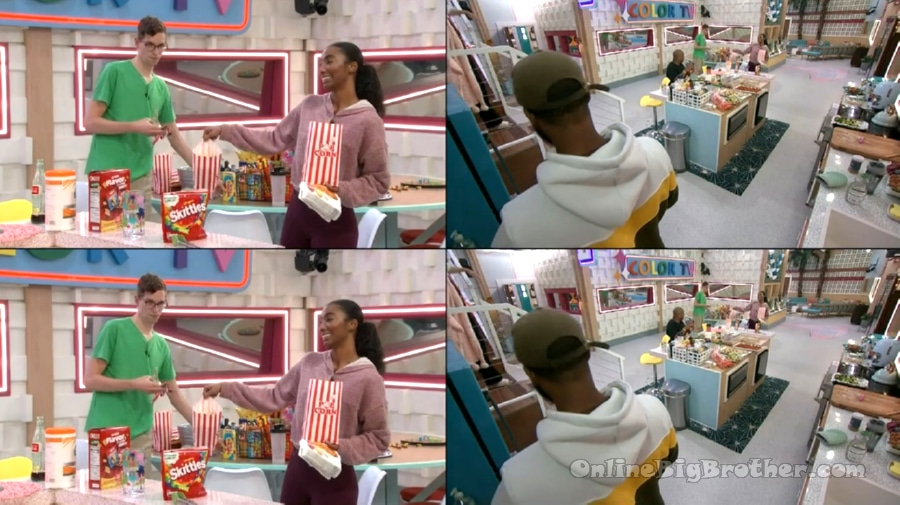 7:27 pm Feeds return. they were down for the movie screening.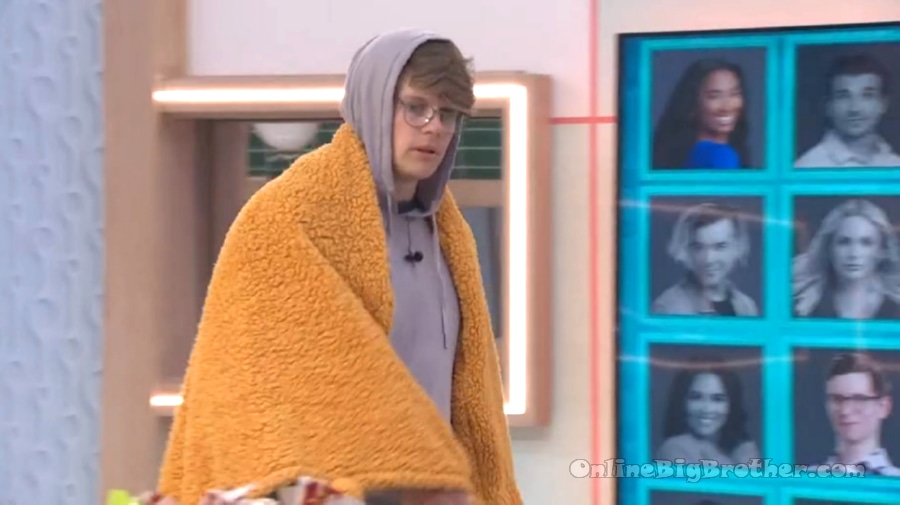 7:33 pm Kyle out of the Diary room
Movie screening snacks and drinks..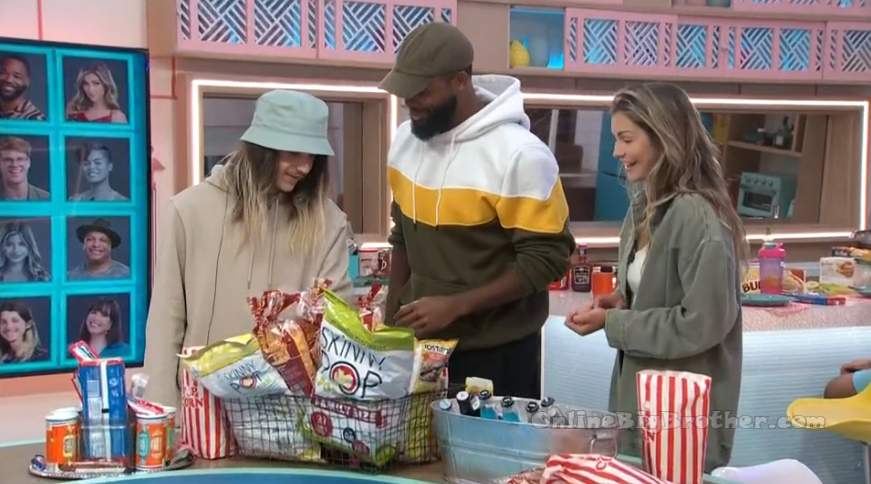 7:43pm Backyard – The house guests got the backyard back again..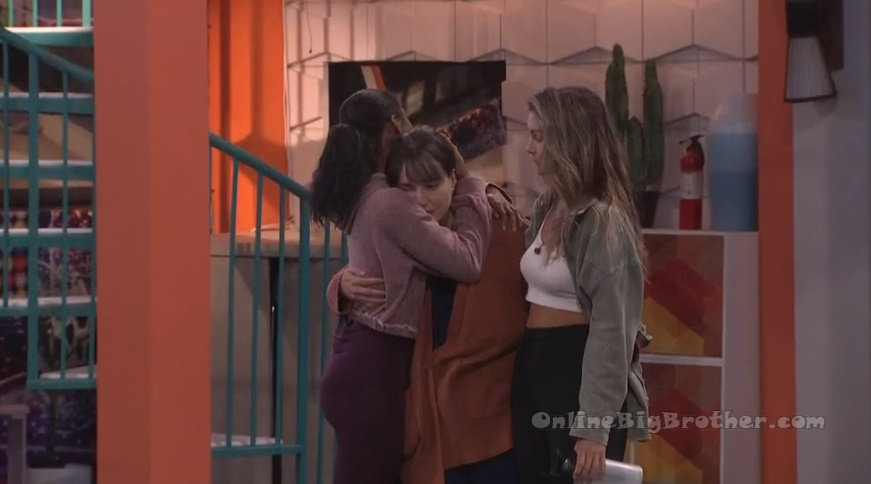 Brittany is upset. Brittany – that was brutal the none movie house. Taylor – oh really?! Brittany – yeah. Turner – are you alright? Brittany – yeah. Taylor – do you want to talk about it? Brittany – not really. Taylor – hammock? Brittany – yeah that would be nice. Probably the hardest day of my life. Taylor – the right things aren't easy. Brittany – oh man guys. Taylor – you did a lot of hard work. Brittany – no one wins.. that's what I came to the consensus… no one .. Big Brother blocks the feeds again..

8:26pm Still blocked.
9:02pm More blocked than not..
9:40pm Still nothing..
Without reader support this site and these spoilers wouldn't be possible.
Please consider a donation to keep the madness going.
Any amount is greatly appreciated!