Quick Big Brother Spoilers
Head of Household: Jasmine
Nominees: POOCH and Taylor
POV Players: POOCH, Jasmine, Taylor, Ameerah, Terrance, Michael (Host Daniel)
POV Winner: Michael
Veto Ceremony:
Evicted:
Havenots: Terrance, Nicole, Pooch, Daniel
Lock your ranks in before midnight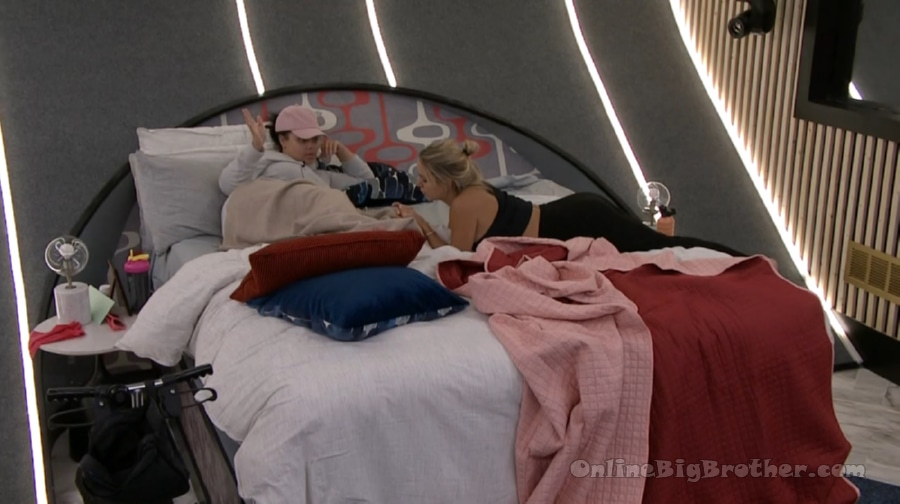 12:04 am Jasmine and Indy
Jasmine telling her that MOnte is voting to keep POOCH to save face with the other guys but he doesn't care if POOCH leaves.
Jasmine complaining about Joe coming up to the HOH and not knocking first.
Jasmine – I don't like how he's just taking over. Like when you brought the sushi over yesterday. The sushi was open he was eating the whole thing. I'm like DUDE.
Indy – he said he doesn't shower every day .. I take two showers per day he lost me there.
12:07 am Ameerah, Alyssa and Jasmine, Indy in the bathroom
Jasmine – if he comes up here one more time without ringing that door bell. using the bathroom or jumping in this bed. Indy had to get him.. she got him today.. and you don't even take baths every day..
Michael joins him. Jasmine brings up when she was getting her spaghetti POOCH asked her if Michael uses the veto will she put up a bigger target than him.
Jasmine – he asked would you be thinking Monte as the replacement. I was like WHAT. That's supposed to be your boy why say put him up.
Jasmine – I told Monte and MOnte said he's not changing his vote for obvious reasons
Jasmine brings up MOnte warning her about Turner "He's watching us trying to gather information"
Indy – the next three days lets change the subject we know what we are going to do that's it.
Alyssa to Michael – you're not going to use it are you?
Michael – I don't think so unless you have a change of heart.
Jasmine – no
Everyone says "I want him POOCH"
Jasmine adding that she really wants Taylor out next week.
Ameerah – she is a wildcard
Jasmine – Are we making the right decision
Ameerah – I don't know
Indy – I think you are
Ameerah – Ask Michael.
Jasmine – Monte said POOCH is the head and Turner is the tail. Once you disconnect them Turner is done for cause he doesn't have anybody.
Jasmine asks Ameerah if she's good with their POOCH plan
Ameerah – I'm solid Yes, She (Taylor) just has to go next week
Michael – if she does win (HOH) she's not putting any of us up
Jasmine – Didn't she tell somebody she's putting a girl up as a pawn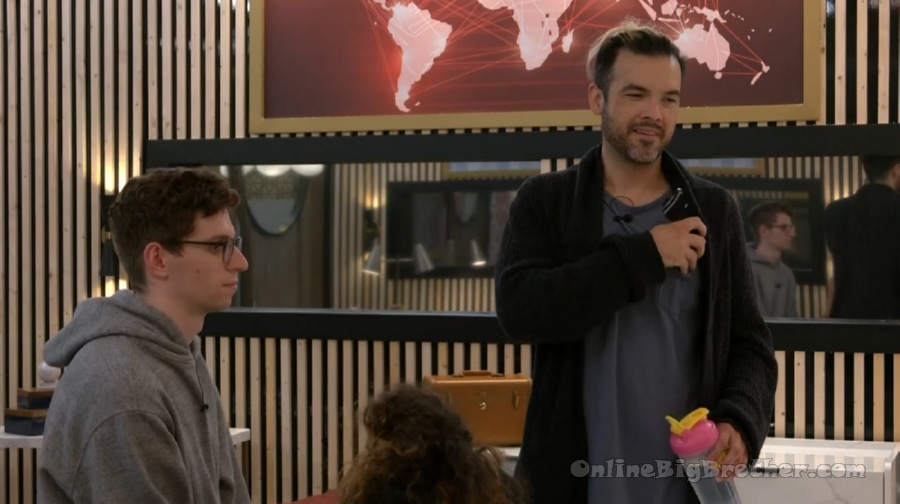 Daniel joins them.
Jasmine – we need to make sure you're solid
Daniel – if she gets HOH I'm going home that's the problem.
Ameerah – NO
Indy – No
Daniel – I'm being put up I should say. Cause she has a reason
Indy – no you are not.
Daniel – I'll do whatever you all want I don't give a f***
Jasmine – I just want to make sure you are still good
Ameerah points out theres 5 days until the vote. She'll need to check in with people throughout the week.
Daniel – you are going to hear so much shit from some people
Daniel – you can also say I've made up my mind I'm not talking to you people anymore.
Ameerah – if you want to but I don't know if that's good for you game.
DAniel asks if the veto is being used.
Jasmine – no we want him out
Michael says he would want POOCH out over Taylor 100%
They talk about who will be havenots next week. Daniel says Taylor
Daniel about Taylor – I'm keeping her for this. I f***ing hate her.. Ok that sounds terrible.. I can't stand her cause she's stalking me and I can't trust a thing she says
Daniel – So just forgive me if I do throw her on slop it's nothing against you guys.
Alyssa – she said you guys better be scared if I am on slop
Daniel – she doesn't deserve to live normal right now. I'm not living normal cause she's stalking my ass. It's affecting my game because it's become personal and I'm not here to play personal game. I honestly think she's kinda a saboteur situation.
Jasmine – Turner said he's doing it next time.
Daniel – I don't mind POOCH but I'm voting him out cause that's what all you guys want. I'm not down with this big alliance (Bros alliance) so whatever you want I still want to be in this game and I appreciate you keeping me.
Daniel – just because I can't stand her doesn't mean I would put her up next week. I'll base it off what happened that week. if it was this week I would probably keep her to as much as I can't stand her.
Indy – the only thing I'm afraid is she's really really good at competitions. Next week if one of us get HOH we can backdoor her.
Daniel – who do you think she will put up you have any ideas?
Ameerah – she's told us all different things
Jasmine – she told me Monte twice.
Ameerah – she told me Turner
Alyssa – she told me Monte and Kyle then she told me a Girl as a pawn
Jasmine – Girl figure your shit out. She just cannot win HOH..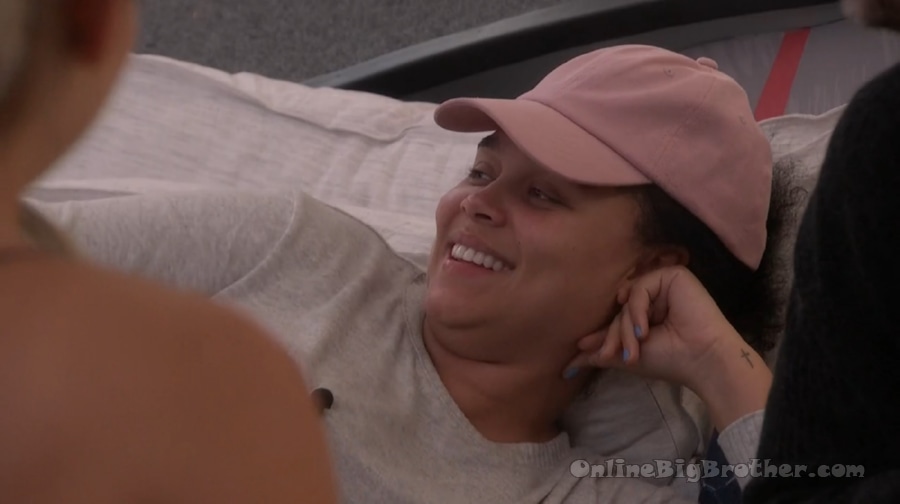 jasmine says this week they get POOCH, Next is Taylor followed by Turner
Daniel – Turners not a threat though.. Who is threat to? He hasn't won anything .
Michael – we will see how he reacts.
Daniel – I don't think he has any strength in this game.
Daniel – you have the numbers right now to get out BIG dudes. Once one of them get it. HOH everything will change you are about to see different attitudes once someone gets power on that side. They will come after you (Michael) you're killing it. They might come after me cause I won HOH. You have the numbers now to make those moves with Brittany, with Taylor.
Daniel – once Monte or Kyle win HOH it'll be unreal.
Jasmin comments that Joe and the rest of the guys aren't trying to win competitions right now.
Michael says all that will change when they get blindsided on Thursday.
Michael asks if they want to take Joe out this week instead of POOCH "we have the Opportunity .. we have veto"
Indy – no it's time for POOCH guys
Michael – I'm fine with that.
Ameerah – we can get the votes for Joe that's not a problem we have 6 already in this room. And Nicole Terrance that's 7 right there.
Ameerah – we could get JOe out right now. That's a BIUG move
Daniel – he is purposely laying low
Alyssa – he's going to slide through and work with the guys. He never talks game with me.
Daniel – with me it's a awkward.. 'he we sill good' like when did we ever talk game.
Michael and Indy say they have a better relationship with Joe.
Indy – POOCH is going to come after us
Ameerah says POOCH, Turner and Joe told her one night at 5am in the bathroom the five they want out are. Michael, Brittany, Terrance, Taylor then Indy. "they said Trim the fat"
Ameerah – any single player you can get out right now. That's crazy.
Ameerah – we have the ability to get out any player in this f**Ing game and we're going with F**ing POOCH?"
Jasmine _ I don't think I can fo Joe.. I'm his sister.
Ameerah – that's his game.. I'm his sister, Nicole is his mom
Daniel – I'm his garbage man..
Jasmine – so what you are saying to take Taylor down put Joe up?
Daniel – then one of them has to go
Michael – it's your HOH Jasmine we'll do what you want.
Jasmine – I am thinking about it
Daniel – Monte is OKAY with getting POOCH out
Jasmine – yeah he's just not giving the vote
Daniel – WOW great alliance
Jasmine – maybe it should be POOCH cause everybody is Okay with it.
Ameerah – lets sleep on it.
Jasmine – that's a good idea.. My HOH I have two men
Ameerah – we would have Taylor at that point
Daniel – we would have to pull her in.. I'll kiss her I don't care.
Alyssa – POOCH said I might have to turn the flirt on with Taylor. A couple days ago.
Daniel now claiming if he had won HOH he would put up "Two strong dudes"
Daniel – why do people wait until week six to due big sh1t.. Week one we didn't know anyone now if I knew how everyone was riding I would have been OK cool we need a big dude out.
Ameerah – week one I said Monte and Kyle
Indy wants POOCH out says he's the bigger threat to her game, Socially more annoying to live with and with POOCH goner Turner will be isolated.
Indy says if Taylor wins HOH next week she will take out one of the big guys.
Jasmine – If I put Joe up he's staying regardless..
Ameerah – depends on what you want.
Micheal – if we decide.. we have teh votes.
Jasmine – POOCH is still there with his gang.. he's still got Kyle, Monte and Turner.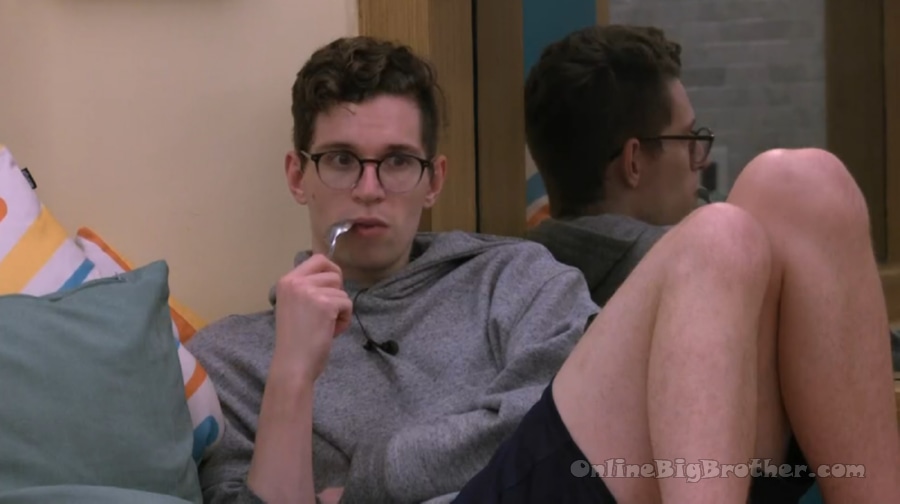 1:16 am Michael whispering to himself.
"Backdooring joe would piss Monte off which I don't really care if he's upset about it. If he won then he will put me up and I don't know if I had the votes to stay"
"Right now he said he's ok with POOCH going home and Taylor would be his next target so he would put up me and Taylor if Joe got backdoored"
"I really want to work with Ameerah moving forward but if that's the case going to have to cut someone she's close with. She has so many options. everyone wants to work with her. She can win this game. She's good. I would rather work with her than against her right now"
"everyone realizes how smart she is but nobody wants to do anything about it"
"joe is the bigger threat to win but taking Joe out could put my game in more jeopardy than letting POOCH go out.. "
"POOCH is so bad at the game is it really worth it?"
"He's so bad at this game not that Joe is great at it. I think Joe can pull out a comp win before POOCH would"
"where does Nicole fit in all of this. Nicole has a EGO. It really pisses her off when someone says another women is the best female competitor in the game. So that's something to think about"
"Maybe she'll want to go with the guys?"
"What's with the hardon for getting Indy out. I love Indy. If I can't sit next to Brittany at the final two I would love to be sitting next to Indy"
"Monte getting out of the game would be so good for me"
"Monte and Terrance have a good relationship.. "
"Kyle is in a good position nobody wants him to go home.. "
"Where does Daniel fit in on all this? I kinda wanted him out but now we're in an alliance"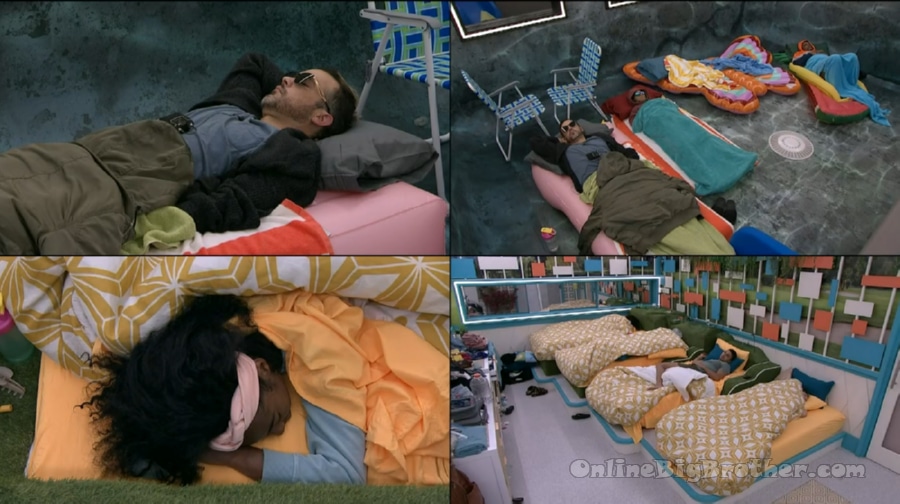 2:00 am Zzzzz
8:45 am Zzzzz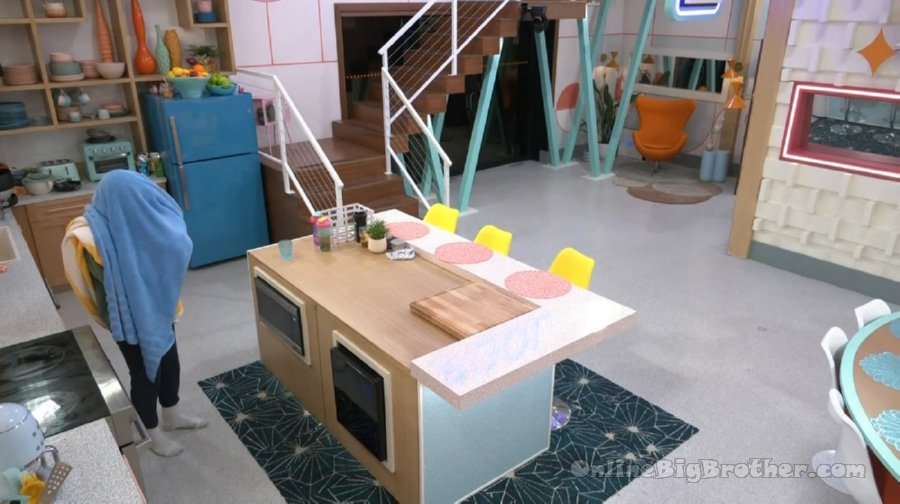 10:00 am Pooch is up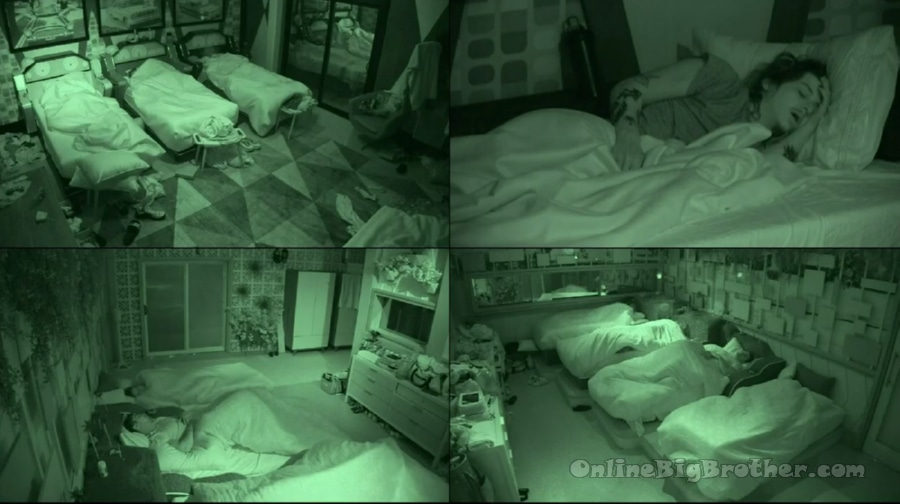 9:50 am ZZzzzz