Quick Big Brother Spoilers
Head of Household: Jasmine
Nominees: POOCH and Taylor
POV Players: POOCH, Jasmine, Taylor, Ameerah, Terrance, Michael (Host Daniel)
POV Winner: Michael
Veto Ceremony:
Evicted:
Havenots: Terrance, Nicole, Pooch, Daniel
Lock your ranks in before midnight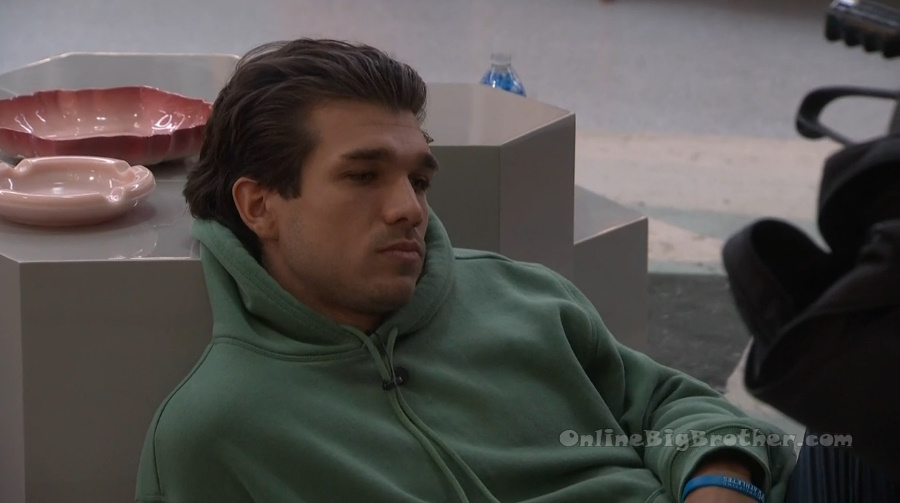 8:50pm Living room. Turner, Jasmine and Pooch.
Jasmine – I am trying to think about who might win HOH next week. Pooch – who would you not want to win? I don't think you need to feel bad about anyone.. Like this such a good HOH, like this didn't bother anyone. Jasmine – I don't know. I don't talk game with Joe. I think he is pretty cool and he likes me.. not like that but you know what I mean. I think he is cool with me. Pooch – so if I won, who would you want me to put up? Because the only people that I would rather not would be Kyle and Turner. Because if two girls go (Paloma & Taylor) you would feel like a guy? Jasmine – hell yeah. I think that's only fair. Pooch – absolutely, I'm with that. Jasmine – I wish some of you were a$$holes because this is so hard. I don't even know if I would want this HOH. This one was pretty .. I don't want to say easy but.. Pooch – for sure because no one will be mad and the one person will be gone. Unless there is a secret and you get voted back in the game. Jasmine – I don't think they would do that. I am just very curious to see how this plays out. I think everyone will be gunning for HOH next week.
9:05pm Storage room. Turner and Pooch.
Turner tells Pooch about how Michael said that he would keep the noms the same. Pooch – why were there so many people in the room? Turner – I asked about that and she said that I could have come in at any time. People were just sleeping and lying around. Pooch – she seemed very straight forward. Turner – yeah she did and that made me feel real good. Pooch – are we just over thinking? Turner – I don't think Jasmine would lie. She specifically told Taylor how much she doesn't like her bro. Why would she go behind our back when we're chill with her. Pooch – Nicole has me tripping, she is trying to get be to basically say that there are bigger targets in the game. Earlier today I feel like I was one flip flop out the door. Ameerah was being mad weird too. Turner – she's a weirdo!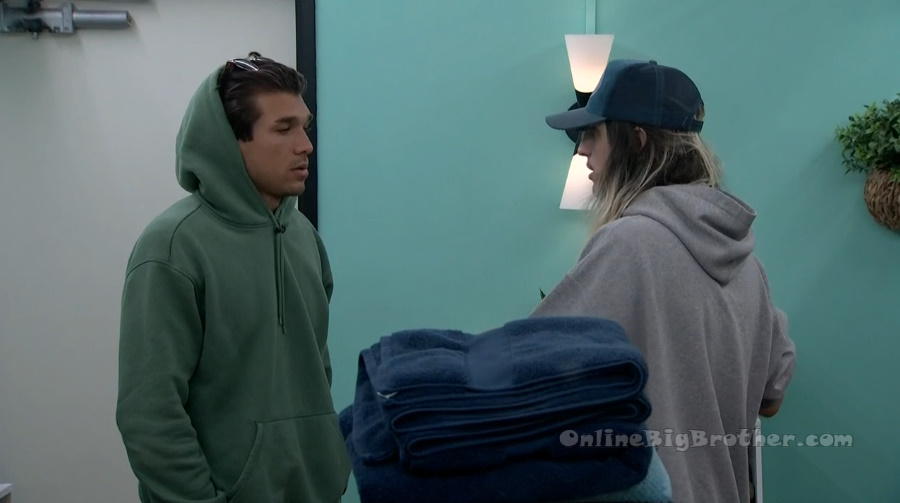 9:25pm – 9:54pm The house guests are sitting around eating the spaghetti that Indy / others made. After eating they each talk about where they would want to travel to, one person from the outside they wish they could have inside the house with them.
10pm HOH room. Terrance and Jasmine.
Terrance – you still sticking with the situation? Jasmine – Daniel seem like he is ready to get her out. Terrance – yeah.. he absolutely hates that girl. He hate her and you know who else Monte.. but he cool with whatever. Jasmine – no he's not. Terrance – he lied to me? He said that he didn't mind doing that. Jasmine – he told me to my face that he is not going to vote Pooch out. It would be stupid for me not to get him out. He offered himself as a pawn. Did you see how fast he did that (veto).. and the only reason why he didn't win was because of the hat technique. I did not come here and say oh lets get all the guys out.. like that isn't my strategy. Its just if I can get a meat head out.. Terrance – why wouldn't you take your shot. Jasmine – I would be stupid. Terrance – you absolutely have my vote.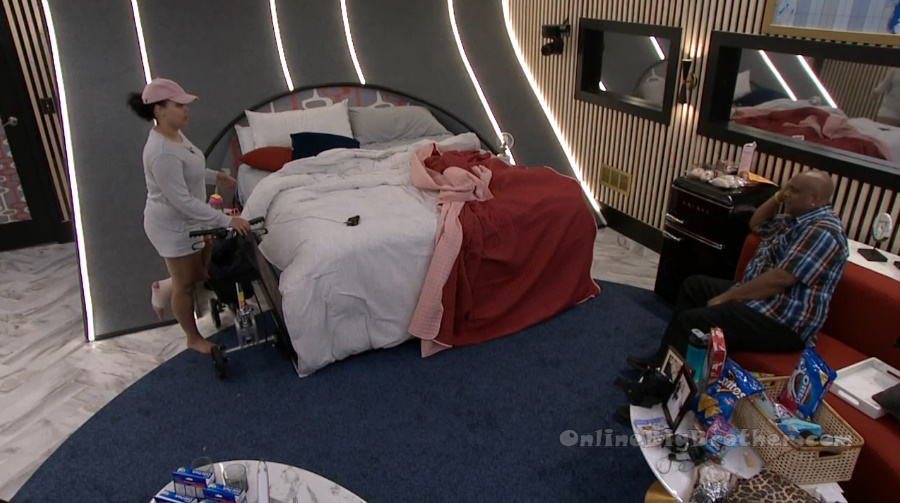 10:06pm Storage room. Pooch and Kyle.
Pooch – I sat down and talked to Jasmine. She said I had nothing to worry about. Kyle – she said you have nothing to worry about?! Pooch – 1000% she wants Taylor to go home. Kyle – she said that? Pooch – yeah. Kyle – she's a snake dude! She's a liar! Pooch – you think? Kyle – guaranteed dude .. just by how much they're up there. Like the girls are doing something.. I guarantee it! Indy and Michael ran up there! I'll see what I can get from Michael. Pooch – everyone keeps telling me I'm good. I'm not going to keep going to people but everyone is acting weird. If I go I am going to be so f**king upset.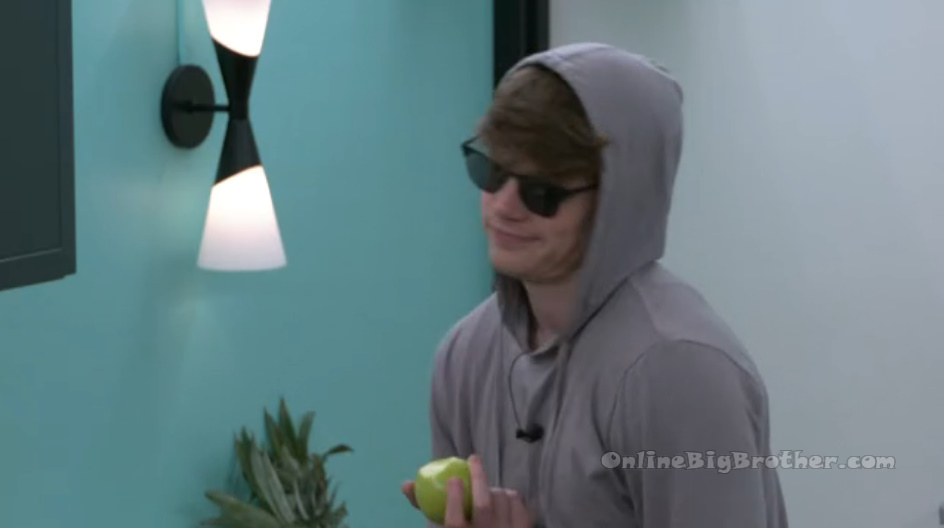 10:25pm HOH room. The house guests are sitting around chatting and laughing.

10:36pm Havenot room. Nicole and Daniel.
Nicole – they want Pooch out bad! Daniel – they're not thinking game, they're thinking personal. Like same with Taylor. I can't personally can't f**king stand her but like I understand why Pooch would have to go. Nicole – same with Monte. Now would be the time to take him out. Daniel – it is. He is going to kill this game. He is laying low right now. Nicole – this morning I go into Ameerah's room and I go Jas' alliance? And she goes I am down with it but she goes I feel obligated to Monte and Kyle and I need to tell them. Daniel – no, no. Nicole – hold on.. the reason why I couldn't speak up is because that's their alliance. I was asked to be a part of that alliance. Do you know what they call it? Paloma's Posse. Daniel – get the f**k out of here with that sh*t! Nicole – tha't's what I said. So this morning I said to her, I just want to be clear.. me and you, Jas and Daniel final four and she goes I am down. But here is the problem we still have Monte, Kyle, Alyssa and Michael. Daniel – why does she feel like she owes them something? Nicole – I don't know. She is very torn. Daniel – oh my god! Did this alliance just start yesterday. This alliance sucks! Nicole – the only way we are going to be successful is if we keep our lips shut. Do you know what Michael said to me in the closed when we were celebrating (veto win)? Daniel – what? Nicole – you told me to embarrass Pooch so I did. Daniel – oh my god! God he is so good. Nicole – like that is savage. He's a beast. Michael is very smart. He knows what he is doing. Daniel – and clearly athletic. F**k dude it pisses me off its called Paloma's Posse. I know its dumb but. I was so down to ride with Ameerah. These people make me sick. Nicole – its like these people have no idea how to play this game. Daniel – you can't be on everyone's side. That is not how you play this game. And my fear is that everyone is making all these alliances ..if I am not in three all of a sudden I am the only option because they can't put up all seven of their own alliances at once. Nicole – and Monte just kept saying we just need to get to jury. You mean you want us to get you to jury.. and then we're out the door. Daniel – if Monte is out it will be much easier to get Kyle if he isn't distracted by a big guy. I love Kyle but you have to rip him away from that.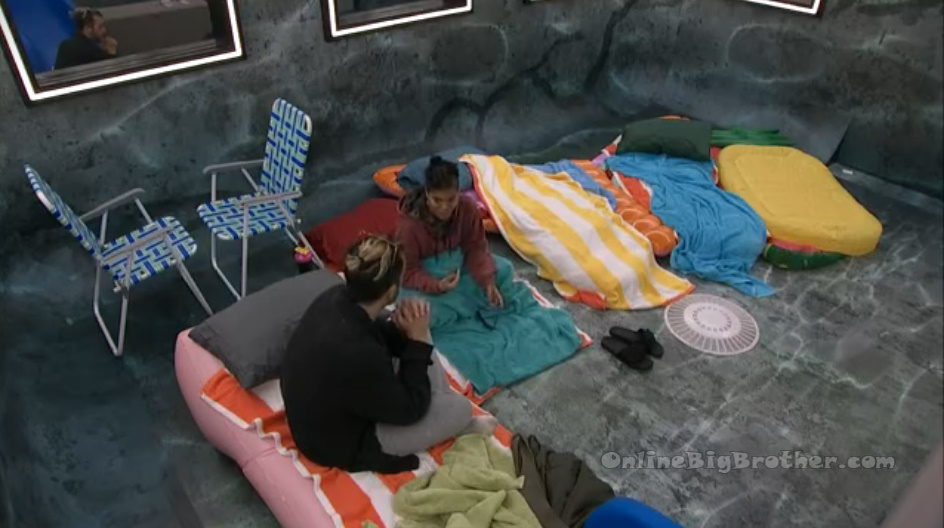 11pm HOH room. The house guests are hanging out chatting and laughing.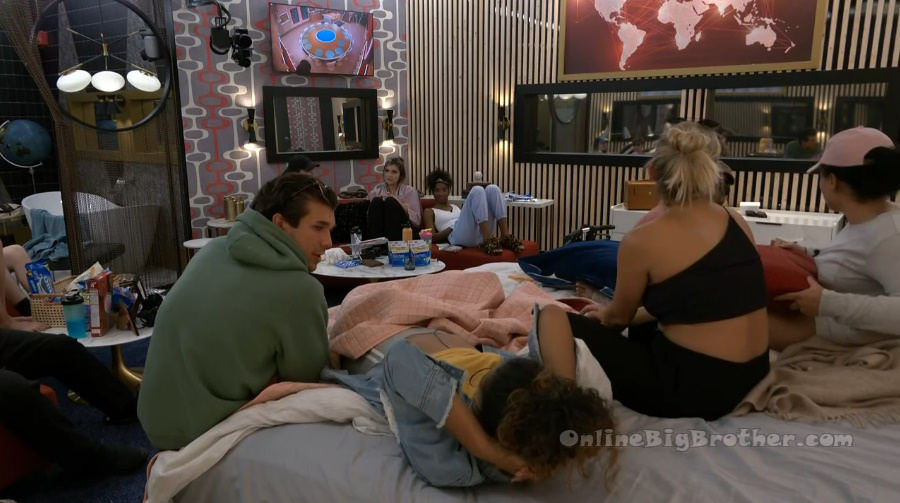 11:40pm Bedroom. Pooch and Kyle.
Pooch – I am nervous! Kyle – I am nervous too. Pooch – it would be such a smart move to vote me out. You know what I would do if I was them? If I was them I would vote me out and recruit Taylor. Not only do they get someone out, they.. Kyle – they recruit Taylor. Pooch – but they f**king hate Taylor so much. Kyle – its only a matter of time before the girls start to fight each other too. Pooch – I am done listening to Indy.. he bossing people around. Kyle – she is going out next week if I win.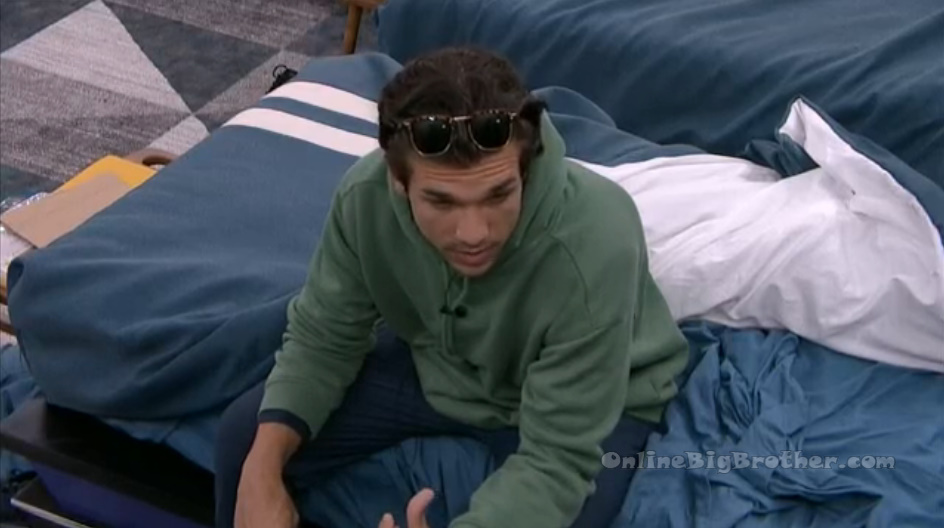 11:50pm Bumper Pool. Alyssa & Indy are playing Turner & Ameerah.