POV Holder:
?
POV Competition
July 16th
POV Used
?
POV Ceremony
July 18th
HOH
Paulie
Next HOH
July 21st
Roadkill Competition Winner:
Tiffany
Original Nominations:
Tiffany, Natalie, Corey
After POV Nominations:
?, ?, ?
Have Nots
?, ?, ?
CBS All Access: Live feeds are only $5.99 per month – Try it FREE for 1 WEEK!
Big Brother 18 Alliances Help Guide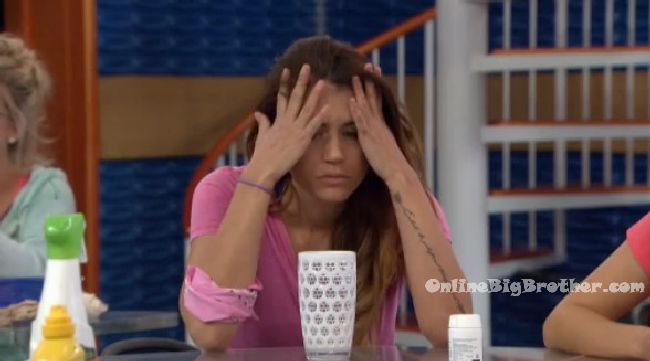 6:55pm The live feeds return from being blocked for the Roadkill Competition.
Roadkill Winner: Tiffany

In the bedroom – Corey says we shouldn't have gotten out Bronte man. Michelle says she thinks Frank got it. Paul says either him or Tiff. I think he's going to put up a strong competitor. Michelle says I think he's gong to put up Day or Nicole. Corey says he will probably put up me or Nicole and if one comes down he will replace with the other. Michelle says douche.
HOH room – Paulie says I know Frank and Tiff are 100% in an alliance. Paulie says Tiffany walked in confident as F**k. Nicole says I can't believe she won this one. Paulie says I'm going to make her really feel like she is a lone.
In the bedroom – Tiffany talks herself and asks who do I put up? Who do I put up?! I've got no one. Frank get your a$$ over here! Now!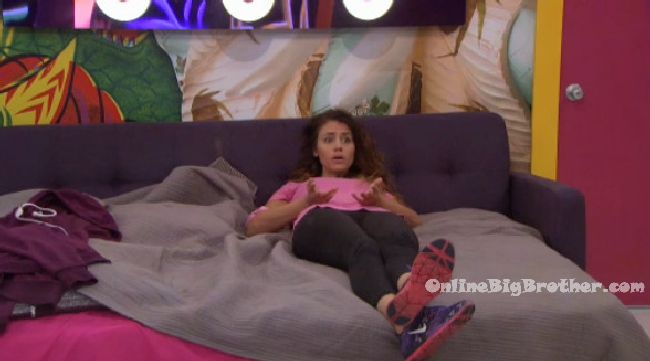 7:15pm Tiffany comes up to Bridgette and Frank in the bedroom and confronts him. What the f**k were you talking to Paulie about in the bedroom. You know you can't trust him. Frank says I know. I have to pretend to talk to him. Tiffany asks you promise? Frank says yeah. Tiffany says if you're f**king me then you're f**king yourself because I'm a number for you. Frank says I know. Tiffany says I know you're playing every side right now .. come on be honest. You have to. Frank says I have to. Tiffany says in the real game just know I have your back. So we can go far and get f**King Paulie. He's so f**king cocky I want to punch him in his face. Frank says I know. You're cocky too but I don't care, I'm using you right now. Tiffany and Frank laugh.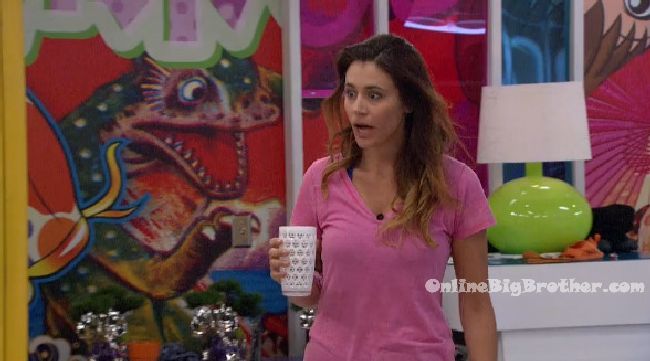 Paulie talks to Frank and Bridgette. Paulie says at the end of the day she will go to whatever side has the power. There have already been too many surprises on her accord. There's a reason why we all wanted her out last week.
7:55pm In the havenot room – Tiffany tells Zakiyah that she didn't put her up. I made a strategic decision. Tiffany says there is a master f**king plan to get me out .. its not going to happen. He thinks I'm my sister and I'm not. I'm playing nothing like her. Its time to shake sh*t up. If people don't like my move then I am sorry but I'm not going to be your puppet. Zakiyah says this is a game. Do not lose your mind or your sanity. Tiffany says I did last night but then it woke me up and the beast is loose. Did you hear what he said.. there are going to be no votes to keep me this time. So of course I'm going to go after someone that's in his alliance. It will be beneficial for you long term. Zakiyah says you got to do what is best for you. Tiffany says this is my last shot. I have no one. If it sends me home this week that at least I went out swinging. No more crying. Tiffany says I've never done anything negative to him.
Safari room – Zakiyah joins Michelle, Corey and Nicole. Zakiyah says that B***h is crazy. She's aware of a lot of sh*t.
Living room – Tiffany, DaVonne and James. Tiffany asks James if he is okay. James says I just have my own personal problem. Tiffany asks with Natalie? James says yeah, how did you know? Tiffany says because you like her. James says that Natalie says that she has no one. Tiffany says and that upsets you because you're there for her. James says yeah. Tiffany tells Day that Paulie is scared of who I'm putting up. Big Brother blocks the feeds.
8:05pm – 8:20pm Big Brother blocks the feeds for the Roadkill nomination.
RoadKill Nomination: Corey
Tiffany nominated Corey.
Safari room – That's good odds going up. Michelle says don't give her anything. Corey says she is the most disloyal person ever!! Zakiyah says she's willing to throw everything out the window and go home. Nicole says I didn't realize there were only 6 candidates. Nicole says please let me play. I hope my name gets drawn. Corey says I was going to say something to her but it wasn't worth it. The feeds switch to Paulie and Paul in the HOH room. Michelle tells Nicole you have 5 votes right here. You're safe. Michelle says James will 100% vote her out. He hates her.
8:35pm – 8:45pm Tokyo bedroom – Tiffany says you're low on their totem pole. Frank says I said I was coming after you because they said you were coming after me. Tiff says I could never come after you, I'm alone. Frank says Its water under the bridge now. Tiffany says if you want to .. moving forward shake sh*t up. There's an alliance with Corey, Paulie, Zakiyah and Nicole. Corey is Paulie's right hand man. If he is gone that side is going to fall a part. Nicole isn't going to know what to do with herself. Frank says we should just lay low till after the pov. Frank says we want Paulie to pick me. Tiffany asks if you won, would you use it on me or Natalie? Frank nods his head. James and Tiff head into the London bedroom. Tiffany says Nicole is flipping out right now. Its a f**king game. James says Natalie keeps saying she's alone in this game. I'm sick of it. I'm not going to be used again. I got used last season. I'll go out of this game alone. James tells Tiffany thank you for not putting me up. With they way this house is flipping.. if I had gone up, I probably would go home. Tiff says they're all banding against me .. its rude!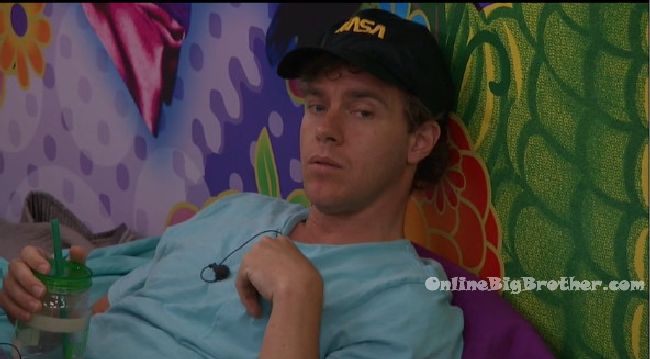 8:50pm London bedroom – Paulie says you should be really cold to her. She turned on the 4 people that voted to keep her here and then ran to the 6 people that wanted her out.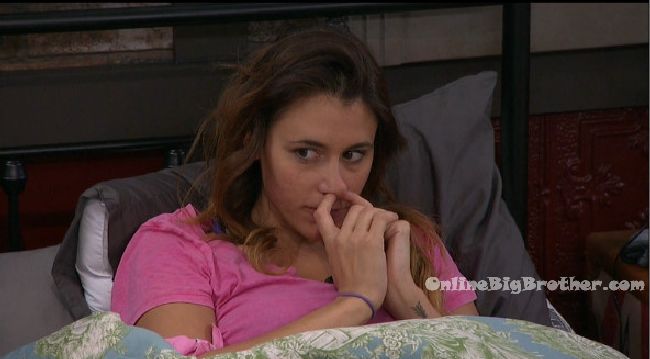 Tokyo bedroom –
Paul talks to Frank. Paulie says its refreshing not being on the block. I'm trying to glue things together but its not. They speculate on what the Power of Veto competition might be. They think it could be a knockout comp, The dice comp, or the reward / punishment comp. Paulie says that he and Corey are going to practice the dice comp all night to prepare. Paulie asks Day did he (Frank) kiss you on the cheek? Davonne says yeah. Corey says he kissed m on the cheep too. Did ya'll see that?! Swear to god! Paulie says he's trying to be a mobster. Technically a mobster would kiss both cheeks and that's how you know you're done. If this veto is anything physical.. Day says yeah done! Done! Paulie says I'm going hard for this one! This .. now you know its real! Oh man I can't wait to get hyped for this comp tomorrow!! Day says I'm going to starfish on the bed. Paulie says she (Tiff) can sleep with Frank or Bridgette.