Quick Big Brother Spoilers
Head of Household:  Michael
Nominees: Alyssa and Terrance
POV Players: Monte, Alyssa, Michael, Terrance, Taylor, Brittany
POV Winner: Michael
Veto Ceremony: Veto was not used.
Havenots: 
Lock your ranks in before midnight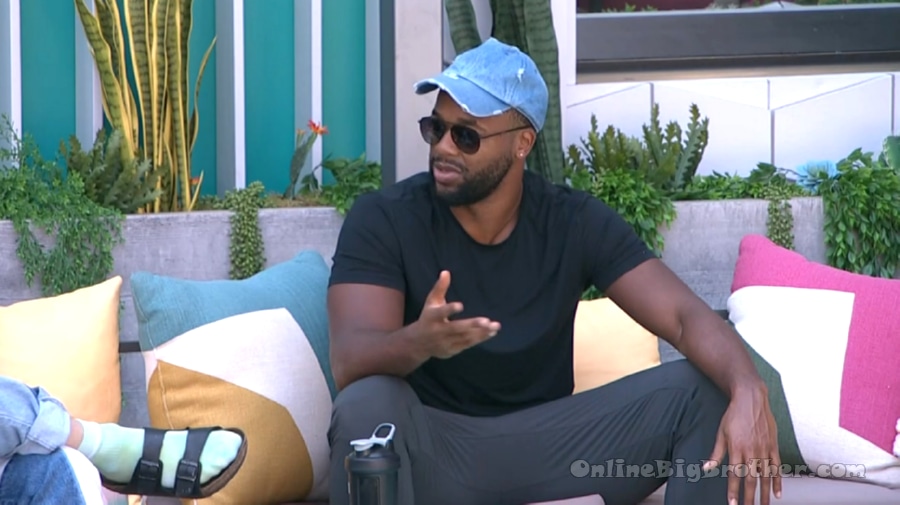 11:12 am Turner and Monte
Monte – I walked into the bathroom this morning and Taylor asked 'Are you okay' .. YES Taylor.
Monte – she's been playing Hall monitor for while
Turner – yeah Big Time
Monte – she was just our hall monitor for a period of time
Turner – they know if the three biggest competitors team up they don't stand a chance.
Monte – Yeah.. at that point there's nothing that can be done.
Turner – Yean
Monte – it will be pretty telling Michael's reaction to Alyssa possibly going home this week vs Terrance. I wonder if he will parlay with that idea.
Monte – I am truly indifferent on the matter.. Alyssa is not a threat.
Turner – Michael feels that Terrance is a direct threat to his game.
Taylor comes out and the game talk stops. Once she leaves.
Monte – last night I think I made sense with what I am trying to say. If the three of us are working together as long as two of us are not on the block and one of us is HOHJ we will always have the majority vote.
Monte – this week you have four next week we have three
Monte – whose more dangerous when it comes to floating. if the girls are truly getting together if this information from Brittany is true. That means Alyssa will vote with them all the time. She will vote either one of out asses out in a heart beat. That only matters if they win HOH and two of us are on the block.
Monte – if Taylor wins I don't see her putting two of us on the block. That to me is hard to imagine.
Turner – she would pawn Alyssa and put one of us up. She would think she has Michael's and Brittany's vote. Do one of us and if we somehow win a veto backdoor Michael.
Monte – that is very true my friend.
Monte – I want to check Michael's vibe if he's really solid on this
Turner – we can control this house with our hands behind our backs.
Monte – just tap-dance around them.
Monte – The leftovers Bro we won every week that is why we were dominate it wasn't as social game we were playing. Joe was you know Fiddling around with information here and there but it really didn't matter we had HOH. That is essentially what it came down to. If it's the same shit we got good odds. once we go down to four based on the order of things Michael doesn't win HOH that week one of us do. That is the time to take the shot if he doesn't win the veto (LOL)
Monte – and we go from there
Turner – worst case some how we don't end up winning HOH next week we can still somehow get Alyssa out.
Monte – yean.. Yeah
Turner – I don't see a world were me and you don't win this HOH
Monte – We should be pretty good..
Turner – it's Michael then us then everybody else.

11:15 am Houseguests getting ready for the Veto Ceremony.
11:25 am Feeds go to the pound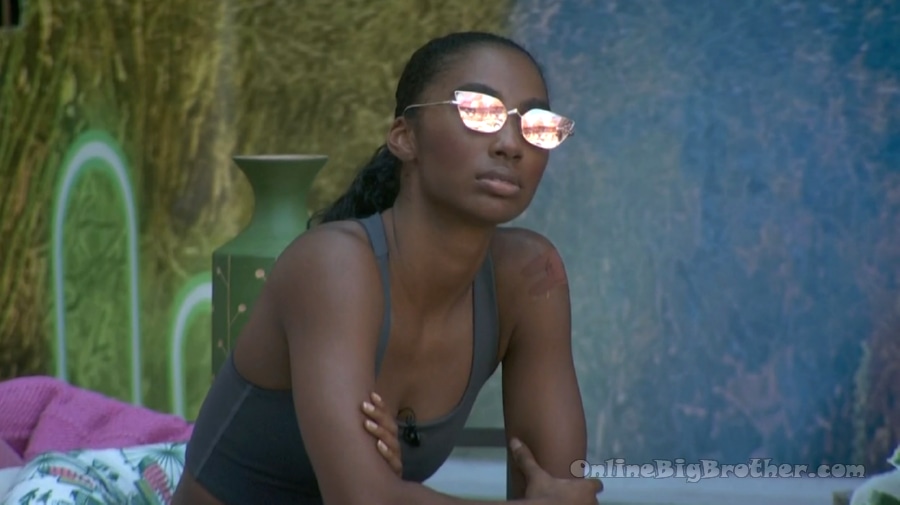 12:18 pm feeds come back Veto wasn't used.
Terrance – why couldn't we win back to back.. why couldn't we win twice..
Taylor – you still got some people in it.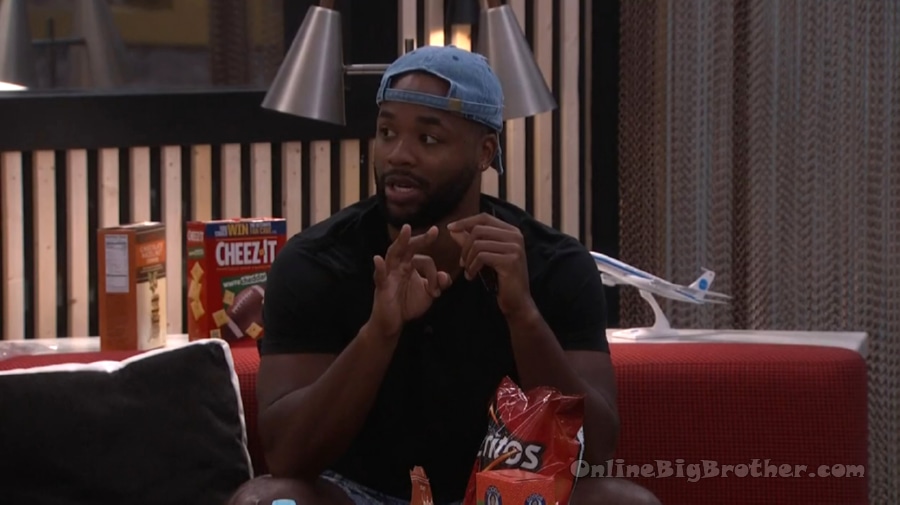 12:22 pm Turner, Michael and Monte
Turner – they are trying to form groups whatever it's a girls alliance of Brittany trying to form a final 2 with me. Talking about Backdooring Michael.. whatever.. the best play for all of us is to work together.
Turner – We can ride the wave going forward.. The best way for us all to make it is to work together and go to the end.
Monte – Brittany pulled you aside?
Turner – we were up until like 6:30..
Monte – it's surprising to hear that the girls are trying to form something this late in the game..
Monte adds that the girls are trying to get the three of them to target each other.
Turner – she said 'I Feel like I am getting looped into Groups for second place… with you (Turner) I feel like I have a fighting chance '
Turner – she was saying in that group of people.. my name gets thrown out. she brought up the idea of backdooring Michael at some point.
Turner – clearly they are going to try and loop one of us into that group so we can take shots at the other people and if a spot opens up backdoor you (Michael)
Turner – they think they can run us instead of us destroying the rest of the game.
Monte – it does make sense for us to protect each other over us eliminating each other so we're the one last big target.
Turner – going into next week we have the majority vote.
tuner – we are going to win every HOH moving forward.
Michael points out that the girls have 1 HOH combined
Tuner – we have 6. A lot better
Monte – this is a pretty solid Idea for us to run with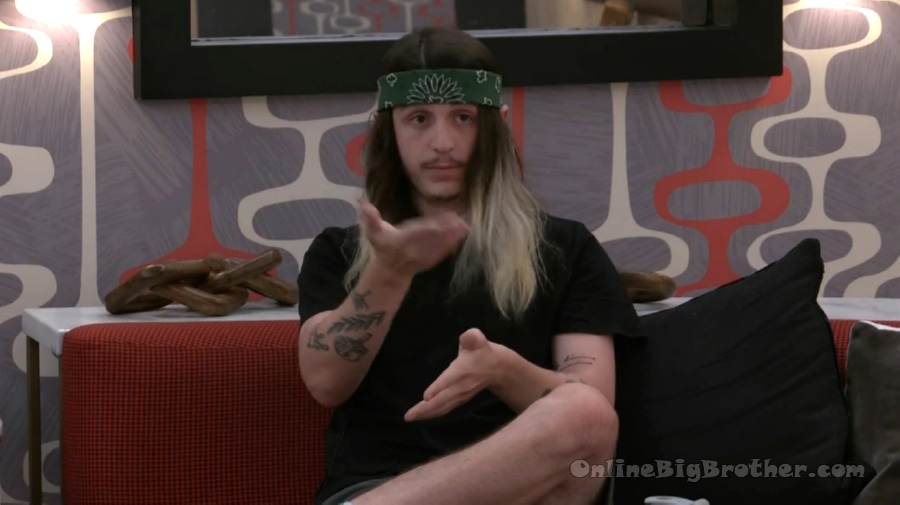 Monte – if we know there is an alliance with the ladies what is the best option? We talked about Alyssa being a high threat level just from the jury perspective. She's going to get every vote known to mankind out there. from a competitive standpoint she doesn't pose much of a threat. Compared to Terrance.
Monte – we control the vote right now. if Brittany or Taylor. where's their heads at?
Monte – I'm trying to get a read on this girls thing if it's real or not.
Monte adds he doesn't care if it's Alyssa or Terrance.
Michael – we have a couple days to figure it out. If Brittany is not on board with girls thing I am less concerned with Alyssa being here. I'll have some subtle conversations and feel them out. This would be the vote to make it happen this week. whatever we decide we make it happen.
Michael – If Brittany isn't on board with the girls thing I wonder if she will say something to use about it.
Turner brings up that Brittany told him she has not chance to win against Michael but Turner she does.
Monte says he's going to "Poke the bear" a little bit with Taylor to see how she response to voting out Alyssa.
Michael – I have felt Brittany has been on edge these past couple days.
Michael brings up when he was talking to Brittany and Taylor approached them. Brittany asked for 5 more minutes. Michael notes they weren't talking about anything special Taylor could have been with them.
Michael – it was really weird.
Turner says about his talk with Brittany she was "Very animated" told him "you can not tell anybody this"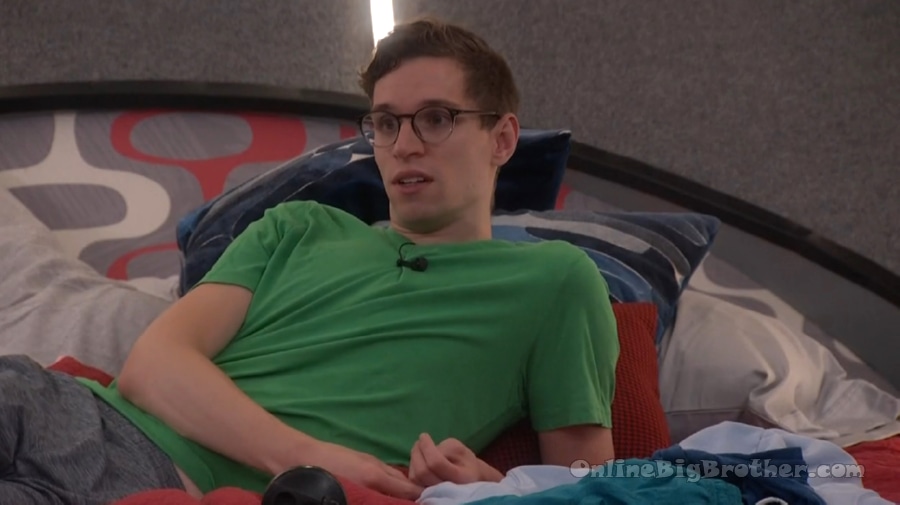 Michael – if she gets the feeling she can't win she's going to do something desperate.
Turner – is it chaotic to give us a name or does that always end poorly?
Monte says she's heard so many names for so many alliances.
Turner – Group of three people forming?
Michael – that's the name
Turner – Founding fathers.. We don't have to name it we just have to know we have each other's back and then can steamroll everybody .. with peace and love.

They're very enthusiastic about their hands in
Turner leaves..
Michael says he feels better with Turner sharing the information now than before the veto because if it was before it would be a sign he felt in danger.
Monte – it seems pretty organic the timing of things. There's no holes in the story so I 100% believe his story.
Michael – has Brittany made any comments to you?
Monte – like a final 2?
Michael – like getting me out?
Monte – she never said those words.. Taylor on the other hand..
Monte says for Brittany to unload so much information to Turner was surprising.
Michael – is she really that worried that Turner will win and come after her next week?
Michael – if she thinks everyone can beat her
Michael – this very much reminds me of the backstage days..
Monte nods "yeah"
Monte says some of the things said about Dyre Fest didn't add up but since Kyle outed that him and Turner had a final two Turner had to revaluate his game.
Michael – the way he described it was that Fyre fest was a shit show..
Monte – this game makes the closest people to you do some pretty shady stuff when their backs are against the wall..
Michael – yeah
Monte – you had her back a lot sucks to hear that (Britt)
Michael – I'm going to stay calm. I'm not going to run and confront her. That is just going to blow everything up so if we can have conversations with them.. if she did get approached with a girls alliance that she's not interested in I would think she would tell us.
Monte says he hasn't had a lot of one on one time with Britt but he did with Taylor and she never mentioned a girls alliance at all.
Monte – that to be makes it seem like it's actually a thing
Monte leaves..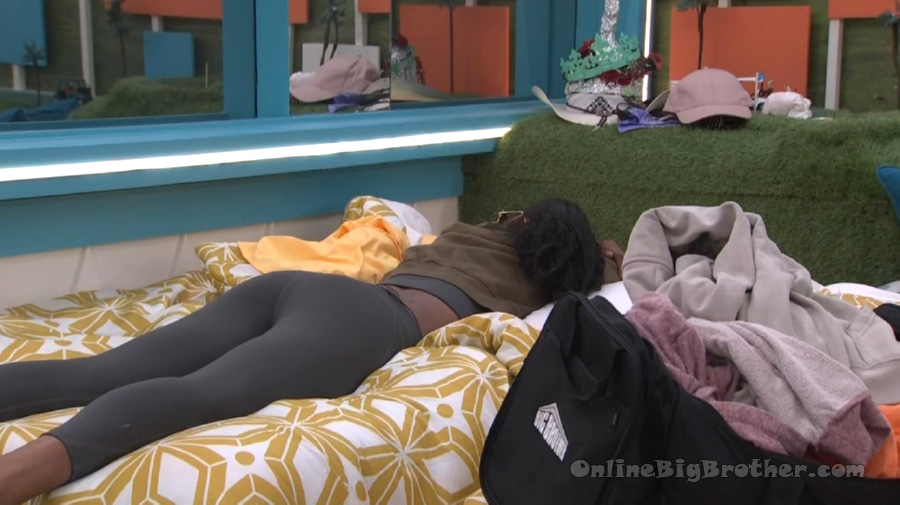 1:06 pm cam 4 Zzzzzzz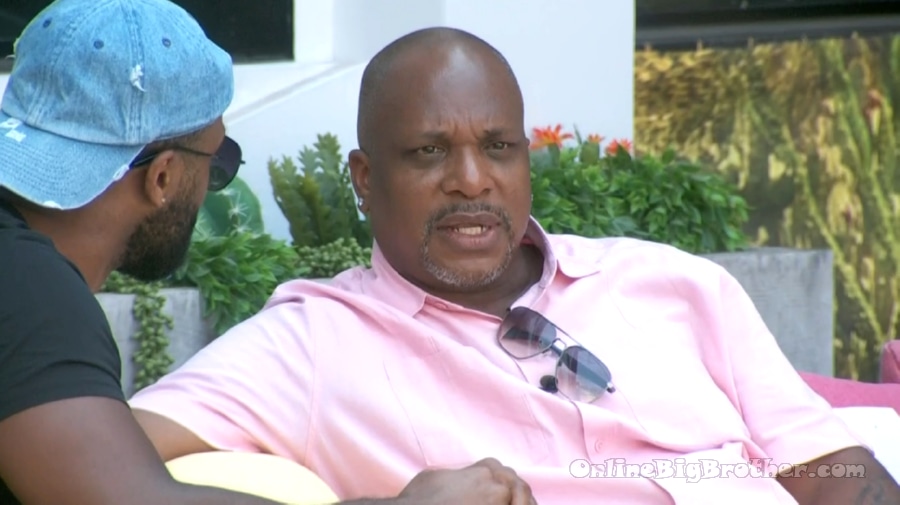 1:04 pm Terrance and Monte
Terrance says that Turner is fine with Alyssa going "He can't sit next to her"
Monte – everybody know that shit.
Terrance – she has everybody bro..
Monte – it escapes me how ever week there's always an excuse to getting her out of the house. Even with the leftovers there was always something.
Monte is worried Alyssa will "Float her way to final two"
Terrance – A black man won it last year we won it as a people. F** it They say we are working together why not win it twice why not go back to back and win it a different way.
Terrance says if Alyssa wins HOH she's not putting up Turner she's putting up Taylor and Monte.
Terrance says if he wins the HOH he's putting up Turner and Michael. "Alyssa is connected to turner, Brittany to Michael. no one in the game can sit next to Michael"
Terrance – Turner and Alyssa thru me clean under the bus with Michael..
Without reader support this site and these spoilers wouldn't be possible.
Please consider a donation to keep the madness going.
Any amount is greatly appreciated!