Quick Big Brother Spoilers
Head of Household:  Michael
Nominees: Alyssa and Terrance
POV Players: Monte, Alyssa, Michael, Terrance, Taylor, Brittany
POV Winner: Michael
Veto Ceremony:
Havenots: 
Lock your ranks in before midnight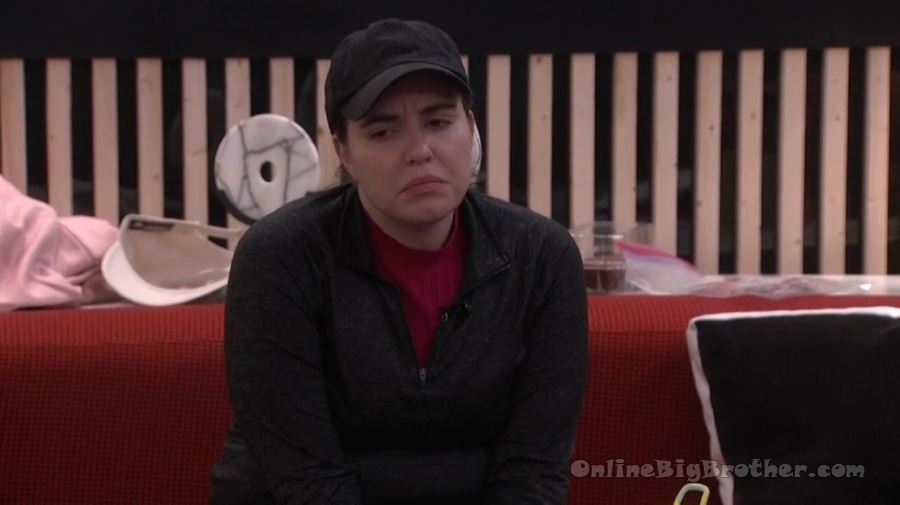 2:00 am Britt and Michael
Michael- leaving it the same what do you think?
Britt – if Turner and Monte are really teamed up and what does that mean for next week.
Michael- if they were teamed up this week it would have to be Monte. I don't want to go back on Turner. If we did Monte this week especially now 10 hours before that won't go down well with Taylor. so.. my thought would be .. we have turner Mad we have TAylor mad. Terrance is still going to be Mad.
Britt – when you talk to Taylor have you sussed out how she feels about Alyssa Final 4 over Monte Final 4?
Michael- she wants to stick with Monte. Is that different with what she told you?
Britt says if Michael doesn't win veto next week there's a good chance he's going home.
Britt – Turner's idea was if we went after you it would be Me, Taylor, Turner and Monte that would do it.
Britt – I was like Ohh you think Monte would be up for something like that. he was like 'ohh I got him we're still close from forming the leftovers'
Britt – do you think if it was Turner or Monte winning next week it would be Alyssa they sent home?
Michael- no
Britt – that leaves us three..
Michael – there's a chance..
Britt – maybe Monte with Alyssa.. if there is a opportunity they will take it. (take out Michael)
They agree Terrance is going after Taylor and Michael. Britt isn't worried he would win HOH though. Michael thinks if it's a double Terrance has a shot at winning.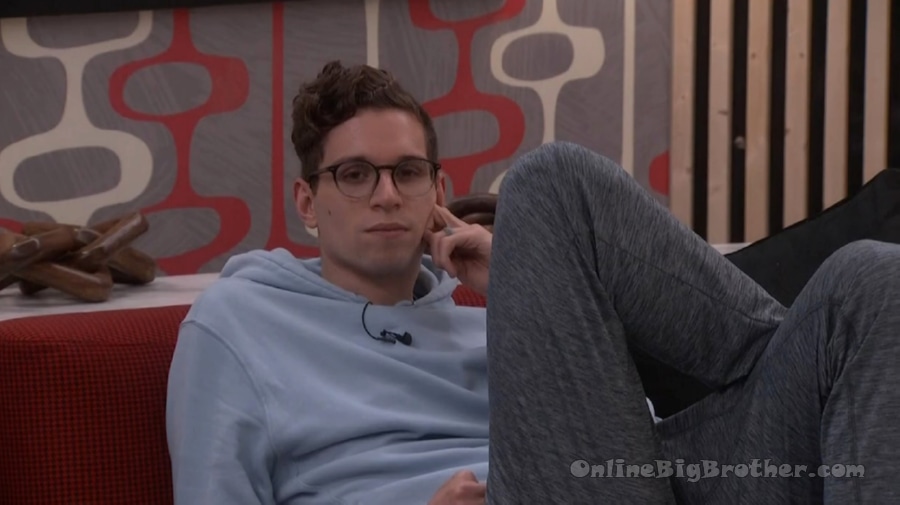 Britt thinks Monte is less likely to turn on them than Turner.
Michael- I feel like I should be more panicked than I am.
Michael – If there is an option to not win next week's veto that will be my preference.
Britt – meaning one of us wins hOH
Michael- if Monte wins would he hold out one week.. if Taylor wins would she hold off one week.
Britt – if you didn't win veto I don't think Monte would hold off.
Britt says everyone was salty over how much better Michael did the zingbot competition. Everyone was at the same time except for Michael who was 4 minutes faster.
Britt says she feels good with Alyssa. "Talking to the three girls it was us three we can right the wrongs of the season"
Britt – Taylor really bought into the story she wasn't included in the girls group but the final 3 they counted us out.
Britt – I was just like Ohh no it's another Taylor storyline.. that scares me because we know she makes decisions based on that.
Britt – My priority is you and I. If something screws up and you leave it's completely different. Turner makes the most sense to get out he's the biggest threat to you winning of who's left. If you were not here I would probably try to go to final 2 with him .
they have no idea what Taylor would do if she won HOH.
Michael- Turner?
Britt – are you closer to her than Monte?
Michael – I don't know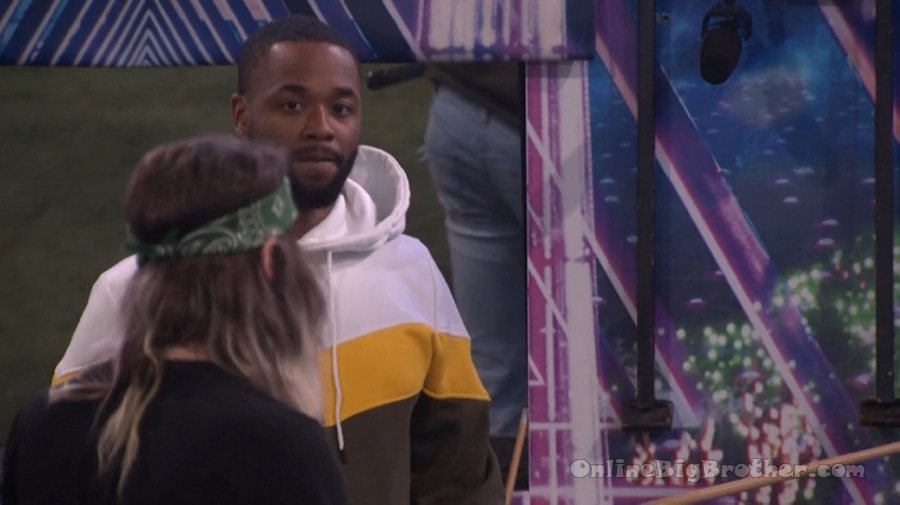 2:50 am Turner alone
Turner – maybe I'm on the cusp of something great here live feeds. maybe I'm imploding but I think this is good.. not self destruction self construction
Monte joins him.
Monte – anybody has got to see Taylor has been such a wild card when it comes to proposals on plans and sh1t like that. Even the whole situation with Michael and Brittany.. She still thinks that they weren't gaming a game move sharing that information (about Kyle).. Like C'mon man. It's hard for me to talk any game with her cause I don't know if you are actually listening to what I am saying.
Monte – say we have this final 3 with Michael. We have to figure out what to do with both our games cause Brittany is talking final 4 with me, you her and Taylor is that what she said?
Turner – it wasn't her idea .. we were naming names. I was trying to get into her head and that is what she came to.
Monte – having Michael on our side 100% down for and taking out Taylor 100% down for. From a competition standpoint she will be dangerous and her story to Jury would be compelling to someone that may vote for her. So I am 100% down for that.
Monte – Alyssa and Taylor are the biggest targets right now. Of course Michael is as well. To an extent if we want tot work with him.
Monte mentions if they win HOH and Michael doesn't win veto "What do we do?"
Turner – that is a good question
Monte says Terrance's plan to go into Jury and tell them how dirty Brittany and Michael played is a BIG IF. not sure if they can count on it.
Monte – If Taylor goes out next week and it's just Alyssa and Brittany we have to go up against and some reason we can take a shot at Michael do we not take that shot? Do we bank on the HOHs?
Turner – Next week don't take a shot the following week.. ohh that's the f**Ing end..
Monte – see what I am saying? I don't want to go back on anything but.. do we want that final three scenario with Michael?
Monte – it would be better for us to have somebody that is of low competitive nature.. you know what I am saying? In that final 3 scenario then we can control the sh1t from there.
Turner says having Michael on their side to use a veto that would be huge.
feeds cut.. when we're back.
Monte – we should have this conversation with Michael
Turner – In a few weeks if there is a opening we take it especially during a double that would be HUGE.
Monte – if we honour this with Michael next week we don't take a shot at him and we take a shot at Taylor or Alyssa somebody that will be high threat if we sit next to them. He wins HOH he takes a shot at who Brittany or Taylor?
Turner – probably Taylor
Monte – that's Ideal, Michael, Brittany, Me and you. In that case as long as one ..
Turner – then we're in final 4.. that's a easy road to final 4 with that group.
Monte – at that point bro if we have the choice to pick between Michael and Brittany .. (choose Michael)
Turner – oh of course..
Turner – Once week Michael won't be eligible so if he's on our side amazing.. if he isn't we're f***ed
Monte – that actually sounds pretty ideal.. we're HOH's if one of us is HOH for that following week it's a clear choice that we got to get Michael the hell outta here.
Monte – at least we're scot free and we have him on our side until then. Make sure your ass doesn't go home and my ass doesn't go home.
Monte – covers us with Brittany in case she wins HOH we're solid with her.
Turner – exactly.. it's 3v3 which three will win me, you and Michael or Britt, Taylor and Alyssa?
Monte – why do the women in this house not want to align with the most competitive people. if you are not aligned with and you are starting to conspire with people that haven't won a lot of HOH then how are you going to get to final 3. Right now we're talking about exactly what you need to do. Align with the strongest competitors who are bound to win HOH and we make sure that we get to at least 4.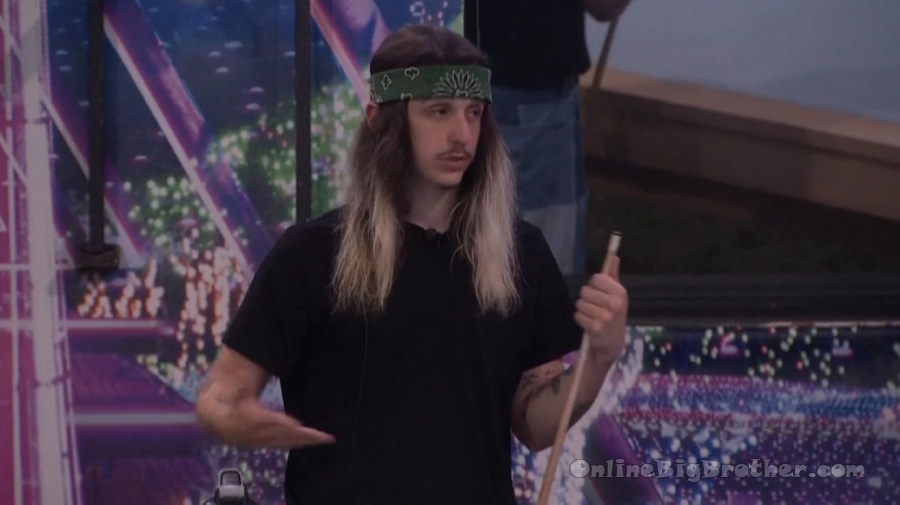 Turner says in his conversation with Brittany last night she did say "you and Taylor are WAY closer than people elude to"
Turner – did I tell you Kyle told Alyssa about the pound
Monte – ahh god.. f***ing Kyle man..
Turner – he's just f***ign us left and right
Monte – I knew it I just didn't want to believe it.. F***ing Bros man..
Monte – I always felt good about Michael from a game perspective
Turner – he's truthful so I always trust him
Monte says as long as Turner is ready to take the shot at Michael when in a couple weeks them aiding with Michael is the better play. Turner says it's like riding a wave to the shore (Final 3)
Monte – next week do we do Alyssa first or Taylor first?
Turner – I think Taylor
Monte – because she's a stronger competitor?
Turner yeah
Monte – that's fair
Monte says he's onboard getting Taylor out "I never know where her head is at. I never talk real or clear game talk with her. it's always jaded with some opinions or ulterior motives that do not align what I f**ing care about"
Turner brings up Brittany telling him "if we move forward together we can make it to the end together"
Turner – how can we make it to the end together that doesn't even make sense. I know she believed it.. my god I have never seen Brittany that awake at 6am in the morning
Monte – that has me a little suspicious why she is proposing this sh1t
Turner says Brittany is worried about going to the end with people she can't beat.
Monte – she thinks she can beat you?
Turner – she said I am the only person she has a chance to beat at all.
Monte – you've won 2 HOH's what the f** does she think
Turner – she doesn't think Michael gave her the comp win so it's one comps vs two comps and I'm not very close to the people in Jury
Turner – Jasmine doesn't like me and I wasn't close to Indy.
Monte says this is Brittany's move to make sure he doesn't put her on the block next week.
Turner – Taylor and Brittany are having these conversations about taking out Michael.
turner brings up that Brittany is saying Alyssa and Taylor are making a girls group.
Monte – I'm going to poke the bear with Taylor and see if she coughs up.. if she doesn't cough it up then it means that is a real thing if she coughs it up then it could just be a ploy.
Monte – who in their right mind thinks that would possibly work? They have to count on two of them to win HOH's
Turner – what it is. Alyssa will cling onto this group cause that is her only saving grace right now.
Monte – she probably thinks she has you in the bag.
Turner – Taylor hearing about this group wanted a girl thing all season. Brittany hearing about this group initially is aware they ware just trying to beat her but simultaneously has not wanted this girls group but taylor her best friend in the house right now is into it what else? I can see how this could come together.
Turner says the girls want them to attack each other or for the two of them to attack Michael.
Turner says Taylor want's to make good TV and get Michael out.
Turner – and Alyssa needs a girls group
Monte – Alyssa needs something right now.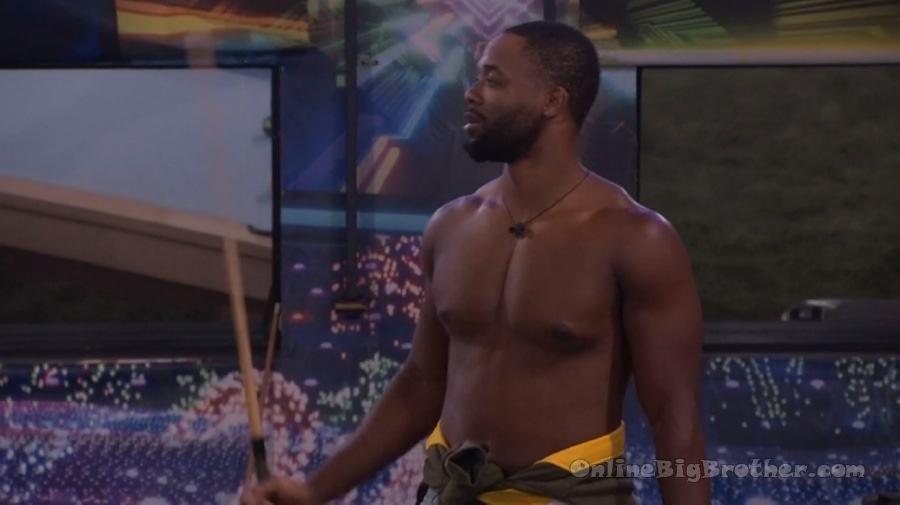 Monte – I'm down with the plan lets call Michael
Turner – yeah once he's out of the DR.
Turner – maybe we can introduce the option of taking Alyssa out this week. She's already on the block. We can take Terrance out any time. Michael did say the only reason he wanted Terrance out is because he didn't want Terrance to be the BIG D from last season where he's just taken to final 2.
Monte – my thing.. Michael's logic to me around why he wants to keep Alyssa is she would always be a big target if she's sitting on the block next to any of us.
Monte says if they take out Terrance this week next week the put up Alyssa and Taylor.
Monte – it's me, you, Michael right.. if one of us win HOh the other two have votes as long as we're not on the block.. we're good
Turner suggests maybe this week they not try to chance who leaves so Michael doesn't think they are using him.
Monte – this is a golden path here..
Turner brings up Afterparty alliance and how if formed during Dyre Fest. He was happy to be off the block so was down for it. Says it was all Alyssa, Kyle and Terrance being gung ho.
Turner – Kyle would be in my room at 6am trying to ask to turn the lights on talking crazy.. I was like this guy is losing his mind.
Monte – that's what I'm telling you man
Turner – he was acting messy.. being POOCH..
Monte – when people feel like their back is up against the wall they start acting crazy.
6:00 am zzzzzz
10:00 am Lights are on
Without reader support this site and these spoilers wouldn't be possible.
Please consider a donation to keep the madness going.
Any amount is greatly appreciated!