POV Holder:
?
Next POV
?
POV Used
?
POV Ceremony
?
HOH Winner:
Andrew
Next HOH:
March 13
Original Nominations:
Paul & Neda
Current Nominations:
Last Evicted Houseguest
Anick
Have Nots
Rachelle, Neda, Heather and Sarah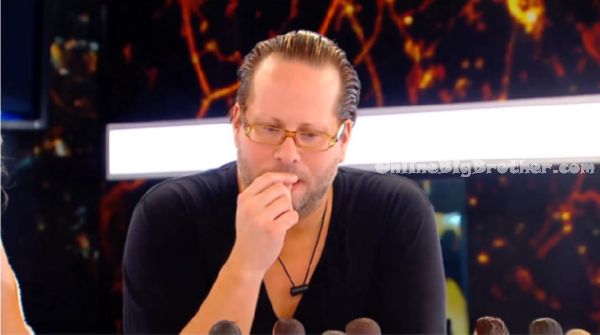 1:45pm The live feeds return with the war room on all 5 cams. The 3 Final Hg's Nate, Scott and Allison are given a task to match up 13 facts with each of the bobble heads. They need to match 9 out of the 13 facts. They are told that they have 30 minutes to lock in 13 facts to earn a special scene from the big brother house with sound. They are confusing Sabrina with Rachelle. So far they have a number of the facts wrong.
Facts: Super Fan, Douche bag, Model, Inventor, Motivational Speaker, Minor League Hockey Player, Life Guard, Hops Tattoo, Teen Mom, Married with Two Kids, Princess, Fashion Stylist, Yoga Type.
2:15pm AFTER the 30 minutes – they read out their answers and are told they only have 3 correct. They had Princess, Hops Tattoo, and Fashion Stylist correct. Big Brother says they are feeling generous and gives them another 30 minutes to complete the task.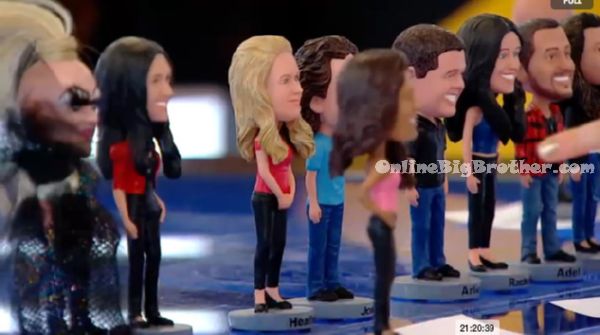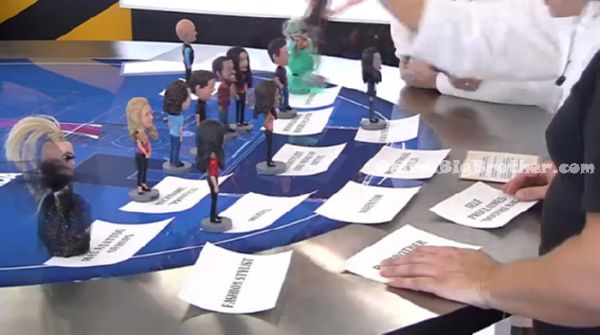 Part 1:

Part 2:

Scott says Paul doesn't scream motivational speaker – he's fat, over weight, sleeps a lot. Big Brother tells them that Married with two kids is a female. Allison asks do you think Sarah would say F this s**t on TV if she was married with two kids? Scott says I've seen some mom's..
2:35pm Big Brother asks for an update. Scott reads off their current answers. Big Brother then cuts the feeds. When the feeds come back – they have 7 right. The feeds are blocked and come back to show that they had 4 wrong. They talk about how now which ever one of them makes it into the house now they know info about each of them.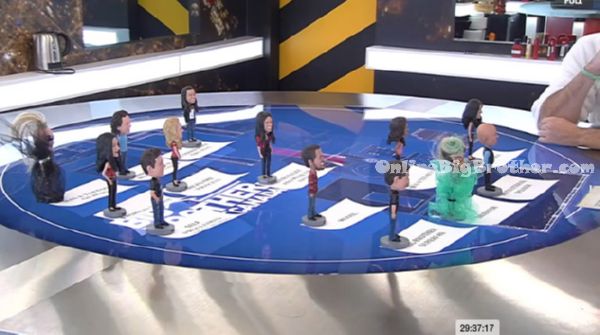 Part 3:

Part 4:

2:35pm – 3pm On Cam 1 in the bedroom – Paul, Adel and Kyle are talking. Paul is laughing and talking about how he was up in HOH room and Andrew told him to get out of his room. Paul says that he didn't leave and Andrew kept telling him to get out. Paul says that Andrew then held up his mic and asked Big Brother to get Paul out of his room. Adel and Kyle are laughing. Adel says what pissed me was when Andrew was fist pumping everyone and he skipped you. Adel says maybe we should put cookie crumbs in our pockets … and after when they are walking away ..we start throwing the crumbs on the ground saying here pigeons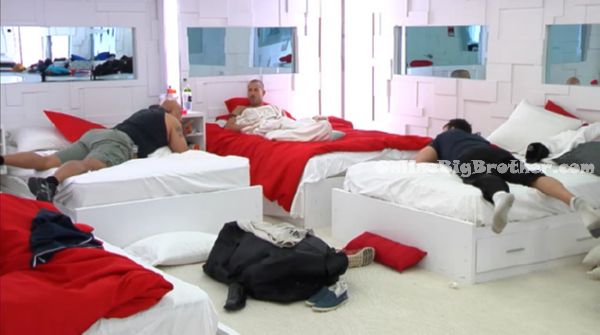 3pm – 3:30pm Up in the HOH room – The house guests are talking about random things. Random conversations throughout the house. Heather made mash potatoes for the havenots since they're allowed to eat them.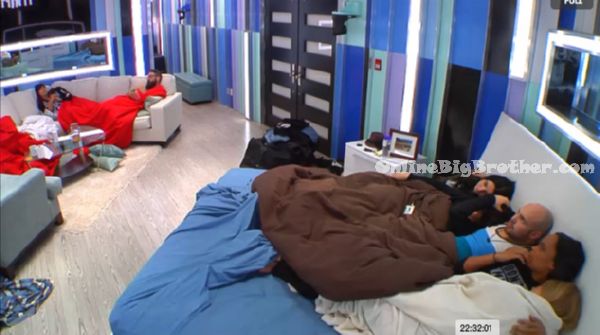 3:35pm – 3:40pm In the living room – Jon and Neda are talking about how Sabrina hated Andrew the first week and now she's all over him. Neda says that Sabrina recently said that she would never put him up. Jon says I want him out but I have no idea how to do it. Neda says it would be really good for your game. Jon says yeah but if I put him up and no one votes him out then I'm in trouble.
4:10pm – 4:30pm In the kitchen Adel tells Ika and Sabrina that he's going to put both of them up if he gets HOH. He says that they've shown me a replay of Sabrina talking about him. Sabrina says so you just wanted me to know that you saw something. Adel then says no forget about it, it's okay.
Check out the NEW OBB Forum https://forum.onlinebigbrother.com/
Stay connected and interact with other Big Brother Fans on our Facebook page.
And Follow: @BigBspoilers and @Dawgsbigbrother on Twitter for the most up to date spoilers.