| | | | |
| --- | --- | --- | --- |
| POV Holder: | ? | POV Used | ? |
| HOH Winner | Caleb | Nominations: | Frankie and Victoria |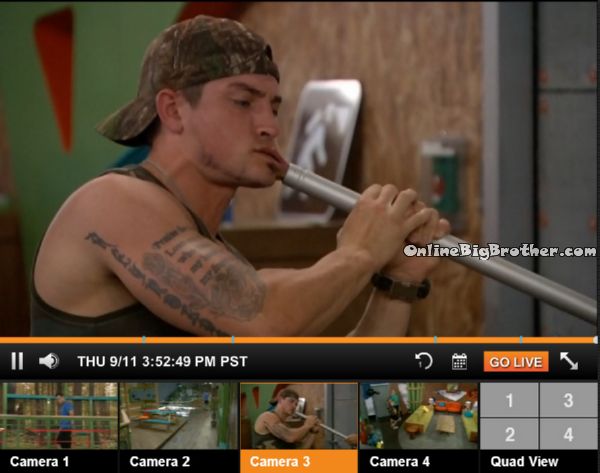 Caleb gives the vacuum a kiss. #BB16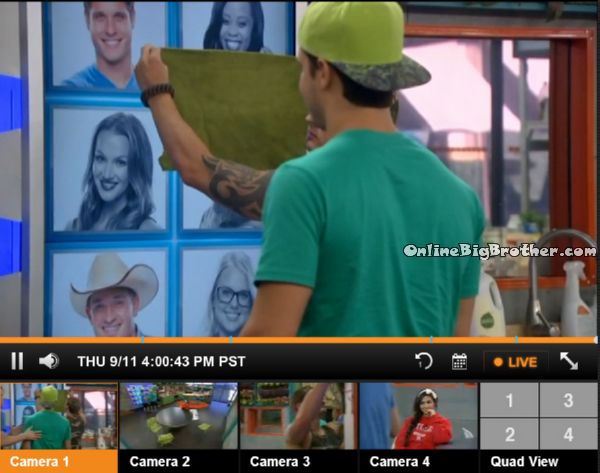 4:08pm Cody, Caleb and Derrick Studying..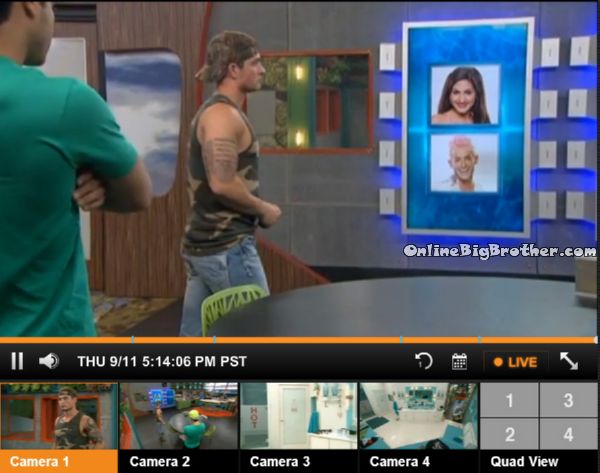 5:15pm Frankie and Victoria nominated Cody, Caleb and Derrick milling around the kitchen. Caleb's speech used chess pieces he gave the pawn to Frankie. Derrick stressing that they need to win the Veto. Victoria joins them give Caleb a hug.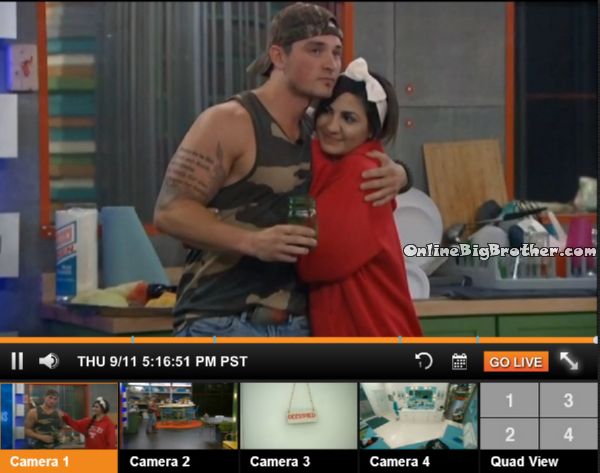 5:19pm Caleb says will win the veto and he will put Derrick up as a replacement.
Caleb – Do what you do best under pressure
Frankie – Ok
Derrick joins them says if Frankie wins the Veto he's going on the block.
Frankie isn't mad he was just surprised.
Caleb claims he didn't know who he was putting up until the ceremony started.
Frankie – It's shocking.. your speech is amazing.. I'm good I'm fine it was a traumatic day.
They start complaining about the luxury twist this morning. Caleb says they worked all season to build something up and "They" came in and destroyed it.
Cody joins them.
Frankie says he would have appreciated more of a heads up. Derick tells him it's the same thing as last week.
Frankie – we've given big brother what they hoped for from HOH to on the block with the push of a button.. I knew we should have listened to Derrick.. I said it from the beginning we should not press that button.
they laugh. .
Derick – I told ya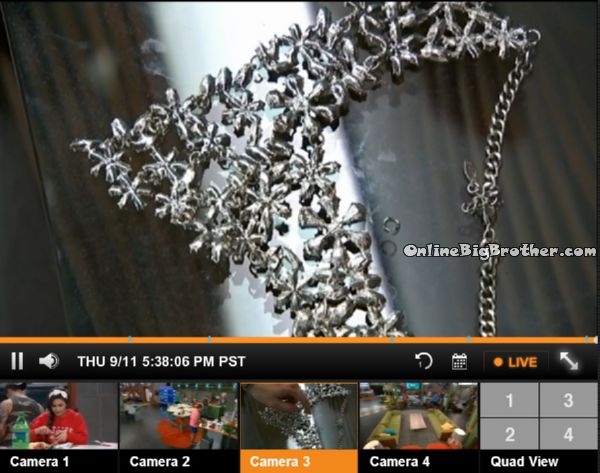 5:38pm Derrick tries to put together the broken necklace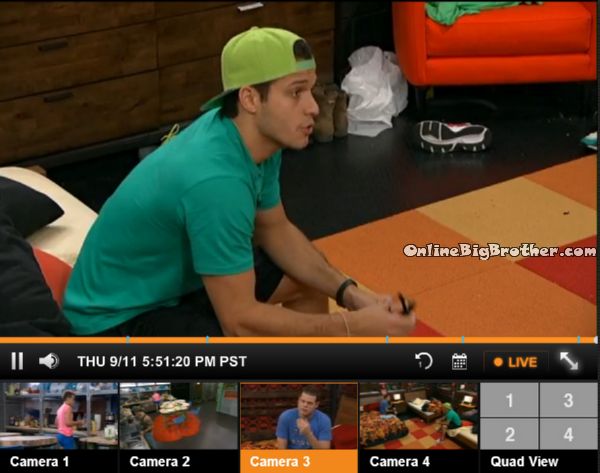 5:53pm Derrick and Cody
Derrick is saying they have to win the POV if they don't and Frankie wins it's their own fault. Derrick is going to live on the wall for the next 24 hours. They start deconstructing the facial features of the memory wall pictures.
Derrick adds he has some rice to help him study. mentions that last time during the morph competition he crushed 3 out of the 5 in under 30 seconds. Cody wants to blindside Frankie, Derrick at first doesn't but then agrees.
Derrick – I'm going to live on the wall let the chips fall where they may and if he beats us.. well dude he' is so f***g smart
Derrick – if he beats us dude he deserves to make it to the f***g three.
Derrick – If he wins we still have a out.
Derrick says this POV tomorrow is a 500 thousand dollar game. He's going through the faces in his head.
Cody leaves, Victoria joins him.. says Frankie is getting so f***g paranoid.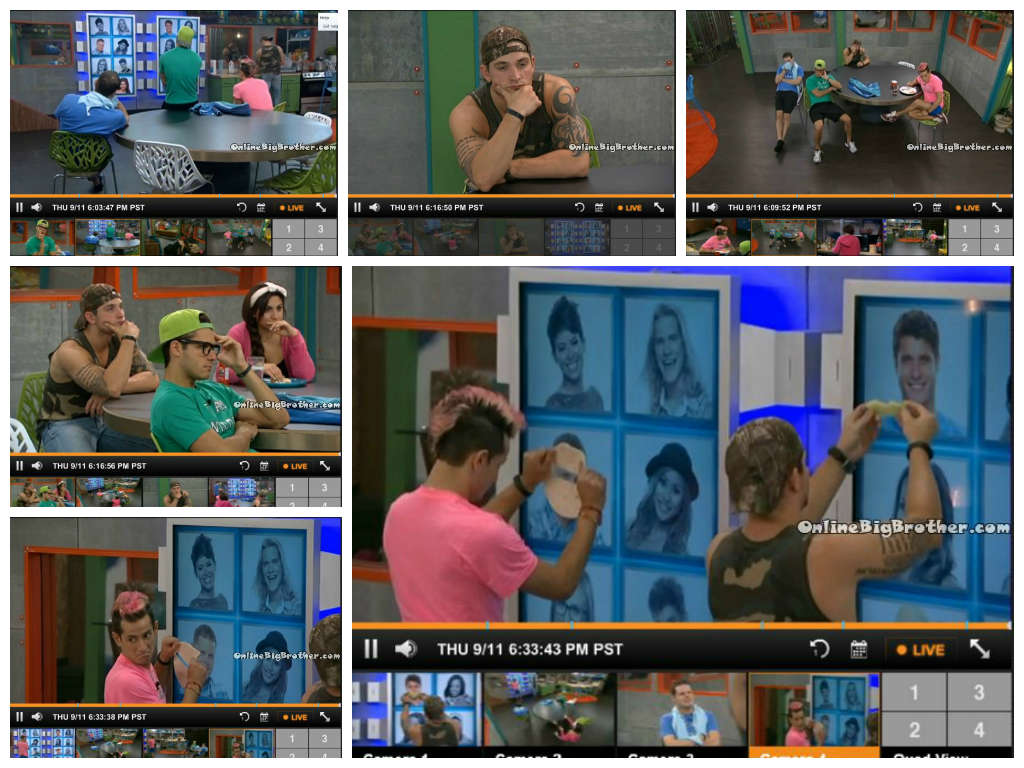 6:31pm For the most part they are studying.. I don't expect much more than this until after the POV is over.
There's a lengthy conversation about Bad Boys and Bad Boys 2..
Frankie butts in starts studying the wall with a tortilla shell. He's blocking the memory wall from the rest of them. Cody has a problem with this. Frankie tells him if he has a problem he can forcefully remove him.
6:53pm Pool table Caleb, Cody and Derrick Derrick talking about how even if Frankie wins the POV they have "outs" Frnakei still needs to win the next HOH to be safe.
Caleb – He literally needs to win 3 back to back to stay in the house"
If you found the 24/7 live feed coverage valuable please consider a donation.
We never missed a day, rarely missed an important conversation and rarely got sleep
Another way to support us is to make your Amazon purchases through the links below.
No extra cost to you. links are valid throughout the year.
Amazon.com Link
, Amazon.ca Link
[polldaddy poll=8244330]