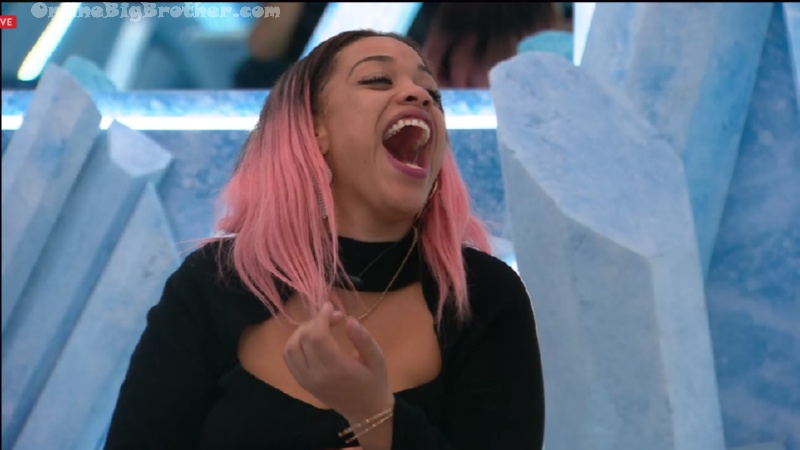 Josh is evicted unanimous vote.
Teams are over.
Have nots are: Kyle, Ro
9:20 pm Feeds return momentarily and we find out Victoria wins the head of household
Buckle up – She plans to put up Kiefer and Latoya. Her target is Latoya.
9:34 pm Feeds down.
10:00 pm Kief and Tina, Tera
Kief – we can take us four and try to make some moves how can we beat those guys
Tina – just be careful what you say to hose three moving forwards,
Kief – Latoya, Jed and Ty
Tina – they f**ed up on that one
Kief says if she goes out because of him he doesn't want to be in the game.
Kief – I just feel horrible
Tina – it's just a game it's not everything that encompasses you
Tina – Kief you could wake up tomorrow and find a power
They hug it out.
Tina/Tera leave.
Kiefer tearing up.
Kiefer talking to himself.. "you're good you're f**Ing good.. think of the beach… "
Kiefer – think of the beach think of the ocean.. you're fine.. you're fine life is good.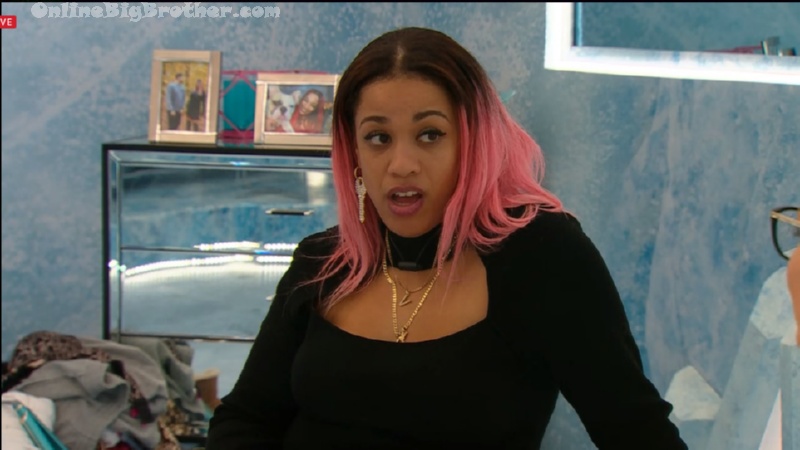 10:30 pm Victoria and Tera
Tera – your name is not coming out of my mouth. Girl my word is good.
Tera – I'm going, to be honest, I don't know where all the lies are coming from.
Vic – they are trying to pin the flip on you
Tera – obvious there was a conversation about it
Vic – Of course, I had a conversation about it.
Vic – you guys aren't going up I promise
Victoria says she's putting up 2 defenders
Tera – I promise you if next week I win you are nowhere near the block
Tera – I want someone this season to win that deserves it..
Vic – they were probably going to come after me and now I'm HOH they're f***ed
Vic – I'm going to break it up.
Tera – get to the bottom of it straight up I don't know
Vic – part of me knows
Tera – I don't believe that Kyle and Ro are going after the girls
Vic agrees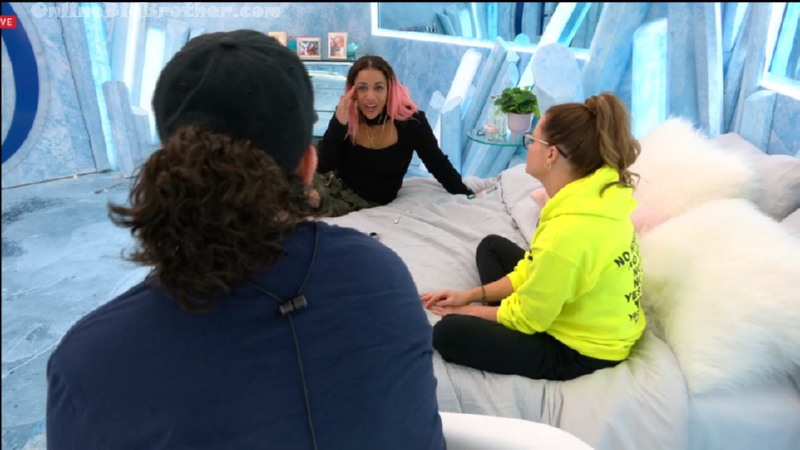 Tina joins them Victoria tells them they are not going on the block.
Vic – I'm putting up two defenders point blank period. I'm going to be making what I think is a big move
Vic – I kinda promised way too many people they are safe and they're not..
Vic – can I count on your votes
Tina – 100%
Victoria says this person she's targeting kept pushing for josh to stay all day yesterday and after it was decided josh to go They tried to push it again 20 minutes before the vote (Latoya is her target)
Vic – this person is f**Ing strong though they might get themselves down that is why I'm telling them they are a pawn.
Vic – I know who's going up I just need to think of how I am going to say it
Vic – it's just Latoya that can't win if kiefer takes himself off whatever.
Vic – I just really want Latoya to go She's my target. She's been my target for a long time. she starts too much shit. The way she stormed into the room We're Flipping. She's trying to run this game. She's way too logical she's way too demeaning. I don't appreciate her throwing me under the bus.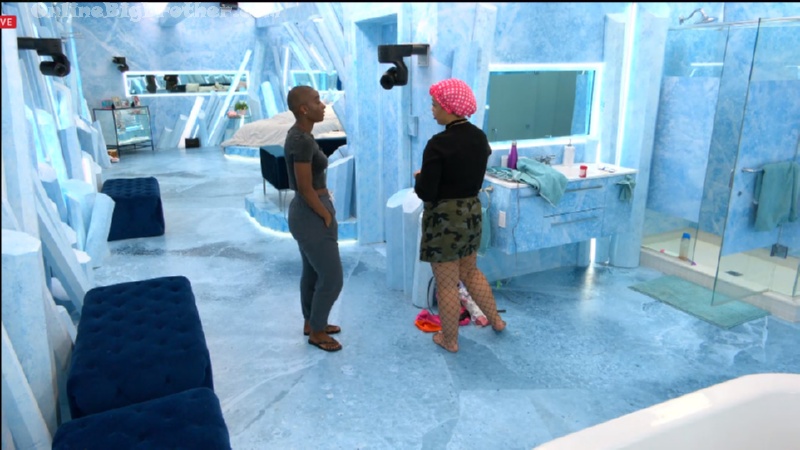 11:00 pm Vic and Latoya
Vic – people are talking and your name is coming up
Latoya – I'm not going to kiss your ass the same person I was before is the person I am now.. Latoya warns her people are going to talk "remember how people treated you before and how they treat you now"
L – you are not my target. You came to me you asked to work with me, Ty, and Jed. that stands true.
Vic – you guys never really came back to me
L – I had a conversation with you by the pool I said yeah we're good I'm not going to put you up
Vic – Kiefer is my target he lied about me he's my target..
L – you are not my target
Vic plays up wanting Kiefer out.
Latoya goes on about people that are nice to her now are people that were saying things about her before she won HOH.
Vic – I can't put anyone on my team I f**Ing promised.
Vic says it'll be between Latoya or Brey as the pawn.
Latoya – you made a lot of promises
Latoya – I would not put you yup I would not.. If I go up I could go home.
Latoya – if you put me up let me know OK
Latoya – if I have to give you a name to save myself I will.
Latoya starts insinuating that some guy (Kyle) talks sh1t about her and would put her up if they have won HOH.
Vic – I can't put up a team destiny regardless.
Latoya finally says it's Kyle that talks sh1t about her.
Vic – this changes everything..
Latoya keeps saying that Kyle is her target and he's targeting the girls.
L – I truly believe if he won HOH I would be on the block beside you right now.
Latoya – I heard he doesn't like you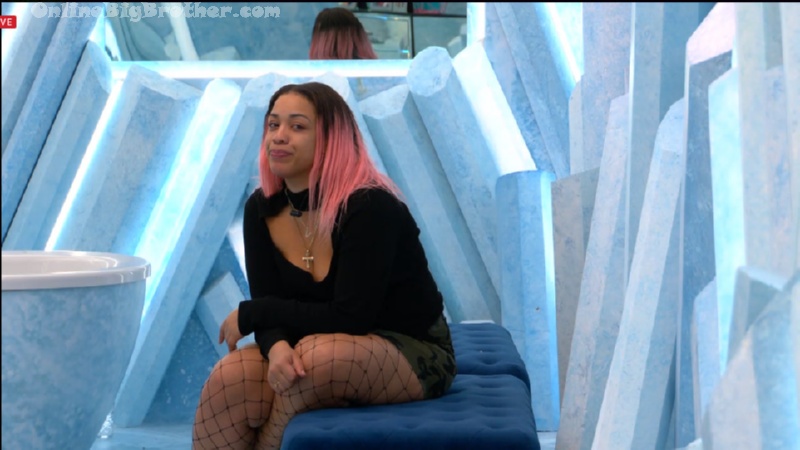 After Latoya leaves
Victoria – She's gotta go. So she is going to go tell the guys now. oh god, what am I going to do.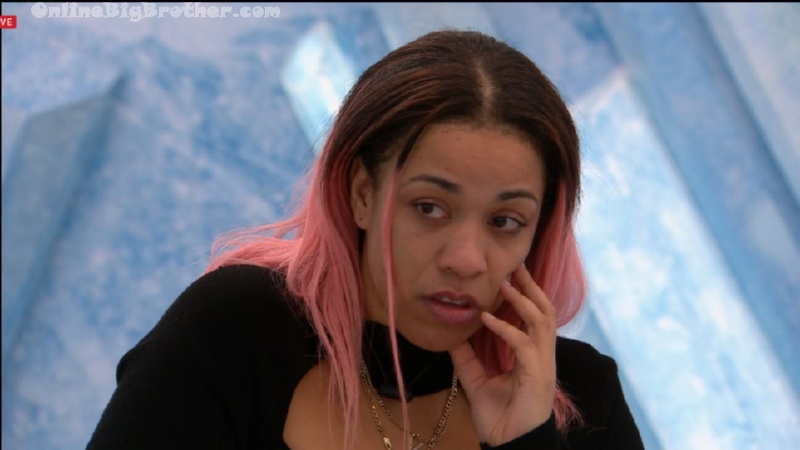 11:47 pm Ty, Jed, and Victoria
They're trying to pin the vote flip all on Tera. They repeat a lot of Latoya talking points except they are trying to get Tera up and Latoya is trying to get Kyle up.
They ask her who would she put up if Veto is played.
Vic – Tera or Brey?
Jed says if she makes a decision based on what 4 people in the house want she'll have 7 people coming after her.
Vic – I'm making a decision based on the people I don't feel close with that's Keifer and Latoya.
Vic says Latoya makes her feel uncomfortable she's tried to talk to Latoya but she never talks game to Vic. Until today Latoya has never talked game to her.
Ty – Latoya will never come for you.
Vic brings up wanting to work with Jed and Latoya and they never came back to her, "that speaks volumes"
Vic – she's given me no loyalty she's given me nothing
Victoria tells Jed "I swear on my boyfriend's life" she won't put him up.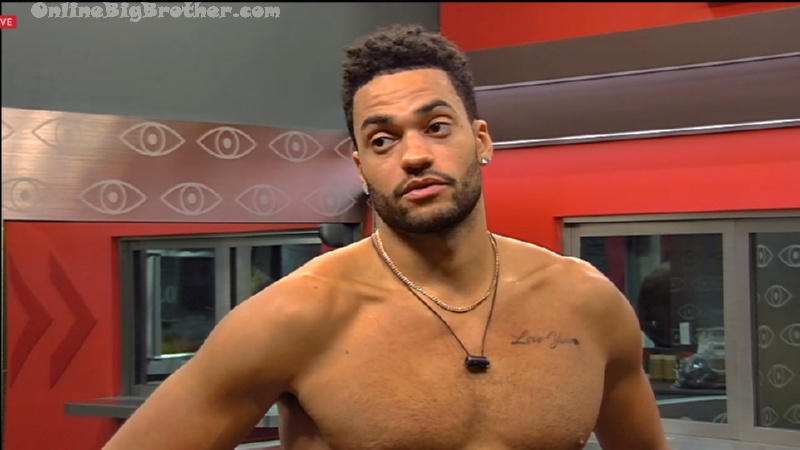 12:15 pm Ty and Jed
Jed – that was the worst thing that could have happened
Ty – we should have just shut that down. .that was our fault.
Jed – she puts up Latoya and Keiefer
Ty – we get one of them off
Jed – we get Latoya off and we get her to put up Tera and we vote out Tera.
Jed – we have the numbers.
Jed – if she gets into hot water and we don't do anything he blows this up
Ty – why would Keifer say that why would he admit to anything
Jed – He's an idiot for saying that he should never have mentioned it to Kyle and said that to Vic up there.. and now she's pissed I would be pissed to.
They agree if they take off Kiefer she will be pissed.
Ty – the move today brought them together (the none sunsetters)
Jed is mad Latoya brought up the flip at the last minute today
Jed says Latoya was the ringleader with the flip.
Jed – we have to win the veto.
Ty – not only is she responsible for the flip. Vic tried to work with her..
(they agree Vic's reasons are with merit)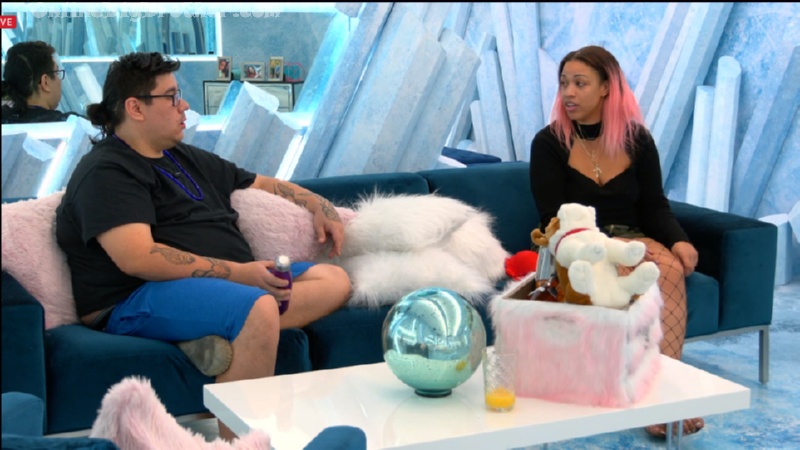 12:36 pm Vic and Kiefer
Vic fills him in on the plan. She's confident she has the votes to get Latoya out.