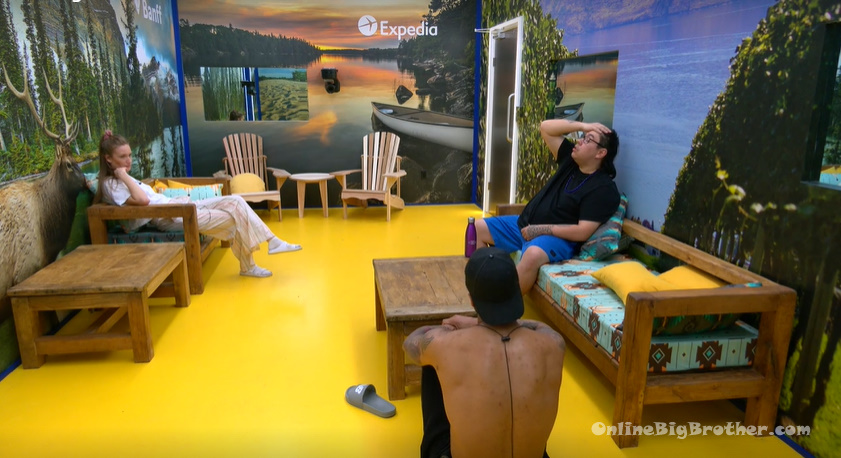 12am Beth, Tychon and Keifer
Tychon – trying to figure it out. Beth – that's big brother for you. Tychon – this is what its like? Beth – on week f**king two! WHhhhoo! Tychon – this is what life is like in here!? Keifer – I think we're going to feel a lot better once we know who HOH is because then we can have a plan.. because right now its just unknown. Beth – its just so much speculation right now .. its exhausting. Tychon – is it teams .. is it HOH?! Beth – are people coming in!? .. is Julie coming back!? What the f**k is going on!? Tychon – yo we're psycho! Beth – we're psycho for wanting to do this .. there is something a little bit wrong with us. Tychon – I think so too. Beth – just a little bit. Keifer – there are a lot of things wrong with me. Beth – yup! Beth gets called to the diary room.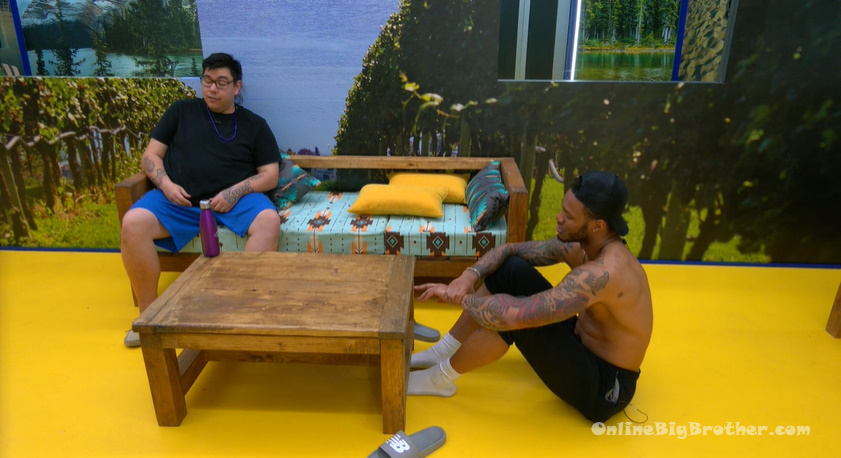 Tychon – wild stuff! They gave us one girl in this season. Keifer laughs. Tychon – its crazy! Crazy! Keifter – they must have known that Austin and Latoya wouldn't have. Tychon – I wouldn't have either to be honest. I don't think I really would though. Keifer – I definitely wouldn't! Tychon – well we know. Keifer – I wouldn't even have a chance anyways. Tychon – oh man what do we do buddy?! Keifer – we vote out Josh. We win HOH. We proceed. Tychon – we keep moving. Keifer – Josh comes back, Julie comes back .. they pick teams.. We keep the same six. We just keep banging it out! We have a lot of people with different strengths. Tychon – I agree. Keifer – we are all over the board. And like if a memory thing is coming .. nobody has been practicing as hard as me. Nobody! And we've also been throwing a few people off. Tychon – savage! Keifer – it is a bit savage but I came to get deep .. deep in this game. Tychon – yeah brother as long as we stick together and trust each other we're good. Keifer – I fully trust everyone in the six. Tychon – so do I. Keifer – and its good everyone is fighting for position and no one feels like they're at the bottom of the totem pole of the six.. because that's when it starts fracturing. Tychon – yeah when you start to think that you're just a number. I agree. Keifer – and there is so much f**king time and game left. It would honestly be just embarrassing to break up after just two weeks. If Ro stays .. I don't think Kyle wants the HOH. Tychon – I don't think he would put me up. Keifer – I don't think he would. They're not going to take their shots this early. I think LT is going to be alright though. Tychon – you think so?! Tychon – I know he says he's not putting me up.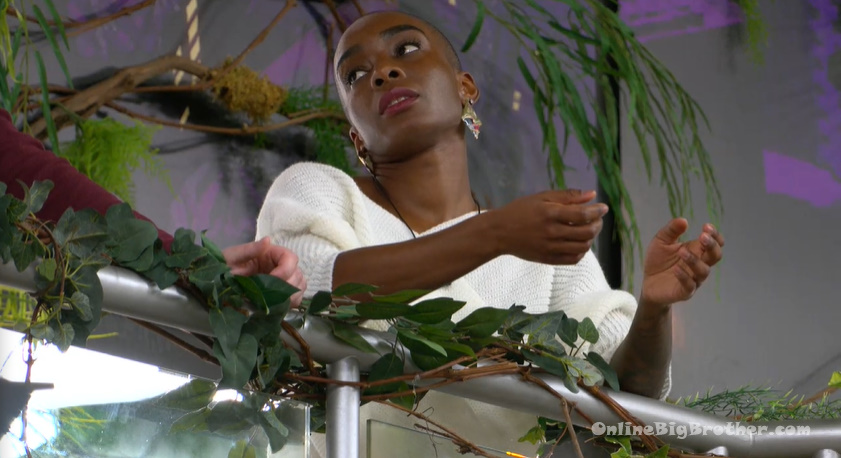 11:50pm Latoya and Tina.
Latoya – are you here to play or are you… do you see what I'm saying? Tina – no, I hear you. Latoya – I know we're all scared of the repercussions but .. I am here to make moves and if its the wrong move and I go home .. I am not going to lose my mind. All I am hearing in these conversations is we don't want to be the first blood.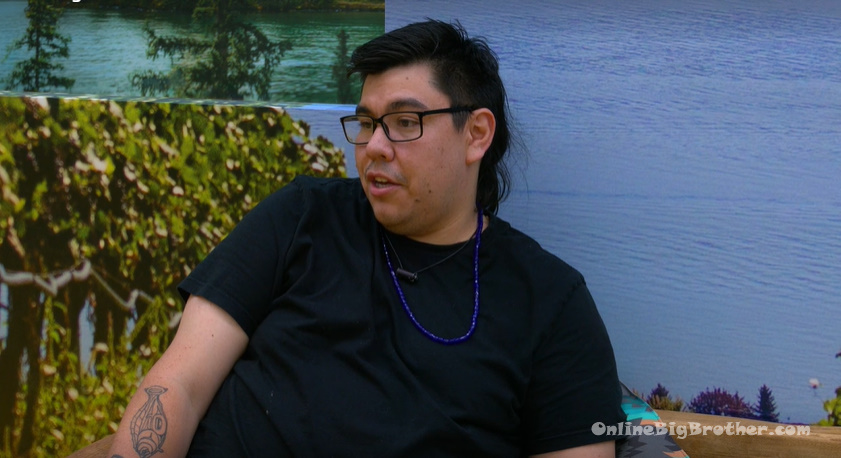 Bathroom. Latoya and Beth.
Latoya – I am so sketched out! I am so sketched out! I don't know what is going on. I am so sketched out right now. Beth – you truly think that one of the boys are with him? Latoya – if its the best game move .. why are you trying to protect somebody that.. feeds cut.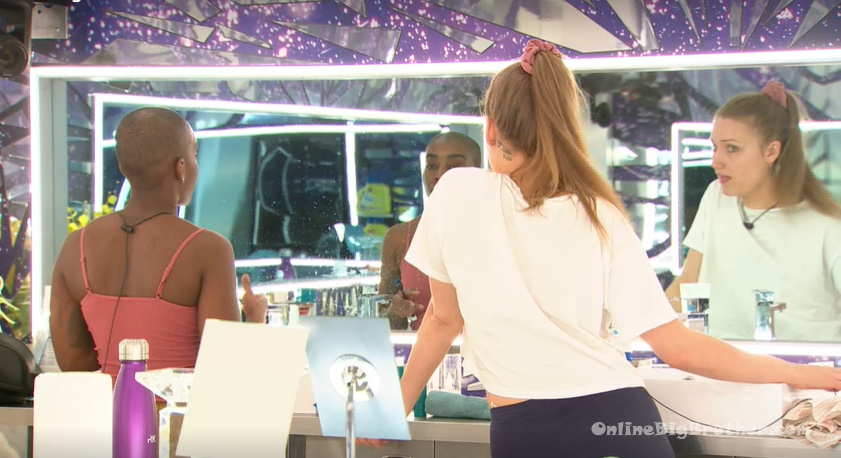 1am All the house guests are in bed..
1-9 am Zzzzzzzzzzzzzzzzzzz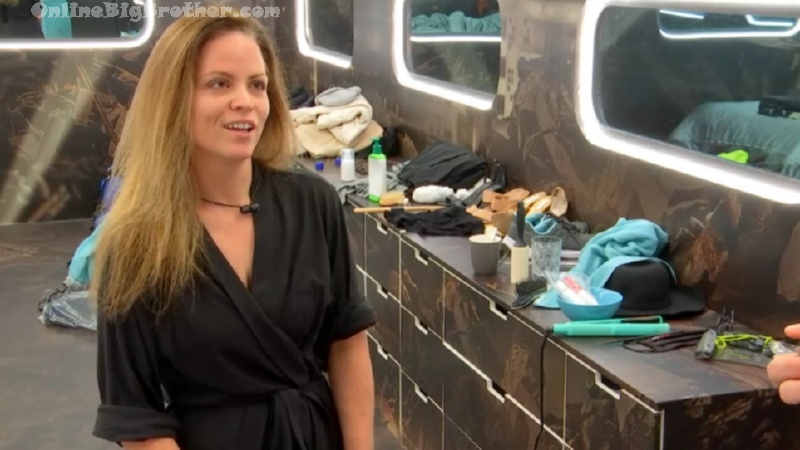 9:00 am Thursday morningTera and Josh
Tera bringing up all the stories being thrown to her and names of people that are targeting her to get her to flip the votes.
Tera – I'm the top target to go up .. me and tina
Josh – YOU?
Tera – Uhh huh. I'm like that is so weak
Josh – that's not true at all.. when I said Ro had a plan to backdoor Jed I wasn't lying
Tera – I know when you speak it's actually true.
Tera explains for her game it's actually good Josh stays but the way it "Shook out" and was talked about yesterday it would make her look "Brutal"
Tera – it's eviction Thursday anything can happen.. man all the things that came out.. RO and Kyle have a big huge..
Josh – they do have an alliance
Tera – But to get all the girls out?
Josh – mmmmm
Tera – I don't see how that really makes sense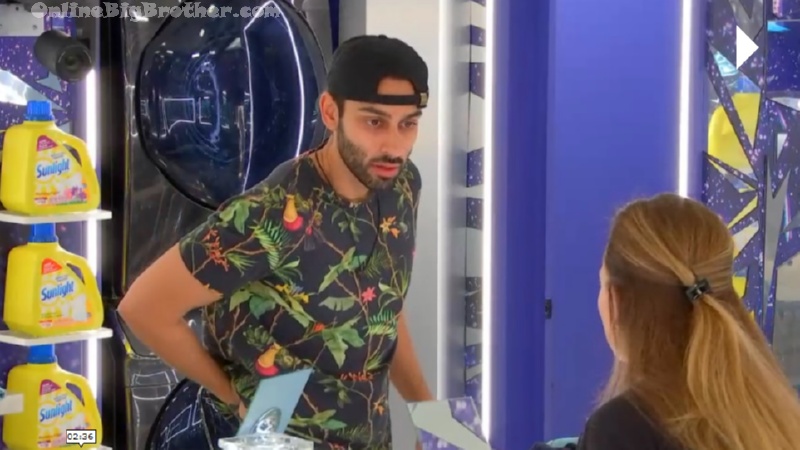 9:10 am Tera and Ro
Tera – you have to be careful. There was a flip that was being discussed you cannot say anything. They are trying to tell me that you are gunning for me and Tina hard and that you and Kyle want to get all the girls out I feel like I was able to kinda deflect it because they don't know you, me, and Kyle are working together.
Tina joins them. "there was a weird vibe yesterday. I'm voting for you to stay"
Tina brings up people saying that Kyle and Ro are gunning for her and Tera.
Tina – several people tell me. and Breydon is coming for us.
Tera – I'm like I'm not even looking at Breydon
Tina – I am voting to keep you so don't worry
Ro – it's total bullsh1t I swear to god I didn't even say it.
Ro says he's hearing from "several people" that they are going after Tina and Tera because those are the easy picks after Josh is gone and ow those people are trying to turn it on him.
Ro – if I leave it will be very bad for your game
Ro – I'm looking you in your eyes I will never put you up
Tera – they are trying to get all the girls after you they say Kyle and RO are going after all the girls.
Ro – that's such bullshit. who is saying that
Tera – everybody man
Tina – I don't know where it originated
Ro – on my mother's life I would not put you guys up I swear to god. That's bullsh1t they are telling you that.
Ro – don't worry about Breydon I have a good relationship with Breydon I will smooth it over for you I will get you guys in his good books and if he wins I'll keep you off the block.
Ro counts his votes he's got Vic, Kyle, Breydon, Tina, Tera, Kiefer
Tera says last she heard last night that the flip wasn't happening and it's over.
Tera – please wait to tell Kyle.. 1000% tell him we need him to fight and win tonight.
They hug it out.
11:00 am Feeds down (most likely all day.. )