POV Holder:
?
Next POV
Sept 6th
POV Used
?
POV Ceremony
Sept 8th
HOH Winner
Frankie
Next HOH
Sept 10th
Nominations:
Cody and Victoria
Have Nots
?
POV Players
?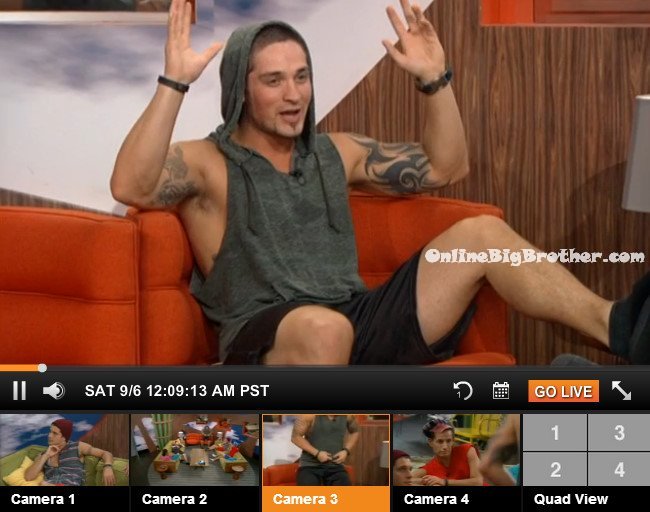 12am Frankie, Victoria, Caleb, Derrick and Cody are talking. Cody wonders what he should do to shun his costume. Caleb says he should jump into the pool wearing the dino suit and swim underwater removing it and come out on the other side without it just leaving it in the pool. They discuss how Jeff and Jordan got engaged in the backyard today. They all say its about time. Caleb says something's are just waiting for. Caleb says that as soon as he saw the two guitars he immediately thought he was going to have to sing. Frankie asks are you serious you thought that!? I love you. Cody talks about how his hat is missing. Caleb thinks Nicole took it. Caleb asks what, I'm always talking about how I wish I could sing. Caleb heads up to the HOH room to shower.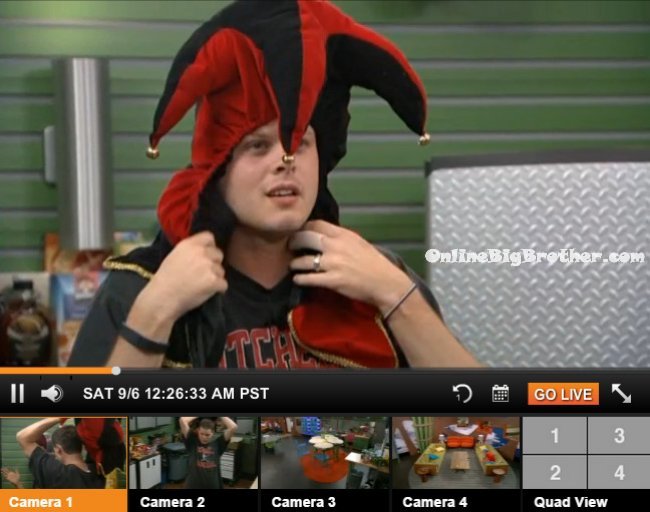 12:30pm In the storage room – Derrick pulls out the Jester hat and puts it on. Derrick says imagine this was the punishment for a week. People are talking game and I come around the corner and everyone hears me coming with the bells. They all laugh. Derrick takes it off and puts it back it back in the storage room. In the fire room – Derrick and Cody talk about how Nicole stole the hat to give back to Hayden. Cody says she totally did because Hayden doesn't like us any more. They go into the havenot room and push the reset button again. Derrick asks about jumping over it with his hands. Cody says I hope you can with your hands because I can do it with my feet. Derrick holds the post and hops over the reset button. Cody then jumps over it without touching it. Derrick tells him he has ups! Big Brother tells him to stop that. Derrick says you deserved that one. They speculate on the the reset twist could be and then head back to the living room. They wonder if Zach might come back to host the veto tomorrow. Derrick, Cody and Frankie talk about how fast they pushed the reset button. Derrick says it definitely was going to get pushed after the veto. Cody says it would have been nice to see what they would have tempted us with. Derrick says he thinks there's a reward to it.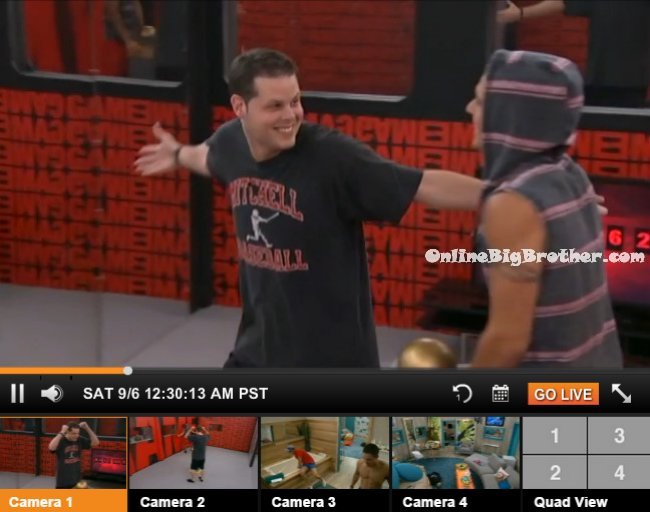 1:10am – 1:20pm In the HOH room – Derrick and Frankie talk about the Team America mission. Derrick says if we don't do it tonight which we're not doing then we do it tomorrow night and keep people up till 6am. Frankie asks what are the best places to see it (the rat). Derrick says like the kitchen and then some where not to far from there. He then says if we see it in the fire room that will keep people up till 6am. Then we could say it was in the storage room. Frankie says we could take little nibbles out of food. Derrick says I love your optimism because we don't know what will happen on Wednesday so we need to get that 5K. Derrick says it will be hard if Caleb or Cody say they're going to sleep. We can't stop them. Derrick suggests after the veto they should go take naps and try to get others to as well. Derrick says after that we're guaranteed 25K (Frankie) and 30K (Derrick with his 5K from the HOH comp) and that's not even including the stipend. Derrick says he (Caleb) doesn't know what you're going to do if Cody wins the veto. Frankly I don't know what you're going to do if Cody wins it but obviously I'll have something to keep my attention off of it with the 5k. He might be thinking Cody just won the veto, Frankie knows I can beat him in the end. Frankie's putting me up. Frankie says good god I hate everyone. Caleb and Victoria join them. Derrick and Frankie change the conversation to talking about what the reset twist could be.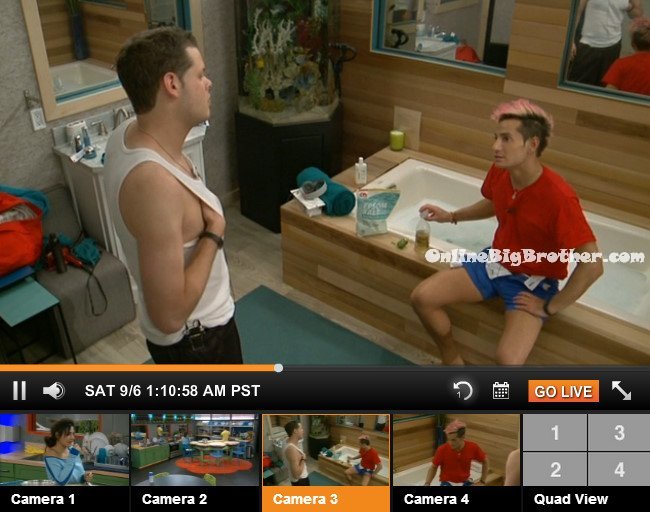 1:50am Victoria and Frankie talk about random things alone in the HOH room. Frankie says I am so happy you're here. Victoria says so am I especially after that first week where I felt like I wasn't like anyone else. I am so happy I'm the last girl standing. Victoria says that she's stayed true to her values and he parents have nothing to be embarrassed about. Victoria asks Frankie did you know that Christine lied to Nicole and told her that Hayden and I hooked up. Frankie says she told me and I dismissed it because I didn't believe it. Victoria says Christine did it to drive a wedge in between Nicole and my friendship. That's so f**ked up, that's f**king with someone's emotions and heat. It's disgusting. I am so happy I crushed her dreams of being like Brittany in the Brigade. Frankie says I was so blind to Christine in the beginning. Victoria says there is no way I am forgiving her or forgetting that. They talk about Cody and Christine. Victoria says I don't know how a guy (Tim) can be with such a malicious girl (Christine). Do you think Cody's going to get boo'd?! Frankie says I don't think its his fault. I don't think it's Cody's responsibility to tell her to back off. He's playing the game and so is she. If her husband was okay with it then I would be too. Victoria says if Christine's husband was okay with it they wouldn't have gotten zinged so hard. Because they would come to the house and they would be like HAHAHA she's playing him so hard. If he knew! And then they wouldn't even make that zing because that Zing wouldn't make sense to America. I think they went into her house and he didn't know what to say, like he was shocked. The thing is I comforted her so much in the beginning. Frankie and Victoria head downstairs.

1:55am In the fire room – Caleb, Derrick and Cody are hanging out talking about the reset button and what the upcoming HOH's will be like. Caleb says what ever the next HOH is all they know is that one person (Frankie) can't play in it so he can't win it. Derrick says he is just waiting till Wednesday because every thing can change on. We're saying he can't play but he could win the diamond power of veto or he could be safe for the next week. Caleb thinks they'll be offered 10K to switch places with Victoria or you (Cody) on the block. Derrick talks about how they would have likely been tempted with money or something on the screen if they hadn't pressed the button. Derrick says I am telling you this they did not expect the 4 guys that have a 1 in 4 chance at winning at least 50k would go and press that button. But with that button we don't know! Cody says that's that coolest part. I think we're the coolest cast ever! Derrick says we don't know someone could be coming back into the house. Cody says if you bring someone in this house they are getting judi-chopped. They head to the kitchen and they continue to speculate on the reset button.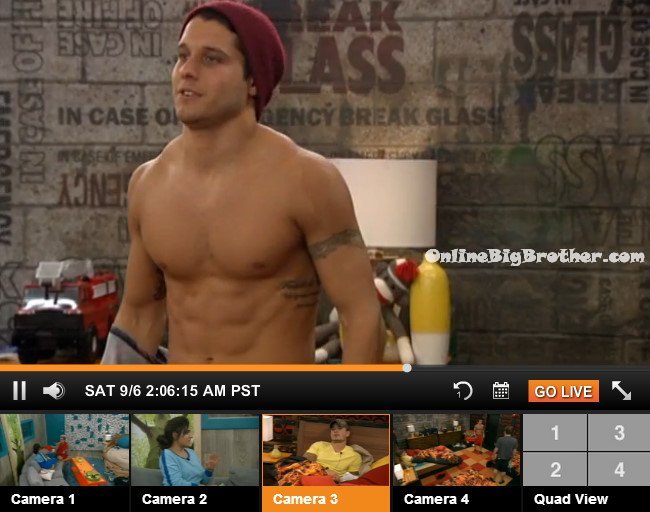 One way to support this site that doesn't cost you anything extra is making your
Amazon purchases through the links Below
For in Canada use the following link:
Amazon.ca
Caleb tells Derrick alone that best case scenario is if you win the veto and keep the noms the same. Derrick says if the noms stay the same .. I know you and I talked about it I don't think it would be in our best interest to send him (Cody) home. He's a good competitor. Caleb says but it could guarantee us in the final 3 though, the place where we want to be. Derrick says my thing is this .. you have a better chance at beating Cody than you do Frankie. Caleb says it depends on what type of comp it is. Derrick says no, I'm saying in the final 2. Like if for some reason you guys knock me out or I go home for some reason. Caleb says I think we should just be the final 4 and keep Cody and get rid of Victoria. Derrick says when I asked Frankie about when he told Cody he was going on the block.. I asked him if Cody threw out our names and he didn't … loyalty.. and that's why I can't cross him. Frankie and Victoria join them. They talk about the reset button. Frankie thinks they'll get an option to turn it off. Derricks says I wouldn't want to because now I want to know what it is. I think its going to be something positive and something negative. They decide to get ready for bed. Derrick says I can't wait till Wednesday and we're standing up on that thing and they go one of you guys are going to win the power of veto. One of you guys are going to have to put this huge baseball bat up your a$$! Caleb says Frankie would win that one! Frankie says I will win that one. Derrick says barrel in first! I can see it happening now.