POV Holder:
?
Next POV
Sept 6th
POV Used
?
POV Ceremony
Sept 8th
HOH Winner
Frankie
Next HOH
Sept 10th
Nominations:
Cody and Victoria
Have Nots
?
10:20am – 10:45am Up in the HOH room – Frankie and Victoria are getting ready in the bathroom while Caleb is dancing to Frankie's sisters CD. Frankie comments the he's (Caleb) lost his mind. Victoria says MmmHmm. Frankie asks who do you want to walk through the door? (To host the veto competition) Victoria says who I want it to be won't happen. Kim Kardashian .. I'm obsessed with her. Frankie says different network. Frankie and Caleb head downstairs. In the bathroom Caleb is all fired up yelling and screaming. He flexes for the camera and tells the camera to zoom in on his "America" tattoo. He says made in America born and raised! I can't wait to get made in above it! Caleb yells somebody coming on up in here today! We're about to find out!!
10:45am – 11:10am In the kitchen – Frankie lays his head on Caleb and says we done so good. Caleb agrees. They talk about how a number of the house guests had no idea what they were doing. Caleb says I want to look good for whoever's coming (to host the veto). Frankie says probably not for anther 4 hours. Caleb says you never know when it will happen. Frankie asks how went home because they weren't ready for this game? That lost their minds because they weren't ready for this. Victoria says Devin, Zach, Joey and Brittany. Caleb says he thinks Andy will come in to host. Derrick agrees. But says that he doesn't think he will come in through the front door. He'll come in the way Ian did in the backyard. He's not a celebrity like Jeff and Jordan. He's not at their level. Caleb asks Frankie if he is going to jump into Andy's arms. Frankie says he will. Oh my god another gay man! Caleb says I don't think Andy is anywhere near your level. In terms of looks and stuff. Frankie talks about how attractive Kenny was from Big Brother Canada. Victoria asks BBcan is only 100K?! (She gives a look like its not worth it.) Derrick says Canada's big brother isn't as money driven as ours is. Frankie says figures. Frankie heads up to the HOH room to lay down.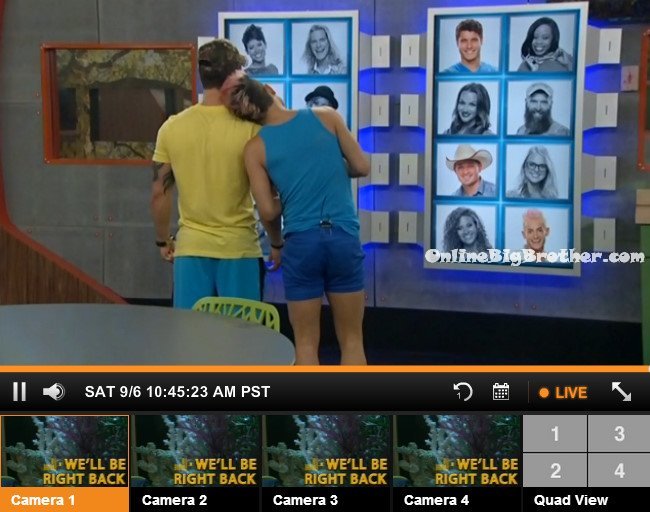 In the kitchen – Derrick and Caleb are talking about Christine. Caleb says maybe the crowed just thought she was playing a horrible game. Derrick says I think she was playing a pretty good game .. she aligned herself with the biggest alliance in the house. It could have been one comment she made. Caleb says it could have been how she's a superfan and she walked out she just looked down and didn't say bye to anyone. Those guys carried you through the game and you didn't say bye, you're a poor sport. When you're this far you have to win to stay in the game. Caleb says I don't think she would have gone lower than what Aaryn Gries done. I don't think she would want to be remembered as a racist or whatever. Caleb says literally she's done nothing in this game. Derrick says she only won for herself and never won for the team. The one time we asked her to lose for us she won. Derrick says he was never a fan of Christine's from the start. I just thought she was fake.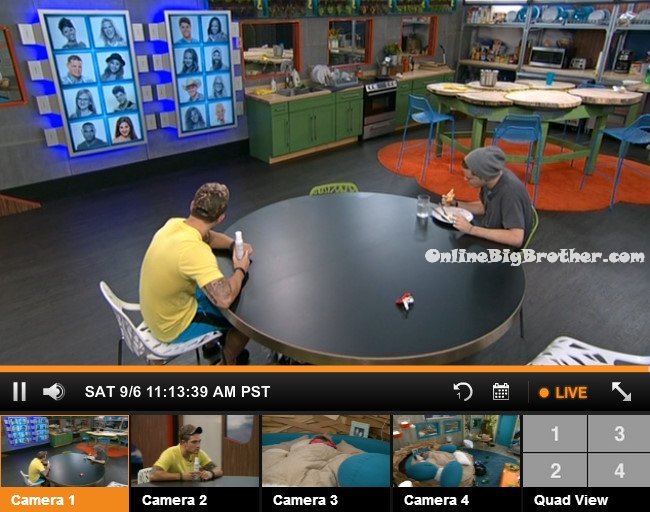 11:45am – 12:55pm All the house guests are now napping ..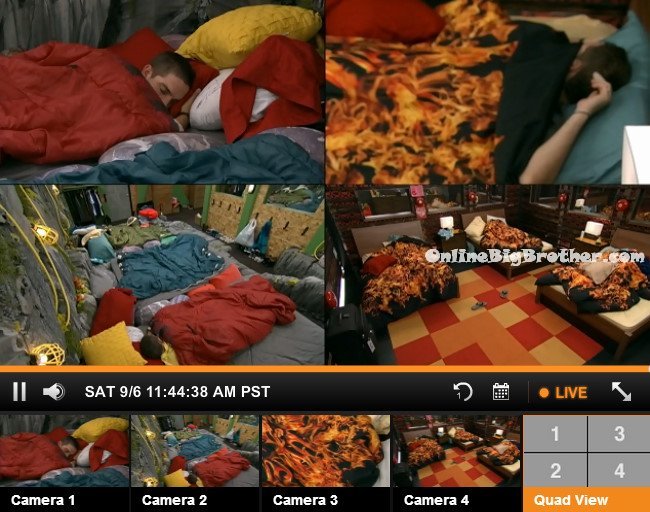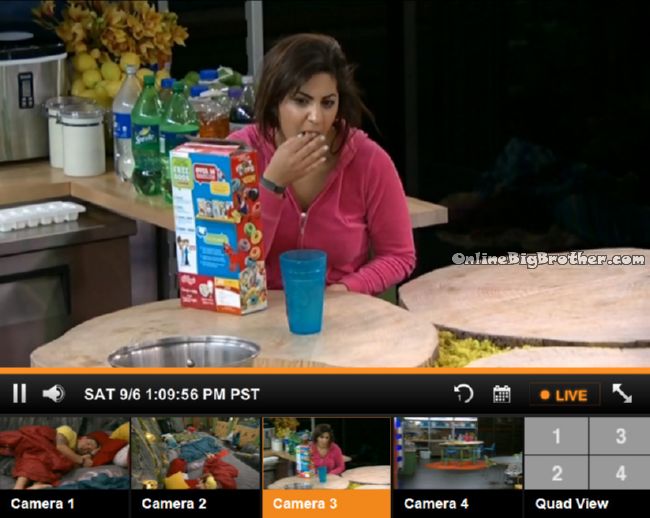 1:14pm Nothing..
2:20pm All the house guests are passed out. This is playing right into Frankie and Derrick's Team America plan to get the HG's to sleep all day so they're more likely to stay up all night looking for the rat.
2:40pm – 3:05pm Victoria heads up to the HOH room. Frankie asks what time it is? Victoria says 2:40pm. Frankie says we should get up, they said it would happen at 3pm. Frankie tells Victoria he's so glad she's in the house. Victoria and Frankie start getting ready for the day. In the kitchen Frankie says 3 o'clock… ding dong! (They're waiting to see who will host the POV competition today.