POV Holder:
Frankie
Next POV
Sept 6th
POV Used
No
POV Ceremony
Sept 7th
HOH Winner
Frankie
Next HOH
Sept 10th
Nominations:
Cody and Victoria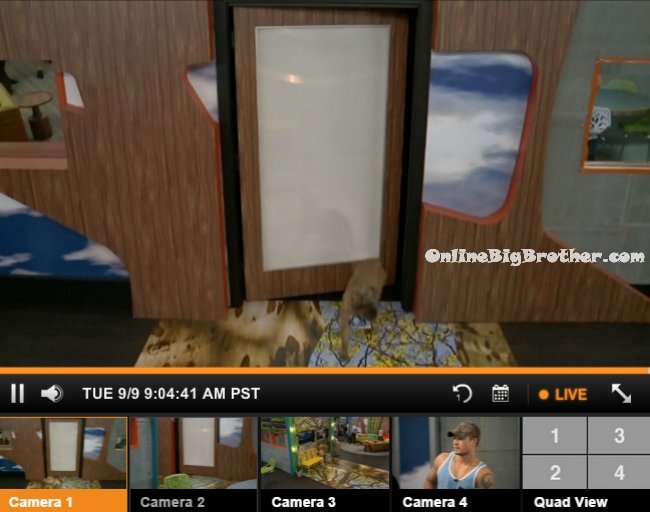 9am The door bell rings! All the house guests gather in the living room. Cody asks do you think they did this to get us out of bed? Derrick says no. The door opens up and in enters a dog The house guests rush to greet the dog. They read the tag and find out the dogs name is IZZY. They all pat Izzy and then show her the backyard. They comment on how she must be a rescue dog. Caleb says my question is where is she going to go to the bathroom? Derrick says the backyard. Derrick says well this has definitely never been done before. Derrick says my hope is that she's a rescue dog and this is a way to adopt her out. As a live feeder this is there way of telling us to get the f**k out of bed. Here is something for them because they're boring. Caleb says she looks like a catch dog. Frankie oh yeah you going to teach her how to kill hogs?! They think they'll have her until about 5pm. (Izzy is only staying for the day) Caleb says up anther reason for DR's. Caleb says he though Channing Tatum was going to walk through the door. Frankie says I thought it was a malfunction.
Big Brother 16 Live Feed FREE TRIAL – Use the FLASHBACK feature to watch everything you've missed!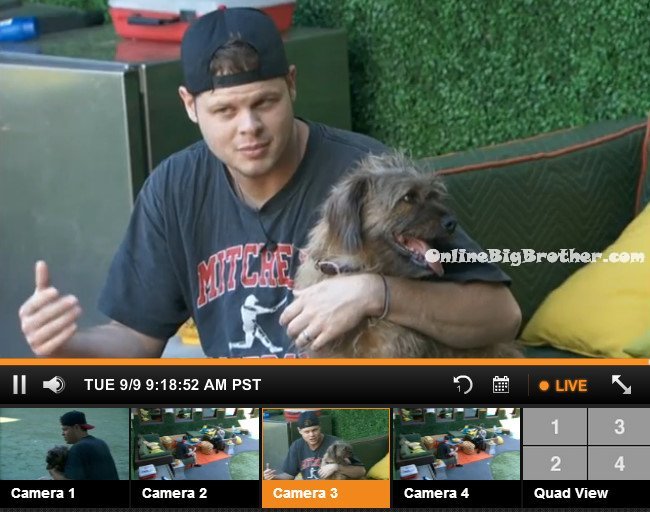 9:25am – 9:30am The show Izzy the house and the havenot room where the reset button is. Derrick says yeah pee on the buzzer! Go ahead! Caleb asks imagine if we had a dog the whole season. This has never been done before. Frankie says they had a pet dog season 1. Derrick says I hope we find out more about her back story. I know Jana would take her. Frankie says oh I already know we'll take her.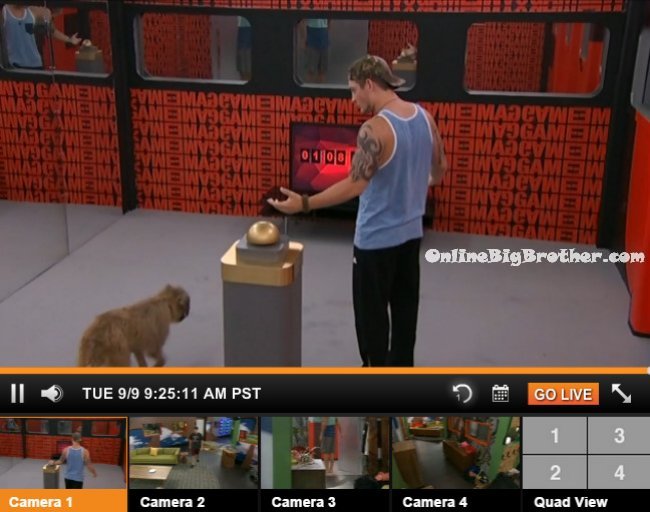 Out in the backyard – Cody and Derrick are b***hing about Caleb. Derrick complains about how Caleb was hinting for someone to make him breakfast. And then he still wouldn't clean up after. His f**king cups are all out here. Cody says that's what I am sick and tired of and his long stories.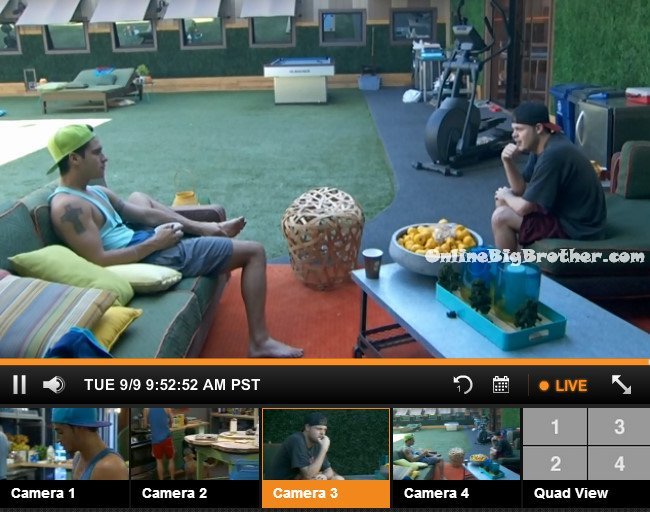 10am Caleb asks Derrick did you talk to her last night? Derrick says yeah. She cried. Caleb asks did she understand? Derrick says yeah she knew that she was going she's just upset that I am the one sending her home. Caleb says you're not. Derrick says she just didn't want me to be the one to vote her out. But I told her we had a gentleman's agreement to go to the final 4. They thank the feedsters for Izzy. Caleb says they'll throw anything through those doors for us to talk about.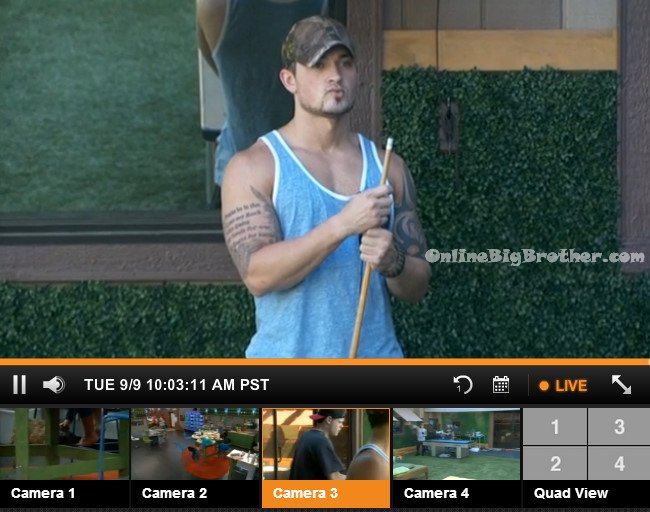 10:05am – 10:55am In the kitchen – Cody is playing with the dog on the floor and he farts. Frankie asks was it the dog? Now we have someone we can blame our farts on. Cody says yeah she's going to need to flow 3 feet behind me. Frankie finishes making pancakes and they eat. They all head outside Cody and Caleb play a game of pool. Derrick, Frankie and Victoria hang out on the backyard couch. Big Brother plays Zach's holla. Cody says wow, Zach its been crazy long since we've seen him. I miss the f**k out of that kid! Cody says don't I look like a second cousin to Jeff. I've got to get that salt and pepper going.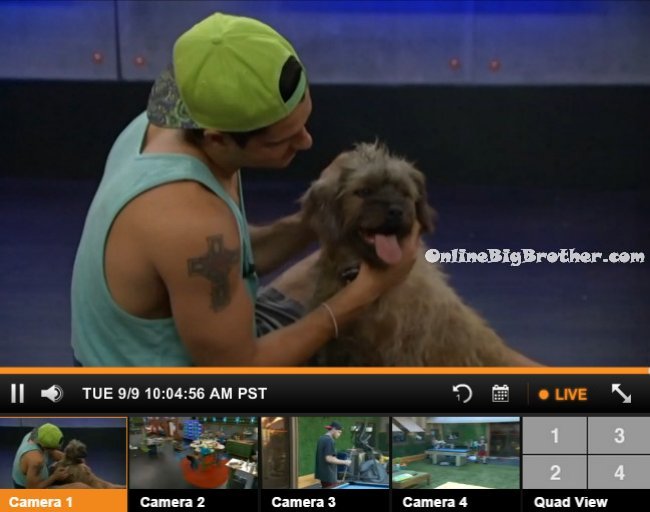 11am – 11:35am Victoria heads inside talking about doing laundry. They comment on how its the first time Victoria doesn't offer to do Derrick's laundry. Caleb asks she hasn't even said… she aint going to do nothing for you any more! She's not even going to say goodbye to you. Cody asks has she said anything to you today? Caleb says not a word. That's childish! Derrick say you guys just moved up on the totem pole. Cody says big time, getting that vote! Derrick says she's going to cut my laundry, throw it everywhere. Derrick and Cody start playing pool. Derrick comments how irritated Frankie and Caleb are getting with each other. Derrick says and Frankie is still going to drag him to the end. At the end, Frankie's going to say the Bomb Squad was dismantled week 4 or 5 and that's when decisions started getting made. We've been slow playing him. Derrick and Cody talk about how Caleb will be crushed when he finds out. They talk about how the jury will be spiteful. Caleb is well liked. They think Caleb will win. Cody says Zach knows Derrick and Cody kept him that week and not Frankie. If Hayden and Nic talk.. Derrick thinks they're boned unless they get to the finals together. Cody says we've played such a good game that people are going to be hurt by us. Derrick says you nailed it we played such a good game that they're going to stick it to us. Cody says he doesn't care, we are the Hitmen. Derrick heads inside lays in the fire room and then lays on the living room couch.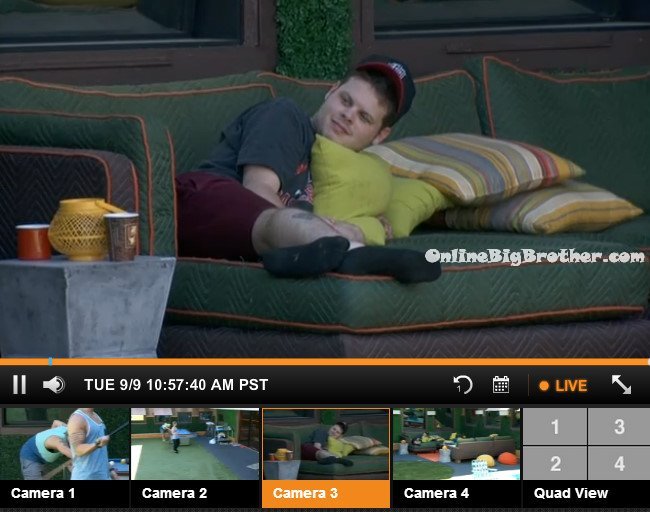 11:40am In the living room – Frankie talks to Derrick about the schedule change from Thursday to Wednesday. Frankie says it has nothing to do with the button it has to do with Football regularly airing on Thursday in the Fall. They talk about how Victoria hasn't talked to Derrick today. Frankie tells Derrick that he will talk to Victoria. Cody and Caleb join them.