POV Holder:
Frankie
Next POV
Aug 16th
POV Used
?
POV Ceremony
Aug 18th
HOH Winner 1:
FRANKIE
HOH Winner 2:
Derrick
Battle of the Block Winner
Donny & Christine
Next HOH
Aug 21st
Original Nominations:
Derrick's Noms (Donny & Christine) Frankie's Noms (Caleb & Cody)
Final Nominations:
?
Have Nots
Christine & Victoria
POV Players
Cody, Caleb, Frankie, Victoria, Donny, Christine
1am Up in the HOH room Caleb says do you think its best to tell him Monday morning right before. Christine says it would be better, less time for him to terrorize. Caleb says do I think it would be better if we just tell him and not blindside him? Maybe, I don't know. Derrick says I really don't care how he reacts at this point. We will have to live with him for two day anyway. And no matter if he goes on Thursday or in two week he is still going to lose it. Big Brother blocks the feeds and when they return. Christine says Derrick I think you're cute. Derrick says I can't wait for my diary room with him to be like thank god my wife married me before she realized I was ugly. Caleb says so Caleb how do you feel about being called beast mode cowgirl? Caleb says during the whole Devin thing he told me not to touch him if he hits you. I am sorry if Derrick puts his hands on my I would straight punch him in the throat. It would be the sickest fight in Big Brother history! Big Brother unlocks the backyard. The house guests run outside. Caleb and Cody play pool.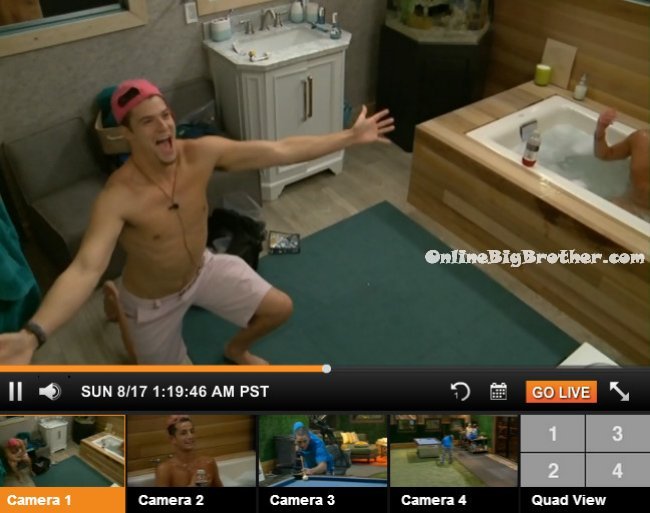 Take Advantage of the FREE 2 day Trial to watch all the drama!
Up in the HOH room – Frankie is taking a bath and talking to Zach. Frankie says Kathy Griffin is a bada$$ b***h! Guess how many f**k's she gives! Zero! Zach says I can't believe we met Kathy Griffin!! She is literally my idol! Zach goes to listen to Frankie's music.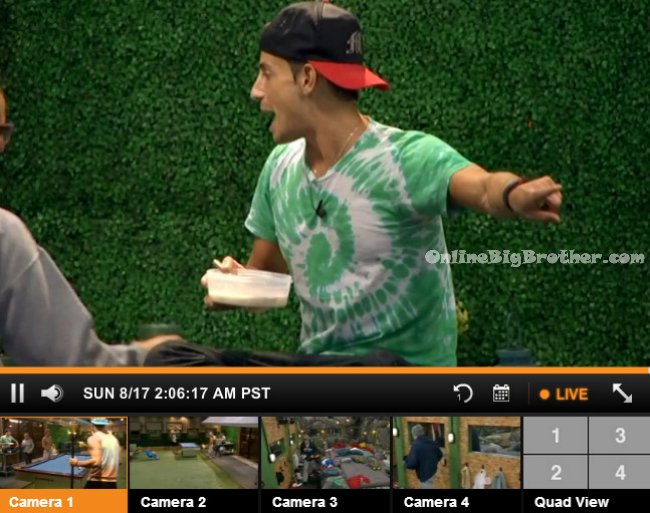 2pm Out in the backyard – Zach and Cody are playing pool. Frankie says I can't believe that Kathy Griffin was standing literally right there!! It didn't happen! She was not just standing right there!! Frankie says that she said about Caleb – You and Amber have something in common. You think she's drop dead gorgeous and she wants you to drop dead. Zach tell Caleb that he was laughing along with it. Caleb heads inside. Frankie says I really hope he realizes it too now.
Frankie says Zing-bot called you a froot loop dingus loser! "You know what's cool about being unemployed and doing the gator chomp after graduating college … NOTHING! You froot loop Dingus loser! ZING!"
Victoria asks she said loser? Frankie says yes. Christine asks he said Froot Loop Dingus that's Awesome! Frankie says Kathy's zing to you while staring at me was perfect. Derrick says I think there would be some girls in the world that would choose me over Cody. Granted maybe only 5 but there's got to be a few. Caleb comes out with his cowboy hat and the 5K medal necklace.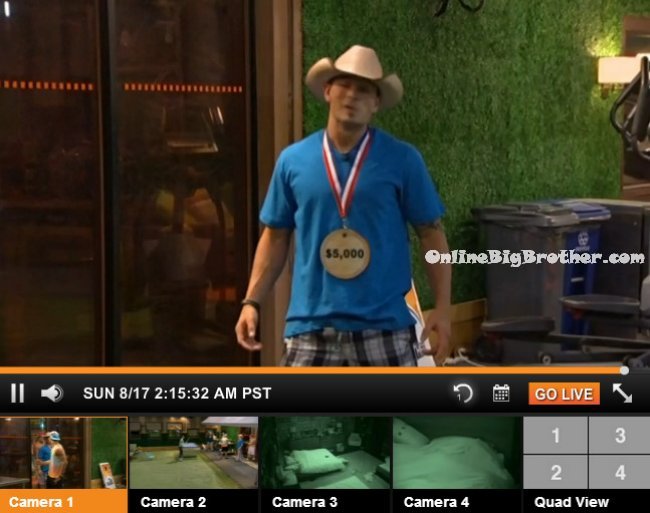 2:35am Christine is laying on the backyard couch reading her HOH letter from her husband Tim. Christine rolls on to her back and starts crying.
See what they can't show you on TV! -Try the Big Brother 16 live feeds for FREE!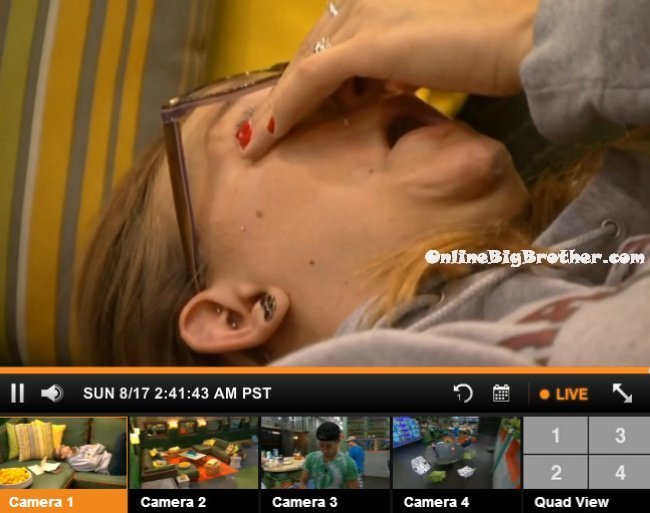 2:45am – 3:25am Derrick joins her and asks if she wants to talk about it married to married. Christine says yeah. Derrick says it was brutal what they did. BRUTAL! Christine says I can't believe they did that. Derrick says your husband loves you. Derrick says I am married and I don't see anything wrong with what you've done. I'm sure you husband is okay with it. Look at me I was basically called the ugliest guy in the house. Christine says it is driving me absolutely crazy. Christine says Cody feels terrible too. Christine starts to cry. Derrick hugs her and tells her she's done absolutely nothing wrong. Christine says you know what gets me in the letter is where he says "Don't forget about me" That makes me feel terrible that he would think I would. I just don't want Tim to be embarrassed either with his parents and friends and family. Derrick asks have you asked about them to not play that part? (not play her zing on the episode) Christine says I know no matter what when I get home things will be fine but I kills me that Tim feels sad right now. Derrick says Tim sounds like a ball buster.. Like how he will probably want to kick Cody in the balls. Christine says with Tim and I there was this guy that used to touch my leg and he hated him. He took forever to tell me. Derrick says Cody is a very touchy feely guy ..maybe just pull it back a bit with Cody. You don't need talk to Cody about it. It's not like your cheating on your husband and I don't think for a second that the zing was about that. Christine says I'm aware of it now. Derrick says yeah and you can fix it, I can't fix my face. Christine says your not ugly! Derrick says being here you realize how much you love Tim and this is a glimpse into life with out him. Christine and Derrick say together and it sucks! Derrick says your going to get a razed when you get out. Christine says I just don't want to get if from his family and my pastor. Derrick says I don't think you would. Christine says I am just a really touchy feely person. Derrick says its not like you're sleeping alone with someone. Just reel it in a bit. Derrick says the thing that gets me is that people are talking about it in DR's. Derrick reads her letter and says its nothing but positive. I read it like when you win some money.. don't forget about me. You don't want something so small you don't want it to trip you up. When I beat you I want to beat you at your best. Christine says you're funny. Derrick says I don't think I'm the ugliest guy in the world but its a joke. We're all good look people. They wouldn't have made that comment about me if they didn't believe I could take it. I think that there's enough common sense in my brain to know that I can look over to my right and see Donny.. you know?! Christine says this is true. Christine says I told the counsellor that that the only way I would get a divorce is if he cheated on me. And he said the only way he would divorce me is if I tried to kill him. Derrick and Christine laugh. Derrick points at his wedding ring and says this is all that matters. Derrick and Christine end their conversation and hug.
Big Brother 16 Live Feed FREE TRIAL – Use the FLASHBACK feature to watch everything you've missed!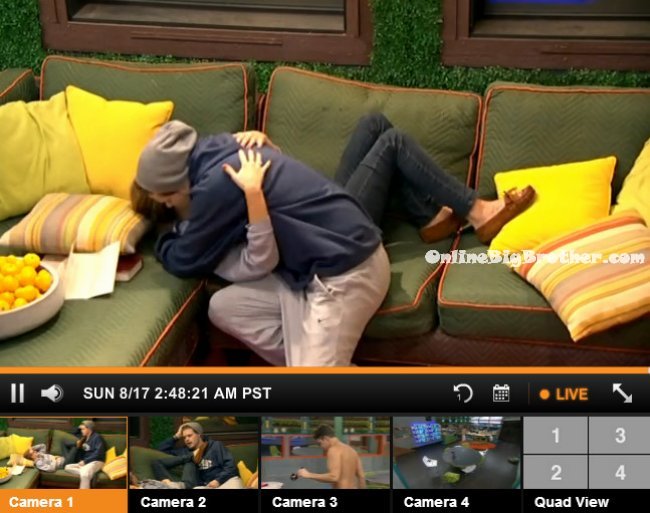 3am Cody and Frankie are playing pool talking about Zach being the replacement nominee. Frankie says I am hoping he goes down like a wounded soldier. Cody says I know that when it happens Zach is going to try to wreck you against me. But at that point I would be like you're going home, I'm working with him.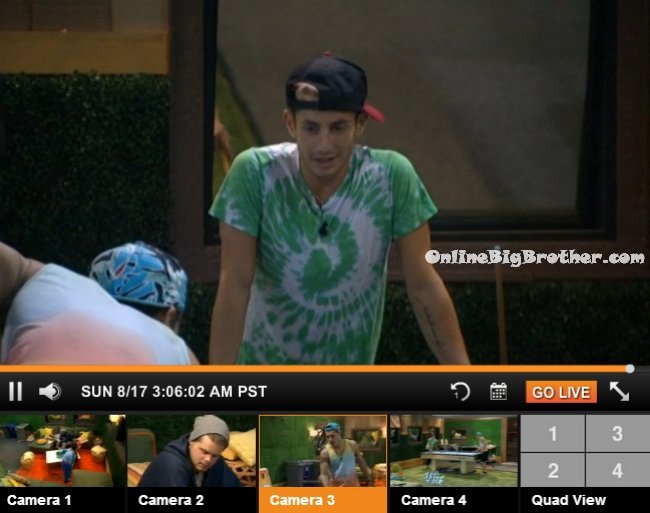 3:15am – 3:30am Up in the HOH room – Zach talks to Caleb. Zach says today worked out perfect! Zach says can you imagine it being us 6 and then us 5! That would be a fun week! Zach says thats a 20% chance at 500K! Caleb and Zach say they'll take those odds. Caleb says only 1 person can win! Zach says I just want to stay here as long as possible. Caleb says everybody does! But if it was me this week I would be like okay send me out and give me my 18K! I would love to see the jury house. Zach says I am just happy that Victoria is going to be gone. Caleb says yeah now is about time! Caleb says my time to win is going up .. I think the only one that could hang on with me is probably Frankie. Zach asks you don't think I could? Caleb says nope. Zach says me neither. Caleb says if I go next week .. Zach says you're not going. Caleb says I wouldn't go mad. I am an easy guy. I would be happy I made it this far. From here on out I know if I don't win HOH I am going up on the block. Zach starts talking to the camera about getting down to the final 5 and battling it out. Zach tells Caleb we're guaranteed to stay until at least day 70!! Zach leaves. Caleb says that kid is crazy!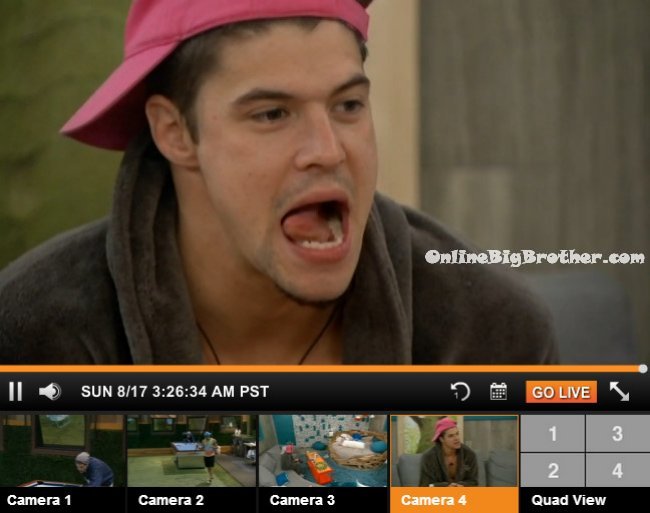 3:35am Victoria and Derrick are talking on the hammock. She tells him that Frankie told her he's putting up Zach. Derrick asks he told you that? Victoria says yeah. Derrick hears Zach talk about the Germany trip with Cody. Cody's talking to him about Germany but he's going to be voting him out on Thursday. We'll see how he is with everyone after he goes up on Monday. Victoria starts crying about how her hair fell out and she's taking medicine for it. She says her head was hurting so bad and bleeding. Derrick asks is whatever you have permanent or is it something that will go away? Victoria says I wear clips (for her hair extensions) and I literally wear them all day long and they're digging in and I'm bleeding! Derrick says what's more important you appearance or you health. Victoria says I know but we're on tv! Derrick asks you don't think they've not already seen you at your worst? Victoria says I can't even look at myself in the mirror with out them. My hair is just such a big part of me. Derrick asks was it an accident or something? Victoria says no. I don't want to say. It was just so sudden and there were no symptoms. Derrick asks was it cancer? Victoria says no. Derrick says well that's always good! Victoria says it just sucks because its bleeding.