POV Holder:
Frankie
Next POV
Aug 16th
POV Used
?
POV Ceremony
Aug 18th
HOH Winner 1:
FRANKIE
HOH Winner 2:
Derrick
Battle of the Block Winner
Donny & Christine
Next HOH
Aug 21st
Original Nominations:
Derrick's Noms (Donny & Christine) Frankie's Noms (Caleb & Cody)
Final Nominations:
?
Have Nots
Christine & Victoria
POV Players
Cody, Caleb, Frankie, Victoria, Donny, Christine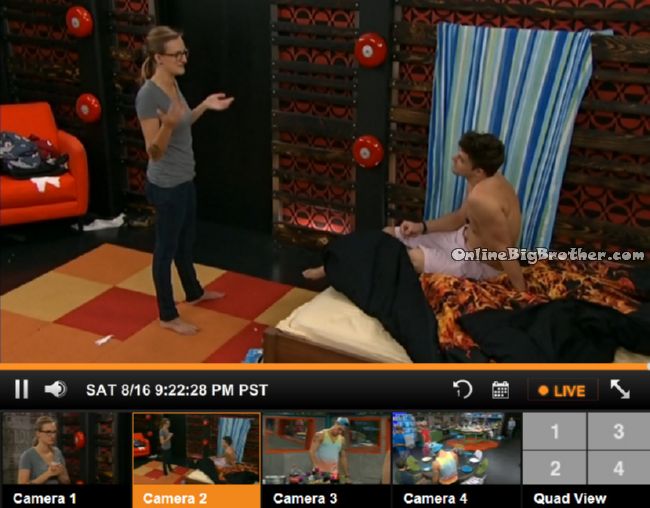 9:20pm Zach and Christine
Zach – how the hell are we going to get out of the house..
Christine says it will be awkward with Victoria
Zach – not for me i'll be laughing in her face
Christine – I think she knows.. Awkward..
Zach – you better tell her to look extra pretty on MOnday she'll be on camera
Zach – He's using it on Caleb.. not that it matters..
Zach – Immagine if it's double evict and it does VIctoria and donny
Christine there might be a buy back and Hayden comes back
Zach – theres no buy back it's impossible. (THere is and chances are you'll be in needing it) Christine tells him she'll be fine with no girls in the house.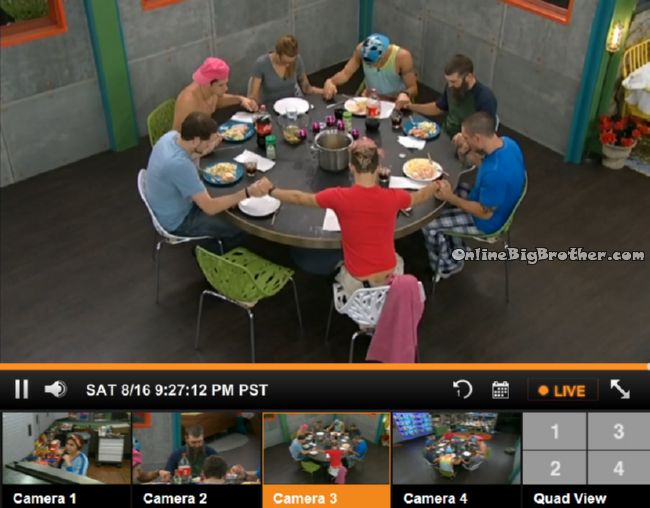 9:27pm Group Dinner Caleb gives a prayer.. Amen..
Zach – What a day you guys.. Kathy Griffin.. she's a smoke bomb
Caleb tells a story about his brother getting a new Duramax truck and doing donuts with it. THe found a giant mound of snow in the middle of the parking lot. They rammed into the snow mound and it was a yellow poll in concrete.
Caleb – it put a dent in the bumper.. wasn't that bad"
Zach's story. He went to chipotle restaurant the guy in front of him asked for Cheese and they were out of cheese 'If they don't have cheese for their burritos I'm going to make a scene" Zach was getting really angry and the employees and people in the line. At the end of the day they were open for 20 more minutes and they didn't have cheese. After they prepared more cheese nobody was at the cash register for Zach to pay. Zach complained to the manager and he told him to get lost if he didn't like it.
Donny was driving a tractor with front end loader he was going to fix some erosion. he had to drive it near a ledge and almost flipped it when he was about to ball out his legg bumped the lever that lowers the bucket and it saved the tractors.
Zach tells them another story about a baseball hitting him right in the a$$hole.
Cody shares a story about pooping at school something he never really did much. Cody adds that when he got up he caught the toilet paper on his pants and dragged it out of the stall and into the hallway.
Caleb – You guys know about my brother p**ping on his wife.. Blake.. the pastor. His wife wanted to wax his butthole. They make a deal she will put a handful of Deer guts in her mouth for 30 seconds he would let her wax his butthole. Caleb says his brother was purposely waiting until he had to poop. His wife poured the wax in his butt hole and it was nruing him. SHe was blowing in his butthole because it burnt him. At that point he p**ped all over her. Caleb says the wax had hardened his butt cheeks together. caleb says it was on youtube.. . Caleb clears up that she never got poop in her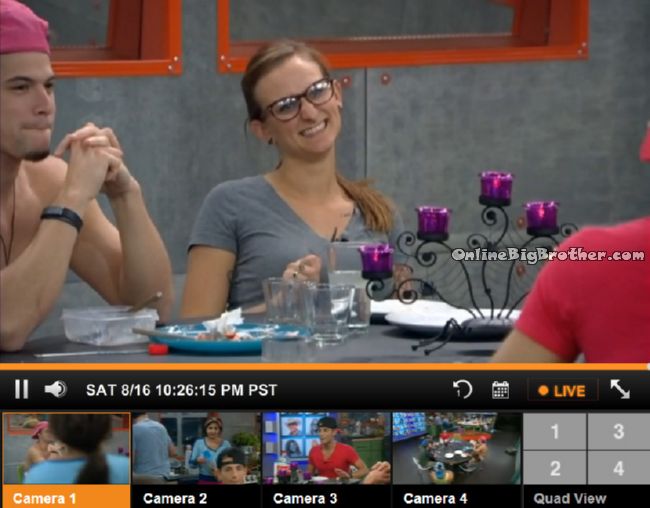 10:18pm Kitchen table
Caleb talking about meeting the owner of the cowboys Jerry Jones.
Frankie says Kathy Griffin come on on their show to promote herself means they are having really good ratings.
They mentions Derrick's Zing was really mean something like
This house is filled with Attractive men. All of you are so attractive.. ohh sorry Derrick didn't see you there ZING. Christine would have rathers the Jenn City Zing they teased her about than the zing she got.
Donny's zing had something to do about Duck Dynasty your's social game is suck dynasty.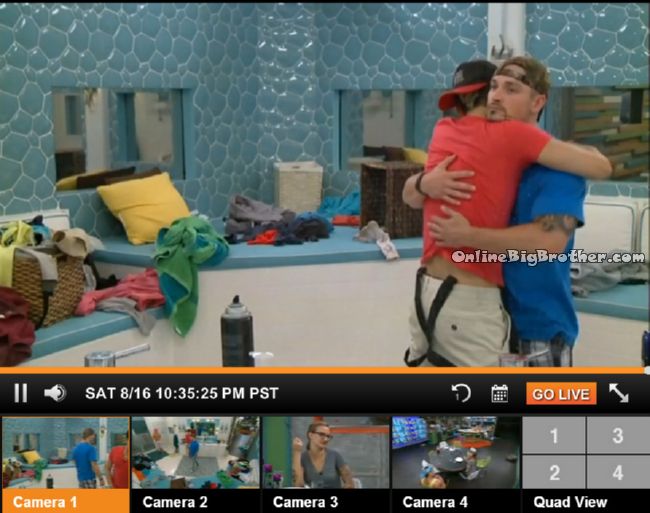 10:26pm Frankie to Caleb
Caleb saying he hopes the next HOh is endurance so he can go all "beast Mode" on it and win it.
Caleb – If you weren't going to win it I would have won it simple
Frankie – I know.. I'm excited I get to win it so I can use it on you
Frankie tells him he has to win the HOH next week and return the favor.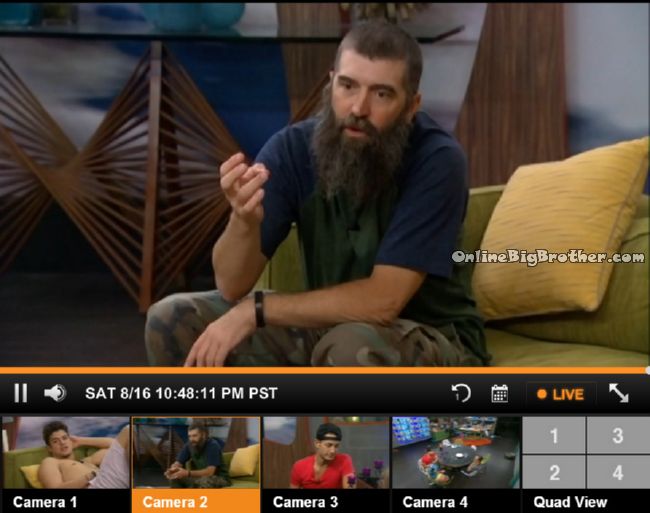 10:48pm Donny talking about his brother who has one hand with just two fingers on it.
Zach – so he can't play video games
Donny – He beat Mario one two and thee wit his feet.
Zach – No way that's crazy
Donny – he uses his chin like a thumb.
Donny says his brother likes MMA fights, Football and Reality TV.
Zach – this might be too personal but can he wipe his own a$$
Donny – he finds a way.. he's very creative.
Donny says his brother never dated any girls. He just moved out from his parents house but still in the same neighborhood.
Donny mentions his brother broke his collar bone 4 times from riding his bike because when he fell he never had the hands to break his fall.
Donny goes on about all the things his brother can do even though he's go a disability.
Zach asks if there's anything he physically can't do.
Donny – he wouldn't want me to say the only thing he cannot do is tie his shoes while they are on his feet.
The Live Feeds are archived. You can go back and watch everything that happens
Try It Free! Subscribe now to the official BB16 Live Feeds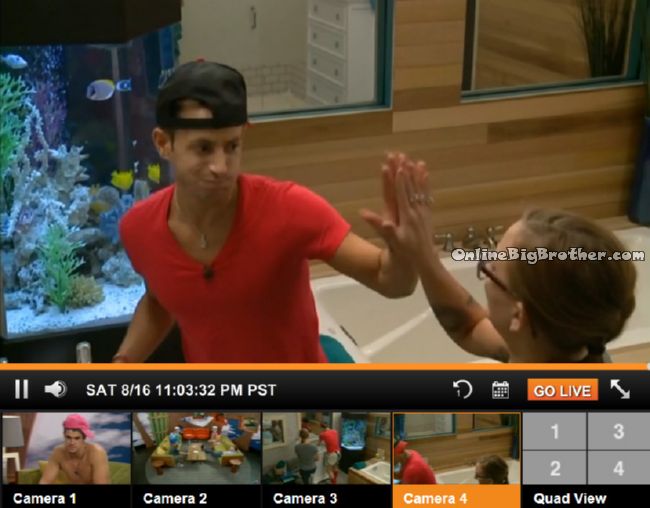 11:03pm HOH Christine and Frankie
They are saying It wasn't Derrick and Cody that screwed them over it was NIcole.
Frankie – just so you know everyone has come to be asking me to do something big
Christine – really I'm so happy
Frankie – I've been thinking about it for a long time.. I'm using it on Caleb.
Frankie says Caleb, Cody and Derrick want Zach put up.
Frankie – I don't want to blindside him.. we'll have to call a meeting.. I want him to know there's no hope it was a group decision.
Christine says she 100% supports getting Zach out this week.
Christine – That makes me so happy everyone is on board.
Frankie – I as thinking about just doing it.
They agree there's nothing for Zach to blow up. He could tell Donny but what can Donny do.
They agree that Caleb is so different now he's funny and happy..
Frankie has a issue with Zach bringing up them trying to get him out two weeks ago Frankie never mentions last week anymore is worried Zach will once he wins the HOH.
Frankie says the worst thing wit Zach going home this week is if there's a buy back and he comes back. They joke that there will be a slouching competitions and Jocasta will come back in.
Christine says her and Cody hang out all the time but they never talk game.
Frankie – I calculated I've won 1/2 the competitions I've played in
Christine – Cody doesn't win anything
Frankie – Donny's close to my record but he's played in a lot more
Derrick joins them they agree getting Zach out is the best thing this week.
Derrick stresses how Victoria is a waste of an HOH.
Frankie wants to be the one that sends Zach home.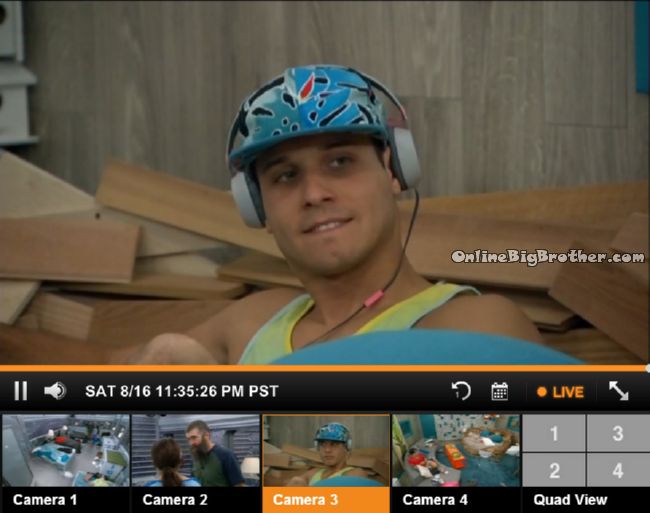 11:37pm Cody, Frankie, Derrick and Christine
Cody complains how he sucks at Veto competitions. Frankie wants to have a meeting and tell Zach there's no hope. Frankie is still worried that Zach will blow stuff up.
Cody – at this point no one is going to care what he has to say
Derrick's main concern is Zach tells Donny and Donny puts him and Christine up if he wins HOH because of the plane to have Christine throw the BOB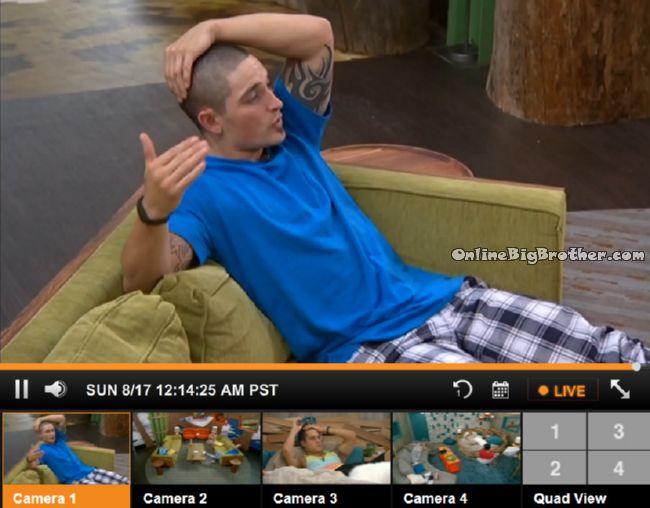 12:10AM Caleb talking about coming back from Iraq.
12:20AM HOH Derrick, Frankie, Cody and Christine
Frankie – so you're a you tube star, congratulations on achieving the same amount of fame as Dancing cats
They agreeing that their show is getting crazy good ratings for Kathy Griffin to be on it.
Caleb joins them.
12:23AM Living Room Victoria and Zach
Victoria is worried she's going to get Booed when she leaves.
Zach says she's not going to get booed DEvin didn't even get Booed .
Victoria saying that everyone got personal Zing's hers was game.
Zach reassure her she's playing a game , "At least you are being true to yourself.. you're reserved and passive."
Zach – I'm an instigator
Zach says personally if he doesn't win the 500 grand he's going to be upset.. Adds that he's already picked the house he's buying.. two bedroom apartment.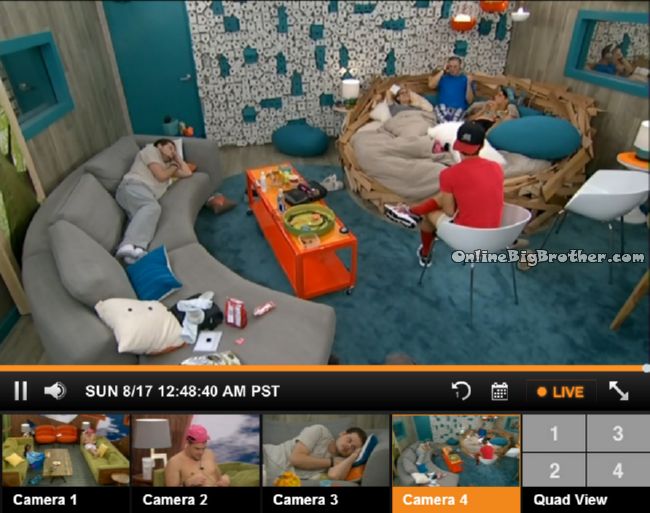 12:43AM HOH Derrick, Christine, Cody, Frankie and Caleb.
I wouldn't put it past him honestly.. he's not going to be happy and he's not going to be quiet.
Caleb – Donny is not dumb..
Derrick – Doesn't really matter Donny is going to put two of us up regardless..
Frankie – He's not a number for us anymore
Caleb – Victoria is more of a number.
Going through all the reasons why they want Zach gone….
(On a side note Frankie's pop star sister has been tweeting that she wishes she could telepathically tell Frankie to Backdoor
Derrick not Zach)
Alliances
The new bomb squad – Caleb, Zach, Derrick, Frankie, Cody, Christine
"The HITMEN" – Cody & Derrick
Team America = Donny, Derrick, Frankie
More polls here https://www.onlinebigbrother.com/big-brother-compendium/big-brother-16-polls/
[polldaddy poll=8244330]
[polldaddy poll=8248683]