POV Holder:
Frankie
Next POV
Aug 16th
POV Used
?
POV Ceremony
Aug 18th
HOH Winner 1:
FRANKIE
HOH Winner 2:
Derrick
Battle of the Block Winner
Donny & Christine
Next HOH
Aug 21st
Original Nominations:
Derrick's Noms (Donny & Christine) Frankie's Noms (Caleb & Cody)
Final Nominations:
?
Have Nots
Christine & Victoria
POV Players
Cody, Caleb, Frankie, Victoria, Donny, Christine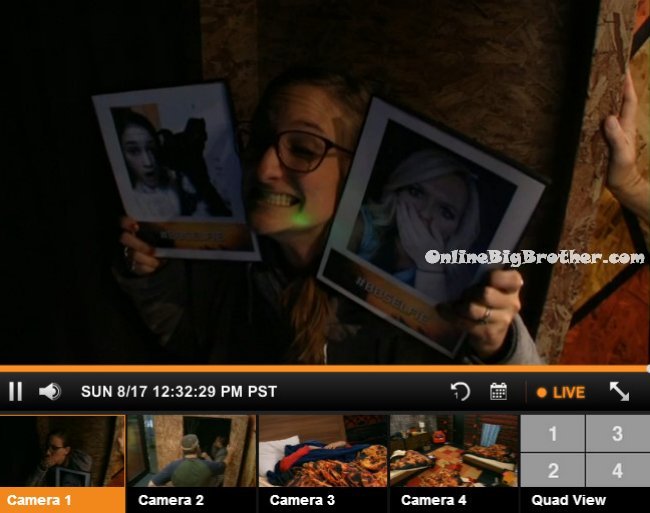 See what they can't show you on TV! -Try the Big Brother 16 live feeds for FREE!
11:55am Big Brother blocks the live feeds. When the feeds return – Christine is in the bathroom getting ready for the day. Donny is out in the backyard doing his laundry. Big Brother states Did you know that Sweden is slightly larger than California. Christine says no I did not know that! Big Brother Attention house guests Did you know that there 121 marble slots on a Chinese checker board. Christine says I did not know that either. Remember house guests to swim 1 mile you only need to swim 141 laps in the big brother pool. Donny joins Christine in the bathroom. Christine says remember only 141 laps. They talk about Chinese checkers. Donny says its stuff to get us up. Christine agrees. They head to the living room. Christine and Donny talk about the havenot room and havenot food. Big Brother says hey everybody it's photo booth time! Donny grabs the fan photos from the storage room and they head to the bee hive room to take photos. Christine says I guess I'll do my usual s*xy photo shoot! Donny and Christine finish taking photos and leave the room.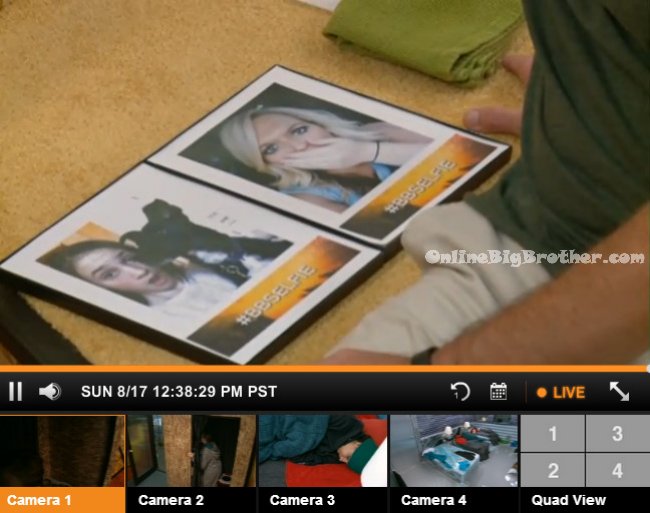 12:55am Donny asks so you don't think this Thursday will be double? Christine says no, if they hold true to last season it won't be and so far they have been. Donny heads outside. Christine talks to herself. Day 59 up alone with my mortal enemy as a havenot… ONLY known enemy!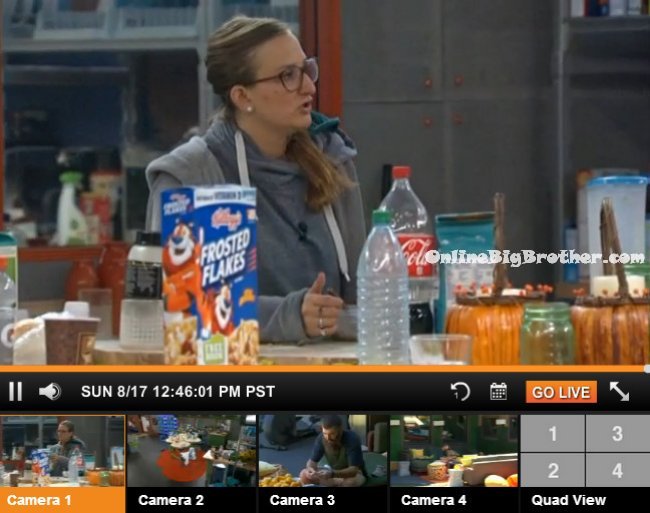 1:10pm
Cody joins Donny out in the backyard. Cody says he just took a sh*t ton of photo booth pictures. They talk about how hot it is out today Donny says if I was the type of person to take my shirt off I would. Cody says sitting on the block sucks! Donny says yeah I've done it 5 times! Do you know who he's taking off? Cody says he's taking off Caleb. Donny says well its a good opportunity to say nice things to your family. Donny and Cody question how many laps big brother said it takes to make 1 mile. They can't remember exactly. Donny asks if Cody's hands got cut up from the black box? Cody says yeah. Donny says they're definitely not ribbed for our pleasure. Cody laughs. Big Brother says House Guests did you know it takes 19 and 1 quarter laps around the backyard to equal 1 mile?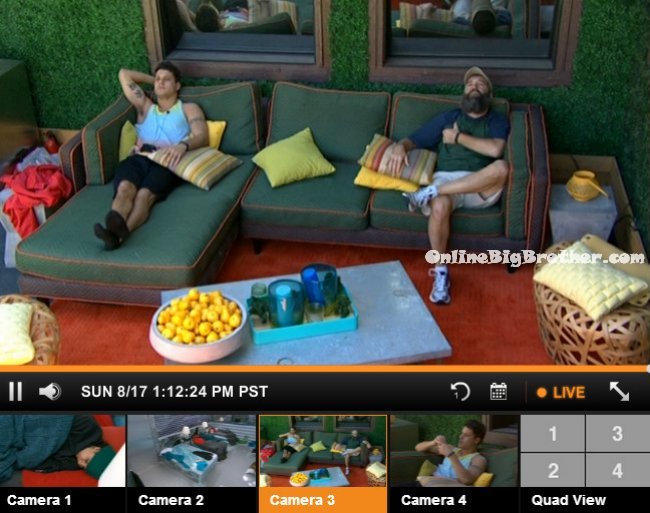 1:40pm – 1:50pm Cody and Derrick head into the storage room. Cody says he got up and sat with Donny because he felt bad he's always outside sitting my himself. Derrick asks he's still not trying to talk game with you? Cody says nope. Derrick asks do you think they're lying to us or do you think he actually is coming.. Cody says I think he is gunning. Caleb .. come on. Frankie maybe. Here's the thing look what he said to Caleb. What he said to Caleb was an exact spin off of that! Derrick says we're not in the best spot any more as far as like numbers wise but we've got to get some other people out because like you said with Christine.. you never know when she's going to go. Cody says heres the thing with Christine once Frankie goes .. you know where she's going to go. Derrick nods. Because you know Frankie ain't going to let go of Caleb. They're me and you. Cody says 100% but I don't think we're in a terrible spot. Derrick says no. Cody says because we have Victoria and if we are in a situation we do have Christine. I don't think Christine will cross us. If we're sitting next to Frankie then it could be bad. Derrick says especially if Donny is still in the game .. who do you think Donny is voting to keep if you or me are sitting next to Frankie if he is trying to work with him. Cody says for our game to be most benefited .. Frankie's got to go! Derrick agrees. Over Donny. We're going to have to put them up next to each other. Cody says we're going to have to make a move soon. Derrick says I was thinking if Frankie is up next to you or me .. he possibly has Donny, Caleb and maybe Christine. You only need 3 votes to stay now. Cody says after this week you're going to need two then it goes back to the HOH. So if we're up there next to him and Victoria's off the block we would get him out. We're not in the best spot but we're not in the worst. Cody says if we aren't sitting next to each other we automatically have two votes to stay. Derrick says we're so close it would suck to go out now. Cody agrees and says I am sick and tired of sucking at the POV! Cody questions why Christine is sucking up to Frankie.. she's safe this week. Derrick says just in case Caleb wins HOH next week.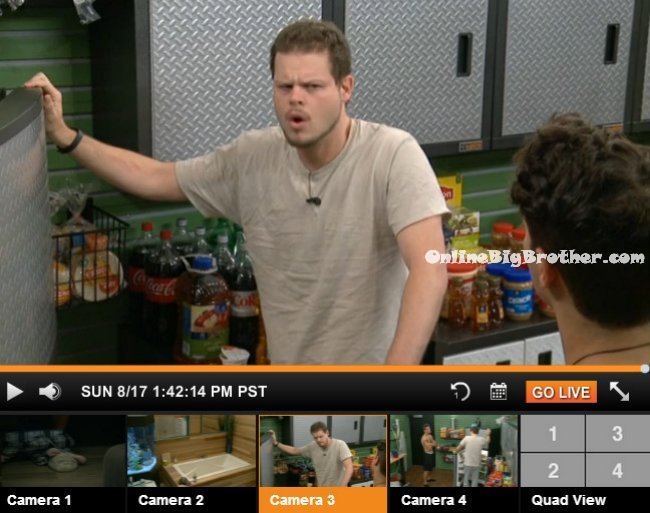 2pm Caleb and Frankie are taking photo booth pictures.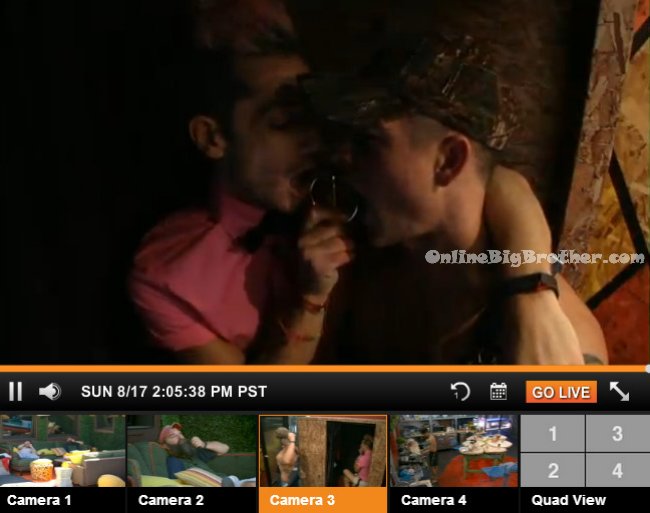 2:15pm – 2:30pm In the kitchen – Cody tells Frankie about how Zach was asking him last night if he was going up. Frankie says I keep going back and forth about whether to tell him in a group or alone. I don't know if he's going to go off or not. The thing is with putting him up its not like you can explain it away. You're going up, you're going home. Cody says if you talk to him alone you can calm him down and stop him from going off. Frankie says its just sad because he's just so oblivious. One of them I have literally no beef with in this house and he literally tried to murder me in my sleep. He literally gave me the reason to put him up in the HOH room – "you guys could want to send me home because of how untrustworthy I've been." Donny joins them and Frankie goes to take photo booth pictures with him. Meanwhile out in the backyard Christine is suntanning.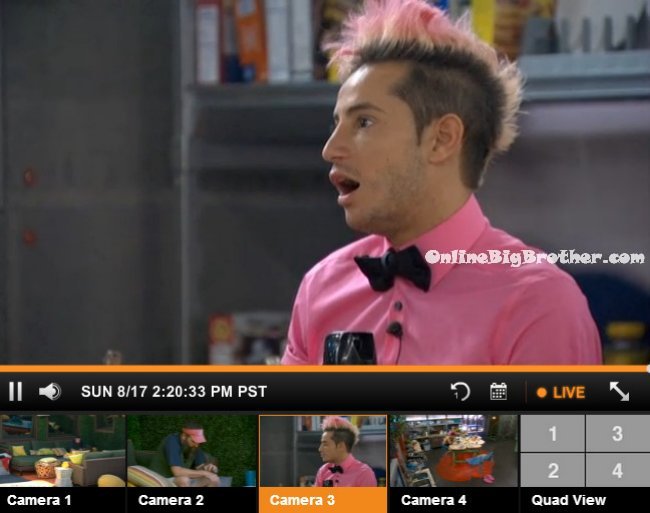 2:30pm – 2:40pm In the backyard – Christine talks to Cody by the pool. She says that she has a lot of gay stories that she could have shared with Frankie that would have helped them connect. But I'm glad I didn't because he is doing a lot of damage and he could have put my stories on blast. Christine says she used to get in a lot of trouble with her parents because of it. Cody asks because they're so Christian? Christine says yeah. They talk about how people believe people who are gay will go to hell. Christine says if you really believe that why wouldn't you let them get married on earth, like what does it matter if you already believe that. Frankie joins them. Frankie asks what do you think I tell Zach just me or in a group. Christine says I think he will respond better to just you. Frankie tells Cody so we haven't talked about who I'm using the veto on. Cody says Caleb told me. Frankie says I was thinking of using it on him because he was so close to winning the veto. Do you understand that? Cody says yeah as long as I don't go home. Frankie says Caleb is like a little child he runs and tells everyone. I was hoping to have a strip off! Cody says hey man, I'll still do it! I'll put on a bunch of layers and get right into it. Donny joins them.