POV Holder:
Zach
Next POV
Aug 9th
POV Used
?
POV Ceremony
Aug 11th
HOH Winner 1:
Nicole
HOH Winner 2:
Christine
Battle of the Block Winner
 Frankie/Ca;eb
Next HOH
Aug 15th
Original Nominations:
Nicole's Noms (Caleb & Frankie) Christine's Noms (Zach & Donny)
Final Nominations:
?
Have Nots
Donny and Zach
POV Players
Christine, Zach, Donny, Nicole, Caleb, Derrick
Jocasta is evicted by a vote of 6-2
HOH winner is Caleb his Nominations are Donny and Hayden
POV Winner is DONNY who uses it on himself. Caleb's replacement nominee is Nicole
Hayden is evicted by a vote of 5-2
week 7 HOHs Christine and Nicole
Nominations are (Caleb & Frankie) Christine's Noms (Zach & Donny)
Battle of the Block winners are Frankie and Caleb, Caleb didn't participate in the competition but as luck would have it actually helped Frankie.
Christine promises Cody and Nicole she won't back door them but no one can really tell for sure what her true intentions are.
POV Players are Christine, Zach, Donny, Nicole, Caleb, Derrick
POV Winner is Zach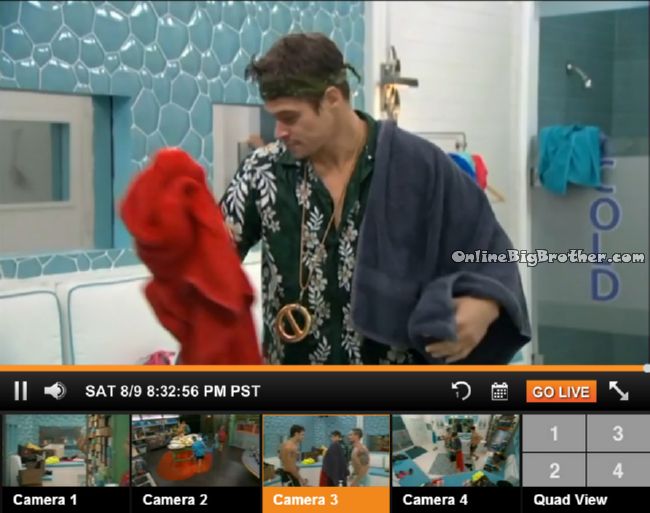 8:33pm Zach says that was the most fun.. He wins the POV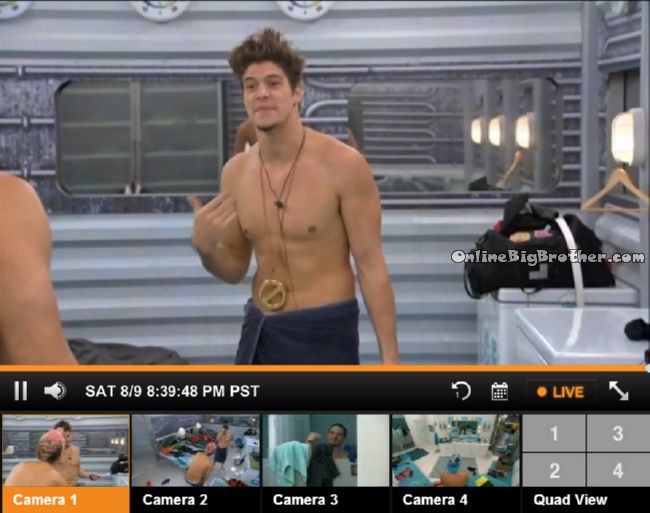 8:40pm Zach and Frankie
Frankie – I'm so happy you won.. I figured that once you won and were safe they could have a conversation
Zach says he loves Frankie as a person but as a gamer he hates him.
Frankie – can we be best friends again
Zach – we are best friends
Zach – the two characteristics i look for in people are brains and humor and your the smartest person i have ever met my entire life… If I was gay i would be on my knees s**king your D**k right now I'm not lying.. I was hurt bro I felt like my wife just cheated on me"
Frankie says Zach made him feel the same way yesterday
Zach – You cheated on me first"
Zach say they were in a very good spot and everything was working well but Frankie had trust issues with him.
Frankie – we're still good
Zach – I have not game
Frnakie – with me you have
Zach – ya right
Frankie – I F*** you and you F*** me back
Zach – you're the f** man
Frankie – We're b1tches
Zach – You were scheming to get me out of the house
Frankie – I did do that..
Frankie says the plan to get out Zach was concocted by everyone Cody, Derrick Christine and Frankie.
Zach – You are so much smarter than me you had the game in the palm of you hands and you tried to get me out..
Frankie – and you tried
Zach – after your tried
Frankie – yes I understand.. we're even now..
Zach – You ruined my game
Frankie – you ruined your game
Zach what did I do
Frnakie – you divided the group because of the information you were sharing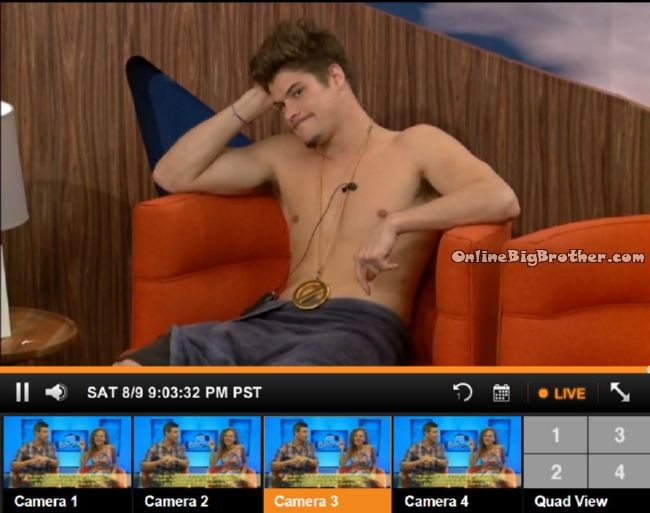 like a boss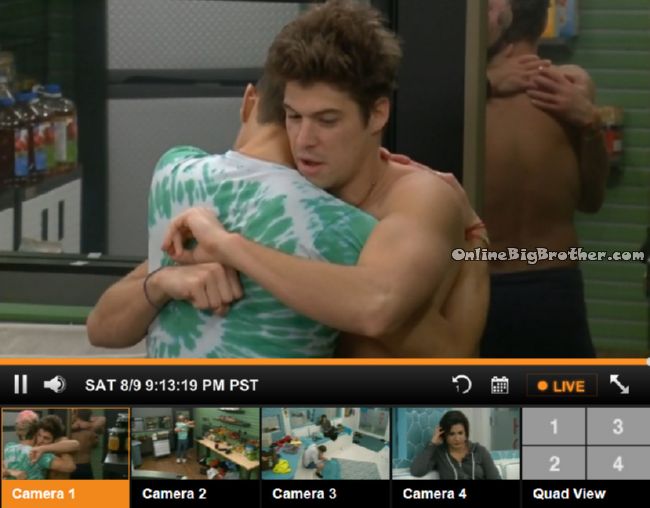 9:09pm Frankie wants to sign a pact that they don't believe thing that Cody and derrick say about the other
Zach says Cody and Derick don't talk crap about Frankie so he doesn't know what went on.
Zach – i'm not talking game to anyone.. I'm done talking game to Cody.. all I'm going to do is win Competitions
Frankie – sometimes you have to go through really bad things to trust each other
Zach says Frankie is really good at words he could be lying to him right now
Zach mentions he talked sh1t about him, Zach never did that about Frankie
Frankie says hiding this amazing thing was eating him up he needed to get it out.
Frankie wants Christine to backdoor nicole but she's probably putting up Victoria, Frankie – "SO donny is going home"
Frankie asks him if Christine is still coming after him
Zach doesn't think so. Zach says he spilled his entire game to Nicole "Obviously you were included in a lot of it"
Frankie – Amazing..
Zach – She told me all these things about me
Frankie – She lies
Zach – Frankie!
Zach brings up Christine telling Nicole that Zach Approached Frankie about the detonators
Frankie denies it
Zach knows it's true give Frankie a look.
Zach – F** christine I hate her she's a snake
Frankie – I've stopped talking to her completely.. we have to win HOH this week
Zach where does Beast mode Cowboy fall into all this.. I like him more than anyone know
Frankie – We're in the bomb squad again..
Frankie thinks they got played by Christine and Nicole. Zach mentions everyone was supporting Caleb throwing the BOB competition so Frankie would be on the block.
Zach – lets do this
They hug it out..
They agree to send home a none bombsquad this week.
Zach – I love you Frankie
Frankie – Love you Zach
(Sounds like they've buried the hatchet)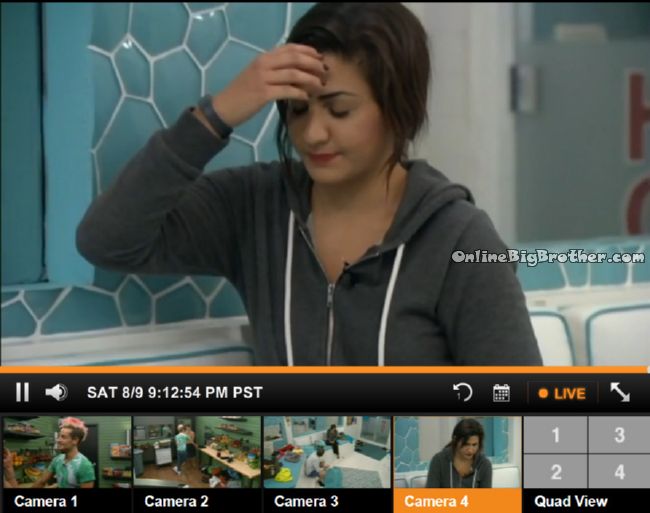 9:12pm Victoria and Derrick
Derrick tell her they have the votes DOnny is going home
Derrick says Zach will vote the way they all vote like he does every week, "If you are on the block trust me"
Victoria is worried "Donny is good with his words"
Derrick I don't want to hear you doing this again..
Derrick – you can't hide the fact he's won 5 POV"she's going to be very difficult to get out..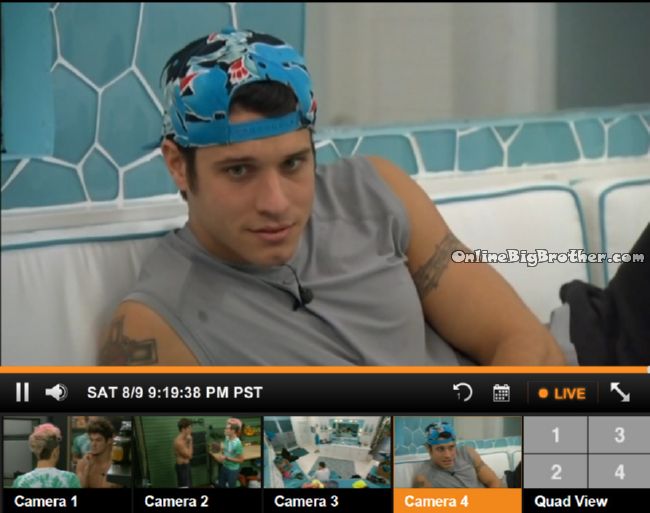 9:19pm Cody and Derrick

Cody is pissed Zach won the POV says he's in the Storage room with Frankie right now..
Derrick – Obviously if Victoria goes up Donny goes home.. and if Zach tries to flip the script we vote him out next week.
Cody say if he wins HOH he's putting up Frankie and Zach he can't stand the way Zach acts,
9:29pm Frankie and derrick
Frenaki says he's cool with Zach, "Nicole has been lying a look very well"
Frankie asks him if they are still cool him, Cody and Derrick. Derrick says he was good with Frankie anyway he was just surprised.
Frankie – Zach is OK with keeping Donny, I would like to keep him I don't think he would put us up. Derrick tells him to be careful how he mentions that to Cody and Caleb they don't want to keep Donny.
They want Nicole up. Frankie is going to work on Christine but he's not sure how close Christine and Nicole have become.
Frankie – I think Christine is accidentally playing us.. there's a leak it needs to be plugged or eliminated
Derrick thinks Victoria going to be the replacement nominee
Derrick asks beside Derrick and Team America who is Frankie closest to
Frankie says Caleb
Derrick points out that Donny's target is Caleb.
Derrick – Victoria… when is she ever going to beat us.. never..
Frankie – And she's never ever putting me up
Derrick – Victoria f** loves you.. never said a bad thing about you.. she doesn't
Frankie says Nicole said Victoria talks ah1t about him
Caleb joins them
Frankie says he wants to get Nicole up she's been lying lying and lying
Caleb – Donny won't beat me in a HOH comp Nicole can"
Frankie thinks caleb and him can work on Frankie
Frankie – we're all square everything that happened the past few days is over. we're bomb squad again
Caleb – we have no reason not to be..
"The HITMEN" – Cody & Derrick
Team America = Donny, Derrick, Frankie
More polls here https://www.onlinebigbrother.com/big-brother-compendium/big-brother-16-polls/
[polldaddy poll=8233586]