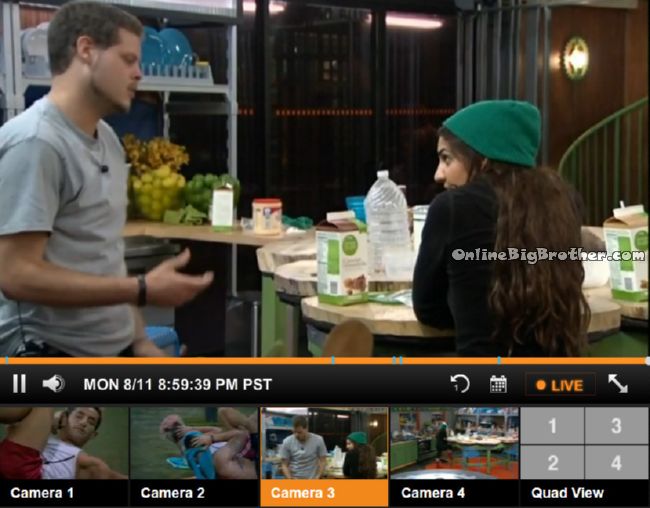 9:00pm Kitchen Victoria and Derrick
Derrick I'm sorry she doesn't have the votes.. Unless something changes..
Victoria about Nicole – I feel bad because she's so sad"
Derrick – I'll tell you one thing she' would have voted you out.. this is not personal.. what I would recommend to you is be nice to her be respectful you could be in that situation and when you get out of here you'll still have a relationship with her.. that's what I'm doing
Derrick reminds her it's a game
Victoria told Christine she's only spending time with Nicole because she's alone she's not scheming.
Derrick – scheming with someone that is leaving .. don't worry about
Derrick tells her these deep in the they have already built the personal relationships they are going to build. HE tells her there's not way someone will get to know him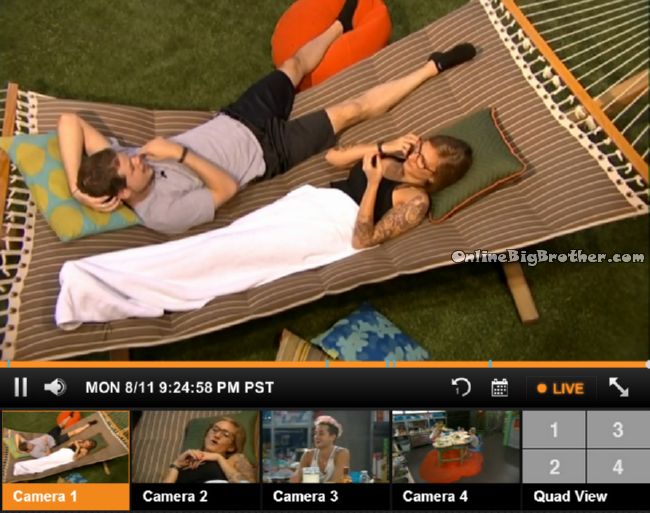 9:21pm Christine and Derrick
Derrick doesn't feel like playing any more pool.
she brings up having to do the HOH blogs tomorrow.
He tells her the computer doesn't shut off after an hour.. "I did a paragraph legit just shoutouts.. I did one paragraph for my family one for fans"
Derrick doesn't want to be blindsided hope they just tell him her you don't' have the votes.. I don't want a ray of hope.
Christine – This is going to be crazy.. from here on in you have to win Competitions .. you can't ride it"
Christine wonders what Nicole will do to Campaign
Derrick is going to tell her he doesn't think s
Derrick starts bringing up Donny and getting him out before Victoria. He thinks nexx week they should make a play to evict him. Reminds her he doesn't think Victoria will ever win HOH but Donny is winning comps all the time and Beating, Cody, Derrick and CAleb.
Christine says Donny is Skerry .. Very Skerry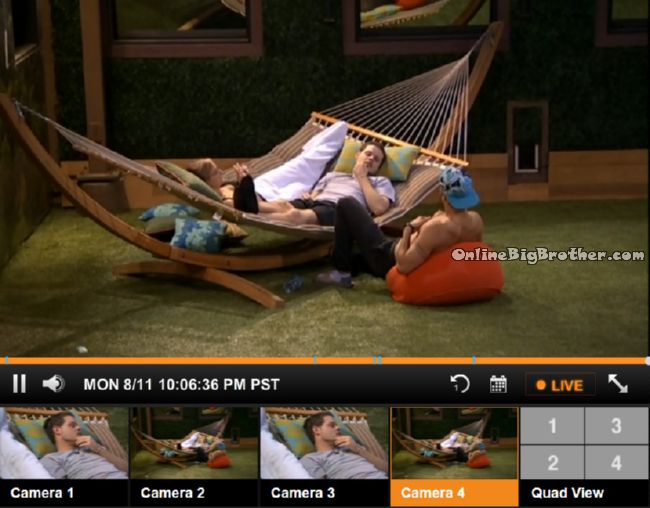 9:47pm Hammock Derrick and Christine talking about how the down time breeds Paranoia
Derrick – You start to connect the dots that are not there
They agree Nicole will vote based on game play. Derrick says sometimes the best player doesn't win. Mentions Helen believes she played a great game.
Derrick – Is it you that doesn't like AManda
Christine – I didn't like AManda.
Derrick – but she always knew what was going on
Christine thinks Caleb and Frankie have a deal.
Derrick thinks there was something there all along, Believed it started with Devin, Caleb and Frankie.
Christine – THis game is hard if you make friends
Derrick ya.. I think we have a good shot numbers wise we have as good of a shot we could have.
Derrick says once Victoria goes they are down to their 6
Christine – THings get BLOOODY
Derrick adds at that point it comes down to winning competitions.
Cody joins them. THey talk about not putting up Victoria and DOnny on the same side because if they win the BOB they both are safe.
Derrick says the OTEV was pure luck Christine agrees.
She wonders if it will be a endurance comp this week.
THey are really concerned about Battle on the block. COdy keeps saying :"Someone is going home"
Cody – Donny knows where the numbers are.. Donny needs to be on the Block so he saves himself
THey agree there has to be 3 bombsquad members nominated. Two have to fight to the BOB and the one paired with DOnny has to throw it.
Cody – Put Zach with Donny.. Zach can throw a competition by acting the way he usually does.
COdy feels if he's the one throwing the competition it would look obvious.
Derrick asks if DOnny and Zach win HOH what happens
Cody – Someone is going home.. I don't think Zach or Frankie will stay faithful
Cody this whole clean slate thing..
Derrick – we just need the numbers for the next couple weeks
Cody – They think everything is reset.. oh ya
Cody says if Victoria is on the block and Donny wins the Veto he's using it to save Victoria, COdy stresses that Donny knows where people stand in the house.
10:10pm Christine starts telling them about all the "Disgusting" things Frankie was saying on their football trip, she says he snapped his fingers "I need my makeup bag.. I need my makeup bag.. I need my makeup bag.. "
Cody – Caleb can't stop talking about how people call him beast mode cowboy (During the football trip some people they met referenced to Caleb as BMC or Beast mode Cowboy)
Christine says when she heard it being said to Caleb she knew it was going to be hell when they get back in the house.
Someone outside is screaming We love you BB we love you zach. Christine says that's disgusting begs Derrick not to tell Zach his head will get even bigger. She was always Disgusted by Eval DD!ck fans .
Lock down is called.
10:43pm feeds have been on fish ..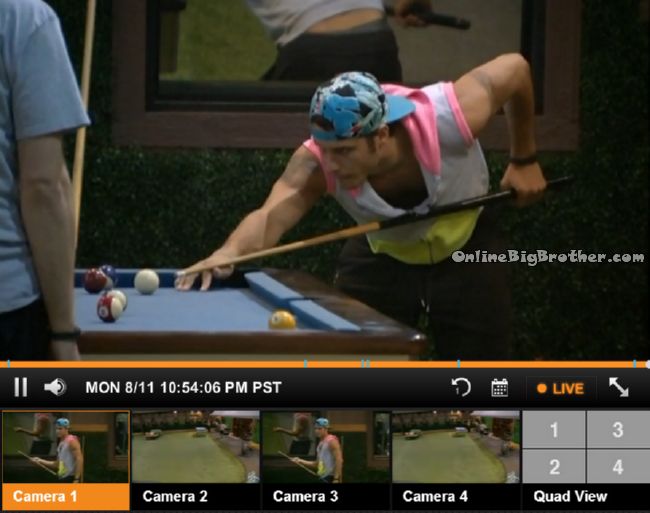 10:52pm Pool table Derrick and Cody
Cody thinks next week is scary for them . Derrick isn't worried as long as both of them are nominated. He doesn't' see that happening. Derrick – we could be the next Hayden and Nicole
Derrick says he's starting to get tired of the game the only thing that keeps him going ios they have only 36 days to go.
Cody – Mine and your game has smoked everyone's game I'll be pissed off if won i just don't win it.
Cody doesn't think Anyone will vote for Zach.
Derrick – we played a really under the radar game.. Derrick can see people voting for Zach.
Cody says they are not going to get to the end unless they start winning HOH's
Cody says their social games has been better than everyone else's.
Derrick says he wants to take out Donny next week.
Cody – I can't stand playing this game anymore with Zach and Frankie
Derrick – if we take a shot at them we have to be 100% percent..
Derrick – Victoria has noone other than me and you
Cody points out that Frankie and Zach are thinking they have everyone in their pockets.
COdy thinks it's going to be him, Derrick and Cody vs Zach, CAleb and Frankie. COdy calls Zach a little weasel say he'll run back to Frankie.
Caleb comes outside says there was almost an argument in the living room. They were talking about homosexuality. Caleb believes what the bible says that humans are created in gods imagine.. Caleb says he doesn't believe people are Born gay. Frankie started voicing his opinions on it so Caleb just left.
Derrick and Cody agree it's not worth having an argument over it.
11:17pm Living room Frankie and Zach
Zach asks him what is he doing after the show "Not being a youtuber are you"
Frankie says he wants to have his own TV show.
Frankie says all his videos are "Very appropriate .. you know my sister was on nickelodeon I felt I was responsible for keeping it appropriate.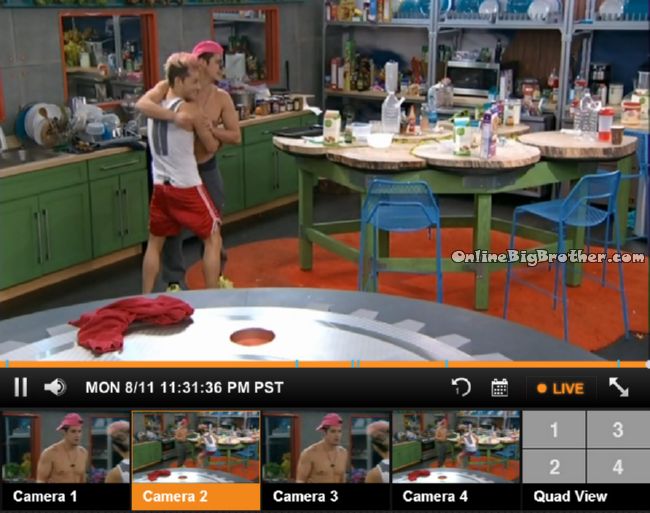 11:30pm Frankie tells Zach it drives him crazy when there's people that don;t like him.
Zach says Frankie's Ratio of funny things to not funny things is off the chart. Zach says outside this house he likes to hang out with Smart funny people and that is what Frankie is. Zach adds he's never laughed harder with another person.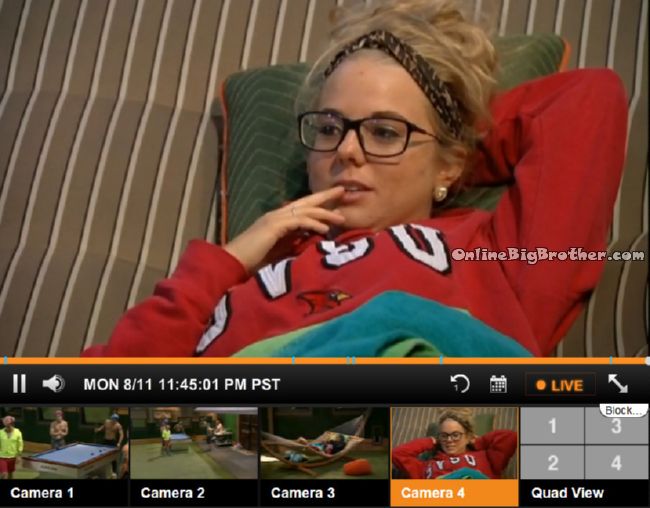 11:48pm I'm going to try I know it won't work but I gotta try
Nicole is going to talk to Derrick and Cody. Nicole says Cody and CHristine have some weird connection.
Victoria doesn't know how much Derrick will help.
Nicole – I just want to try
Nicole – CHristine played AMber so bad.. I feel guilty for what she did to her.. pretending she was staying the entire week
Victoria mentions so did Frankie
Nicole – But Christine was her friend
Victoria says they were all annoyed by Amber Christine hung around her because she was the only one that was able to act .
Nicole tell her there is a final 5 alliance in the house, "Don't you think"
Victoria – After what happened last night i'm scared to think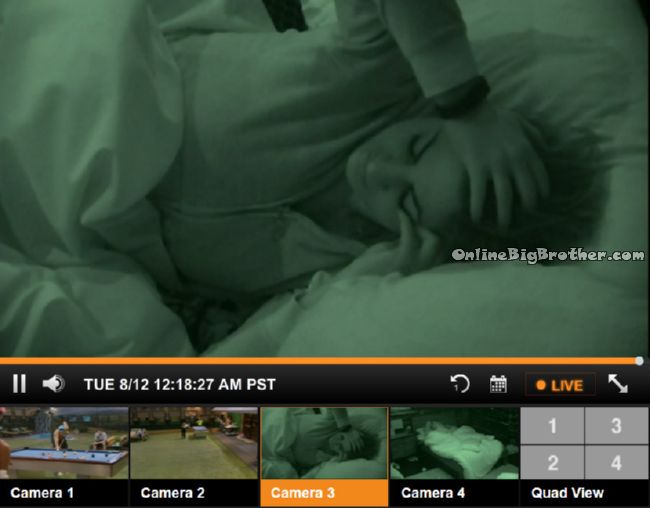 They head inside to go to bed.
Nicole – only person I won't want to win this game is Christine.
Nicole says her game was a lot better before she talked to Derrick and Cody. Christine told Nicole that Derrick And Cody came to her the night before the Jocasta vote and flipped the house on her.
Nicole says Christine told her Derrick and Cody both flipped.
Victoria and do you really believe Derrick would do that
Nicole I don't Believe it that is why I still talk to him.
Nicole says Derrick didn't deny it he said you can believe what you want/
Nicole – Derrick is someone I would love win this game..
Nicole asks her if she got Cody and Derrick to switch their votes would Victoria switch to. Victoria Doesn't see Derrick and Cody stitching their vote.
Nicole – I miss Jocasta she was so nice.. Nicole after what happened to me on Thursday There was no hope for me.. It's better it happened sooner than later I feel so betrayed..
12:03AM Caleb Frankie rock room Frankie says people want them to win "they love us:
12:32AM Pool table Cody, Zach caleb, and Christine.
They're telling Zach to go to bed there's stuff they have to do tomorrow, He's missed every HOH Picture "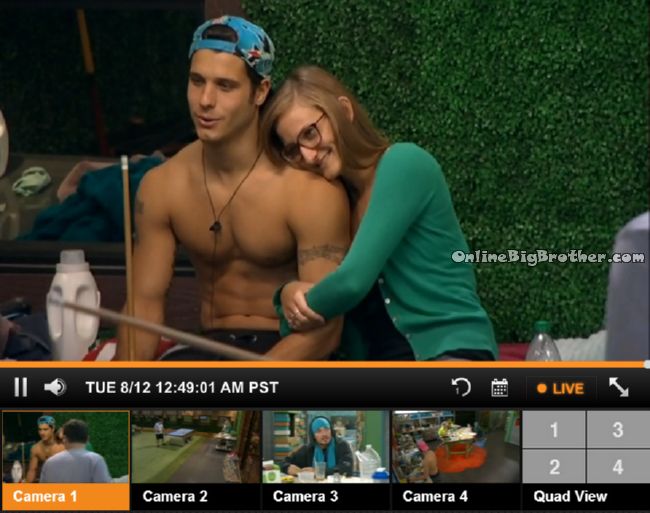 12:43AM Zach, Caleb and Frankie talking about how easy it was to convince Christine to put Nicole up.
12:47AM Cody and Derrick Cody who did Nicole think d1ckd her over. Derrick doesn't know depends on what Christine told her.
Christine joins them latches onto Cody.
12:56Am two groups of 3 Frankie, Zach and Caleb in the kitchen talking about the future of the BOB twist. Derrick, Cody and Christine around the pool table. Cody and Derrick are playing a game.
Where the vote stands.. Nicole is going to jury
Alliances
The new bomb squad – Caleb, Zach, Derrick, Frankie, Cody, Christine
"The HITMEN" – Cody & Derrick
Team America = Donny, Derrick, Frankie
More polls here https://www.onlinebigbrother.com/big-brother-compendium/big-brother-16-polls/
[polldaddy poll=8233586]
Share it YO!
Tweet