POV Holder:
Frankie
Next POV
Sept 6th
POV Used
No
POV Ceremony
Sept 7th
HOH Winner
Frankie
Next HOH
Sept 10th
Nominations:
Cody and Victoria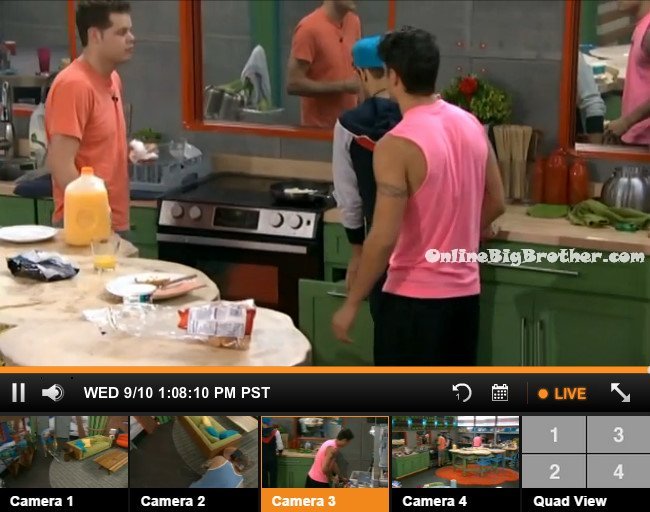 1pm – 1:30pm The live feeds return from being blocked for the HOH lockdown. Cody says yay vacuum! Frankie says we had a vacuum yesterday too… Izzy. Derrick says I can't wait to hear Izzy's back story. Frankie asks are you more excited to hear Izzy's back story or Donny's? Derrick and Cody both say Donny. Frankie says Donny is definitely a botanist. Cody asks a what?! Frankie says he studies plants. Cody says oh. Frankie says well its definitely an HOH comp tonight! Derrick says yes you are right about that! Frankie says if the button has to do with the HOH comp, then I bet I'm playing.. you know what I mean. Cody says if the button has to do with the HOH comp then you have to play. But if it has nothing to do it then they don't have to do anything. Frankie says if the HOH is for someone to get back into this house .. then I am defending this house. You know what I mean. Cody says is that all the button will do then we will be like is that it?! I don't think someone is coming back into the house. Frankie says it has to be the HOH tonight because I moved out of the HOH room. The house guests are cleaning the house. Caleb is vacuuming while Frankie, Derrick and Cody clean the kitchen. Frankie doing the dishes saying "PROPS!" Meanwhile Victoria is doing her hair/makeup. Victoria goes to the diary room and then comes out to lay in hte fire room bed. Frankie says what if Julie says had you not pressed the button so fast you would have seen the following incentives. But now you get none of them.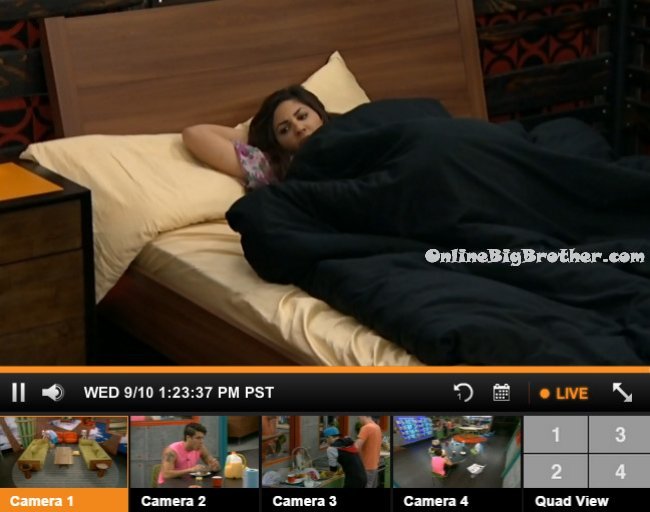 1:30pm – 2:30pm The house guests continue to clean and get ready in preparation for tonight's live episode. Derrick heads into the havenot room and notices that the TV has been moved over off centre. The others join him and talk about why its moved. They think production just moved it for camera angles so that if tonight they're crowded around the button the camera can still view the tv count down. Derrick says at first he thought it was one of the guys messing with him. Caleb says I if I got a hair contract after this I would be so excited. Frankie says well you don't have to look far your family owns a salon. Caleb says guys hair dressers make bank. Frankie asks why don't you do other things that you enjoy even more. I thought you were going to be country music star. Caleb says that doesn't happen over night. I'm going to be like you a struggling upcoming artist. In the bathroom – Derrick trims Cody's hair. Caleb trims Frankie's hair.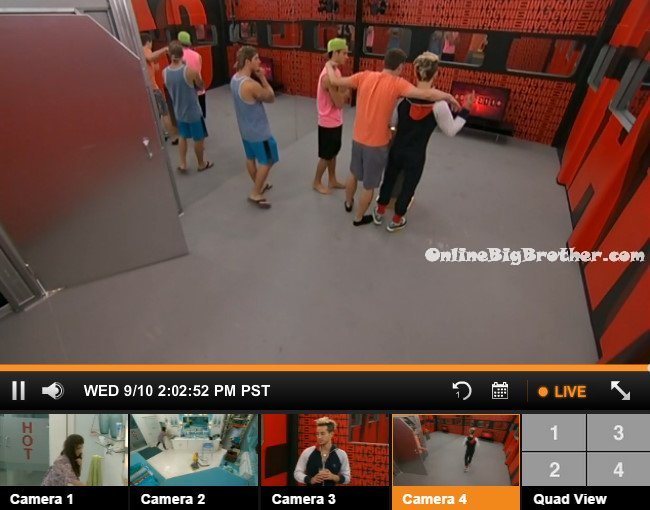 2:35pm The live feeds switch to the live feed highlights with Jeff Schroeder.
If you're enjoying the live feed updates this season, please consider donating. Simon and I work 24/7 all season long to keep you updated on everything that happens inside the house. Any amount is greatly appreciated! Your donations go directly to paying the fees required to run this site.
[polldaddy poll=8285104]