POV Holder:
?
POV Competition
July 1st?
POV Used
?
POV Ceremony
July 3rd?
HOH
Paulie
Next HOH
July 7th
Roadkill Competition Winner:
?
Original Nominations:
? and ?
After POV Nominations:
? and ?
Have Nots
?
Watch the 1st WEEK of the live feeds for FREE:
Big Brother 18 Alliances Help Guide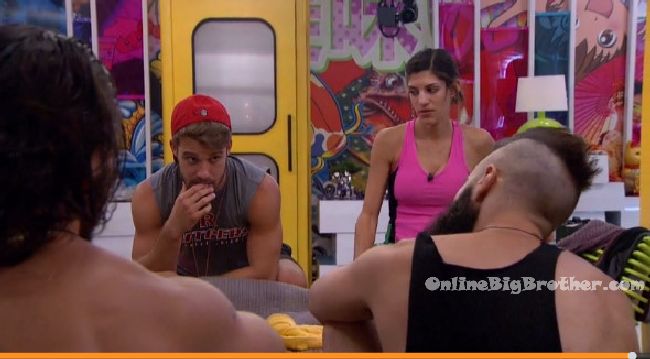 9:35pm Paul and Victor are talking. Victor says I wouldn't be surprised if Natalie flipped. Paul says I wouldn't either. Victor says at least I've got Bridgette and Bronte. We just need to win the roadkill and put James up. Victor says we just have to stay safe for another week so that we can get HOH. Paul says I came in here knowing winning was a gamble. Victor asks did you see how fast I was going. I wish I could have pushed him (James) off without being disqualified. Paul says I'm pretty sure the girls were trying to slow me down intentionally. Vic says I told Frank I don't trust him. Paulie joins them. Victor says the girls are up 8-6. Another guy goes and then there's only 5 and they can say REVOLUTION! If you want we could do something like the brigade. Paul says that James has not only lied to our face he's lied to others too. Vic says to be honest I wouldn't be surprised if you put me up because the way I voted but we could be loyal to you and go far. I've been loyal to the people I've been loyal to. Vic says I couldn't go out without doing what I said I would do .. because America would be like he's flopping. Bronte says I'm a strong competitor and if you don't put me up, I won't put you up. Me and Natalie just want to get to jury to keep getting paid.
9:50pm Zakiyah says I can never forget someone talking sh*t to me .. and you (Victor) voted against me (Paulie). If he (Paulie) get swayed by them I will never ever have respect for that. DaVonne says that Vic is the number 1 priority. Zakiyah says she came in here thinking she would flirt as a strategy but isn't going to let it get in the way. I have too many people I would let down.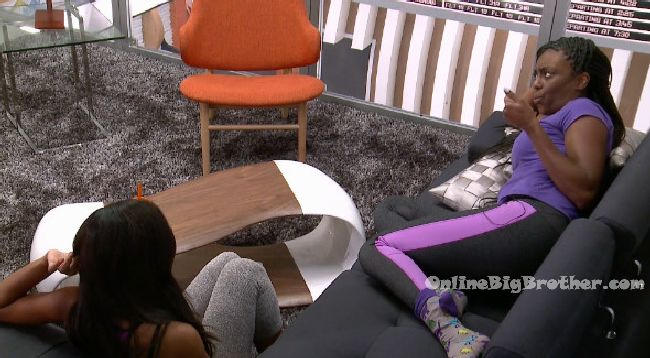 10:20pm – 10:50pm Paul, Frank, Nicole, Paulie and Victor are joking around. Paul says hey ladies if you want a man that can c** in 3 minutes .. hit me up! Vic says he's not a 1 minute man.. he's a 3 minute man. Frank says on the plus side he will ball like a baby in your arms. Vic asks Nicole are you not entertained?! Paulie goes into the other bedroom and talks to James, Tiffany, Natalie and Michelle. James asks about if Paulie will have photos of his sister in his HOH photos.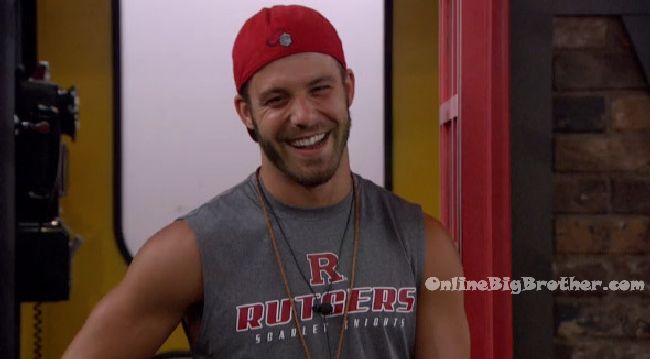 11pm DaVonne, Nicole, James and Zakiyah are in the kitchen. Zakiyah says they'll be calling us for DR's all night long… and probably in alphabetical order. (LOL) They talk about how they hope Victor is a havenot. James says his a$$ better go on the block. Cuz Frank was talking about backdooring him. Zakiyah asks what's the point in backdooring him? DaVonne says to keep him from competing (in the veto comp). Zakiyah says that's good but its risky.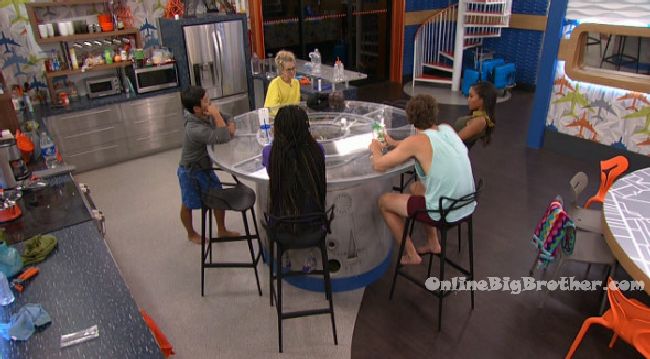 Paulie says you wouldn't believe the stuff they're saying. They must think I'm a f**king moron. They're saying they're loyal. They're trying to say look out for the numbers. I am 1, 2, 3, 4! What I was thinking was telling Paul I want you to compete because I trust you way more than him. Nicole tells Paulie she will support him no matter what. Paulie says I have no problem putting up Natalie or Bronte.. she was telling me shes a competitor.
In the bathroom – Frank talks to Tiffany and says that he thinks the next few weeks will team based HOH comps. He says we can just keep getting James and Day to throw them so that we can keep picking them off. It seems like we're going to be there in no time.
Paulie talks to Frank. Paulie says I would much rather we have a havenot competition so that I don't have to choose. Frank says if we have a havenot competition.. we're not going to get the backyard all week.
12:20am Paulie tells Zakiyah that he is thinking of putting Paul up and telling him he wants him to win. Then next week we put up him and Bronte. Then Natalie and Bridgette will be easy. They'll be easy to just pop off. They head up to the couch outside the HOH room. Once we get those five out I'll be good.
FLASHBACK and watch everything you missed: CBS All Access FREE Trial!

[polldaddy poll=9459672]