Head of Household: Kiefer
Nominations: Kyle and Ro Austin
The Power of Veto Players are : Beth, Austin, Jed, Kyle, Ro
POwer of Veto Winner : Rohan
Power of Veto Ceremony : Ro used the veto on himself. Austin nominated as replacement.
Have nots: Ro, Tina, Tera, Victoria
Bit of a scramble this morning before the Power of Veto Ceremony. Ro will use the veto on himself down. Austin going up as the replacement. Kyle the target.
Feeds were down for over 12 hours. They had a party with booze. Kyle still the target.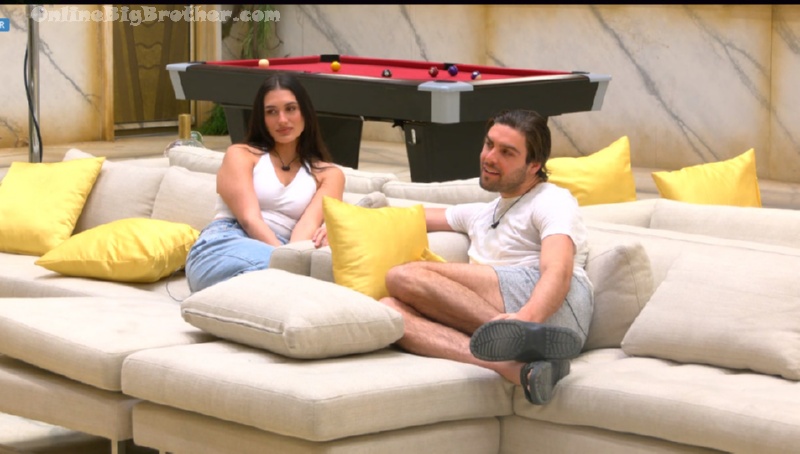 10:00 am Austin and Kyle
Austin – Kiefer still hasn't talked to me.. he told me would if I went up
Kyle – you are
Austin – I know
Kyle – you still going to talk to me this week
Austin – I'm not going to abandon you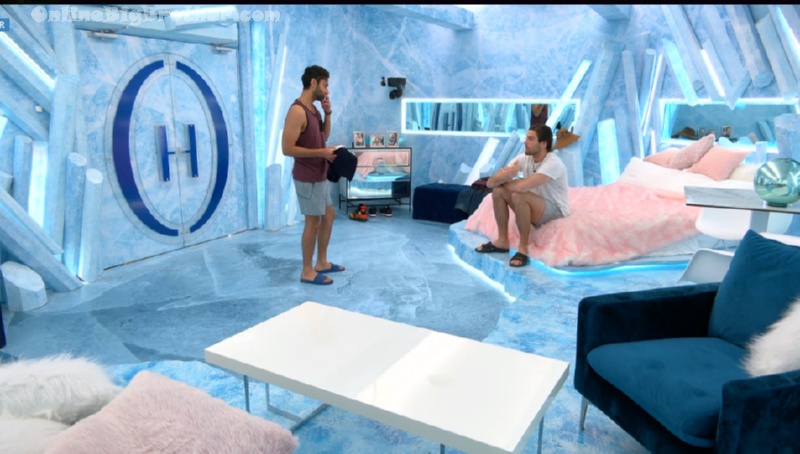 10:05 am Ro and Kyle
Kyle says he's going to pull Vic aside after the Veto "I already told here there's a lot more here than you think"
Kyle- say.. here's what happened all week. First thing that happens we go talk to Ty and Jed about the vote they tell us right away that you (Vic) are trying to pin it all on us. You were blindsided. we say NO NO NO we said it was her HOH her target went home.. Of course we still anted Latoya to go home.
Kyle – Ty and Jed go to Ro before the veto tell him that they do not want to win this veto they want one of us to win this Veto take them off and both of us to stay
Kyle – Jed comes to me before Veto says he's going to throw it to me the only way that I stay is if Vic goes up. Beth then comes to me wants to work with me and ROhan and wants to set herself up because she only has Ty and Jed
Kyle – She's also going to throw it (Veto) and we need to get Vic up that's the only way either of us stays.
Ro – everybody is saying that we HARD pitched VIC .. we need to downplay that.. Her name came out of my mouth once.
Ro – apparently Tina and Tera came up to Keifer and told him that we told them to go and HARD PITCH Vic
Kyle – really ..
Ro – yeah. That is why they are so f***ing shady about it
10:45 am Kyle and Ro
Kyle – so you be Kiefer
Kyle is practicing what he'll say after the ceremony.
Kyle – WOW Kiefer for a guy that always gets to talk about how good of a guy he is all the time and how much his word means and how respectful he is he puts up the only girl he said he wouldn't this week YOU ARE A CLOWN, a pretender, a JOKE… DONE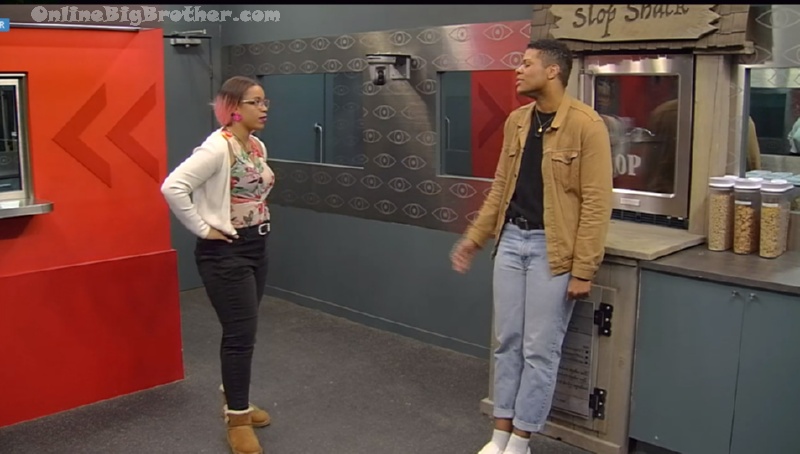 10:40 am Vic and Breydon
Vic is pissed at Kyle and Ro. They were up pitching her name to Kiefer all while telling her they weren't
Vic says people need to be called out for me "that FAke"
Vic – You don't need to lie (LOL)
Vic says she never pitched anybody to Keifer.
Breydon – we said everyone pitched two names..
Vic – me and Austin
Vic – Ro, and Kyle only pitched me I'm pretty sure.. The game is a game but they went too far.
Vic – yesterday kyle gave me a hug.. Fake sh1t.. just play the game you don't need to do that extra sh1t
Breydon – act f***ing normal.
Vic – I am saying something after the POV. Now that your a$$ is grass would you like to explain to me what the f** loyalty means to you

10:40 am Kiefer, Beth and Ty
Kiefer – me and Vic on the block isn't a bad scenario
Beth – you can handle it
Ty – that would be great
Keifer – let's not say GREAT here..
Kiefer – if they were targeting me and Vic and Vic didn't win the POV.. WOW.. damn I might be in this game for a long f*ing time..
Beth – we all are going to be.. buckle up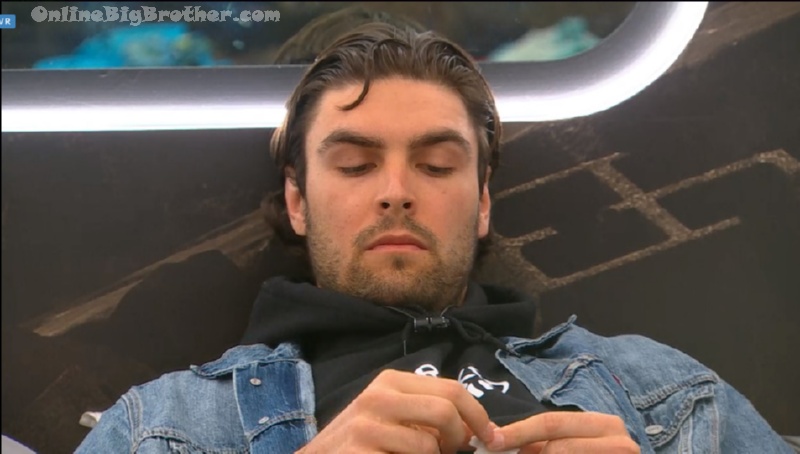 10:55 am Kyle and Tera
Kyle practices his speech – Ro show ever since day three I knew you were the bromance for me I let you win this veto cause I didn't want the calmest coolest guy in this house coming after me
Tera – that's really cute.. Your hair looks really nice..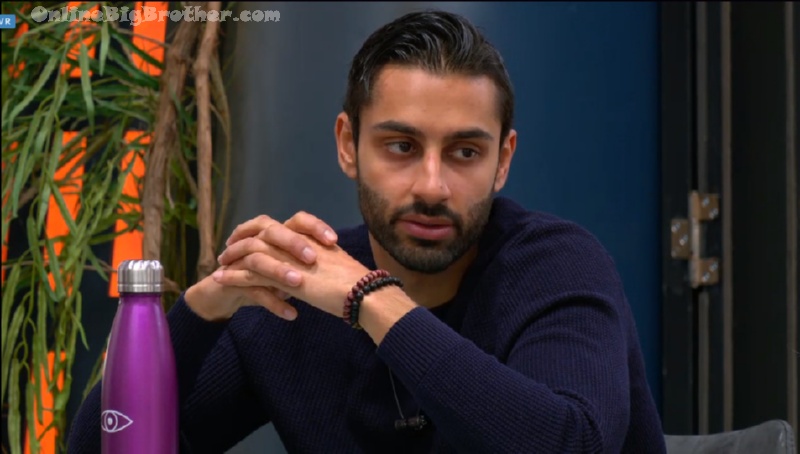 11:00 am Ro and Tera
Tera says he's safe with her if she wins HOH.
Ro says Vic is pissed at him and Kyle.
Ro – step number one after this POV is to get VIC back on our sides.. this is what the boys wanted.. they wanted us to go to Kiefer and pitch Vic. They had intended the whole time not to put Vic on the block.
Ro explains they wanted to pull their side apart by saying they "hard pitched" for Vic to go up.
Ro – her name came out of my mouth once to discuss options.. her name came out of my mouth once that's it.
11:36 am feeds down for Veto Ceremony.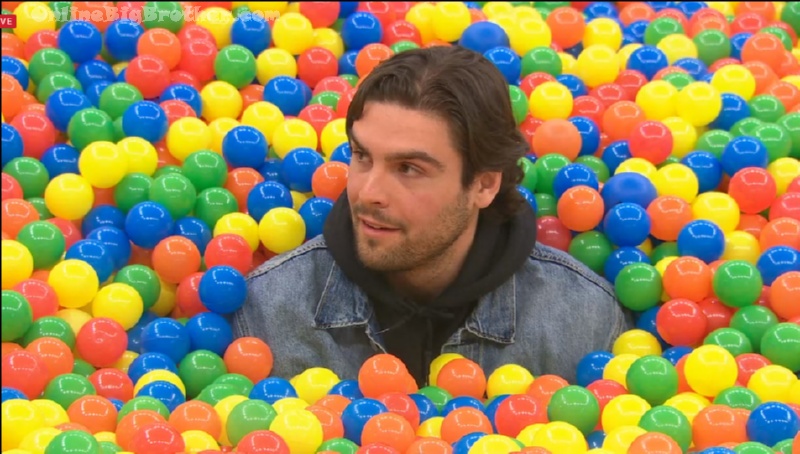 12:21 pm Kyle and Ro fill Vic in on what the other side is doing to pull them apart.
Kyle says he knows he's leaving he wants to help them get set up so they can take out the other side.
Ro tells Vic she's his number one now that Kyle is going. "I really really hope you see that I don't have anyone else"
Vic says the Keifer told her the only reason she didn't go up was because of how hard the two of them were fighting to get her up.
Vic – I was going to be so loyal to the oddballs it makes me sick..
Kyle – Don't mak the mistake of going with them (Sunsetters)
Ro says that they came to him and told him everyone in the house including VIc wanted him on the block this week.
Kyle says Jed and Ty are really playing into Keifer's need to fit in.
Feeds cut.
When we're back Ro is pleading with Vic to believe him he knows it will take time for them to build trust but he wants her to know person to person he's telling you the truth.
Kyle – it needs to be your two as a duo, Austin and Breydon and Tina, Tera that's six
Vic says they never came and talked to her like Austin and Breydon did.
Ro – we didn't know
Vic- should have been just like this
Ro – I know
Vic – I'm not going after you.. I saved your life.
Vic says she needs to think about things and see who has power next.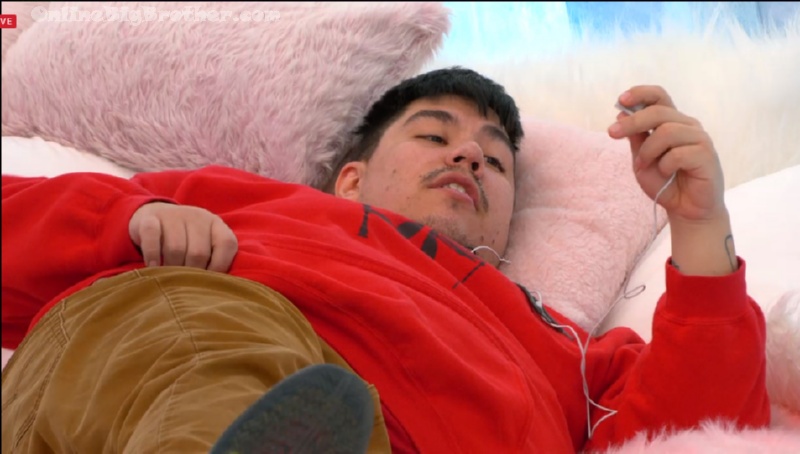 1:28 pm Keifer and Austin
Austin says all is good she understands why she's nominated
Kiefer tells her she's safe Kyle will get just one vote from Ro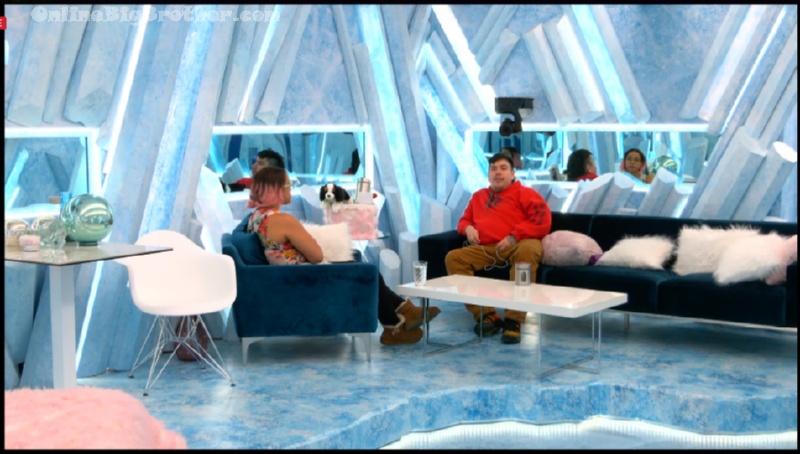 2:20 pm Vic and Kiefer
Vic filling Kiefer in on her talk with Ro and Kyle in the ballroom.
Kiefer – you should have seen how SHOOK Ro looked when I told him you weren't going up.
Kiefer – all we have to do is say Hey Austin and Breydon are throwing you under the bus Ro
Kiefer – if we get power those people will be scrambling.
They agree whatever Ro is doing he's doing the wrong thing
Vic goes on about Austin and Breydon wanting to take to the boys out.
Kiefer says he trusts Jed and Ty "you and I will go REALLY far with them. I've picked my side"
Vic – me to I'm done
Kiefer says he broke up the second biggest duo in the game. Adds he wants Austin gone next.
Kiefer – if we play our cards right we're guaranteed final 6.
Vic says her loyalty is with Jed, Ty, Kiefer, Tera, Tina. she says Beth is at the bottom for her.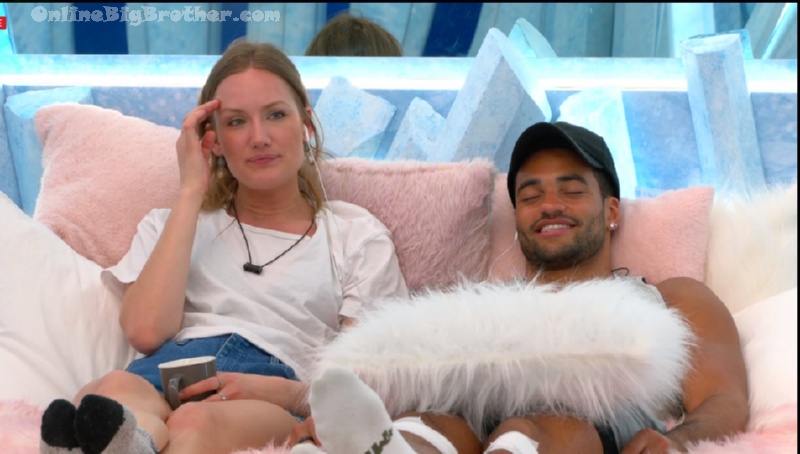 4:48 pm Kiefer, Jed and Beth
Beth saying she wants to separate a pair.
Kiefer – I did joke with tina/Tera and say I have to put Tera up
Kiefer – and Tina looked SHOOK.. look like she has just seen the devil
They wonder what would happen if Victoria wins HOH.
Kiefer says they will be "gravy" if Vic won HOH.
Jed – I don't want her to win but if she does it's not the worst.
Kiefer – we would just have to be up in her room all the time telling her what she wants to hear. Jed would have to walk around with his shirt off all the time. Even more so. Same with Ty
Jed – bath in here..
Beth – that's what she wants. She didn't like that Latoya wasn't sucking up to her she didn't like that.
Kiefer – I know.. we would have to do the behind the door selly (HUH? not sure I heard him right)
Beth – she wants all that sh1t on TV
Kiefer – I don't know if she's had a behind the door selly
Jed – maybe by herself
Beth – the first one she was by herself
Beth says people play dirtier every week
Kiefer – like Kyle and ro right now.. that's F**ED. Why is Ro digging himself so f**ing deep
Beth – he could be making the craziest alliances right now. (LOL sure he could)
Kiefer – he should be trying to. I feel like I don't even want to be caught alone talking to that guy. That's how I feel.
Kiefer says Ro is going to try to go with Tera, tina, Austin, and Breydon. Make like a 5 person thing. Little do they know we have Tera and Tina. I think we do especially if we have HOH.
Beth – we need to keep them close until Ro, Breydon, and Austin aren't left. That's our biggest bet right now
Jed – they'll make final 6
Kiefer – I set the ball up now we just need someone to hit it out of the part. We win HOH again we take out another competitor another good social player. We just steamroll everybody that's all we need. (sounds like a fun season)
Kiefer – it's almost set up like our enemies will take out our enemies..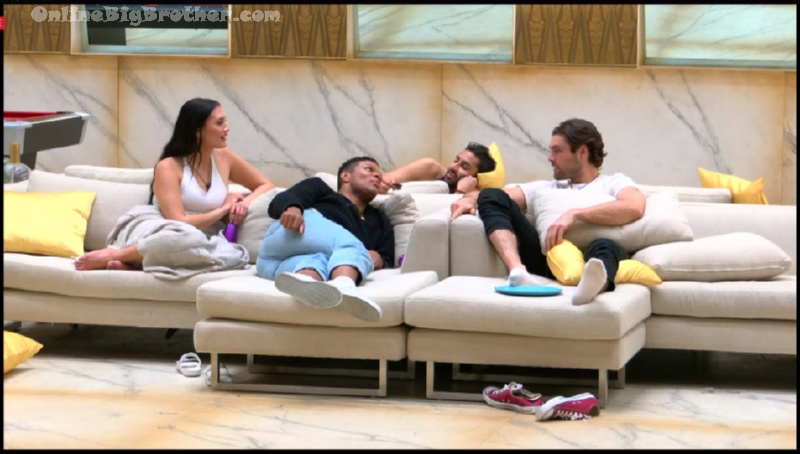 5:00 pm Ro, Kyle, Austin and Breydon
Mostly chit chat. they are agreeing that Ty has "more game" than Jed.
Breydon mentions Ty has more confidence.
Ro mentions Jed telling him earlier he has more game than TY.
They are talking about M@sterb@tion feeds cut every couple of seconds.. Only Kyle has had the "urge" so far.
They think if Jed wins HOH he would put Ro and Tera.
They discuss if Breydon wins HOH he's taking a shot at either Jed or Ty
Kyle – as jacked as they are they're not doing that well at comps
Breydon – I just hope for once they can squirm. (Jed/Ty)
Breydon can't understand how quickly Ty and Jed were accepted back with Keifer so fast after they spent a whole week ignoring him.
Breydon – all of a sudden he's best friends with him
Kyle says Keifer told him "I didn't sign up to Big Brother to win the only way I came on Big Brother is to advance my career"
They mention voice acting.
(so there you have it)
Kyle calls Kiefer a clown.
Breydon – I knew he wouldn't switch over.
6:51 pm Ty and Jed
Ty and Jed say he doesn't trust Austin.
Ty- she just rubs me the wrong way.. From day one. I don't know what it is. something's is off
Ty – the fact she was tight with Julie just rubs me the wrong way
Jed – yup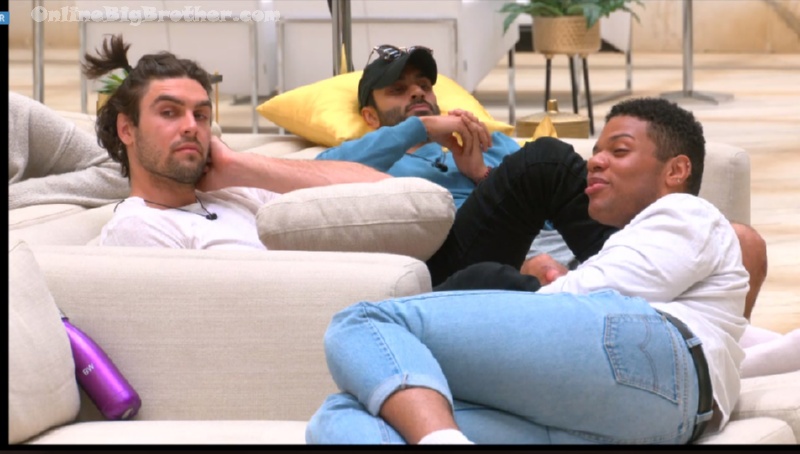 7:24 pm Austin did Kyle's hair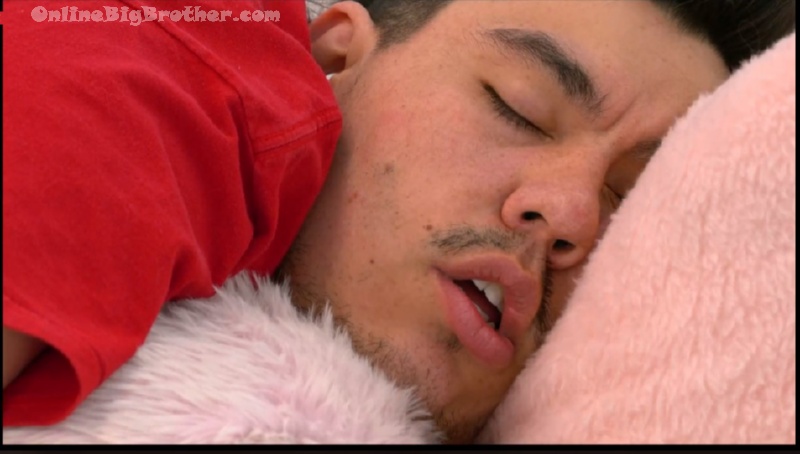 8:38 pm A bit slow on the feeds.
10:30 pm Feeds down
11:36 pm No Feeds for you
1:45am Still no feeds..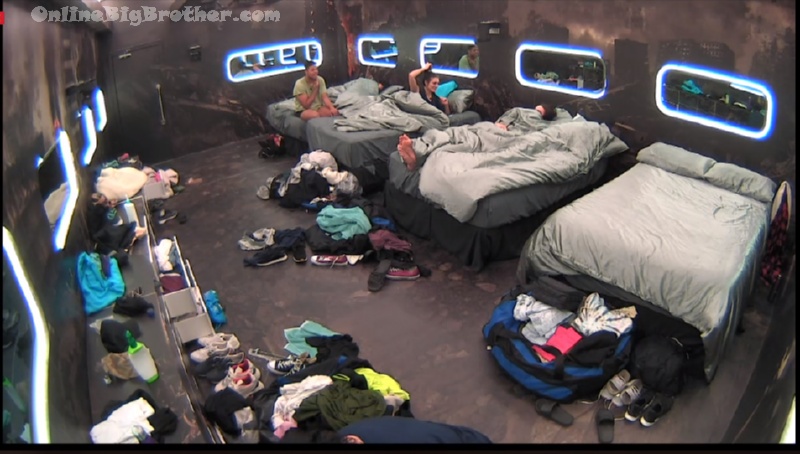 9:30 am Tuesday Feeds return . They had a party last night with booze so of course, we don't get to see it on the feeds. This isn't BBCAn1-2