Head of Household: Kiefer
Nominations: Kyle and Ro Austin
The Power of Veto Players are : Beth, Austin, Jed, Kyle, Ro
POwer of Veto Winner : Rohan
Power of Veto Ceremony : Ro used the veto on himself. Austin nominated as replacement.
Have nots: Ro, Tina, Tera, Victoria
Party last night + Alcohol = Everyone got sauced no feeds for you. There wasn't much game talk if any. It was more like lapdances, Beth 'sleeping' with Jed, Kyle/Austin flirting, and Vic getting some sort of spread eagle. Looks like a flip is in the air again which should make for some interesting waffling this week.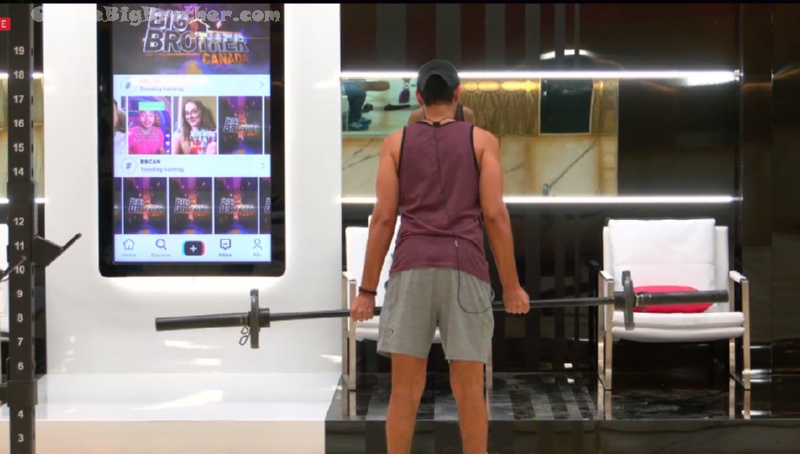 10:29 am pumping iron.. (Ro curls more than Cody deadlifts)
Tina joins them. They're laughing at things that happen last night. Feeds cut between sentences..
Kyle – stretch me
Cut..
Kyle – oh were you there for the lap dances
Ro – right near the end of it.
Cut ..
Ro – there's too much going on.
Tina – she did a lap dance with Tera.. (Austin)
Tina – oh my god I forgot about that, that was a long night..
Kyle says he's not doing call-outs during evictions. He feels he's gotten it out. He's planning on going the "heartfelt" route.
Tera joins them. Ro's knees are a bit banged up from the POV competition
Tera – was it worth it
Ro – yeah because I Would be F**g going home Tera
They laugh.
Kyle says it was nice there was no game talk during the party. He thought there might be.
Tina – it was nice to just have fun
Kyle – like a house party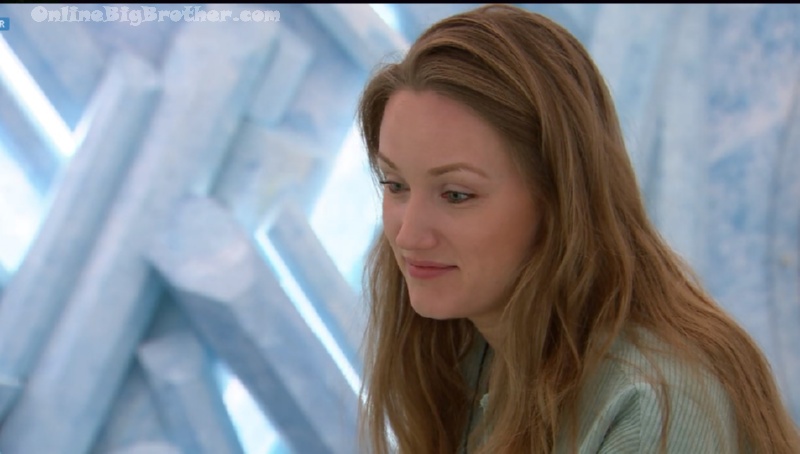 10:31 am Beth and Ty agreeing they have to shift the focus on Austin, Breydon, and RO as a triple to keep the heat of their love triangle (Beth spent the night in a room with Jed alone but she's also kissing Ty…)
Beth – it wouldn't be the worst thing to let Tera win HOH. Unless she goes back on her word. Like making other people do our dirty work is such a good way to play Big Brother
Ty – I agree, I still think it's really early for one of the three of us to have HOH (Famous last words)
Beth – it is early.
Beth says the house doesn't associate Kief with them but if one of them wins HOH the blood will be on all their hands.
Ty – If I won HOH who else do I go for other than Austin?
Ty – Tera?
Beth – you can't. that chat was good unless she was insane. (HA she's insane)
Ty mentions how if Ter or Tina wins the house will be pushing hard for the three of them to get broken up.
Ty says Kyle is really taking this laying down.
Beth goes on about if she's on the block against Ty she will campaign against him "100%"
Beth – I'm not here to F*** around (LOL)
Ty – you're not here to lay down and die
Beth – I bet you if Kyle started talking and came up with something really really good he could flip
TY – people would think about it
Beth – I wouldn't do the work for him.. I'm so scared of her.. A Big part of me wants her to go home instead, to be honest with you.. but that's between me and you
Ty – that's how I felt from the start
Beth – they are both so dangerous.
Ty says Austin is more dangerous than Kyle. "I've said from the start"
Beth – but Ro will f*** this place.. I feel like we are missing a big opportunity right now. Kyle is not even good..
Beth says it will make the nominations easy for next week "Boom Kyle and Ro again"
Beth – Kiefer will be pissed but I dunno he might want to go all the way.. Austin's a target for Kief now.
Ty – let's think about it.
They talk about how they talked to Ro and Kyle before the veto and told them they want to work with them.
1:18 pm Feeds have been down all morning..
2:36 pm Sunsetters + Vic in the hot tub area chatting about the vote.
Sounds like the Flip is off the menu now.
Kiefer doesn't think he's going on the block next week if the other side wins Jed/TY will go up.
Kiefer – I'm not scared of Ro.. I said right to Ro's face I would rather go against you Breydon and Austin than Vic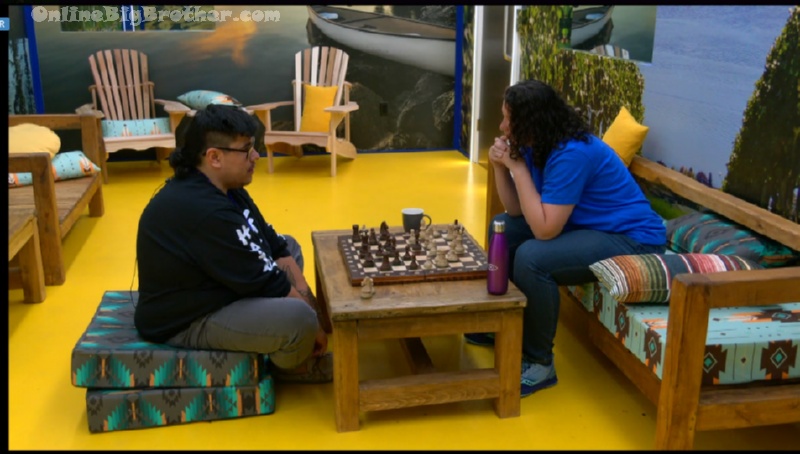 3:10 pm Kiefer and Tina
Tina – are you leaning more toward Kyle because you think that is what the guys..
K – no, I just think that.. part of me I did tell Austin she wouldn't go home on my HOH
Tina – would she keep the same thing for you?
k – no not a chance
Tina – I am good with whatever decision you decide. Just keep it here in the back of your head you are here to play your game.
K – this move in the end will benefit me
Tina – Kyle or Austin
K – Kyle evicting Kyle will benefit me in the long run I really feel that. Him and Ro are too dangerous together
Tina – they are. their game is transparent right now
K – Same with Austin people are realizing what a target she is.
Tina – the problem with Austin is you don't know who her targets will be.
K – I really think it's Ty and Jed. Why wouldn't it be
Tina – I don't think they would want to take a big shot.
K – I have a gut feeling.. I feel like it's a bad idea to switch it up.
Kiefer isn't sold on Austin being a great competitor says most of the comps have been chance.
Tina – if you eliminate Austin you still have Ro and Kyle but you know the game they're playing. You don't know the game Austin is playing.
Tina – the guys will start taking shots at the guys. You're damned if you do damned if you don't
Kiefer – I still view you as a sunsetter
Tian – I appreciate that I don't know how the guys feel about it.
Keifer – they feel really good.. they think you're doing a good job. They want to go for Austin and Breydon BAD.. but after Kyle
Tina – they want Kyle first
K – yes, there are discussions happening just because of how comfortable she is and how comfortable she is lying to people's faces. Vic told them that Austin was saying they needed to take out Ty next week.
K – how much can I trust Vic?
They agree Vic is closer to Jef, Ty than Kyle/Ro
K – She hates them right now (KyRo)
Kiefer says the rest of the sunsetters + Vic all think Austin is more dangerous than Kyle
Kiefer says Breydon todl them if he won HOH he's putting up Tina and Tera
Tina – I know. I felt that already
K – I heard that out there.. it could be a lie I know Beth is working with the guys.. I don't know why Beth thinks nobody knows that. I'm like Beth they know they're feeding yo information.
Kiefer – we need Vic
Tina – I agree
Kiefer – we need to protect Vic with our f**Ing life.. when it's a double we need her to take a shot. I can't do it I'm in too deep it would sour my game HARD.
Kiefer says he can't take a shot at them there's no chance "there would be a biter Jury"
Kiefer – they would GUN for me with everything they have
Kiefer – I keep telling the guys.. Like guys honestly I don't think anyone will put me up next week.. and they say you don't think Austin will
Kiefer – Maybe.. but why would anyone keep you guys together? it would make no sense.
(Guys = Ty and Jed)
Kiefer – I think they know.. especially Ty
Tina – I don't trust Austin
Kiefer – I don't think you should
Kiefer – her and Breydon made a final three with me..
Tina – if they did that why put you up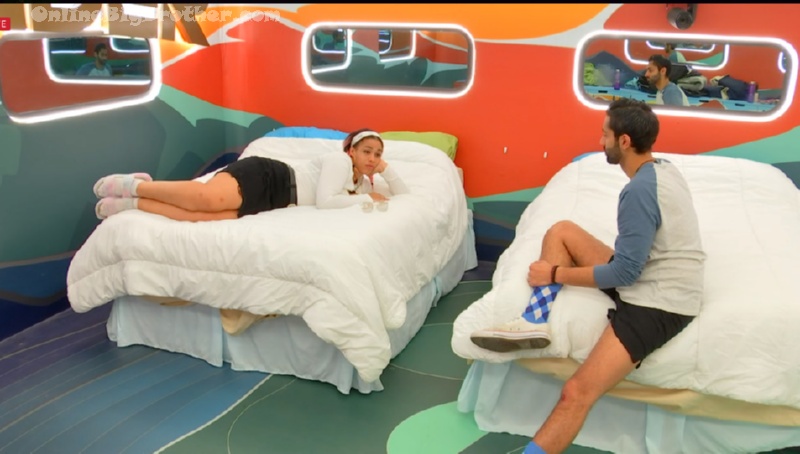 3:22 pm Ro and Vic
Ro solidifying that when Kyle goes all he has is Vic.
5:26 pm
feeds down yo. They return at 5:48 pm after being down for over an hour.
Hot tub area, Ro, Breydon, Vic, and Kyle
Chatting about who Kiefer picked to be on slop.
Vic is complaining about being on slop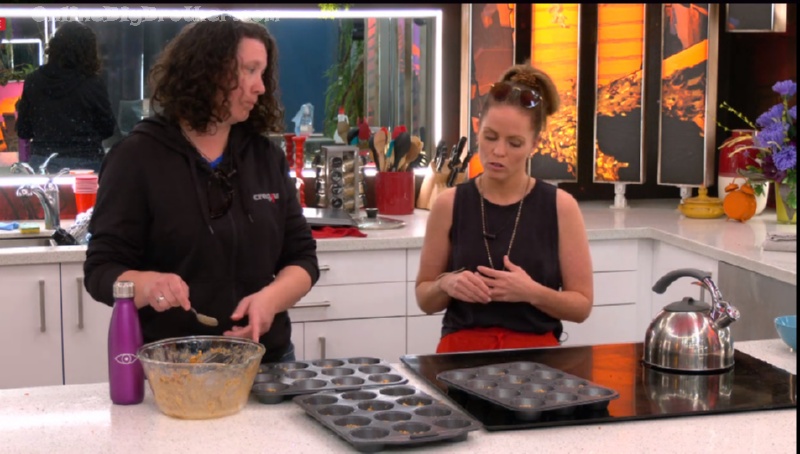 5:54 pm Tera and Tina
Tera – we could lie to the other side. If we get rid of Austin then if we win we can put up Kyle and Ro
Tina – it's an option
Tera – it's an idea worth trying for
Tina – he (Breydon?) would be pissed
6:00 pm feeds down again.
6:43 pm
Tina, Kiefer and Tera
Kiefer says he's got a gut feeling that Kyle needs to go "I don't know why"
Tera = both options suck, I think for us three Kyle is safer than Austin and Breydon 10000%
Tera doesn't think Jed gives two sh1ts who goes. Tina agrees.
Tera says after hearing everything she heard today she wants Austin but if everyone else says Kyle she'll vote Kyle.
The girls tell Kiefer Austin would put them up but Kyle and Ro won't. They tell him what's best for the three of them is for Austin to go.
Kiefer – maybe we flip the vote.
Kiefer says he doesn't care who goes, "In my eyes, they've both wronged me". If the whole house wants Austin it is Austin.
(flip is back on the menu folks)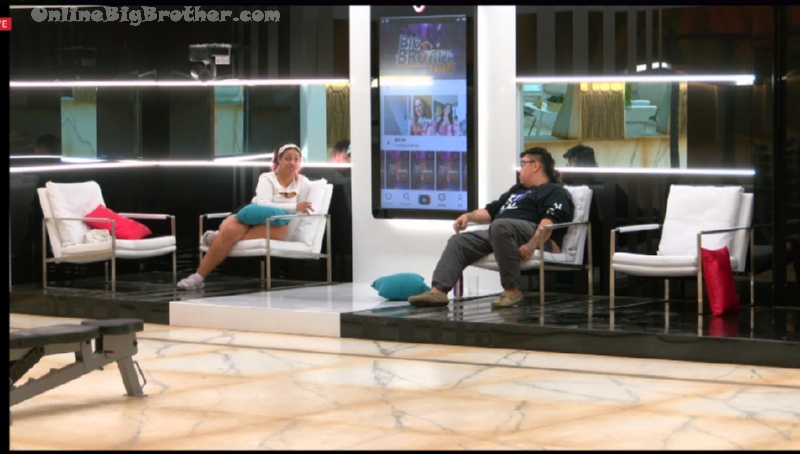 7:07 pm Vic and Kiefer
Kiefer fills her in on Tina and Tera suggesting Kyle stays.
Kiefer – my way to show loyalty is to take out a big target for Jed and Ty. In the back of my mind (LOL)
Kiefer – and I just don't like Kyle on a personal level
Vic – I know, He needs to go
Vic says if Tina and Tera want Austin out then next week they win HOH they can put her up
K – exactly
Vic – the plan is to get her out next week. We just all need to band together and make sure he's going this week
They agree to get Kyle out this week and next week they fight
Vic says if she wins she's putting up Brey and Austin.
K – f*** yeah, it would be such a nice week for me to chill.
K – I feel best with you and Ty, Jed, and Beth. I'm all in on that. I feel great with Tera and Tina but at the end of the day I think we can really make it to the final 5.
Vic – I want to work with you right to the end. You are exactly the person I want to work with in this game.
Feeds down for 30 minutes.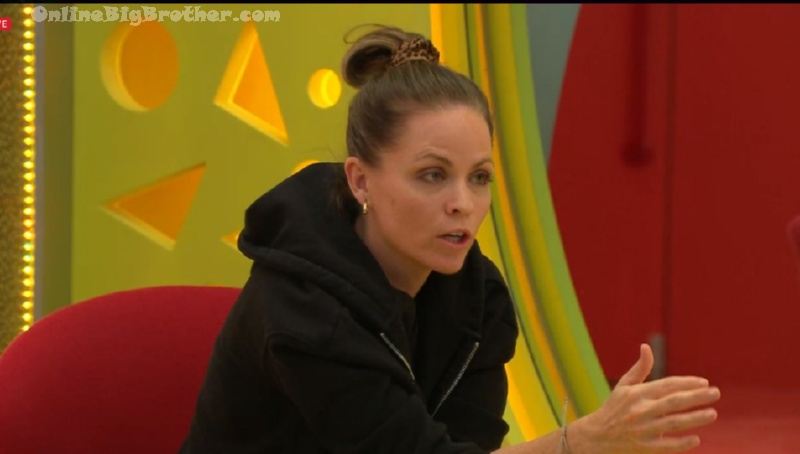 8:36 pm Vic, Tina, and Tera
Vic now talking about voting Austin out. They ask Vic who on the other side should they talk to. Vic says Jed he's pissed at Austin right now, "She lied straight to Jed's face"
Vic – if Kyle goes who's going to make BIG moves.. If Kyle goes there will be no one to take out these boys..
Vic – I'm telling you for our game Austin needs to go for so many reasons.
Vic says people have had this same conversation throughout the house today.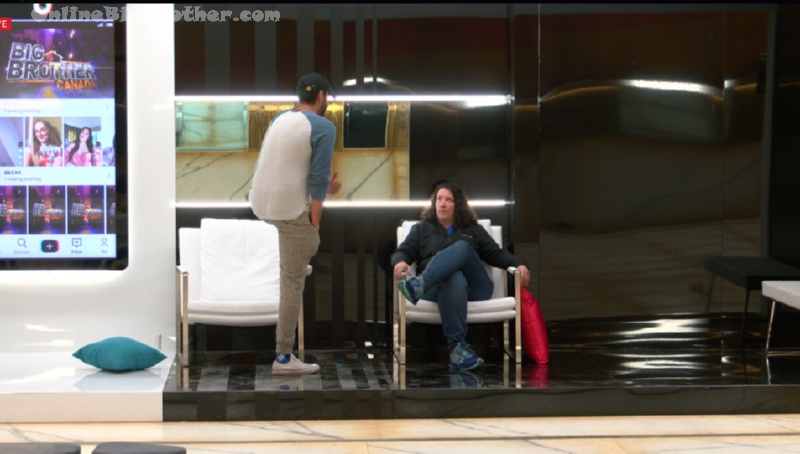 9:25 pm Ro and Tina
Tina filling him in on a possible Flip.
Ro says they're either sincere about keeping Kyle or want to pin us against each other. They might want Tina,Tera and Vic to be after Austin and Breydon and vic versa.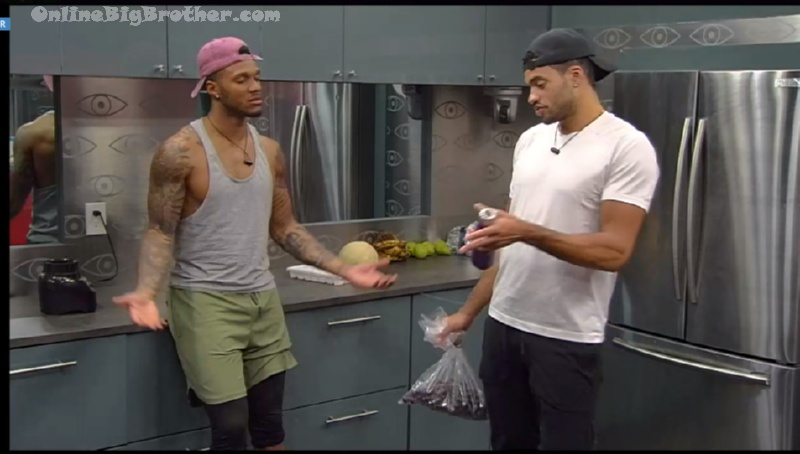 11:09 pm Jed and Ty don't want Austin go this week. They want Kyle evicted.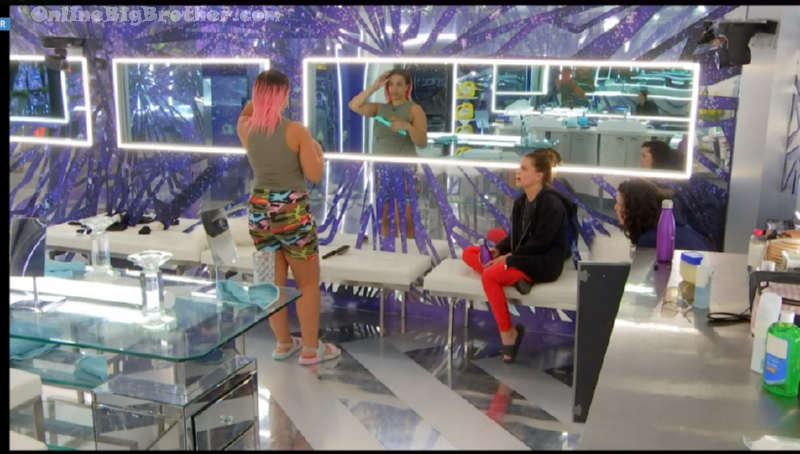 11:40 pm Vic, Tina and Tera
SCheming about the vote flip.
Vic says if Austin goes Kiefer will be invisible in the game, "I think he wants Kyle gone for personal reasons not game reasons"