Head of Household: Kiefer
Nominations: Kyle and Ro
The Power of Veto Players are : Beth, Austin, Jed, Kyle, Ro
POwer of Veto Winner : Rohan
Power of Veto Ceremony : ??????
Have nots: Ro, Tina, Tera, Victoria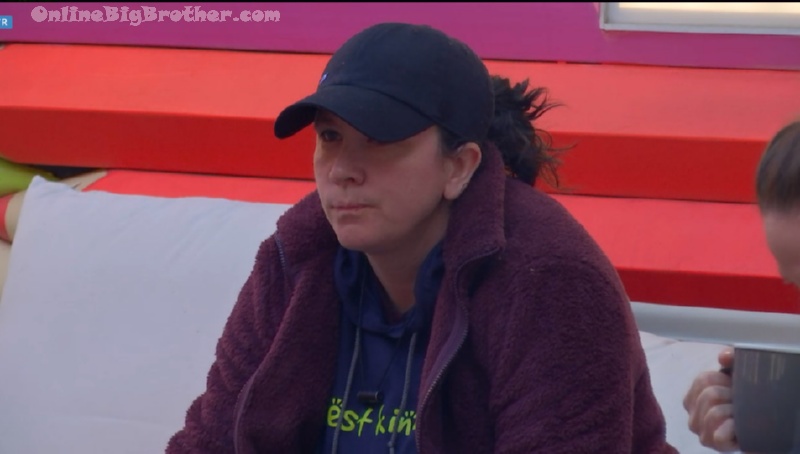 9:40 am Tina and Tera
Tera warns that they are going to be thrown under the bus hard today by Kyle, Ro, and Austin
Tina – why would they
Tera – if we don't go along with our sabotage Vic. It doesn't matter because Kiefer is HOH. It will only make them look worse.
Tina says they'll just tell them they will go talk to Kief and "just leave it at that"
Tera – we have to try and figure out how we handle damage control and the conversations. I want to talk to Austin and Breydon but can't because Kyle is in their ears
Tina – they are really close
Tera – if Kyle stays they will have a showmance. which is really cute.. but c'mon Kyle.. I can't believe people are sticking that the only option is Vic. there are still so many outs.
Tina – they are saying the only option is Vic
Tera – you and Ro storming into the pantry was not good for our alliance but we were still there.
Tera – you telling us we shouldn't talk to the boys while you can doesn't help you. You mean the only play is VIC after you built an alliance to go after the big guys
They agree if Kyle/Ro are gunning so hard they should pitch their plan to Kief themselves.
Tina says Jed has little trust in her now after the Latoya vote.
Tina says the two of them need to talk to Ty and Jed to "break that barrier"
Tina – we are going to need something to help us through.
Tera – what we need is a goddamn win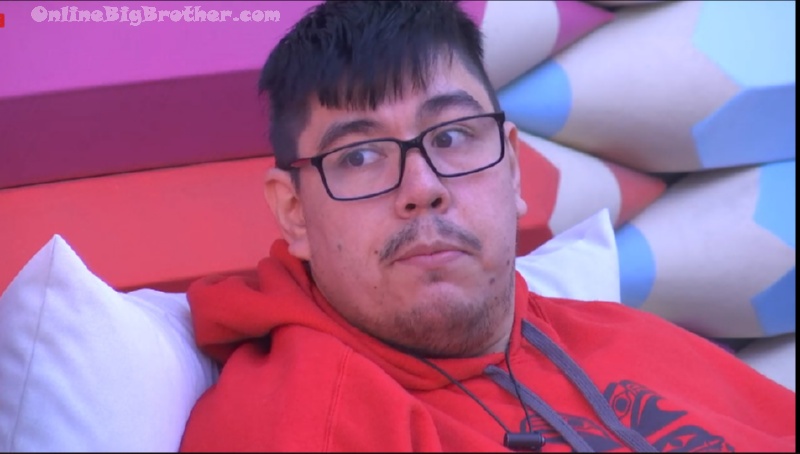 10:00 am Kiefer, Tina and Tera
Kiefer – every day you get a little bit less soft at this point I don't even care everyone is telling me not to get blood on my hands so I wore red today let them know I'm the f***ing butcher
Tina – saying not to get blood on your hands? You're HOH who are you not going to get blood on your hands.
Kiefer – I was told I was the pawn twice I'm still pissed
Tera – have Breydon and Austin pitched you anything?
Kiefer – no they are very comfortable. They came up to me yesterday before the POV and made a final 3.. yup.. lets go all the way to the end of the game Kiefer no one will see it coming.. we don't have to talk that much all we have to do is keep each other off the block, Kiefer..
Kiefer – yeah let's do that. lets make a final 3 on day 22.. like While I'm HOH..
Kiefer brings up Austin, Breydon, Kyle, Ro turning on Vic so fast.
Kiefer – I've been told they have a four-person alliance and they have a name.. do you guys know?
Kiefer – pecking order changes every week.
Kiefer – so say RO wins HOH next week is he going to take a big shot at Ty and Jed?
Tina – the guys aren't going to attack the guys. No
Kiefer – do you think there's any work you can do to get that to happen? Is there any seeds you can plant to get that to happen. that is what you have to do if you want to survive
Tera – the proper way to smooth this over when Kyle goes with Breydon, Austin and Ro
Kiefer – Ro is a logical guy you can say everyone is throwing out Vic.
Tera – he is also pushing us
Tina – oh yeah BIG time
Tera – they keep saying that is our only play
Tera – what do you mean we all agreed we were going after these big guys and it's not out of the realm of possibility and the fact they won't even campaign for it
Tera – now I'm like Ohh great.. so you want me to do it? it's exactly what it was
Kiefer – it's also ha;f a move for LT. I'm taking out LT's biggest enemy, Kyle. that's who she wanted out.
Tera – more than Ro?
Kiefer – way more than Ro
Tera – really? I thought she didn't like Ro more
Tera – just as a person because she thought he was slimy
Kiefer – that's why I put Ro on Slop knowing he would stay and Kyle would go. My worst-case scenario was Kyle winning the veto
Kiefer – Vic is going to go CRAZY after the eviction
Kiefer – Vic told me from the very beginning when I was on the block that I was going to stay by a 6-3. The night she put me up she told me that the day LT left she told me that again. She told me to act and convince the whole house I didn't want to be here. (he did a good job at this it was the perfect Role for Kief)
Tera says Latoya only didn't hug, Vic, Kyle, and Ro.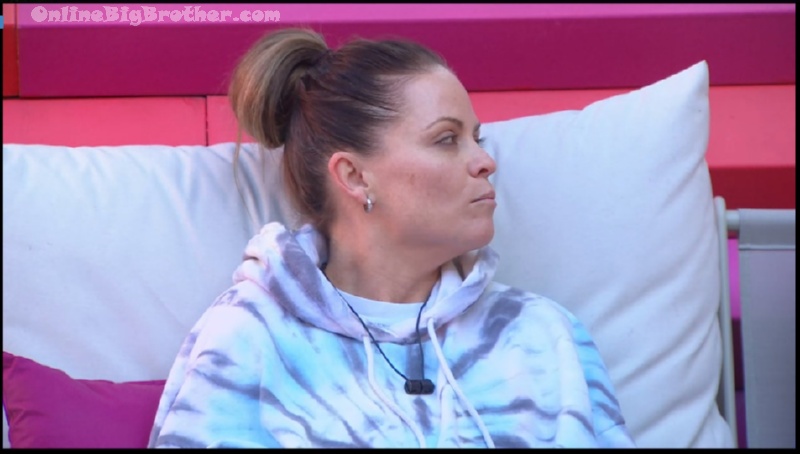 Tera – there is a play on (makes quotes) our side that won't screw over Vic, If Breydon, Austin, or Ro won we could be in some hot water
Kiefer – there are so many targets for them to go after..
Tina doesn't think Austin and Breydon will make a move. Keifer agrees. He's only worried about Ro winning.
Kiefer saying that BReydon and Austin offered him a 3 person alliance. says he loves Bredyon to death but he would put him up in a second. Kiefer is suggesting the two of them work on Austin today.
Kiefer wants Kyle to go home this week. He doesn't think Kyle Ro is as tight with Breydon and Austin.
They wonder if the Veto Ceremony is today. Kiefer comment that it's not on the TV screen this AM but last week that was the same then they were called that the veto ceremony was in one hour. So they have no idea.
Kiefer – keeps us on our toes.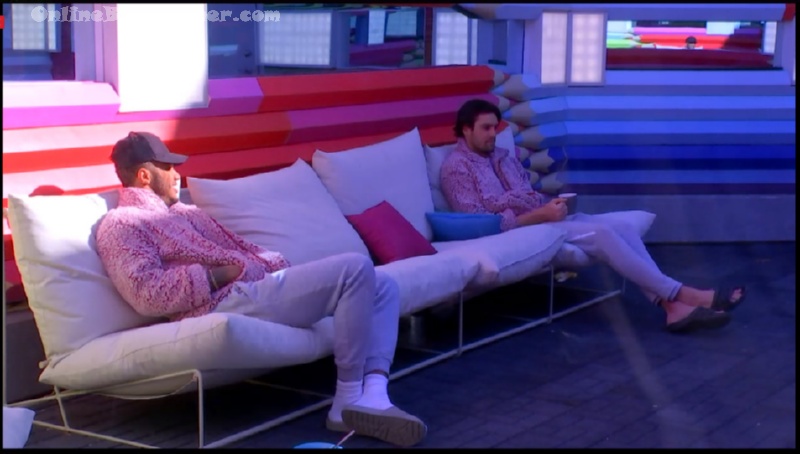 10:32 am Kyle and Ty
Kyle telling Ty his pitch to get Vic on the block.
11:41 am Ro and Jed
Missed a bunch of feeds. Van works 😉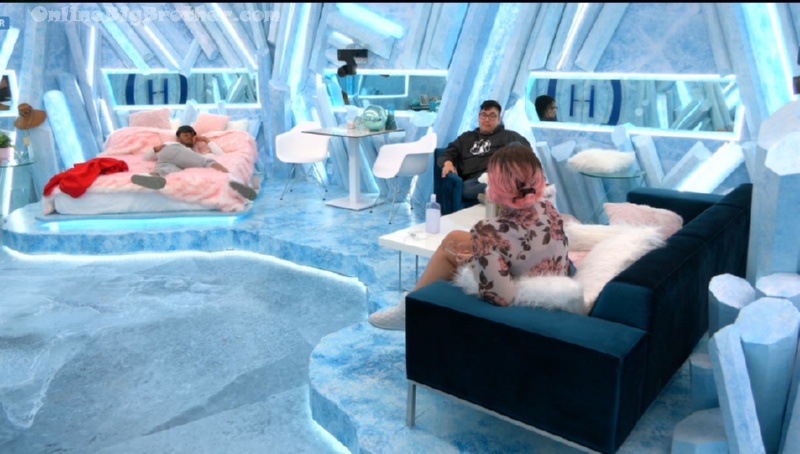 3:00 pm Vic, Kief and Ty in the HOH
Vic – they think I'm on an island but I'm on an island with the best Big Brother players
Kief – I was born on an Island.
Vic – do they think that is a bad thing?
Kief – I'm an islander that is what we call ourselves.
They do a quick 'circle jerk' about how they don't turn on their people and tomorrow is going to be a blood bath.
Vic – I can't believe they think I'm that stupid (Kyle and Ro pushing to get Vic up). Once Kyle goes Ro will be like a chicken with his head cut off.
Kief – exactly then we take out Austin or Breydon. Preferably Austin then they have nobody.
Ty says Austin scares his more than RO. (because you and Jed through your best flirt at her and she batted it away unlike Beth)
Ty mentions that Austin acts like she doesn't know what is going wrong and is all innocent.
Vic says Breydon follows Austin around like a puppy dog "it's so hard to watch"
Vic – she gets up he gets up.. it's sickening
Vic – he does a lot of the dirty work for her..
(So looks like Austin still the renom and Kyle is the target)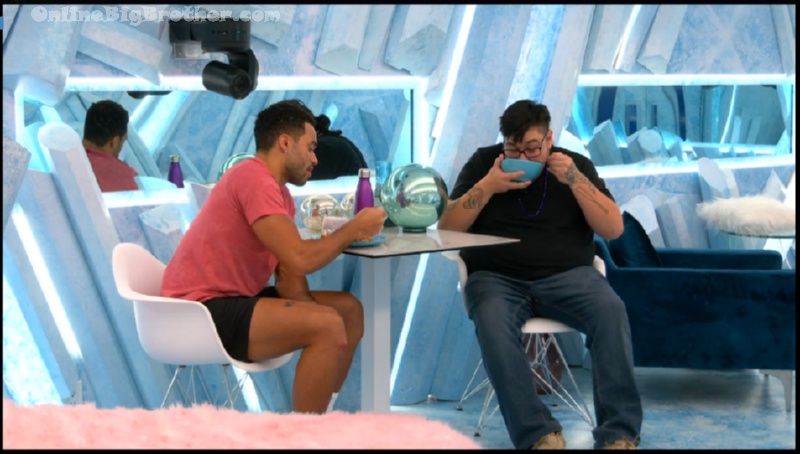 4:30 pm Jed and Kiefer (Kiefer is a Ginamarie or enzo caliber noise eater)
Jed saying Kyle told him he has Jed's back and he's the type of person he would want to keep in the house.
Jed – You're throwing my name out there how do you have me?
Jed – as soon as you put Austin up I'll tell him brother you are going home
Kiefer – Vic is going to do it first.. I can't believe they think Vic is so dumb that they think she doesn't know they are throwing her under the bus
Jed – they also used her hard
Kiefer – USED HER HARD
Jed goes on about how their side stick together whereas the other is so quick to turn on each other.
Kiefer – they pitched VIC before they were even on the block..
Jed – that's nasty
Keifer – that is a quick turnaround. I could never ride with people like that
Jed – I would rather go home. 1000 percent would.
Jed says Kyle and Ro are "so scared to be separated"
Jed – I 1000% trust Tina and Tera over Austin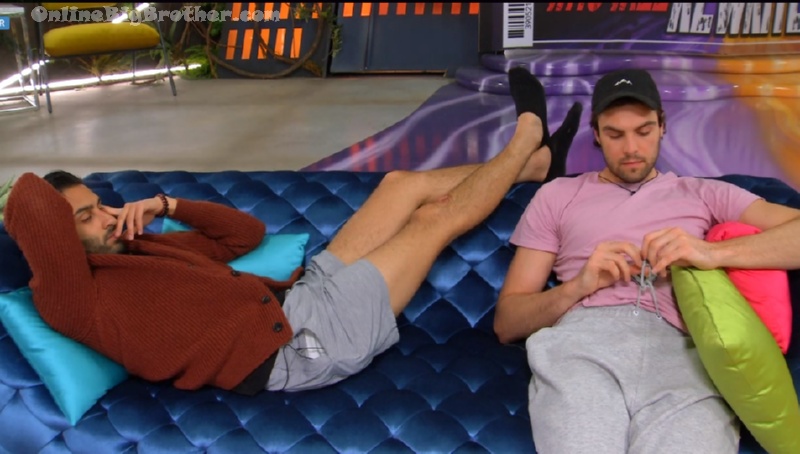 5:00 pm Showtime
Kyle – if I end up staying we need to win HOH and put them up just for F** you sake
Ro – mmhmmm
Ro – I do hope we're not getting f***ed by Austin and Breydon
Ro – we do know Austin and Breydon pitched Vic so that's not the case.
Kyl – I don't know how we got in this position.. I just wished Vic was a shitty person
Ro – yeah
Kyle – I guess nothing we're saying is false except with the thing Breydon forced her hand with..
Feeds cut..
When we're back Showtime is in the bedroom chatting being sad..
Ro – it's the nerdy boy that gets played by the hot girl .. dude look around they're doing it for one reason to get answers for the test.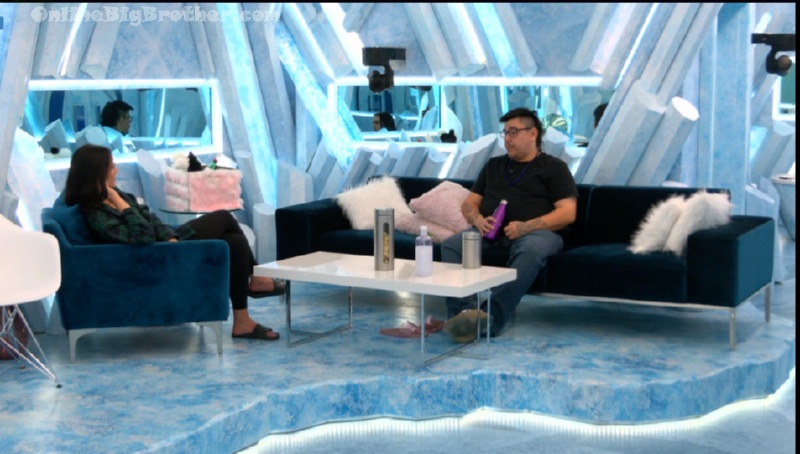 8:30 pm Kiefer and Austin
Kiefer tells her she's safe this week she's not going home.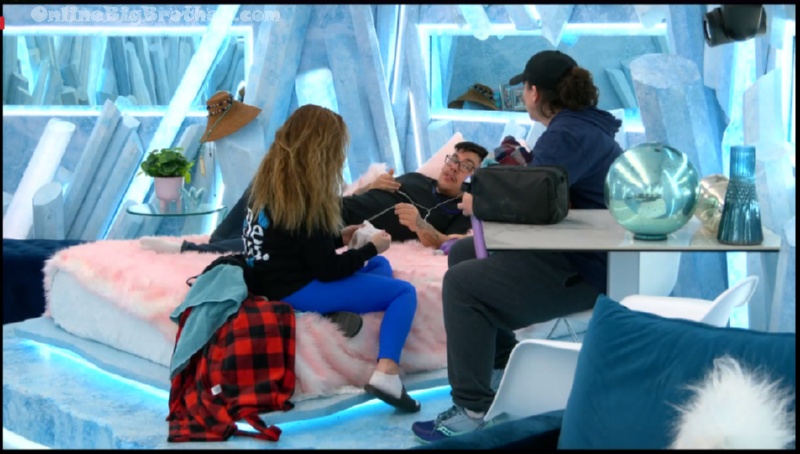 10:11 pm Tina, Tera and Kiefer
They are telling him Austin is super scared. They told her she's safe
Tera – she just didn't stop crying then I couldn't stop talking. I thought is this game?
Kiefer – we're playing for 100 thousand dollars we're not playing for feelings. She's crying because she's losing a potential showmance.. I told her what she did to Vic was dirty.
Tera says the only way for Austin to go is if the other trio flips it.
Kiefer – they wouldn't ..
Kiefer – Maybe I haven't cried the most in this game.
Kiefer – I'm just going to tell her You're going on the block.. you signed up to play everyone is going to have to do it. She's going to have to grow up and handle it or I'm voting her ass out.. she told me she was going to play this soft innocent girl and that is her only play..
Kiefer – Put me on the block I don't f***ing care..
Kiefer tells Tera there's zero percent chance she goes up against Kyle.
Kiefer – Kyle is walking around here like a zombie.. and I don't care what they did to Vic was dirty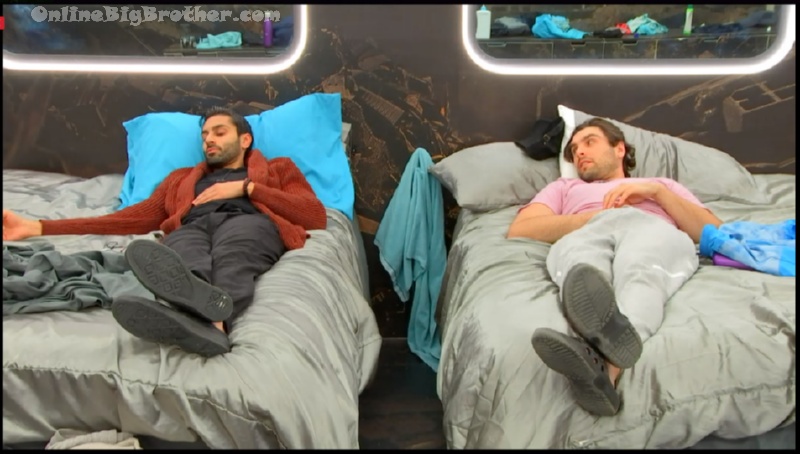 10:47 pm Showtime..
Ro – Keifer is straight BS.
Kyle – I almost want Kiefer out next.
Ro – he told me today he was doing that I want to go home I want to see my family because Vic told him to act like he was going home
Kyl e- oh my god this guys a dirtball
Ro – he said he was really playing it up and he told the other three that so they were voting to evict him.
Kyle – the guys a dirt ball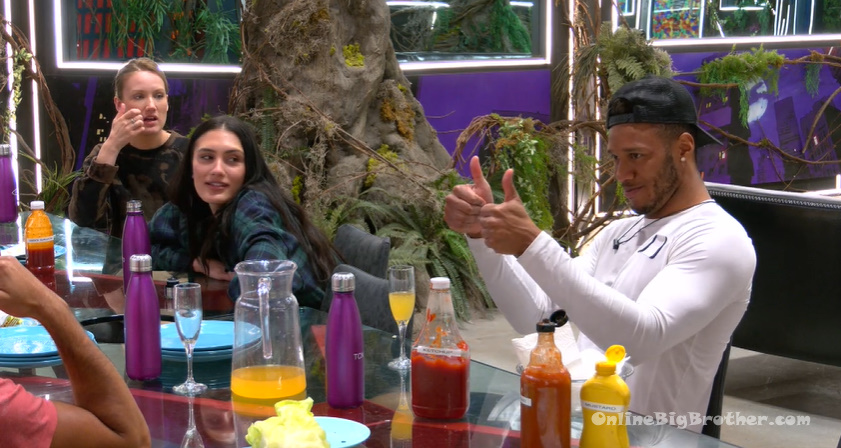 11pm Kitchen. Austin, Beth, Ty, Jed and Breydon are sitting around the kitchen table chatting.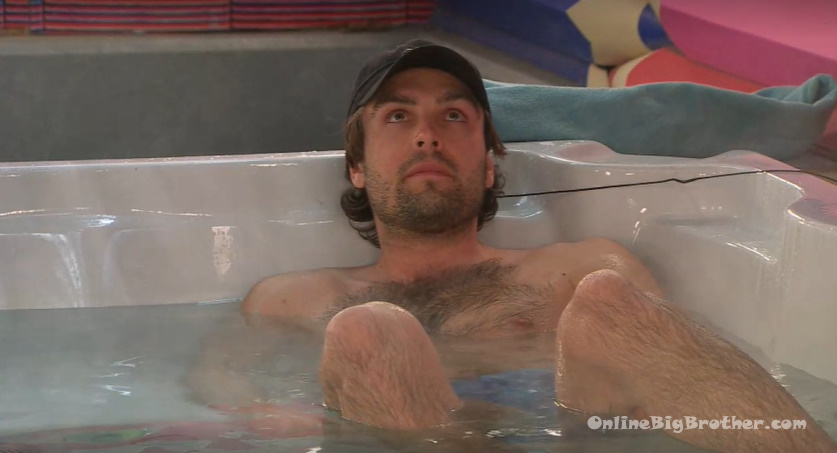 Kyle – I think I am just going to start playing the game like I played the big brother camping game. Like I don't give a f**k! Ro – yeah. Kyle – because honestly it should maybe be played like that because what's the end all to win.. 100 grand I guess but is that everything and why you're doing it.. you know what I mean? Is that the only reason you're doing it? Or is it just because you like the game? I respect the game too much to go out not trying. You know? Ro – yeah. Kyle – I just don't know what good it does for Keifer, TY and Jed to be telling her that we were the ones.. because all that does is piss her off. I think they know that if she goes up, she goes home? Don't they? Ro – yeah. Unless they are telling them that they vote you out.. which they could. Maybe they will have to pick a side if Vic goes up. Kyle – it will be interesting to see what they do. Ro – the reason I am not faulting them for doing what they're doing is because I would do the same thing as them. Kyle – they're lucky we're understanding. Ro – oh for sure!