POV Holder:
Victor
POV Competition
Aug 13th
POV Used
NO
POV Ceremony
Aug 15th
HOH
Victor
Next HOH
Aug 11th
Original Nomi1nations:
Paulie AND Corey
After POV Nominations:
Paulie AND Corey
Have Nots
Michelle AND Nicole
Watch the next week of the feeds for FREE – 1 week Trial!

12:10am HOH room – Vic tells Paul that he is so pissed at Nicole the he thought of making a passing comment about how long it was that someone make up that rumor of he asking her on a date. And she would be like oh yeah.. NO but it was you! And be like I'm trying to get between you and Corey, no but really!? With him right there? Like what is he going to do .. lose a comp? I have a better chance at losing a comp than he does at winning one. Paul says ohhh.. when did you say that? Vic says its just something that' boiling in my head. Paul says do it, say it! That would be hilarious. Vic says I just want to add that salt on the open wound. They decide to drink calf and stay up all night so they can sleep all day and not talk to anyone.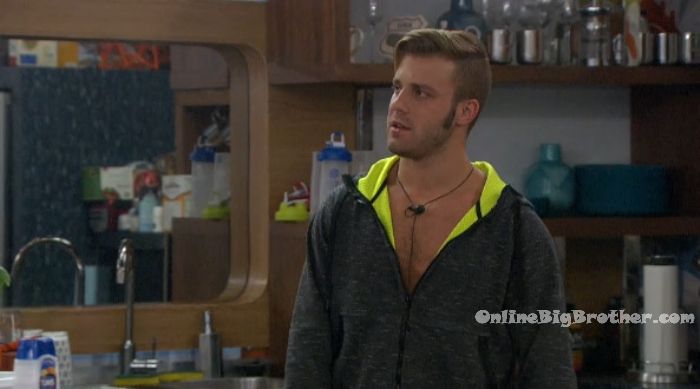 In the kitchen – Paulie says I can't wait to not locked behind friggin' walls. I really hope it doesn't drive me crazy. Michelle says its not. Michelle asks how did you do in sequester? Paulie says it was different because it was in anticipation of coming here. Michelle says then think of Jury as anticipation of seeing your family.

12:55am Nicole and Corey. Nicole says I need you here. Corey says I know. Nicole says I want us to be in final 5, that's my goal right now. That's not too far. Corey says that's going to be tough. If we did that we one of us would have to win. Corey says I feel like this is just like my real life. A buddy owes me $2400 and hasn't paid me in 2 years. My ex screwed me over.. Big Brother blocks the feeds. Corey says hopefully I stay. Nicole says you're going to stay. Corey says hopefully James, you or me win HOH and keep us safe. Then get Paul or Vic out next week. Nicole says someone is coming back. Corey says maybe we'll get a rewind. Nicole heads to bed in the havenot room.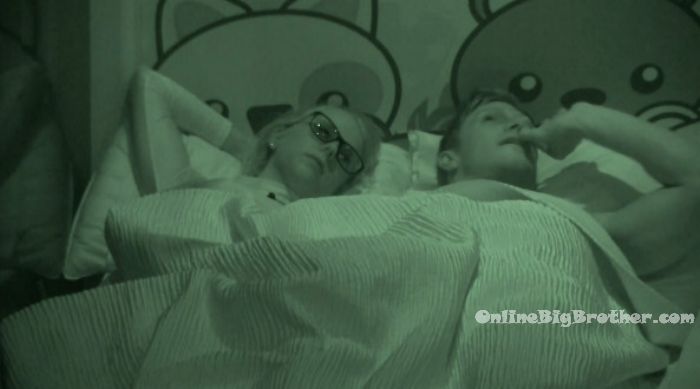 1:10am – 3:50am Paul and Paulie in the safari room. Paulie asks is it even worth it to try anything dude? Paul says ahhhhh. Paulie says because I'm looking at a 5-0 vote unless of course you hook me up. Paul says I haven't talked to anyone yet. If you don't think you've gotten to anyone yet. Its just fuel to the fire. Paulie asks would you hook me up with a friendship? (Vote) Paul says oh yeah if I heard that it was going to go that way. Paul says I think Vic made his point pretty clear that he wanted you out and at the end of the day next week he is still here so I don't think anyone would go against it. Paulie says the only reason they would is to keep a bigger target to him in here. That's what we always spoke about if you keep a bigger target in the house they won't go after you. I really want to stay another week just for my sanity. Paul says if you're telling people that. Paulie says I'm really not. Paul says people will think is it really fair to take Corey out just so you can have 1 week of sanity? Do you follow my logic? Paulie says yeah. Paul says maybe a different approach might be better. Big Meech joins them. Meech asks why type of makeup they like on girls. Nicole and Corey join them. Paulie says I can't wait to interact with people outside. Paul asks who are you excited to see. Jozea? Paulie says I feel like I would vibe with most of you outside of here. Michelle says if feel like I could hangout with anyone from here. Paulie says he'll never get a long with some people like Bridgette because of her feminist comments. She will never see my side of the argument against a woman because she is a feminist at heart. I can honestly say all 16 of you .. if I say any of you out there getting disrespected, even if you were wrong .. I would stick up for you. Like the way I was raised with my morals and stuff. Meech asks so you'll stick up for me on twitter? Paulie says yeah. I'm that family protector. I have a code I live by. Corey and Michelle head to bed.

3:50am – 4:50am Paulie tells Paul that the only reason why this week has been rough for me is because if I go I am separated from you and Corey. The only incentive that would push me to want to stay is if Corey goes .. I at least am still with you and hanging. That has been the only battle in my head. The thought of going to jury without one of you guys there.. you guys I have connected on levels for everything. Its a game, sh*t happens. Paul says I wouldn't be sitting here if I was a butt hurt Betty. Paulie says my game got opened up because my alliance had two sides. You and Corey knew I wanted things a certain way. Who is going to beat Vic? You can't stay and take that shot because then your hand is shown. Once you do they he will be like you're my next target. What reason is it for people to keep me? Paul says at the end of the day you're a strong competitor and Vic is .. so why would you not link up and run this game. I'm just playing devils advocate. Paulie says if I stay my only shot is to take a shot at him. If I miss then you win you take take me out.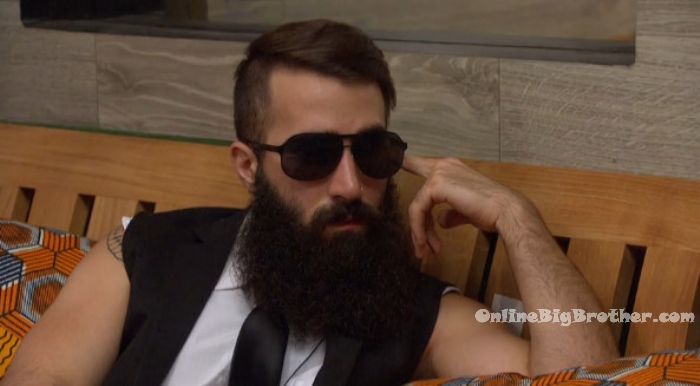 5am All the house guests are sleeping..
8:38am Paul and Natalie
Paul warns her that Michelle threw him under the bus to Paulie saying that the confrontations they had before the HOH was planned.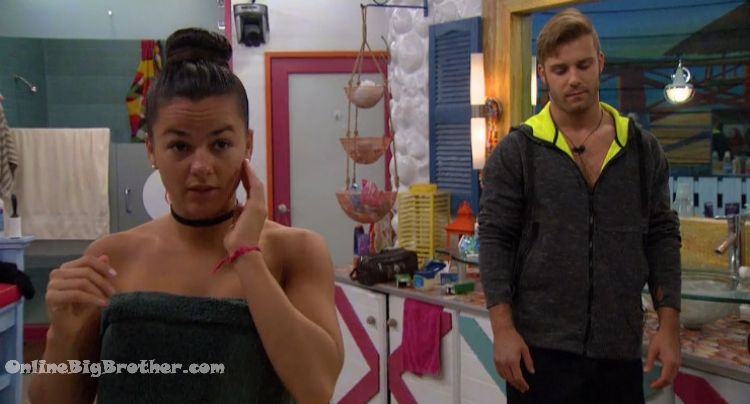 9:32pm Paulie and Natalie
Paulie goign on about helping them take Victor out, "I want o take a shot at that person and keep the target on myself.. I'll take a shot at Vic"
Paulie – use one competitions beast to take out another competition beast.. use me as a weapon.
Paulie- if I take a shot and miss the heats on me
Paulie says he's trying to get a vibe won the people in the house he wants to stick to his word and to his family
Paulie says if they are not attached to a plan they can all get into a room and come up with something. Paulie
Natalie says she can't even move her neck she doubts she'll be competing in tomorrow'as HOH.
Paulie – i Can handle physical and mental
Natlaie – ya
Paulie – thanks for hearing me out.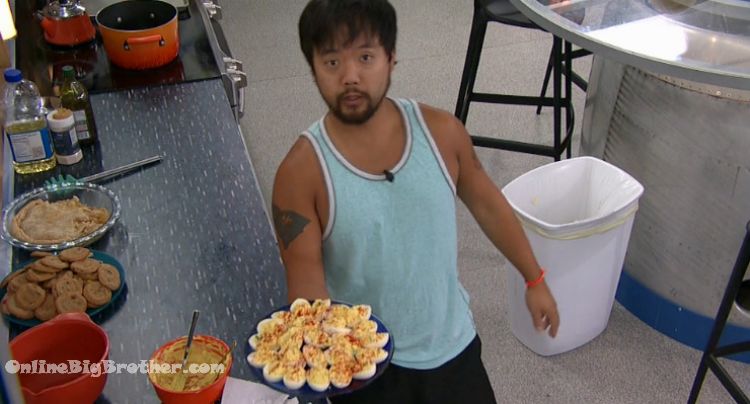 9:40pm James's country kitchen.. making deviled eggs for him and Natalie.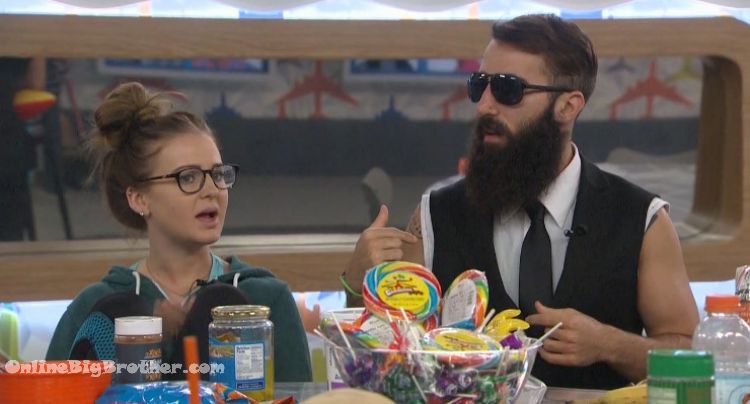 12:24pm Security checks
Paul, Michelle and Victor whispering.. Paul confronts Michelle about telling Paulie that the plan was to call Paulie out and blow his game up before the HOH to rattle him and that Michelle knew about the nominations.
Paul – I think he's just saying that to fish..
Micehlle says she swear to them she never told Paulie that
Michelle calls Paulie a SOB
She
(Another slow morning most the house is sleeping )
Show your support by making a donation.
"CO-HOH"
WEEK 4 – August 14th to August 19th
This winner automatically becomes Co-HOH, sharing all HOH perks and responsibilities for the duration of the week, including choosing 1 of the 2 nominees.
[polldaddy poll=9499483]
Usernames will have to be a bit more PG please. At the least censor them with @*(#^%_