POV Holder:
Victor
POV Competition
Aug 13th
POV Used
NO
POV Ceremony
Aug 15th
HOH
Victor
Next HOH
Aug 11th
Original Nomi1nations:
Paulie AND Corey
After POV Nominations:
Paulie AND Corey
Have Nots
Michelle AND Nicole
Watch the next week of the feeds for FREE – 1 week Trial!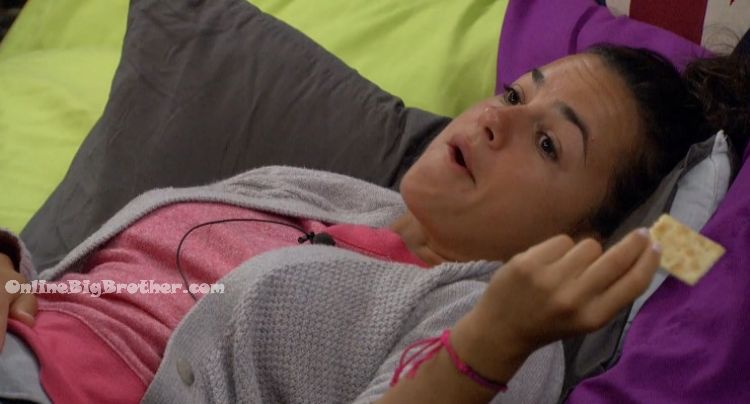 8:05pm Natalie and James. Natalie working down a package of soda crackers in the LOndon room
James is saying he'll tell Corey that Paulie is campaigning against him.
Natalie wants to be the one that sends Corey home. James say if he wins HOH he'll nominate Corey in her honour.
Natalie – You don't win you get put up
Natalie says Nicole and Corey know what she did to Paulie so they see her as a threat. James says Nicole is pissed at Victor because he put Victor on the block, "I would be mad if someone put you on the block with the intentions of you going home"
James says Corey and nicole are not targeting them they are going to put up Victor and Paul
Natalie tells him it doesn't matter don't throw the competitions.
Natalie says she's been trying hard in all the competitions and it pisses her off everyone's been throwing this all season. She knows it's part of their game but it's not part of her.
Natalie says people are probably talking about her right now being all busted up. James says nobody is talking about her especially after he drops this bombs on Corey
James – unless Victor and Paul have some crazy deal with them I don't seem them putting us up.
James – I doubt they are secretly working together
Natale – they are straight shooters.. We have a solid team to make it to 5 and 4… I know Paul wants MIchelle out before us
James- these next HOH comps.. Probably a egg comp.. You take a egg through chicken wire all the way on top of you.. You'll be good at it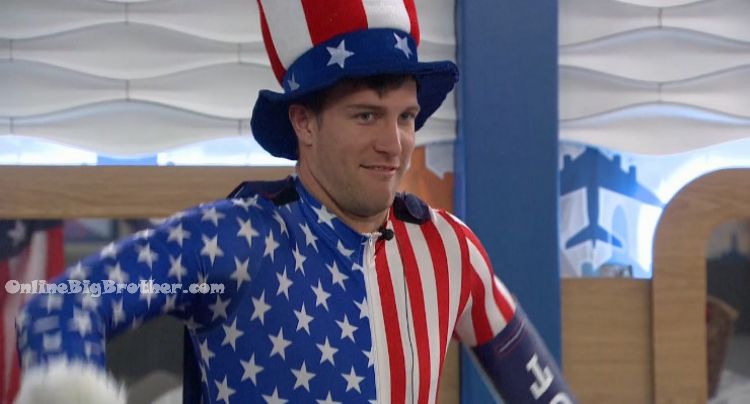 8:14pm Corey, Nicole and Paulie Kitchen
Nicole asks if they should be hanging out in the London room Natalie and James. Corey doesn't want to ..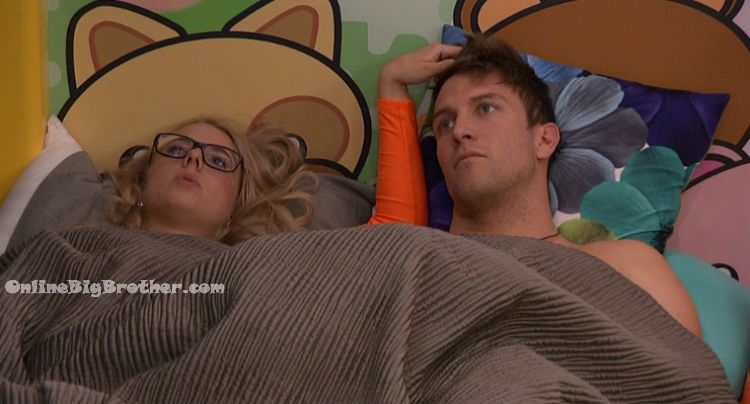 8:28pm Nicole and Corey Tokyo room
Nicole is rubbing corey's head telling him he's a well rounded athlete he'll do well in the physical competitions. Paulie briefly comes on his way to the London room. Nicole says they should go. Corey doesn't want to says it won't help anything.
They go to hang out in the London room . at 8:42pm the conversation is around the Orlando Night club Massacre being the last thing in the news.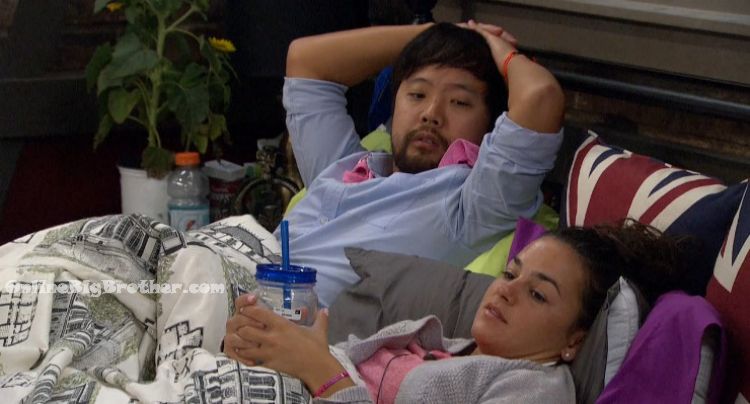 James – that's why in Texas we pack so we can fire back
Paulie opens up the conversation around gun control and how people may have a second thought before they opened up if they thought some people would shoot back.
James – in Texas I guarantee you outta 20 people 5 are packing.. A lot on their hips..
Jame s- you can asks Corey people carry on their belts..
They mention a Open carry law passing last year.
James- you gotta have a C.W.P though
8:36pm Paul, Victor and Michelle Safari room
Random chit chat about one topic French workers getting 3 weeks paid vacation..
Michelle talks about starting a youtube channel, Paul talks about his clothing company..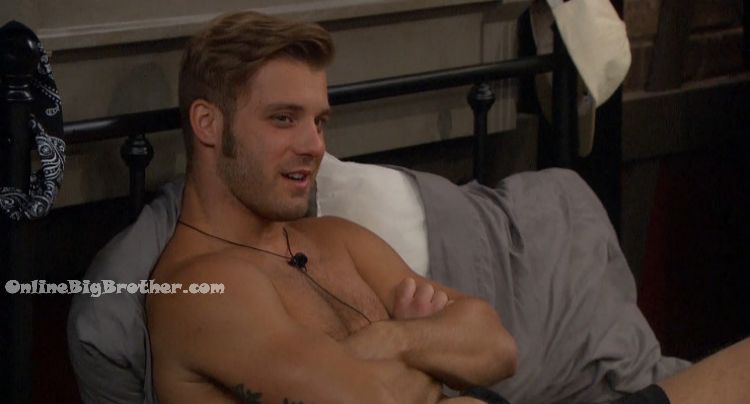 8:55pm Chit chat..
James comments that the PTZ cameras inside the house have good "Angles"
Paulie – hopefully they didn't get my angles.. My cuddling angles
James – spooning angles
Paulie – ya
Paulie starts clicking with his mouth "Angles" click Click "Angles"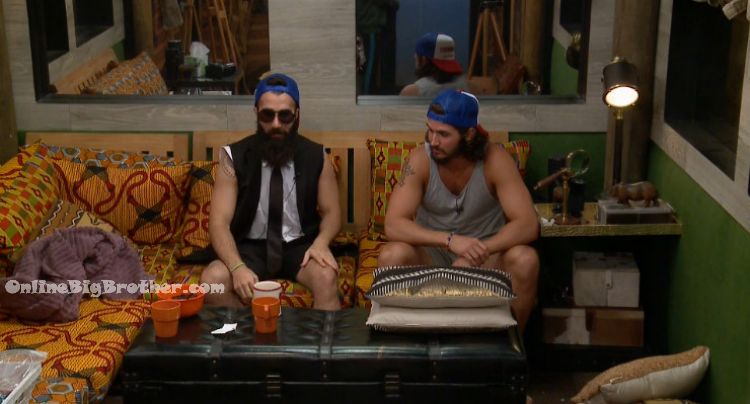 9:10pm Safari room Paul and Victor
Paul and Victor talking about Meet and greets. Victor says paulie was telling him his dad turns people down if they don't pay enough (Paulie/Cody's dad is the BB meet and greet manager for all the Hitman broys) . Victor doesn't care about the pay. Victor says Nicole never did a paid meet and greet she said she didn't feel special enough. (We hate on Nicole a lot but this was cool of her) Paul says they should get paid for their time at least. Victor doesn't want the people to pay he wants the establishment to pay. Paul agrees there's a lot of kids that watch this they don't want to rule them out.
Paul can't wait to work with the kids, "Yelling Friendship friendship"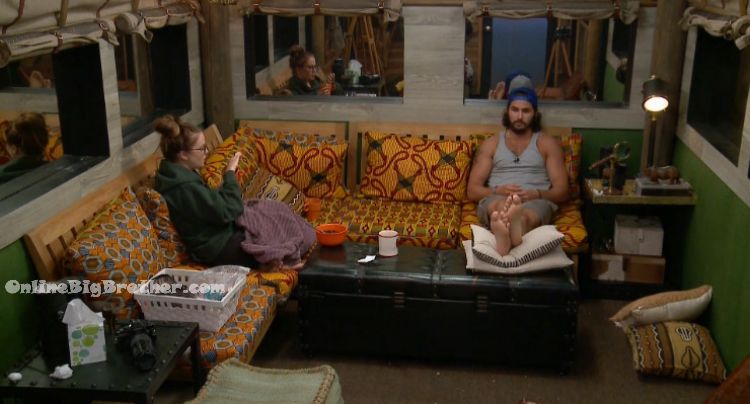 9:27pm Victor and Michelle
Victor says Corey and Nicole backstabbed him hard that is why he doesn't feel sorry for them one bit.
Michelle tells him the main people that wanted him out were Frank and Paulie.
Michelle regrets Jozea leaving so early "It would have been interesting to see him play"
Victor is insulted that Nicole thinks he was going to put her up. Why would he waste all this power on Nicole she's not a threat to him.
Victor – "I love her to death as a person but in this game she is sketchy"
They agree Nicole is pathetic laughing every time Corey says something. Victor points out that the Zingbot got Nicole good.. Something about throwing away her game for a showmance
Victor says he never asked Nicole on a date. He confronted Nicole about it and she confirmed he never asked her on a date.
Michelle says Nicole was the one going around the house saying Victor asked her on a date,.
Paul comes in they tell him about Nicole.
Victor – Ohh you son of a gun,…
Paul – that's f*****g hilarious you got boned..
Michelle – I believed it ..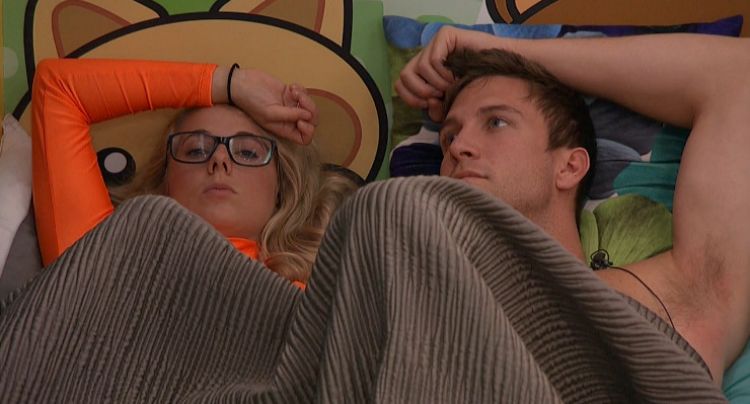 9:33pm Nicole and Corey
Getting paranoid that paulie is campaigning, they heard 3 comments from James about going after the showmances. Corey thinks "Strategically" it would bne a dumb move getting rid of Corey
Nicole – I need to drill ion Michelle's head that Paulie will get a care package, 'All cody's followers, Derrick's followers and Frankie's followers .. I'm playing dirty this week you are not leaving this week"
Nicole – there's no reason for James to vote you out it's against everything he stands for
Corey – Paulie's done a lot
Nicole – Paulie won't leave their side tonight.. Everything is strategy.. He didn't even want us to go in that freaking room
Nicole – I don't think you're the target at all..
Nicole – all we need is James and Natalie.. if they lied to me again.. i'll be completely over him.
Nicole – Paulie is getting on my nerves..
Nicole says if Corey won the the Care Package James would be pissed because, "He wants to be America's guy sweetheart" Nicole – honestly you are like very sweet.. I assume that's your spot on the show.. (Good grief is she in for surprise)
Nicole – he's not from Texas either.. he just moved to Texas a few years ago yet he works it into everything.. you've live there all his live you've lived there for 25 years and he's lived there 2 years..
COrey – he says the south
Nicoel – where's he from
Corey – south Carolina
Nicole – is that close to Texas (ZOMG)
Corey – no
Nicole says the problem is Paulie is such a big target..
Nicole says Paul, Victor and Michelle are the biggest threat in this game.
Nicole says she doesn't trust that side of the house to keep Corey
Corey says Michelle and PAul won't vote him out and neither will James.
Nicole is thinking Paulie offered them something..
Nicole – I don't think it's smart for Paul to keep Paulie at all
Corey says Paulie would not be cool with him going under these conditions he would Gun for Victor and Paul if Corey gets out.
Nicole says it's probably legit that Corey is staying.
Corey says Paulie might be trying to get 1 week of safety.
Nicole – he really doesn't want 1 more week though
Corey says if paulie does that he's a terrible person
Nicole won't vote for him no matter what.
Corey – James freaking almost kissed me on the lips
Nicole – he loves you as a person that the thing.. he starting to separate his strategic.. that was his excuse for blindsiding us.. I absolutely know he thinks the world of you he thinks you are a great guy. He plays emotionally that's good for you because he loves you a lot
Nicole – he threw away our whole alliance for Natalie
Corey – I know I can't believe that
10:10pm Nicole tells Corey that the Mihcelle, Paul, Victor group is tight.
Nicole says it makes no sense for Michelle to vote Corey out..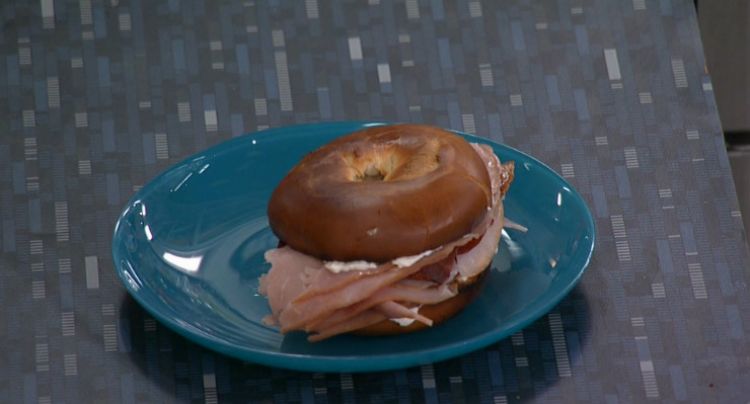 10:47pm Damn tasty Victor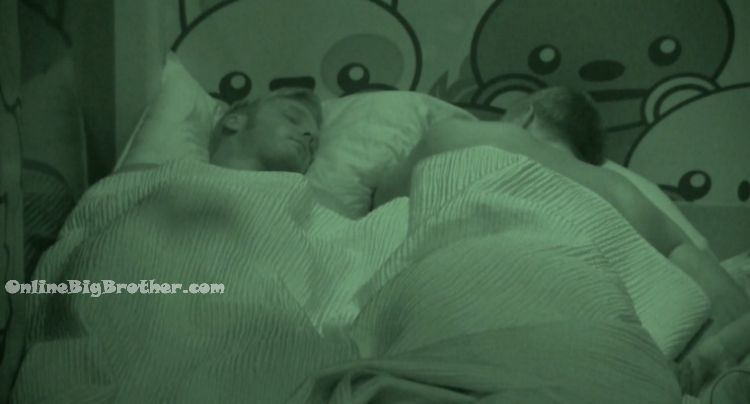 10:56pm bros..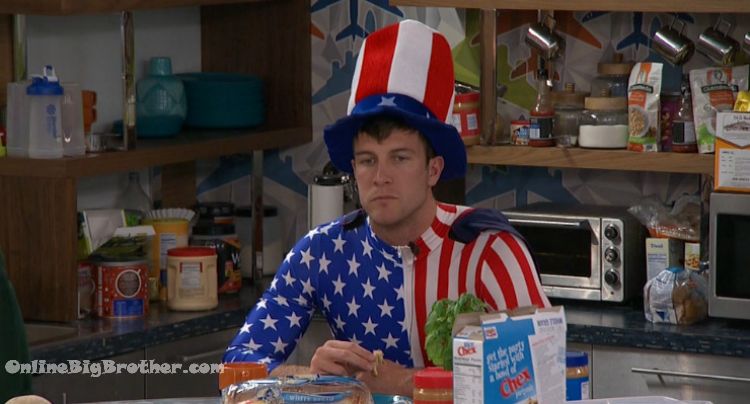 11:16pm kitchen
Corey says it would be funny if he had to walk out to see Julie in the costume.
Mihcelle tells him he's not gettign evicted adds that Frank went out in the carrot costume.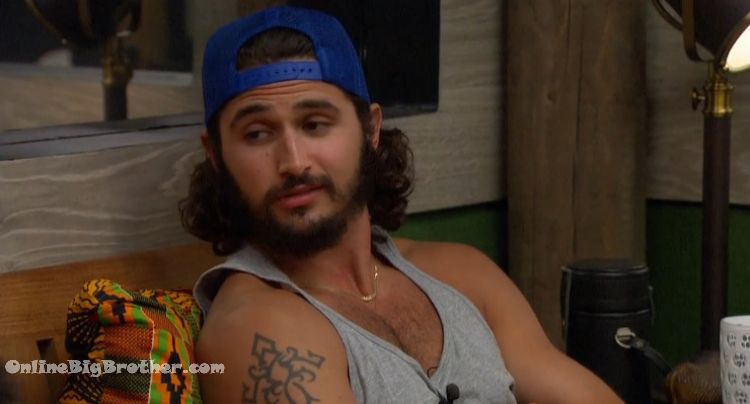 11:18pm Safari room Paul and Victor
they agree Paulie will be a "pu$$y" and try to Backdoor Victor if he gets the round trip and HOH.
Paul says best case scenario a girls wins this week. They agree James will throw the HOH. (Thrusday HOH, the plan is to get Corey out)
Paul – this week is fine
Victor agrees, "Next week… .it's touchy
Paul – you got to be careful Natalie and JAmes are smart..
Paul says if there was another double eviction they pull the trigger on Nicole and James.
They wonder if they have haters out there. Victor says the type of game they've been playing isn't showing they are bad people. What he's doing is sweat Karma..
They talk about the final 2 who would have the most wins. Paul says he's got the social game and Victor has the comp wins. Victor – neither of us would be here if it wasn't for the other.
They agree there's nothing bad to say about each other.
Victor – we're always on the outside of information..
Paul – yup, man we got to be lucky these next few weeks
They start talking about after the show. Paul says even if they don't win any money they get the stipend which is a years worth of rent. Paul says they should really embrace this year and Big brother and try and do as much as they can.
Paul – plus we'll make money from the meet and greet
Victor mumbles 6 grand Paul says no no more
Victor says he's going to give Acting one more real good shot

12:00pm kitchen James, Corey, Michelle, Paulie and Paul
Paul is saying that marijuana is legal in Vancouver. (It's not)
Michelle – thanks to Trudeau
"CO-HOH"
WEEK 4 – August 14th to August 19th
This winner automatically becomes Co-HOH, sharing all HOH perks and responsibilities for the duration of the week, including choosing 1 of the 2 nominees.
[polldaddy poll=9496376]
Usernames will have to be a bit more PG please. At the least censor them with @*(#^%_