POV Holder:
Victor
POV Competition
Aug 13th
POV Used
NO
POV Ceremony
Aug 15th
HOH
Victor
Next HOH
Aug 11th
Original Nomi1nations:
Paulie AND Corey
After POV Nominations:
Paulie AND Corey
Have Nots
Michelle AND Nicole
Watch the next week of the feeds for FREE – 1 week Trial!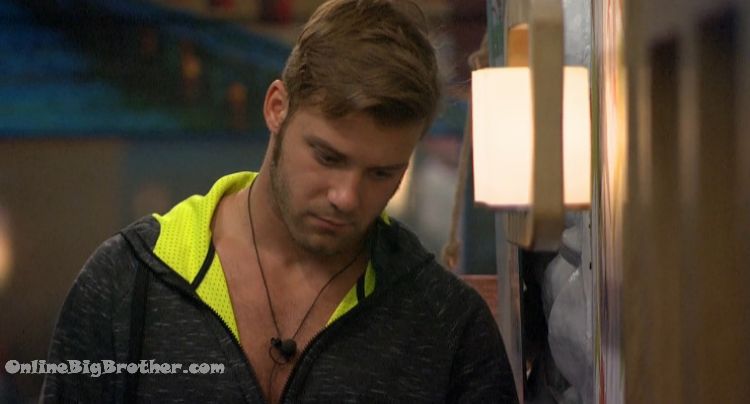 12:56pm Paulie listening in on Michelle and Victor's in the safari room.. (can't hear what they are saying)
After he leaves we get to find out the conversation is mostly chit chat about Diary room session frequency.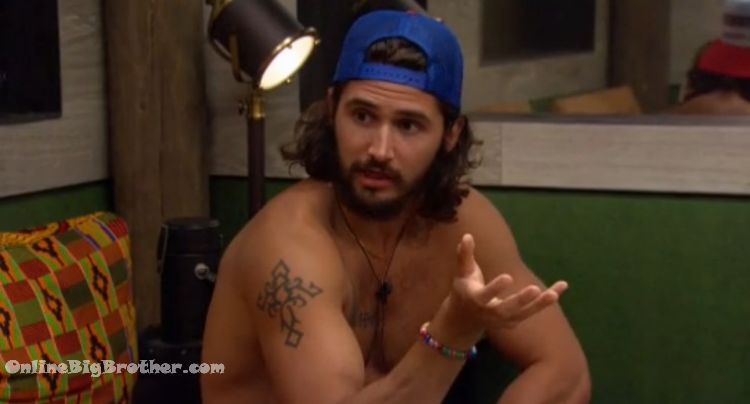 Michelle – the tables are turned I vote to evict Paulie
Victor says he doesn't want to be the type of player that's never shown on the show.
Michelle brings up Jenn City being almost completely left out of the show adds there was time when the houseguests forgot she was there.
They chat about their nomination speeches for Nicole and Corey.
Michelle – Corey it's obvious you are throwing competitions Nicole coached you
Meech – Nicole you like to play sneakily and dumb you're a liar and you're strategic
Victor – mad about the whole rumour Nicole was spreading about him
Victor thinks that Corey and Nicole were trying to make him look bad.
Victor – we had a conversation at the pool table and a flirty conversation but I never asked her out on a date
Meech – ya
Vic – she was saying i'm not your type of girl
Meech – she said that you said she was his type of girl
Vic – I said no necessarily not my type of girl I like all types .. I can't remember all parts of the conversation.. It was flirty in nature but I never asked her out on a date.
Meech – she said she told you I'm not going to date for a year .
Victor – I might have said something like ohh maybe we'll go out on a date in a year
Meech – we'll she turned around and told everyone you asked her out on a date
Victor brings up that Nicole and Corey thought he was trying to be malicious by spending time with them in truth he was just trying to be nice
Victor – "You have a better chance at winning a comp than I have at losing a comp .. "
Victor – "There's a better chance I'll lose a comp than you winning one.. Statistically Speaking"
Michelle says Corey got pissed when Victor said he had a wet dream about Nicole and her BFF Mariah
Victor says he was just joking around, "fool makes jokes they get pissed"
Michelle – What was the most difficult comp this season
Victor – Hide and go veto
Michelle agrees says dizzy dog was hard
Victor agrees
feeds have been off on fish when they come back Michelle is saying this bast week she thinks she's getting the villain edit.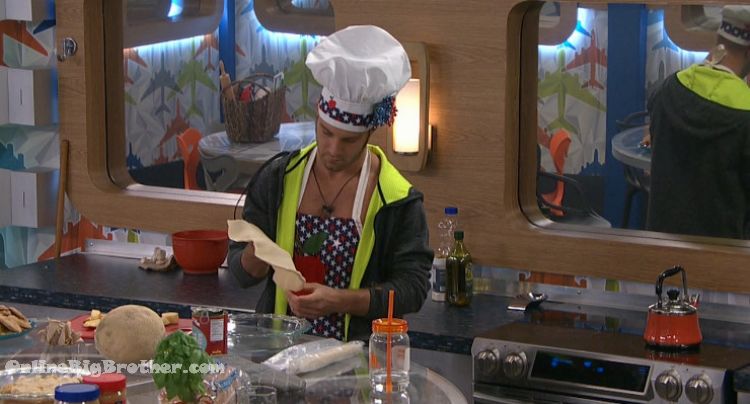 1:11pm PAulie making pies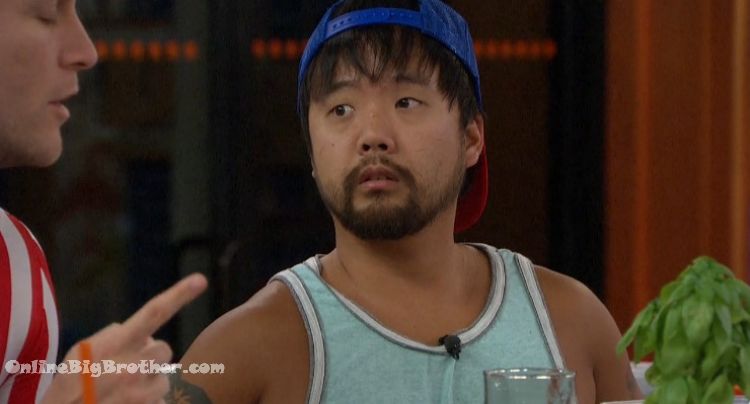 1:22pm James and Corey
James is saying that PAulie is campaigning for votes and he's going to try and get Nicole to throw him a sympathy vote to stack them.
Corey – you voting for him
James- no Texas honour man
Jame s- at least talk to Natalie
Corey – oh really.. So I do need to do a bit of campaigning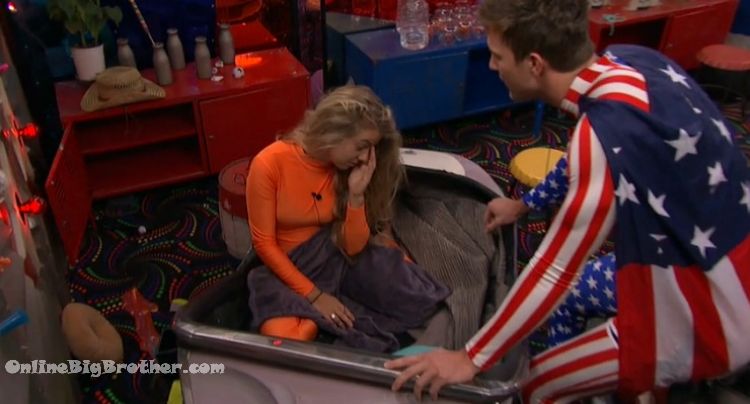 1:34pm Have nots Nicole and Corey
Corey says James told him he's voting to keep Corey. Corey says James is telling him to talk to Natalie.
Corey – Michelle, Paul and Natalie can still vote me out.
Nicole says Natalie will do whatever he tells her to do
Corey – that's why I thought it was weird him telling me to talk to her
Corey – he said Paulie is coming to you for a sympathy vote
Nicole – I have no sympathy at this point.. he saying he'll walk away from Jury.. everyone else here would stick it out
Nic – Michelle said you're good too.. You're fine.. honestly you're fine
Nicole says she's just laying in bed to avoid Michelle and Victor she doesn't want to talk to them. (Great social game)
Nicole goes on about James controlling Natalie and only telling Corey to talk to her because he wants to make it look like he doesn't, She adds that Derrick did the same thing about Victoria.
Nicole whimpers that she doesn't like anyone in Jury and doesn't want to spend time with them. Says last season she was on all her friends were in Jury.
Nicole – when I got out I talked to Jordannnnnnnn she felt the same wayyyyyyy .. I didn't understand thaaaaaatt
Nicole – Victor, Michelle and Paul they have a good group they are strong
Nicole says something about Victor not using the Veto on Corey as a strategic blunder points out that James will not look good taking the $5000 over the veto. (she is in for a big surprise)
Nicole counts the votes says he has her, Jame and Natalie but he should still talk to Natalie and Paul.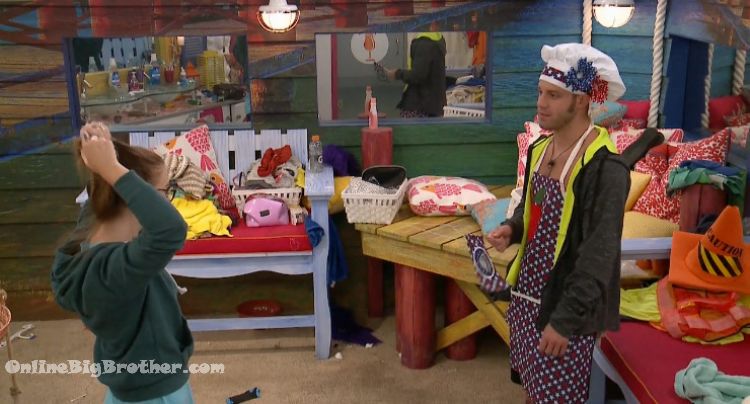 1:53pm Paulie and Michelle bathroom
Paulie says he's been thinking about what she said and "I think I am going to campaign for myself.. if I'm going anyways why not"
Michele – good
2:31pm Everyone sleeping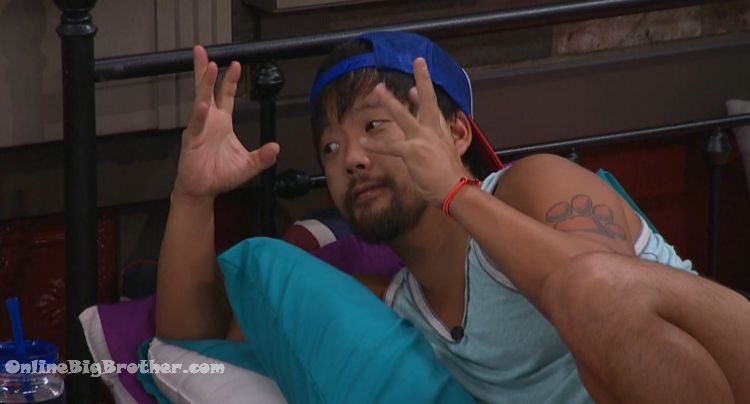 3:34pm James and Natalie
Natalie says her neck feels a lot better. James says it's from his magic hands (See image)
James- you'll be feeling a lot better by tomorrow..
Natalie says she had a dream that Corey won the next car package
James – I told Corey.. he's goign to be coming to you..
James adds he told Corey that Paulie is campaigning for votes he's trying to get Natalie and PAul's vote and ask Nicole for a sympathy vote.
James – he was like i need to talk to her I was like you need to talk to her.. he went right to the have not room and started talking to Nicole.. I knew he was talking to her
James says he knew Nicole and Corey were talking about the conversation because production called Corey out for obstructing his microphone.
Natalie wonders if it's going to get back to Paulie.
Jame s- I don't care he's going home… SEEYA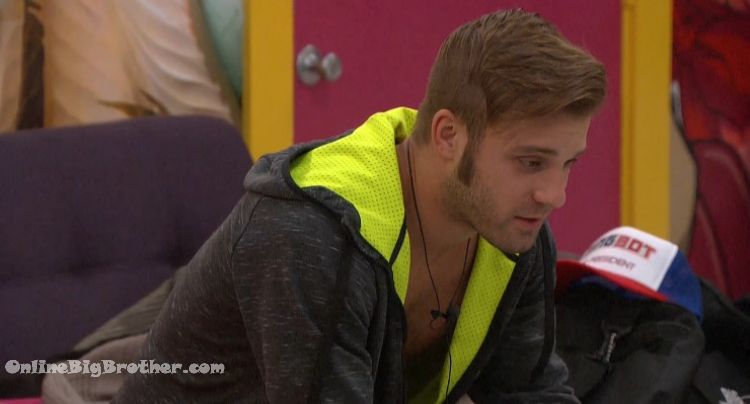 3:38pm Corey and Paulie (Feeds keep cutting in and out)
Paulie may have told Corey and Nicole that the other side of the house is trying o talk him into Campaigning.
Paulie – Anytime they ask me to campaign for myself..
Paulei – lucky number 10
Corey – or number 2
Paulie – I think 10 will be case
Talking about having 2 or 3 beers tonight to sleep.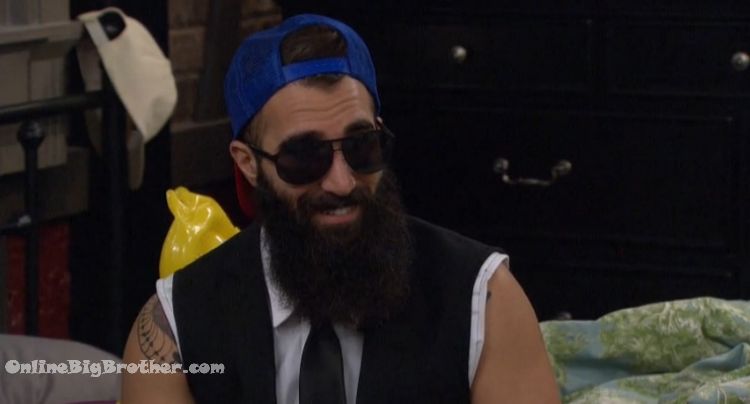 3:42pm Paul, Natalie and James
James and Paul want Natalie to start messing with Corey and Nicole. "Say I feel bad for Paulie.. plus Paulie's cutting some sweet deals"
Natalie says Paulie has been bringing up his Aunt dying of Cancer she went through that last year. (Feeds cut to the Tokyo room)
when we're back..
Paul start impersonating Nicole "Hey guys… uhhhh… ."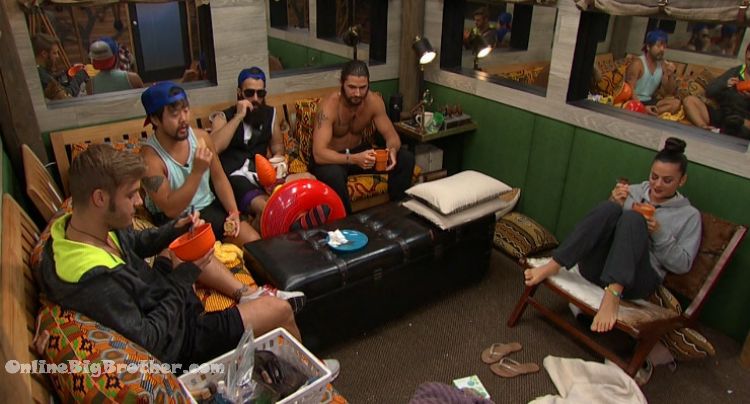 4:30pm Friendship…
"CO-HOH"
WEEK 4 – August 14th to August 19th
This winner automatically becomes Co-HOH, sharing all HOH perks and responsibilities for the duration of the week, including choosing 1 of the 2 nominees.
[polldaddy poll=9496376]
Usernames will have to be a bit more PG please. At the least censor them with @*(#^%_