POV Holder:
?
Next POV
July 11th
POV Used
?
POV Ceremony
July 13th
HOH Winner Team 1:
Vanessa
HOH Winner Team 2:
Austin
Nominations 1 :
James & Johnny Mac
Nominations 2:
Jason & Meg
Battle of the Block Winner
Jason and Meg
Next HOH/ Next BOB
July 16th / July17th
Original Nominations:
?
Current Nominations:
?
Have Nots
?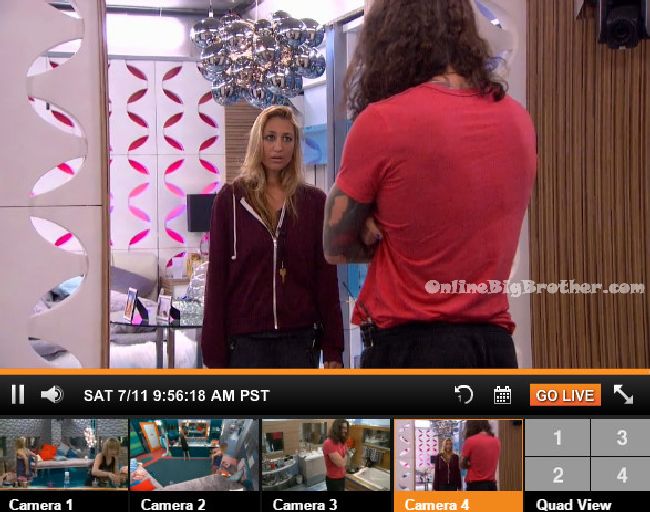 TRY the Big Brother 17 Live Feeds FREE for 1 WEEK:
Click here to ensure your live feed subscription supports OnlineBigBrother.com at no extra cost to you.
9:40am HOH room – Vanessa and Austin are talking. Austin says Liz made me feel like a fool last night. For the first time it made me feel like an idiot for protecting her. I feel like I've made a mistake this whole time. Just because I saw something in her that pissed me off. Just her actual self and where her real loyalties lie. It just reminded me of girls in the past that I've liked a lot that f**ked me over and it was just like a flashback and I felt really stupid. She sat down and was like why did you leave me down there?! I was like what are you talking about?! She said I'm scared and then five seconds later she went to SEE YA! And she went down there to go get in bed with James. Okay if you were that scared why do you want to be down there? Do you just want attention from me right now?! I was thinking Oh my god its been a one way street this whole time with me just helping her and its never been anything the other way! Like there's never been any affection the other way its just been her using her looks to spell bind me. Is how I feel. That's how I feel. Vanessa says well I'm glad you communicated that because its definitely .. I don't think its as bad as you think but I don't think its as good as you've thought before either. That's the way I view it. Austin says okay. Vanessa says I will tell you that my lens is less cloudy than yours. Vanessa says people really don't want to be the Cody / Christine (BB16) situation. Austin asks what?! That's why I didn't watch by the way I couldn't watch by the way. It was too hard. Vanessa says last season someone was married a guy was flirting with her. And they got boo'd when they left because of being unfaithful and they got a lot of bad press. So I would be really skeptical of anyone wanting to to be doing anything with someone that's in a relationship. Austin says Oh HHmmm.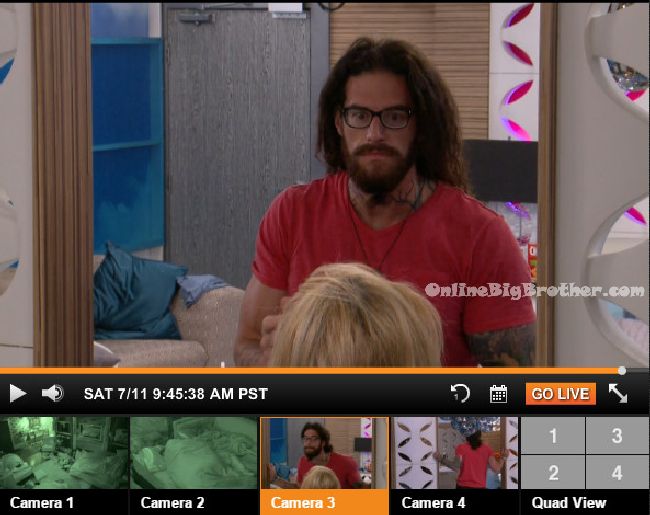 Vanessa says she's mentioned that oh he's (Austin) in a relationship. So if anything that might be the vibe you're picking up on. Austin says no yeah okay. Vanessa says I think she is a very loyal and honest person. She is not a scheming dishonest person. You are either on her sh*t list or she loves you. She is not a gamer and is following our lead. Not a lot of self control. Someone who likes to party. I think we need to be careful of how much we rely on that. Vanessa says I read people really well. I trusted you from the beginning and trusted Liz through you. As far as does she like you, does she not. You're a great guy. You're older, more mature. She is probably slightly intrigued but you being in a relationship is probably a deal breaker. Austin says I'm not trying to showmance her. What I told you yesterday, I told her that yesterday. There's more to what I said coming into the house. I thought that would lighten her up. Austin says I know the real story, like that she (his girlfriend) isn't going to be in my packages and like that. Austin asks will you approach her? Vanessa says its her right to protect her image or not. I guess we should give her the benefit of the conversation. And let her know that we're putting our game on the line for her. Austin says I've 100% put my game on the line to sacrifice for her. I would stand in front of a train for her. It reminds me of when I was younger chasing the wrong girls. And its not even a romantic thing its more game wise. Vanessa asks why was she sleeping with James .. like literally our main target right now. Austin says I feel like we need to talk her because I am really offended right now. I don't want to be f**Ked over.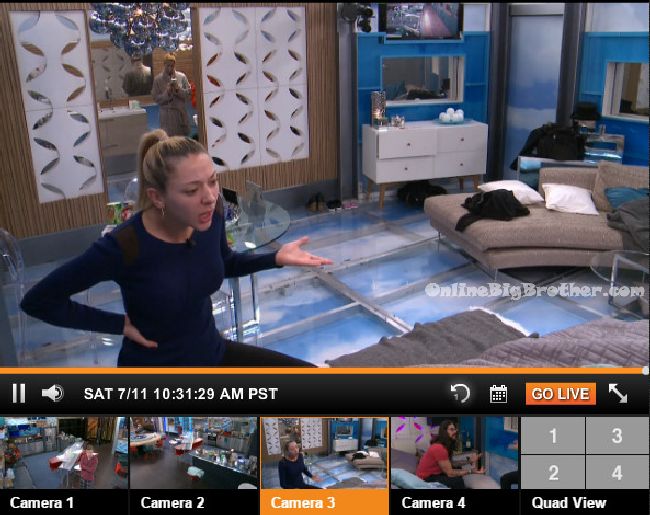 10:20am – 10:45am In the kitchen –
Austin tells Liz that maybe she should talk to Vanessa. Liz heads up to the HOH room. Liz tells Vanessa we'er switching today. I haven't even been here for 24 hours and we're switching. They talk about the things they need to fix or keep aware of so others don't notice the differences. Vanessa asks where did you sleep last night? Liz says in James's bed. Vanessa asks did he say anything. Liz says no. Vanessa says there is no f**king way they would take Johnny Mac off. They're telling you to tell me. They want me to think I have more votes than I think I have. Austin joins them. Austin says why did you go down there. Liz says what do you think he is going to do lift up my shirt. It wasn't Jeff it was James. Austin says they're interchangeable! Austin says my game is basically sacrificed keeping you here. Liz says I am staying down there to try and take the heat off you guys. And just so you know if they try to trick you and say that I told them.. don't fall for it. Its not true. Austin says he was upset last night trying to process a lot. Liz says you don't know how hard this is. Vanessa asks are you upset she slept with James last night? Austin says it made me feel dirty! The two big main targets we have right now. It made me mad. They talk about Liz switching beds to sleep with Steve. Liz says if anyone touched me in my sleep I would f**kin kill them. Austin asks would you though because you seem to let Jeff do whatever he wants to you. I'm just sick of watching them harass you. Austin tells Liz to be more like Jackie. She doesn't really talk to people or give out information.
Big Brother calls Liz to the diary room (time to switch!). Liz says they will probably want her to play in the veto if I'm picked.
GET the feeds for ONLY $5.99 a month – PLUS test them out FREE for a week first!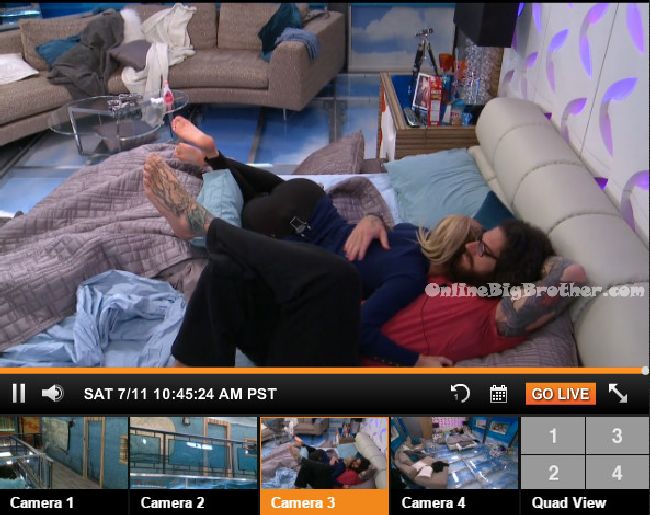 10:50am – 11am Vanessa tells Austin that when he gets out he will have the pick of the litter. If you want her, someone else or your girlfriend. Austin says its not that I want to do something sexu@l with her its about finding out whether or not we both have the same connection. Vanessa says right now we have to concentrate on our alliances because right now we have close to 10 alliances. Lets not take away our edge by being distracted. Vanessa says she's been switching out every 3 days .. you don't know who your feels are drawn to. I think she isn't looking for any kind of relationship. Austin says neither am I. Vanessa says I think Julia isn't into you. I think Liz is intrigued by you. Just play it cool. Austin says I can't believe you're giving me love advice in the big brother house. Vanessa says I see you pushing forward and her pulling back. Vanessa says right now its great because we have all these alliances with sub-alliances. Lets go down in history with making amazing game moves. Once they're (twins) are in here we can not be on such high alert.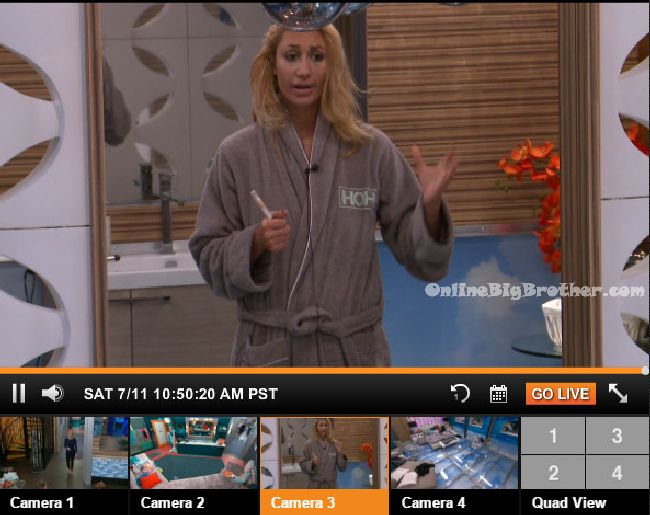 11:15am Audrey joins them. Austin and Vanessa tell her that she is good. I hope you get picked to play today. Audrey says a good reason why I would stay is that everyone is aware of that I have no one. Vanessa says worst case scenario we might get you to do a house meeting to say you're sorry. I have nothing against Jeff but I do against James. He lied to me about Jace. Austin asks what could you say about Jeff. Vanessa says I literally have nothing. Audrey says that Clay is really on board with wanting to get out Jeff. No one knows where your head is at. Vanessa says well they should have figured it out from my noms. Vanessa confronts Audrey about Jason says she was the vote to save Day. Audrey says that is 100 million percent a lie. Vanessa says basically the rumor is that you were going to vote to evict Meg and then fame us into trying to flip the house. They decide to do a private meeting with Meg. Vanessa wants to do it so that it a reason she can use to justify wanting to keep Audrey because she believes her. (The Twins have switched) Julia joins them in the HOH room. Vanessa says the optimal thing to happen is that you win the veto. Austin and Vanessa talk about trying to throw it to her if they can. Austin says if your chip gets drawn to play. Everyone will freak out. Vanessa and Audrey decide to pull up Meg after the veto picks to confront her about the issue. Audrey leaves.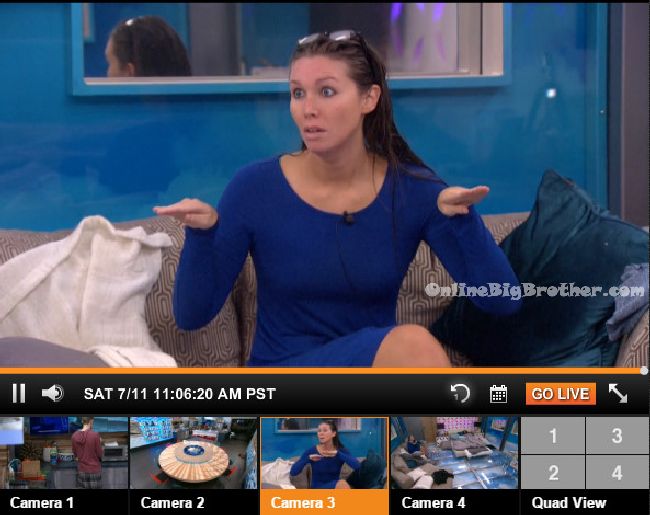 11:30am – 11:45am Austin tells Julia that Liz has been pissing him off. Julia asks why? Austin says that she slept with James last night because there wasn't any room. Vanessa points out how Julia has the same two moles on here forehead. Julia says no, Liz just drew that on. Vanessa and Austin fill Julia in on the alliances they're in "Freaks & Geeks" / "Sixth Sense". Austin fills Julia in on the nominations / battle of the block competition. Julia says I hate James …I would never get in a bed with them. Why would she do that! Austin says I trusted you guys and you betrayed me. Julia says no we didn't. Austin says I felt like I walked in on someone cheating on me. Julia says I don't think Liz knows the extent to how mean they were to me. I loath James! Austin tells Julia if she gets picked she should try and win it. Austin asks how you feel about Jackie. Julia says I hate her! She's a bimbo she's a topless dancer. Austin tells Julia about how they're working with Audrey and trying to save her.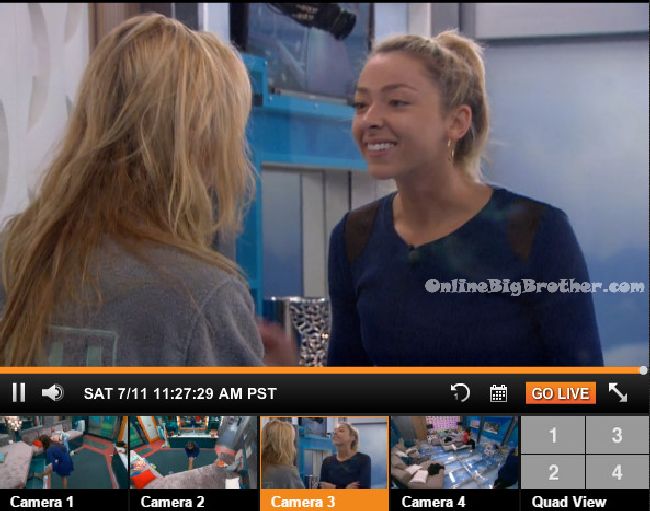 11:50am Vanessa comes out of the diary room and says hey everybody its time to pick players for the veto competition! Soon after Big Brother blocks the feeds.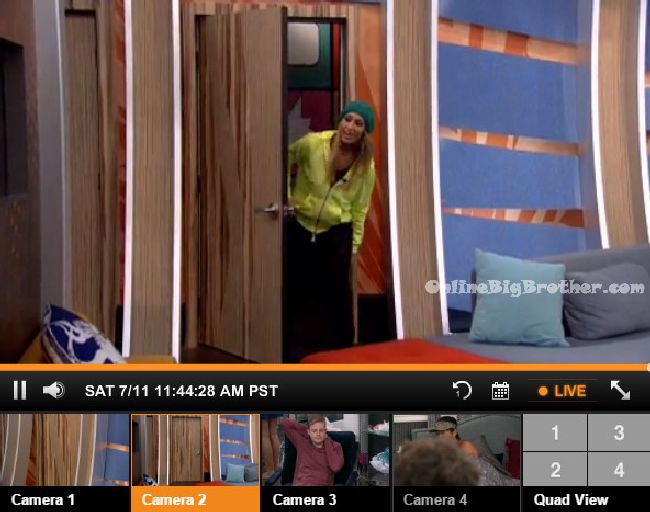 Live Feed subscription gives you CBS All Access thousands of archived shows. Live Shows like Big Brother, all the Big Brother Seasons, and 24/7 coverage of what is happening inside the Big Brother House. Plus there's flashback that lets you go back to any second of the feeds and rewatch what happened. Simon and Dawg will index the season just watch the parts worth watching. All this for $5.99 a month try it out 1 week free. Support our efforts and get your feeds via a link on this site. Live feed subscription Sign up
[polldaddy poll=8972565]
Share it YO!!
Tweet