POV Holder:
?
Next POV
July 11th
POV Used
?
POV Ceremony
July 13th
HOH Winner Team 1:
Vanessa
HOH Winner Team 2:
Austin
Nominations 1 :
James & Johnny Mac
Nominations 2:
Jason & Meg
Battle of the Block Winner
Jason and Meg
Next HOH/ Next BOB
July 16th / July17th
Original Nominations:
?
Current Nominations:
?
Have Nots
?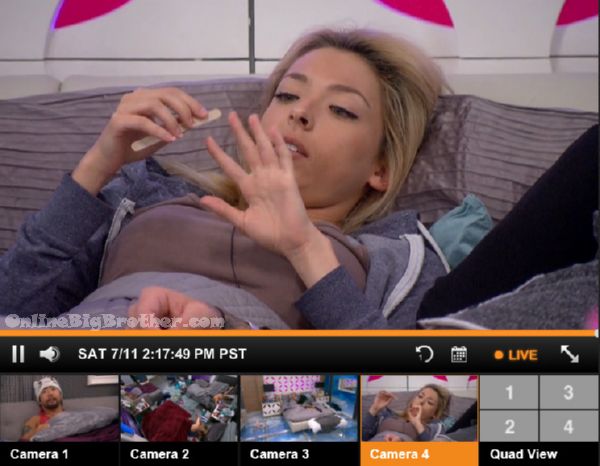 2:09pm HOH Austin and Julia
Julia was telling him that Liz is the wild one. Her last boyfriend was a skinny DJ guy. Julia's boyfriends are personal trainer types.
Julia says she's been in the house more than Liz.
Julia – what's the deal with Audrey we working with her
Austin – yes
Julia – We can't tell her i'm a twin
Austin – yes
Austin explains that sixth sense and freaks and geeks are separate alliance.
Austin warns her Liz was saying Becky is asking her tough questions to reveal the twin. Austin says Becky is aligned with JonnyMac, "James and Jeff no way"
Austin adds Becky doesn't want to talk a lot of game with "Liz" because she's an emotional player.
Julia – I haven't been emotional
Austin says Liz is and she is such a flirt
Austin – whens she's here she has the guys attention and she loves it
Austin – Laughing looking in their eyes twirling their hair
Julia – She's such a flirt she's so bad
Austin – She's so bad
Austin – She was doing it a lot last night, it pisses me off
Julia- Dude I need to put her in her place .. look you need to stop talking to these people..
Austin – Stop talking.. Jackie doesn't talk to anyone do the same thing
Julia – she doesn't realize how bullied I was those last three days
Austin – Can you slap her for sleeping in James bed.
Julia – Yes YEs .. because you're sister HATES JAMES.. I hates him
Julia hates James he's her number one target called her "hey Arnold" told her she was would be his weekend girl, he's sexist and a horrible person
Julia wants to slap LIz, she's not going to talk to Jeff and James anymore and next time they do the switch Julia is going to tell Liz to stop.
Austin about Liz' behaviors It felt like a hit to the stomach I feel betrayed right now it really sucks
Austin tells her she needs to talk to Liz and put the brakes on it
Austin – It's hurting my feelings really.. i'm like… what really, you're being this kinda girl right now
Austin doesn't like how Jeff treats her
Julia – Jeff is the one that is so mean to me
Julia is going to put her foot down with Liz tell her she needs to stay away from Jeff She the older sister LIz listens to her.
Julia – His voice annoys me his dad bod annoys me
Austin – it's so easy to convince Jeff's your buddies.. just chug a beer with him tell a crude joke and he's like TOGA
Austin says Jeff is using Jackie right now. He was trying to get her to have a showmance with Austin to pull Austin away from Liz. Austin brings up Jeff saying that Jackie was really wild on the race. (He told them he was 'banging' her)
Austin starts taking about his thesis about Medieval literature Romance.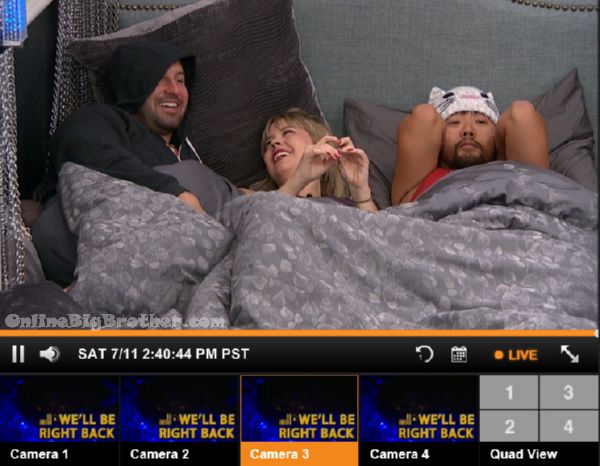 2:39pm Bedroom Meg, james and Jeff
Jeff – Dude I want to get a boat
James – Dude they're chick magnets they are
Jeff now saying he needs to get a truck he's tired of driving around in sports car like a douche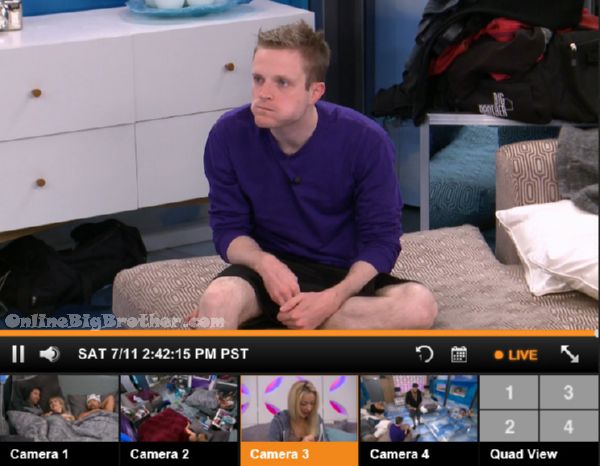 2:41pm HOH Julia, Austin,JohnnyMac, VAnessa and Clay
Vanessa says they are going to do something soon she has a feeling. Austin can still hear them constructing. Austin thinks it will be night club themed and it will be tonight.
Austin wonders if it's a dance off who can dance the longest
They all start laughing
Austin – I'm coming up with ideas.. that was a bad one.. we're each allowed one
Austin says this is his first Veto
JohnnyMac says he's played in every competition
Clay says Meg is upset saying that Vanessa is defending Audrey more than her.
Vanessa doesn't understand why Meg is worried she's safe
Clay thinks it's just Audrey running around talking starting stuff.
Shelli comes up tells Vanessa Meg jis really pissed about VAnessa.
Vanessa will confront that 100% she has the right to investigate when things are said about her.
Shelli – do some damage control
Vanesa – I tried
VAnessa says she couldn't have been more kind and human to Meg. She was just trying to get to the bottom of what was said about me.
She wanted to find out if Audrey started the rumor that Vanessa was trying to flip the house.
VAnessa – I couldn't have been any more kind.. I really wanted to know what was said
Clay – I know I know You're right
Clay doesn't think Meg is mad they are just getting paranoid incase Audrey wins POV.
JohnnyMac – That's what I'm worried about is Audrey winning.
[envira-gallery id="120605″]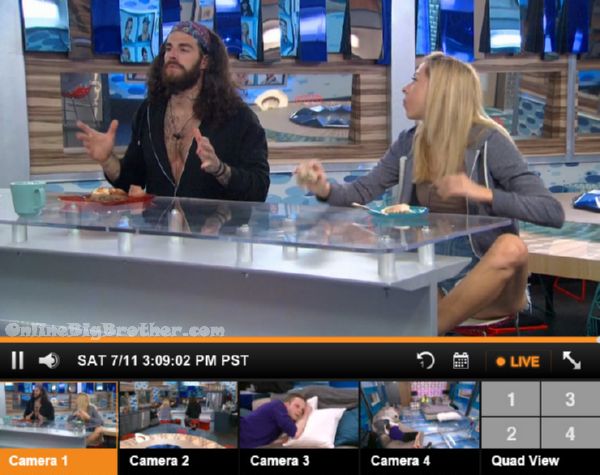 3:08pm Austin, Julia and Steve
Talking about their studies. Austin's undergrad degree was in History.
Steve can respect people who are into History but it's not for him. Steve says taking a history class would be a unpleasant experience.
Steve's education all the questions required math and physics to solve.
Jackie comes in.
Austin asks her if she's going to cheer for him. Hints that he might win a margarita party and have to invite someone.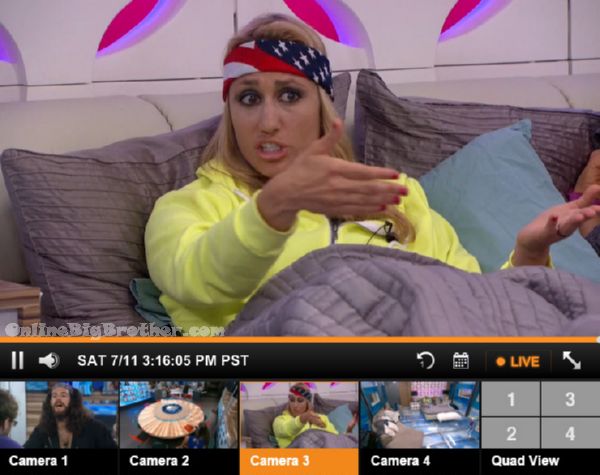 3:12pm Vanessa, Shelli, CLay
JohnnyMac leaves the room. They all are relieved now they can talk game.
Shelli says Jeff is trying to rally the house and come up here and demand they put up Audrey
Vanessa hopes he does that it will make her decision easy she'll put him up
Clay – "Audrey's secretly against everybody"
He explains Audrey was agreeing with james about breaking up the power couples. (Speculation based on what she hasn't told him and what he's been told by a third party.. murky)
Shelli says it's become apparent Jeff wants her out. He's trying to plant seeds in people.
Clay – He's told Austin he wants her out so he can work with me
Vanessa says the odds are 20% for Audrey to win the POV. Vanessa says it's not fun to not have a duo. She worried after making this move people will see her on her own and target her.
Shelli asks if Audrey wins the POV will it be used.
VAnessa says no, Vanessa doesn't want the POV it be used she wants James to go this week.
Her reasoning is it will create fewer enemies.
Shelli leaves.
Clay says once the Veto isn't used and Audrey stays it's cut and dry. the other side is going to band together.
Clay warns her Jeff has the ability ti pull Jackie, Becky, Johnnymac. James can't do that. Argues Jeff keeps that group together.
Clay – JohnnyMAc I love him .. he so close on Jeff.
Austin joins them.. says he's nervous
3:51pm Feeds are cut for POV competition
4:58pm No Feeds never
Live Feed subscription gives you CBS All Access thousands of archived shows. Live Shows like Big Brother, all the Big Brother Seasons, and 24/7 coverage of what is happening inside the Big Brother House. Plus there's flashback that lets you go back to any second of the feeds and rewatch what happened. Simon and Dawg will index the season just watch the parts worth watching. All this for $5.99 a month try it out 1 week free. Support our efforts and get your feeds via a link on this site. Live feed subscription Sign up
[polldaddy poll=8972565]
Share it YO!!
Tweet