POV Holder:
Clay
Next POV
July 25th
POV Used
?
POV Ceremony
July 27th
HOH Winner Team 1:
Jackie
HOH Winner Team 2:
Vanessa
Nominations 1 :
James & LIz
Nominations 2:
Clay & Becky
Battle of the Block Winner
James and Liz
Next HOH/ Next BOB
July 30th / July 24th
Original Nominations:
Clay and Becky
Current Nominations:
?
Have Nots
Shelli, Clay and Steve
3:50pm Clay wins the POwer of veto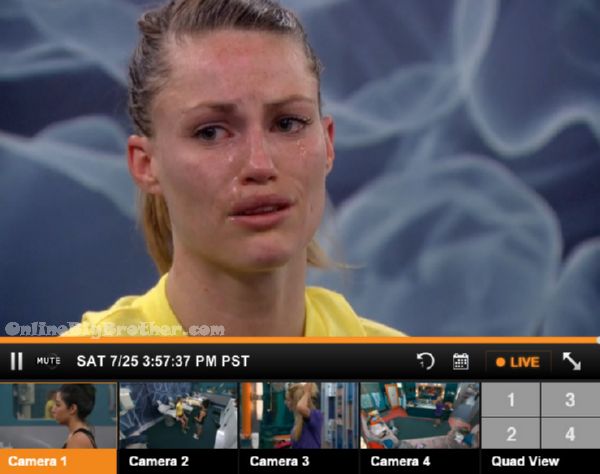 3:55pm Jackie and Becky Becky is disappointed
Jackie saying the competition was built for Clay. Jmac comes in "You're not a comp beast" (She's been very upset lately for being perceived as a comp beast)
Jmac Leaves In comes Jason.
4:07pm Have nots James, Becky, Jackie
Jackie says this isn't the worst case scenario. She reassures Becky they have the votes.
James tells Becky she has his vote he's not going to vote for Austin he can't change James' mind
Becky making excuses why she didn't win the competition says she was a soccer player isn't good at throwing. (Let me guess the comp was throwing a football)
[envira-gallery id="124004″]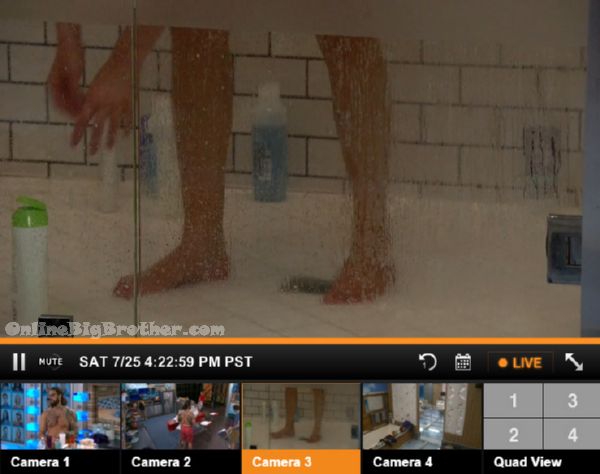 4:17pm HOH Liz and Vanessa
Liz – well Vanessa at least we got our exercise in for the day
Liz says it's obvious how pissed JohnnyMac and Becky are "It's all over their faces"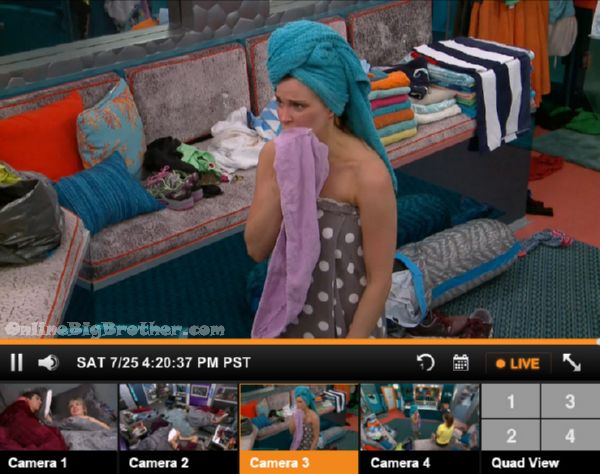 4:20pm Becky sad about losing the POV
Shelli – you did awesome
Becky – my right hand is good my left hand is not good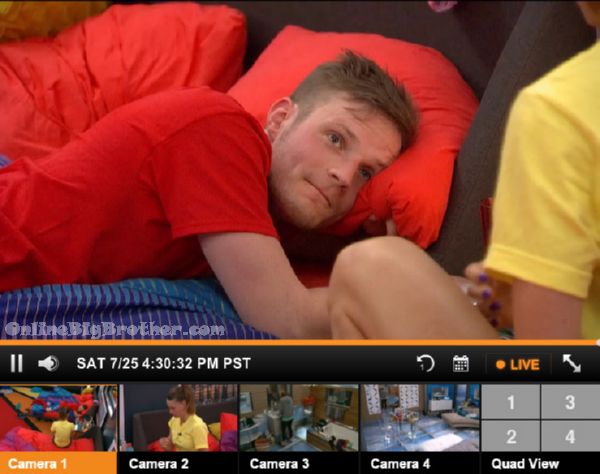 4:29pm JohnnyMac and Becky
ecky thinks Austin is going up . Becky says AUstin has no one in the house it's a perfect time to get him out. She also know Vanessa doesn't want any blood on her hands.
Jmac says you can't avoid that you if you keep winning HOH, "You can't have your cake and eat it too"
Jmac's final score was 161
Becky says she wants to get AUstin and the twins out.
Becky says her two people are JAckie and Jonnymac outside of that she trusts Clay and Shelli.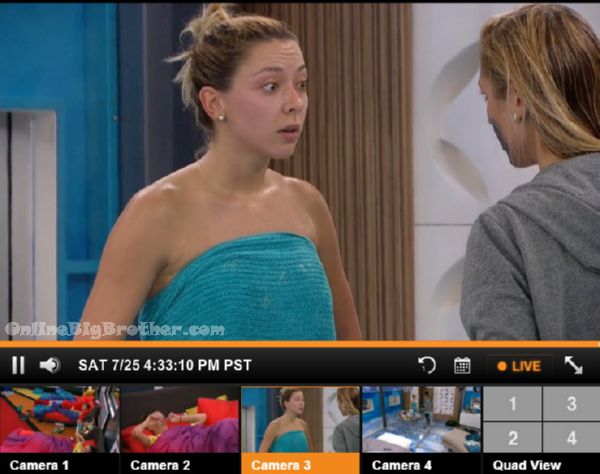 4:33pm Vanessa and Liz
Vanessa – we have to talk without Austin you don't even know the 1/2 of it..
Vanessa – you're not going to be happy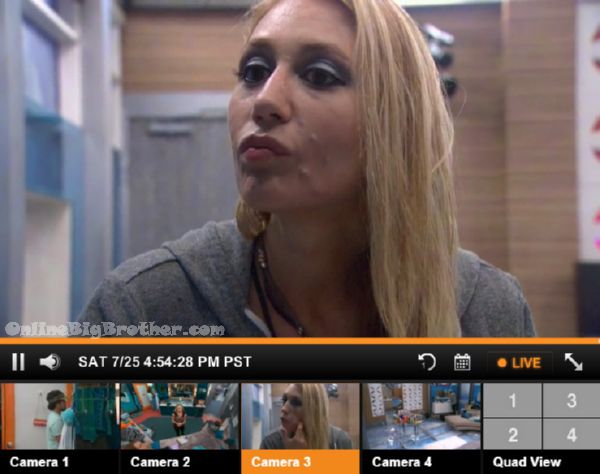 4:51pm HOH Vanessa and JAckie
Vanessa needs to talk to Liz before Austin goes up because her and him are in a "Full Blown Showmance"
They agree Liz was doing great at the POV competition.
Vanessa – I don't want to tell him until the night before..
Jackie – She's going to tell him
Vanessa- I don't thinks so
Jackie – I think so , he's all she has
Vanessa says Liz is annoyed by Austin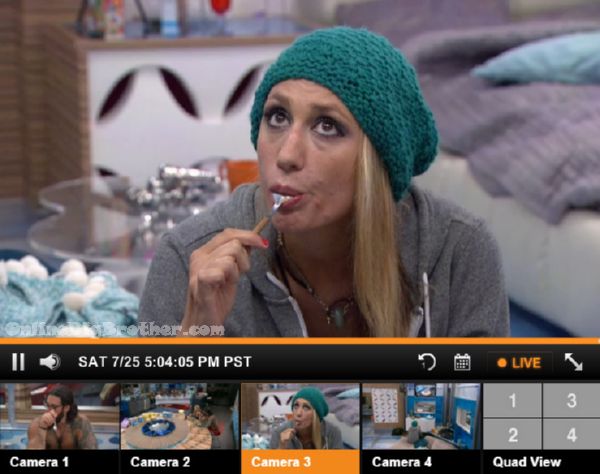 5:05pm
Vanessa watching the HOH screen. In the Kitchen is asutin and Liz eating the dinner he made. They are chating. Vanessa is waiting for Liz to come up so she can tell her Austin is the target this week.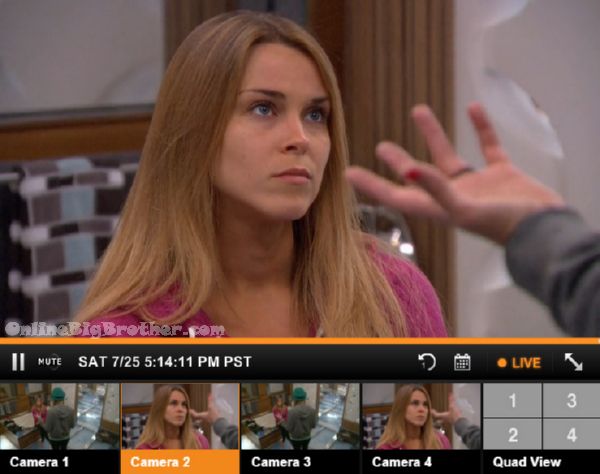 5:06pm HOH Vanessa and Shelli
Shelli says she's nervous Liz will tell Austin early. Vanessa doesn't think so brings up Liz telling her AUstin won't leave her alone.
Shelli says Austin and Liz kissed last night
Vanessa – you can tell he chases her around it's not mutual she's just having fun
Points out she's a flirty girl
Vanessa brings up JAckie wants to be in on the conversation with liz but she said no but Shelli can be there.
Vanessa is going to tell Austin 5 minutes before the Ceremony he told everyone about the twins the whole house wants him out because they want to cut off the head of the three headed monster.
Vanessa is going to tell Liz to keep acting like she's interested in him so when he goes up he doesn't blow up all the alliances because doing so would blow up Liz' game.
Their plan is to tell Austin they have the votes to keep him and she's putting him up because that is what the house wants.
Shelli says Julia was onboard to get out Austin for sure Liz will be to.
Vanessa – Austin and Liz came up to me and said Clay and Shelli are convinced there's 6 person alliance coming after Clay..
Shelli – Excuse me, Austin told you this
Vanessa – Austin and Liz
Vanessa says Austin and Liz are loyal to Clay she asks Shelli if she felt that Austin was legit trying to save Clay
Shelli thinks he was
Vanessa points out how pissed Becky was when she didn't win the POV
Shelli – can I ask Meg about this 6 person alliance.. Listen Vanessa I had that feeling at BOB.. I had the feeling that Becky was throwing the BOB.. so her and CLay would stay on the block
Shelli thinks Becky threw it says it was obvious.
Shelli is starting to freak out she thinks there's an alliance after her and clay.
Shelli – why would AUstin know this unless he's in on this alliance.
Vanessa says Austin told her because he wanted her to play hard
Shelli says if there's a 6 person alliance "I'm ready to go to war"
Shelli is wondering if Austin is playing them.. she feels in her gut something is up on the other side.
Vanessa is questioning they can trust James and Jason.
Vanessa says she thinks Jackie's job last night was to try and get Vanessa to save Becky.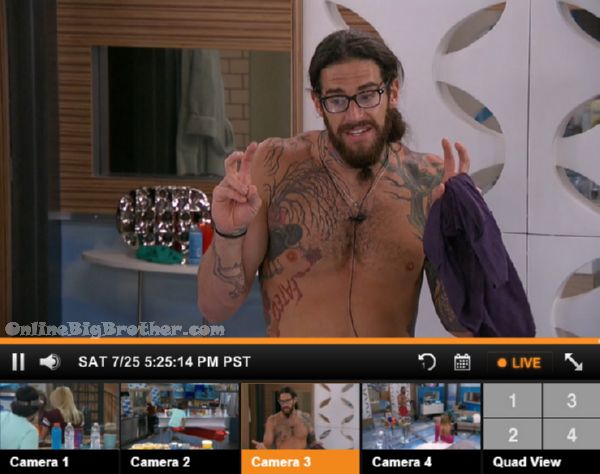 Austin comes in tells them it's all speculation about the 6 person alliance. Him and Clay have been talking and it's starting to add up that Liz was the target this week because James was throwing the competition.
Austin adds all the other side is saying Get Steve out Get steve out
Shelli askjs if anyone ever mentioned take Clay out
Austin – no
Austin explains it's just speculation.., "JohnnyMac is so upset that he didn't win that thing"
Austin says it's getting fishy, Brings up Audrey talking to James a million times there might be something brewing downstairs. Stresses it's all speculation right now.
Shelli asks what were the reactions when Vanessa picked Shelli as houseguests choice.
Austin says Jackie and James were down, "James shows it a lot he was upset about it. "
AUstin "If we keep Steve is 7-5 going into HOH"
Shelli – we're in power times two.. we're in power times 3 we have HOH, POV and Julia"
Vanessa says two weeks in a row.. last week Audrey this week Steve, "are we the dumbest people ever" (Implying them turning on their own)
Austin points out how Johnny Mac has completely flipped now.
Shelli has noticed that.
Austin stresses when Clay won there was no happy faces he looked.
Shelli asks him if it was Austin or Liz that voted to keep Jeff
Austin – are you kidding me I wanted Jeff out
Austin- him in the room made me sick to my stomach
Austin thinks it was Becky and Audrey last week
They ask him this week who voted to keep Audrey
Austin Doesn't know
Vanessa ask him to clear if he knew who voted out Audrey
Austin – I give you my word I do not know who the vote for Audrey was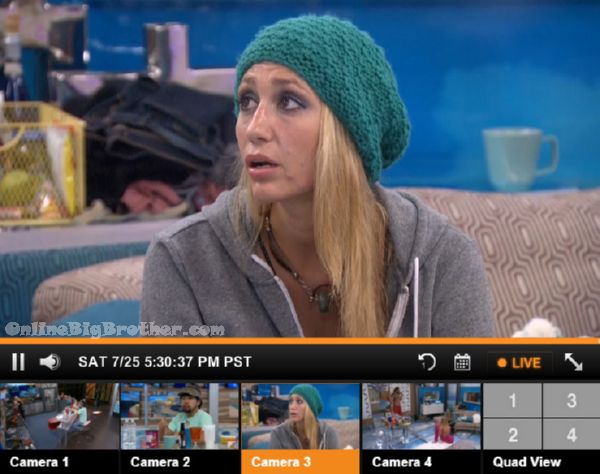 (The mood of the place dies after this… Vanessa was told by Julia Austin voted to keep Audrey)
Austin leaves..
Vanesa excited about Austin lying says he's lying 100%.
Vanesa – could this be a genius ploy to get out 2 of our own
They agree AUstin is indicating some loyalty
Vanessa wants to confront him about JAson.
Vanessa – if we get out Becky the line in the sand is drawn.
Vanessa asks if she believes Meg, james and JAson are loyal to them
Shelli – they blow in the wind
Vanessa – I gave my word to Becky, Clay and everyone in the 8 person alliance
Shelli – shit changes
[polldaddy poll=8994045]
Share it YO!!
Tweet