POV Holder:
?
POV Competition
July 30th
POV Used
?
POV Ceremony
Aug 1st
HOH
Paul
Next HOH
Aug 4th
Original Nominations:
Bridgette AND Paulie
After POV Nominations:
? AND ?
Have Nots
Natalie, Paulie, Corey, Zakiyah
CBS All Access: Live feeds are only $5.99 per month – Try it FREE for 1 WEEK!
The Power of Veto Players are
Paul, Paulie, Bridgette, Victor, Natalie and Corey Host is Nicole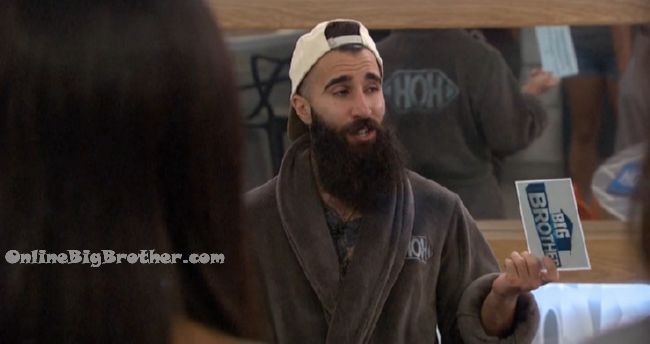 8:10am Have Nots
Paul reads from the Have Nots Card.
This week have nots are the four players that have the lowest core in the head of household competitions. The players are Zakiyah, Corey, Natalie and Paulie. However Natalie since you've received a never not pass from America you are exempt from being a have not as for the rest of you with addition of slope you get to enjoy trail mix and marshmallows all week long.. Enjoy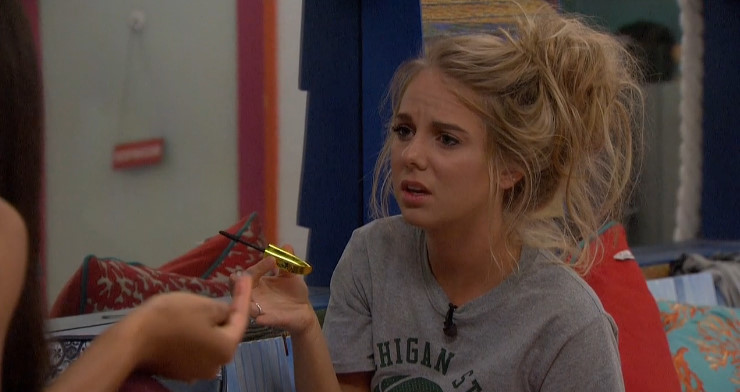 8:36am Bathroom Zakiyah and Nicole
Zakiyah talking about last night's issues with Paulie. Says she was up late going back and forth with him.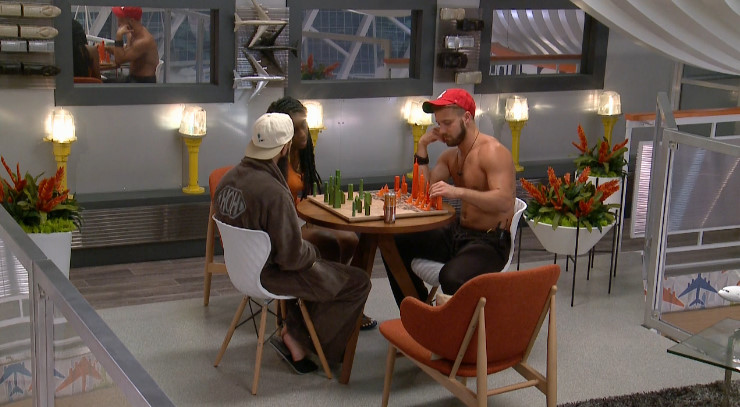 9:19am Paulie and Paul
"PP ehhehehehehe" (they both say this)
Paul – it'll go as planned
Paul – you know how I feel and I respect you guys .. once I make that move i'm going to stay outta everything just try and keep your boys name on the LOW LOW
Paulie brings up Zakiyah's "F****G water works " Last night
Paul – you handled it
Paulie – ya I did
Paul – PP is straight chilling
Paulie – kicking it
Da'Vonne joins them
They start to whispering, "Him or Nicole.. is doesn't matter "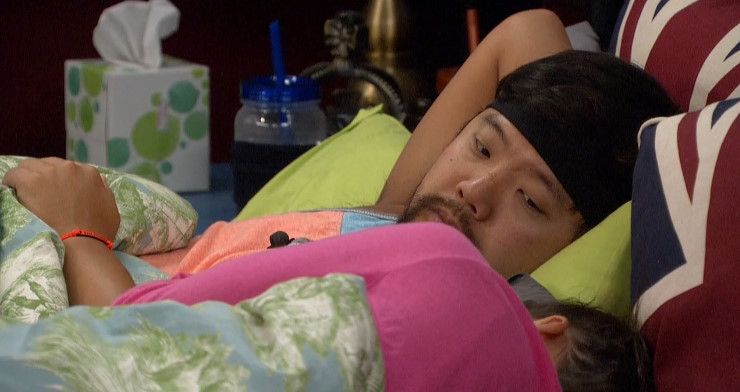 9:19am James and Natalie
James – Paulie picked Victor to play
James says if Natalie wins the POV and pulls PAulie off the block the house wouldn't be mad. If She pulled Bridgette down PAul and Paulie would be mad. They would put Da'Vonne up and Paulie would sit on the block till Thursday.
James – If you win that Veto and the house want you to use it on Paulie .. Make a deal no nominations no backdoors for next week for you. Don't worry about me I can take care of myself.
James says this might be a luxury veto. Natalie says she'll want to get the veto over the trip.
James says if depends on her goals, "It;'s really what you want.. Win the Veto make a deal pass up on the money.. And hopefully whoever wins HOH next week keeps the deal"
James – Paulie is probably going to want to win next week.
Natalie – do I have a chance going home
James explains Michelle, Zakiyah, Da'Vonne and him will never vote her out over Bridgette.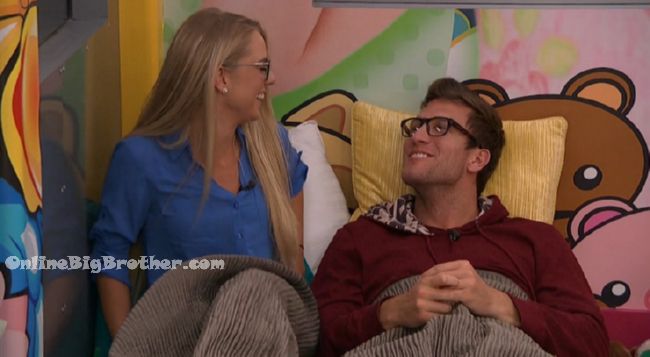 9:34am Corey and Nicole
Nicole – I gotta get on your good side in case you win a prize
Corey – I really hope it's a luxury comp.. I don't think it will be though
Nicole – I think it will be .. that is why they are doing it early cause you always get your costume tonight…
Nicole – and all the punishments tonight when the backyard opens..
Corey – I Hope so.. I'll take anything at this point ..
Corey – This is a good veto to be in because I don't even care..
Nicole – to win ya.. But you can't make it look too obvious
Corey – I want to win everything..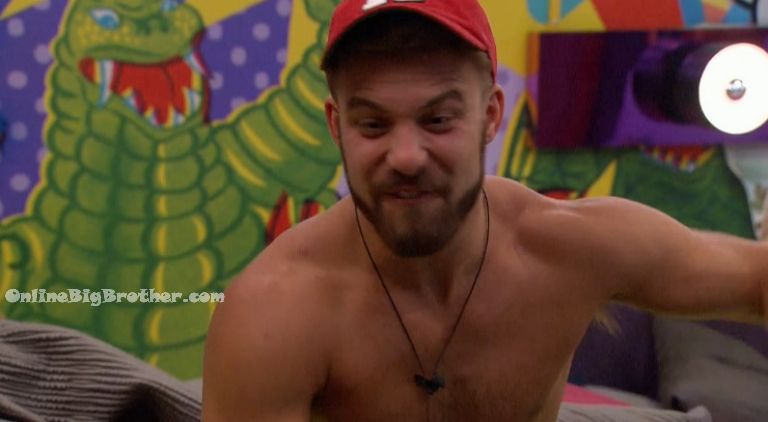 9:50am Nicole and Corey whispering with Paulie
Hard to hear.. Paulie is bringing up his conversation with Da'Vonne when playing chess with Paul. Da'Vonne is trying to get Nicole or Corey as the replacement nomination.
Nicole – what did you guys say
Paulie – we just nipped it in the butt
Nicole – why does she feel so cool to say that to you guys
Paulie – I don't know I think she's a little nervous.. she's like you guys talk to Nicole at all.. we're like nah not about game.
Nicole – she's evil.. lets get her
Corey – I just want to win bro.. and pull you off.. I just want to pull you off bro
Paulie says Paul is 100% onboard with getting Da'Vonne out.
Paulie starts to complain about Zakiyah saying she just wants to argue for the sake of Arguing.
Nicole points out Zakiyah and Natalie are BFF's now.
Pualie- I told her to get close to Natalie.
Paulie brings up last night's drama between him and Zakiyah.. (Go back to see last nights post here)
Paulie says he's going to have to get Paul or Vic to "Clip" her
Nicole – she's very into you.. she's distracted.. (OMG she said that)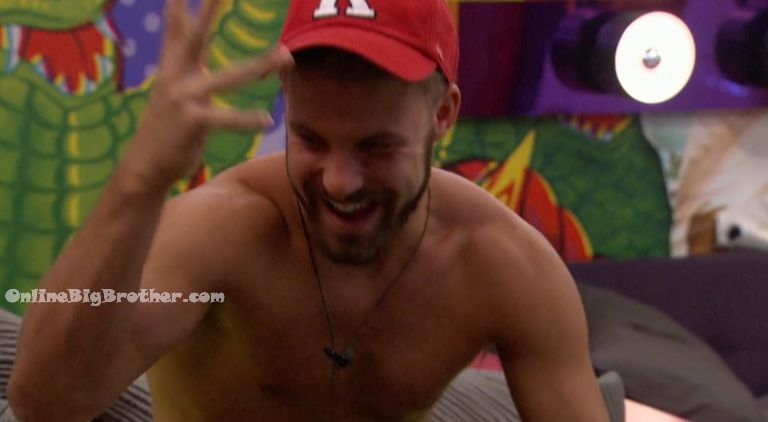 Nicole is really worried about getting in a TIFF. Nicole adds that she use to be really close to Zakiyah but they never talk game now whenever they talk it's about Paulie.
Paulie continues to talk about last night.. brings up Zakiyah saying "Uncomfortable" etc etc…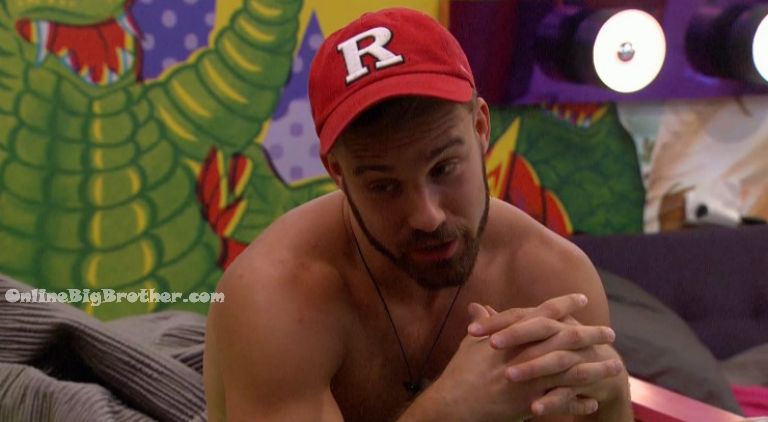 Paulie – I wanted to say you sound like f****g TIFFANY
Paulie has had enough after last night everythign with Tiffany is messing with his game, Drama, Drama, Drama
Nicole is stressed because she's Da number 1 target. Warns Paulie that Zakiyah is going to be so mad she might come after him
Paulie assures her Da is going home this week.
Paulie tells them before Victor goes after them he'll be going after Natalie and Zakiyah
They agree to wait until August 18th to evict Victor so he doesn't come back
Nicole – oh my gosh what if Da comes back
Paulie – I don't care..
Nicoel – I am so happy if she goes
Paulie – She's literally going on the block.. I have Paul convinced..
Paulie says he's done trying to be made to feel bad
Paulie says he's gong to put on a smile with Zakiyah and just play it cool for now.
Paulie – I can feel that she likes me and I like her too but certain things … I've liked her from the beginning..
Paulie says he doesn't need a girl pissed at him because some girls looked at him a certain way.. "I've seen that waaaay too many times Brah"
Paulie says he never dates people like that, those are the type of girls in college that were attracted to athletes, "They just wanted the attention of dating an athlete.. they get territorial as f**k then they try to make you jealous by flirting with other guys.. "
paulie leaves to sleep…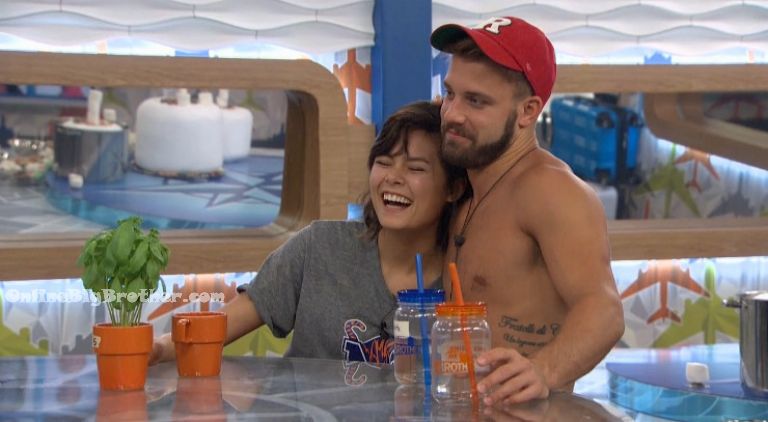 10:24pm
(Zakiyah must be sleeping)
Paulie telling them Da'Vonne is going to be the renomination.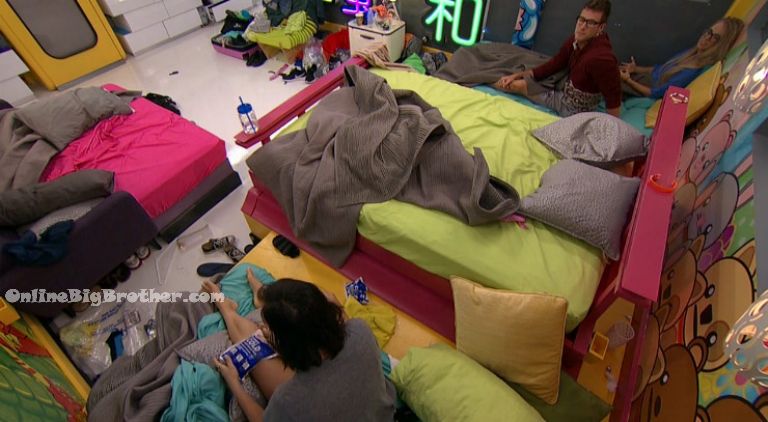 10:50am Bridgette icing her knee before the POV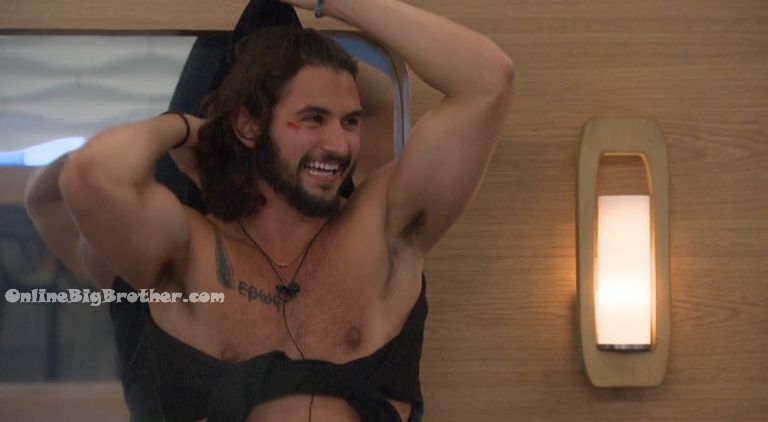 11:00am PAulie and Victor giggling about ace ventura pet detective..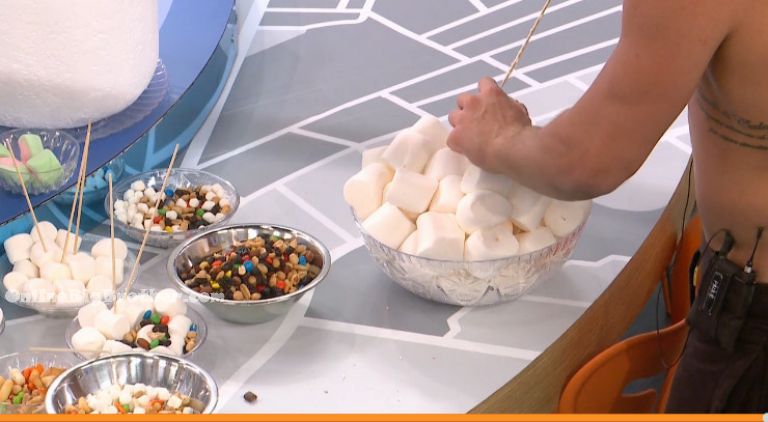 11:03am the new Bevis and Butt head prepare a prank.. They pull in James.
Victor explains the plan "Line Paul and Michelle with marshmallows.. and chuck them at him when he walks out the door"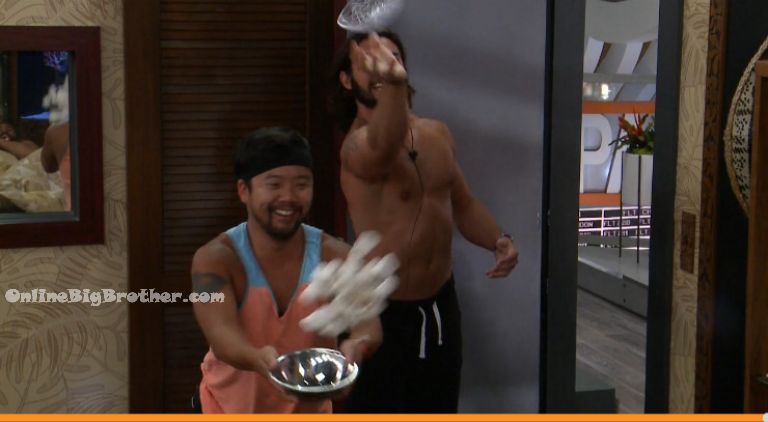 They Attack!!!
Marshmallow war in the HOH #BB18 @DawgsBigBrother pic.twitter.com/bw0wCVwch7

— OnlineBigBrother.com (@bigbspoilers) July 30, 2016
Nicole ambushed by marshmallows #BB18 @DawgsBigBrother pic.twitter.com/Lk1NOcrj69

— OnlineBigBrother.com (@bigbspoilers) July 30, 2016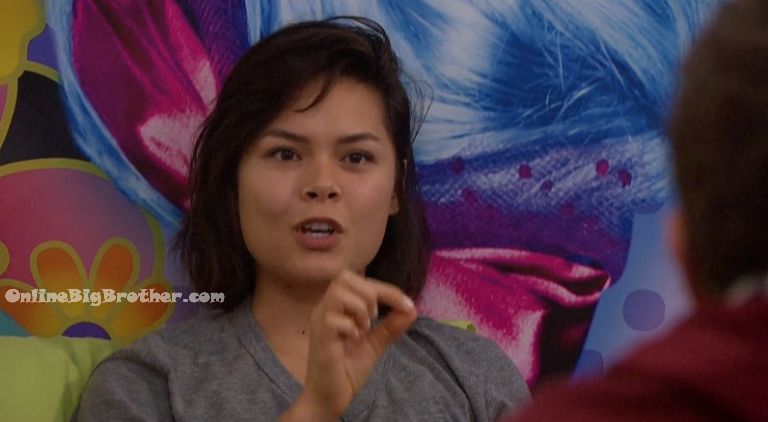 11:25am Bridgette and Corey
Bridgette she knows Da'Vonne is throwing Nicole's name out.
Bridgete knows Da'Vonne wants her out.
Corey – she's got something coming
Bridgette – I know
Corey – I'm excited about this week
Bridgette – me too.. AS long as Paul has the balls
Corey – he will i'm pushing him hard, Me and Paulie both sat down with him.. were like bro you know we get it it's your HOH theres a bigger picture here.
Corey – She was mad me and Nicole like you and Frank
Bridgette – i'm f***g likable..
Corey – whats wrong with them
Bridgette saying she's cool with Nicole. Brings up a conversation she had with Da'Vonne out by the Jacuzzi where they were talking about the girls in the house and all these rumours getting thrown about, "That's when I started talking to Zakiyah and Michelle trying to get to the bottom of it, I'm chill with Nicole but hte other two I've been really uneasy about"
Bridgette – we ended the conversation with look I deal with bullies.. and the bullied there shouldn't be any bullying in the house and I"m (da'Vonne) going to get to the bottom of this you don't have to worry i'm on you side about this yadda yadda yadda"
Bridgette – and I find out from Natalie that instead of saying that to the house she came back in and was like gave that girl a piece of my mind I put her in her place yadda yadda (Da is sloppy)
Bridgette – I'm like FU** are you kidding me.. she legit gave me a hug and was like I'm going to get to the bottom of this you can trust me.. and then she said sye made the comment you need to make people forget you were friends with Frank
Corey – Most the house likes Frank
Bridgette – right
Corey explains Frank just over played
Bridgette – he was everywhere.. I know .. he knows it..
Corey – we all still love him for it.
Bridgette says she talked to Frank about what she said and he told her Da'Vonne wants her to stop targeting Da'vonne's side and removing Frank will help with that.
Bridgette says Da'Vonne is smart, "She said better not put me up if you win HOH.. she said that.. i was like as if I just forgot the last 3 weeks.. it's fine"
Bridgette says any of those girls she doesn't feel safe at all, "Natalie I love her to death I feel like I can trust her but she really doesn't play the game:"
Bridgette says Only Nicole and Natalie are nice to her, "I don't know what happened about the rest.. i'll try and fix it.. hehehehehe"
11:51am Feeds down for POV

[polldaddy poll=9485811]
[polldaddy poll=9485817]