Quick Big Brother Spoilers
Head of Household:  Turner
Nominees: Taylor and Brittany
POV Players: Turner, Taylor, Brittany, Alyssa, Monte, Michael
POV Winner:
Veto Ceremony:
Havenots: 
Lock your ranks in before midnight
PICKED Veto Players:
Turner, Taylor, Brittany, Alyssa, Monte, Michael
Veto Host:
Terrance

1:53pm – 2:10pm The live feeds return from being blocked for the veto player pick. Alyssa – I think I am the only person… maybe Brittany too who hasn't hosted anything. Terrance is the Host of the veto. They talk about how its freezing the the house today. Kyle – I've played in my fair share so yeah.. (Kyle isn't playing in the veto). Alyssa – I'm excited to play in it.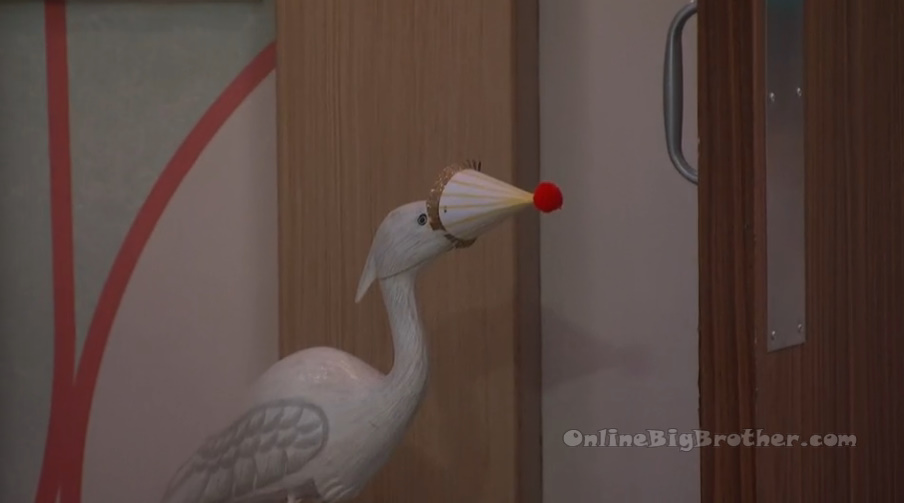 2:22pm Bathroom – Alyssa and Brittany.
Alyssa – odds are I probably won't win but if I do we can talk. Brittany – Tuner told me that under no circumstance am I going home this week. I don't know what his plan is. I think its Monte or Michael. Alyssa – probably, that would make more sense. Brittany – I wonder what it (veto) could be? I wonder if its going to be, I just don't know. Alyssa – I know and they're trying to keep them up so it has to be soon. Zing-bot is going to come busting through the door any minute. Brittany – and you would think they would want the more day light the better.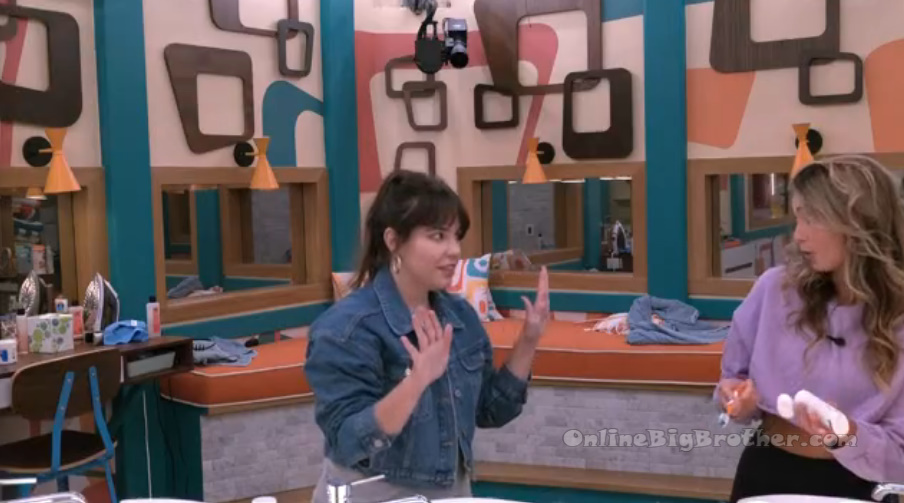 2:35pm HOH room – Kyle and Monte.
Kyle – how are you feeling? Monte – I just want to knuckle up. I want to at least prove that I can beat Michael once. Kyle – Bro, yeah! He hasn't lost a veto really. Monte – and that one to Brittany .. he didn't lose that. I just want to knuckle up and give it the best go. Turner is in it too so there might be a chance that he. Kyle – Taylor, Turner Brittany, Alyssa ..everyone if they win its the best case scenario. Monte – because they're going to take themselves down if its Taylor or Brittany. Turner or me win.. I think the whole house is recognizing it. (Michael is the target)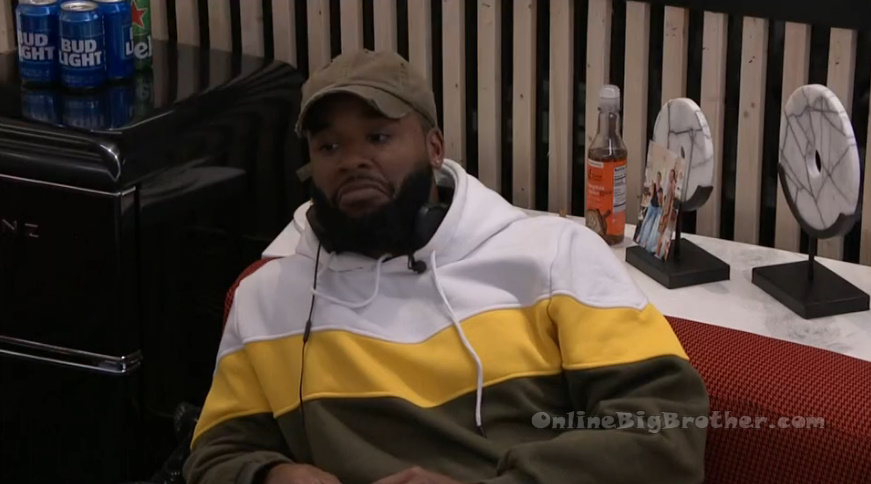 2:40pm Living room – Taylor and Terrance.
Taylor – do you think I should be scared? Terrance – I don't think you should be scared but I think you should try to win. I think its important. A lot of things could shift if you do. Taylor – do you want them to shift? Terrance – they should shift. That is all I am going to tell you. In my opinion. Even though I don't really have a big one here. They should shift. And if you win a lot of things would probably change in this house. Taylor – Okay well that is always the case.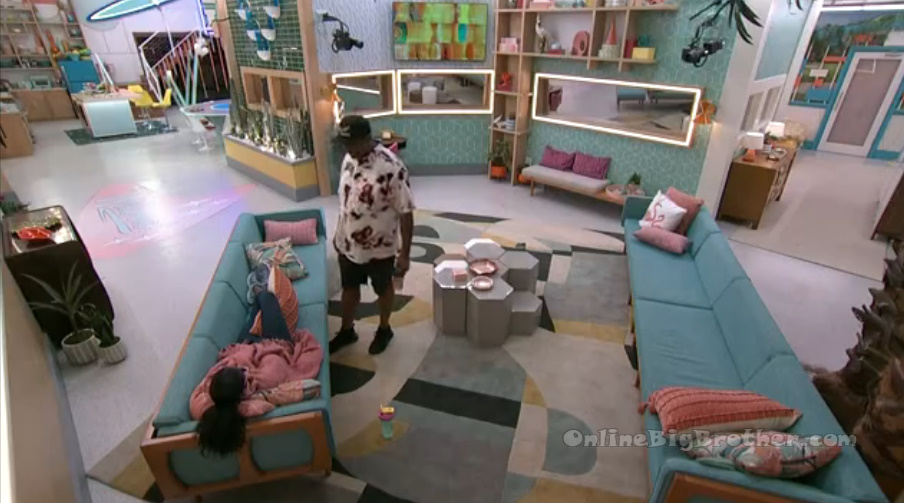 HOH room – Michael, Monte and Kyle are chatting about random things like past seasons of big Brother. The house guests are waiting around for the veto to start.
3:40pm Bedroom – Terrance is talking to the cameras about his wife.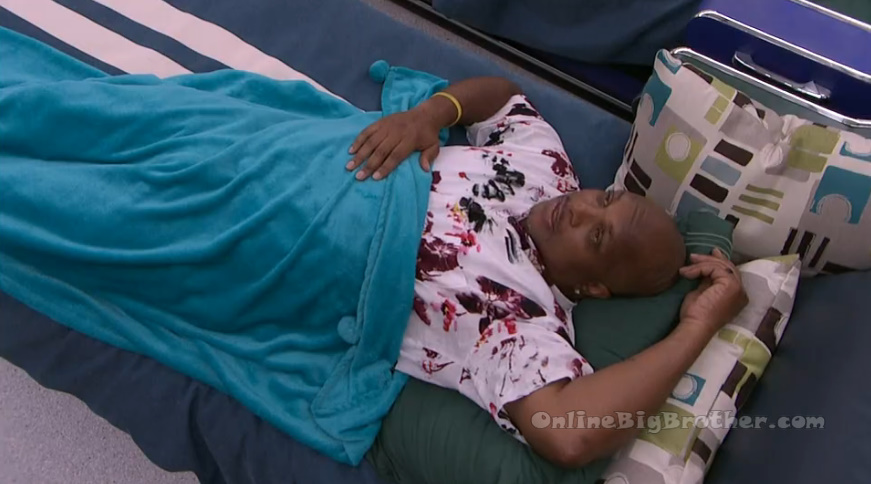 4:04pm HOH room – Turner and Kyle.
Kyle – BRO what if Michael clutches this veto! Turner – I will be just… my jaw will hit the floor. Granted we have someone that we can take out anyway.. that will just be what are the odds bro. Kyle – That will be some sh*t.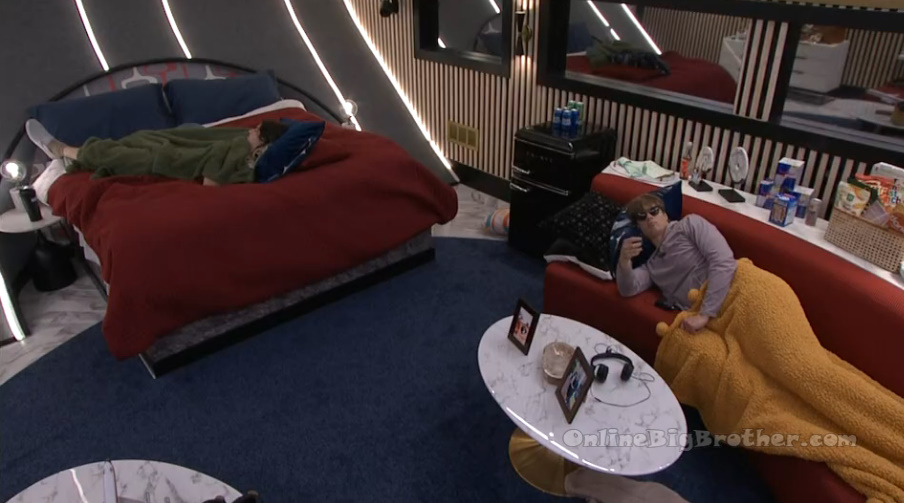 4:30pm Michael is laser focused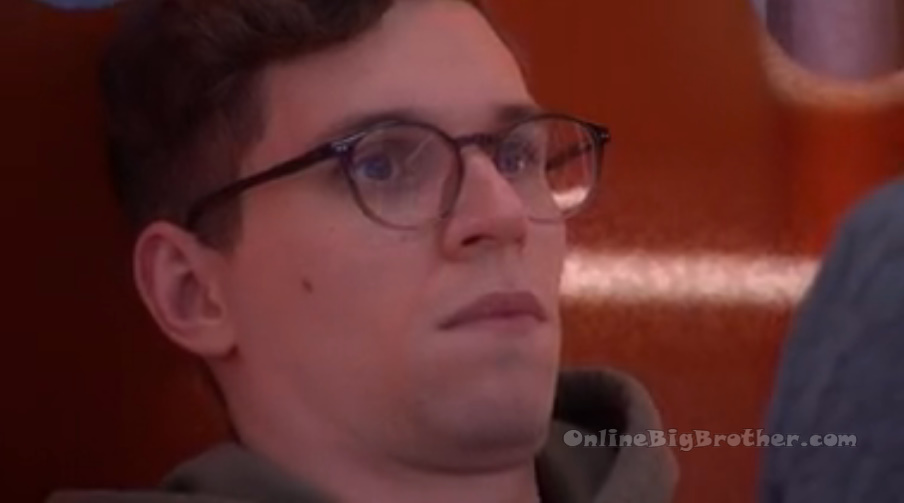 4:45pm Havenot room – Kyle and Alyssa.
Alyssa – if its Monte and Taylor on the block .. you really think we should vote out Monte? Kyle – not necessarily. I am open to whatever. Alyssa – I just have a really bad gut feeling that we would be his (Monte's) next option. Kyle – for sure. I think I was kind of getting that feeling too.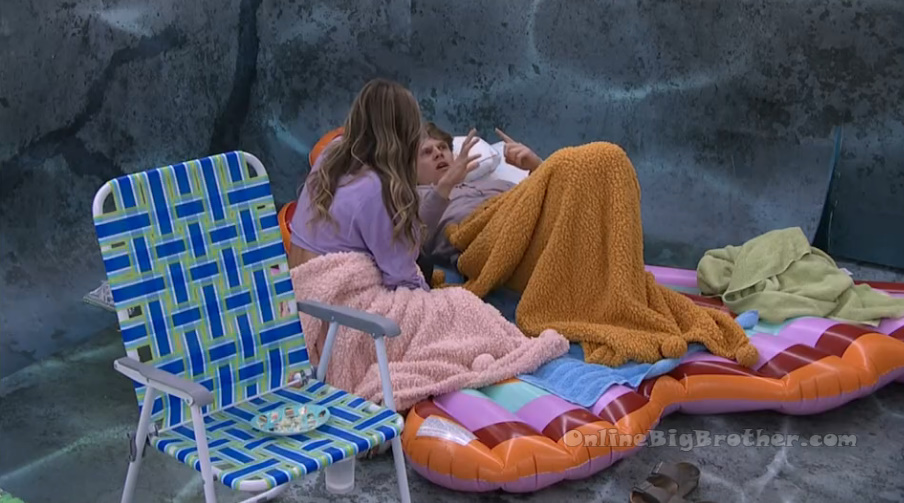 4:55pm – 5:45pm Bedroom – Brittany and Michael.
Michael – Turner was like maybe we can all talk before or after the veto when the four of us were up in the HOH room. Like they're not even trying. It will just be that much more satisfying when I win the veto… and those two go up. If I stay and I win HOH.. I am literally celebrating and acting a fool and being like Kyle and Turner pack your bags. Like you have nothing to say to me .. save your breath. Rest up for the veto. Brittany – yes, same exact. Michael – he came up to me and said that we were good this week. He was the one that said to me its Terrance and Alyssa without me saying anything. Like you (Turner) opened up all these conversations .. like you didn't have to. You brought all that which is unnecessary. Brittany – he just didn't have to do it like that. Michael – I think its me or Monte for sure. He didn't have to do it that way. Michael – and I get if there is a backdoor plan you don't want to reveal it but you can still treat us like people. Like talk to us and hang out. Brittany – things can change. Michael – he is just not going to use his HOH to take out Terrance or Alyssa. Brittany – no. Brittany tells Michael about how Taylor was just crying about Joseph because she thinks she really liked him and she is confused if he really said all that stuff. Michael – I don't know if he did or didn't. I am sure he said some stuff to try and save himself. Brittany leaves. Michael lays in silence. Brittany later returns. Brittany – I just want to know what the rules are. (Hide the Veto) Michael – I am assuming it has to be somewhere you can get it out from. Like behind the fridge. Or some rule about how high it can be. What were you thinking? Brittany – I would love to put it in the upper slotted cabinets in the kitchen. Or underneath rocks in the cactus thing. Or in the box on top of the dresser in the hallway. I don't know if this is possible or not. I have my sticky bra tape .. I want to stick it behind the squares in the bed room. Michael – that's a good one. I would like it to be the one with the giant dice. Brittany – oh that is a good one. There are so many good ones.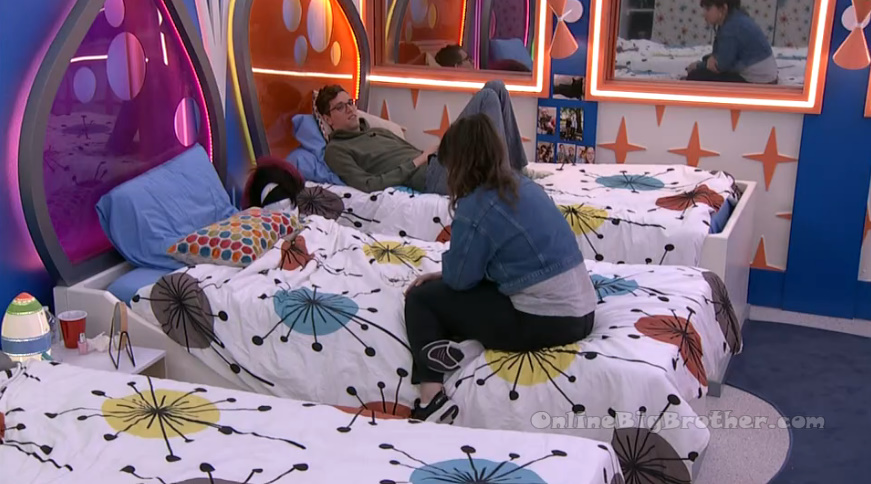 6:10pm Bedroom – Brittany and Michael.
Brittany – Kyle.. Michael – Yeah he dropped us real quick! Brittany – yeah. Michael – as soon as he didn't feel like he needed us.. Brittany – I guess so! Michael – its all about how you make people feel. Brittany – right!? Michael – they will realize they made a mistake. Brittany – yeah. Michael – its called Karma. Brittany – I know the girls distrusted me and they weren't going to have my back but I also feel like I did a lot of dirty work for people. Brittany – who would you want to go first.. Turner or Kyle? Michael – Kyle, he's better at competitions. Brittany – Turners won 2 HOH's. Michael – he's won two vetos and name one competition he hasn't been good at. Brittany – yeah. Michael – like he is always right there. Brittany – plus getting rid of Kyle hurts Turner and Alyssa.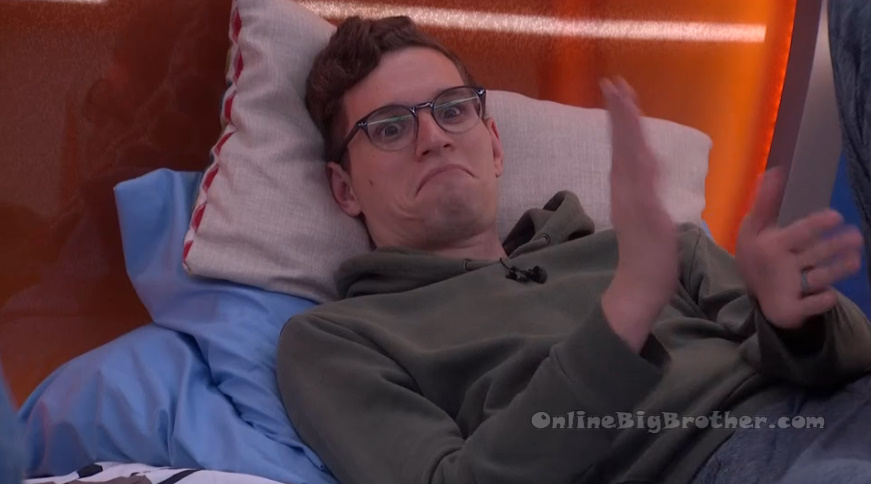 6:47pm – 7:04pm Bedroom – Alyssa and Brittany.
Brittany – I think I maybe am the worst woman in America. Alyssa – no. Brittany – yeah. Alyssa – no freaking way. And whatever happens with this veto we need to get together and talk about how to move forward because something is going to happen this week and someone is going to go home.. and we have to move forward. You will be here no matter what. Brittany – that's what Turner tells me. Alyssa – that's what he tells me too. I don't know who to trust anymore but why say it if its not your intent. Brittany – I know but he also said I was really good before going on the block too so.. I don't know what is going to happen.. but I know Michael needs to win the veto. Alyssa – he can win the veto. Brittany – If there is one thing that man can do. Brittany – there is one other thing that Michael and we're really struggling with who we tell because it crosses the line that impacts outside this house. Big Brother switches the feeds..
7:30pm Feeds switch to kitten cams… The veto has now FINALLY started..
Without reader support this site and these spoilers wouldn't be possible.
Please consider a donation to keep the madness going.
Any amount is greatly appreciated!