POV Holder:
Next POV
Aug 1st
POV Used
?
POV Ceremony
Aug 2nd
HOH
James
Next HOH
Aug 6th
Original Nominations:
Shelli and Clay
Current Nominations:
?
Have Nots
Austin, Liz, Julia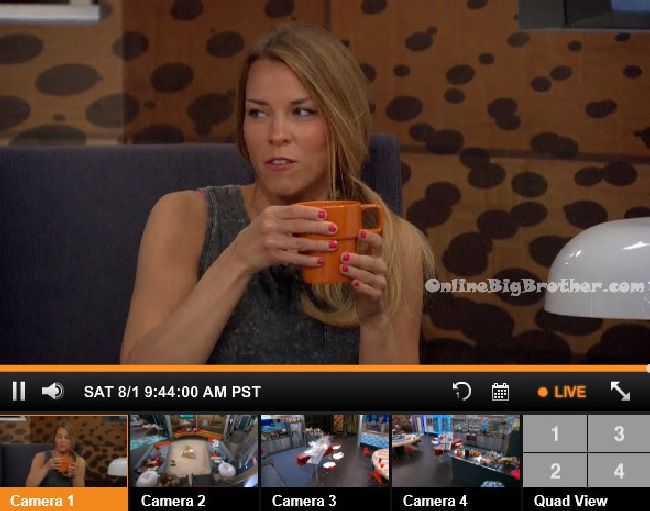 TRY the Big Brother 17 Live Feeds FREE for 1 WEEK:
Click here to ensure your live feed subscription supports OnlineBigBrother.com at no extra cost to you.
8:15am – 10am
Big Brother wakes up the house guests. Big Brother tells the house guests remember to enjoy yourself today, these are the good ol' days. Shelli and Meg shower and get ready for the day. Shelli joins Johnny Mac in the living room and sits in the one of the nomination chairs. Shelli says You know I've kept myself from ever sitting in these chairs but I guess its about time I get comfortable. Check out things from this view. Johnny Mac says its ahhh…an experience.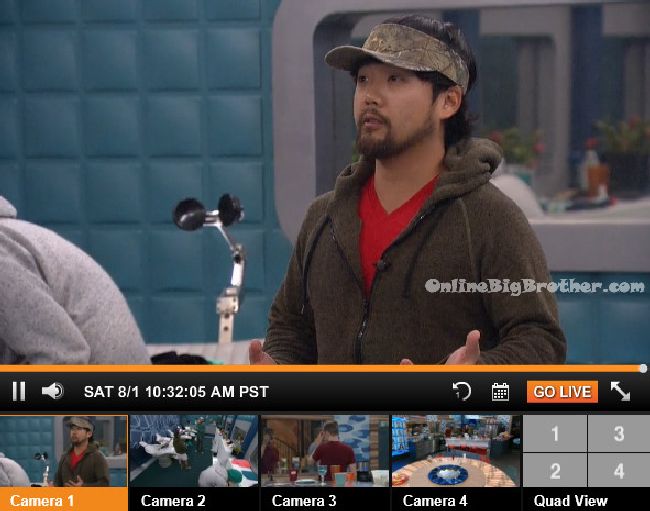 10am – 10:30am
Big Brother blocks the feeds for the picking of the Power of Veto Players.
Power Of Veto Players: James, Shelli, Clay, Jackie, Becky, Vanessa
Host: JULIA

10:30am In the havenot room. James got house guest choice and is in the havenot room apologizing to Austin for not picking him. James says I wanted to pick you but Clay was going to pick you and if I did it would look a little obvious. Austin says yeah I thought that too. Okay that's fine. Either way I was going to keep it the same. James tells Vanessa you just win and do what you do! Vanessa says if its a physical one I'll just do what I do and lose. James tells Austin they're still going to come to you for votes but if I had picked you they would have come to you for votes. Whatever happens, happens. We have a good team out there. Jackie's physical and Vanessa is a brain. James says me and Jackie are pretty tough. Today might be my day. Austin says either way you have my vote. I'm not going to let them come after you. I just want to get to jury. James says oh yeah you'll get there don't worry. James leaves.
Bedroom – Shelli talks to Clay. Shelli tells Clay that James is back there talking and Vanessa just walked out. Clay says I'm not trusting anybody! Shelli says Vanessa has to worry about getting backdoored so.. Shelli says I heard Austin's voice.. James said and they picked you. Clay says either way we have 3 on our side. Shelli says that Becky won't try to win it. Its pretty fair Vanessa got picked on our side and Jackie got picked on their side. Austin comes out and says that he thought James was going to pick me but he doesn't know where I stand. Sorry guys.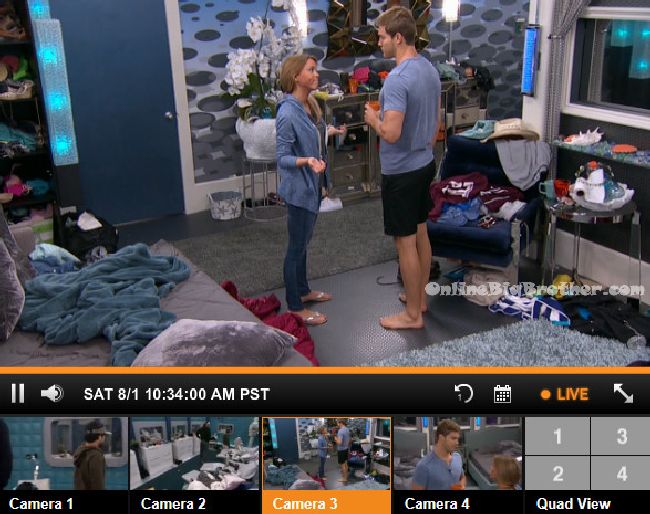 Bathroom – Vanessa tells Jackie to do the best she can. She says I think its going to be the one with the prizes.
10:50pm Steve talks to the camera and tells us that last night when he talked to Shelli and Clay about the story of Big Brother 12 with Brendon & Rachel on the block he changed the story to suit his needs so they wouldn't pick him to play in the veto comp. He says he knows Annie wasn't picked to play.
In the bathroom – Clay tells Vanessa that Becky isn't going to try to win it so its us three (Clay, Shelli, Vanessa) against those two (James and Jackie).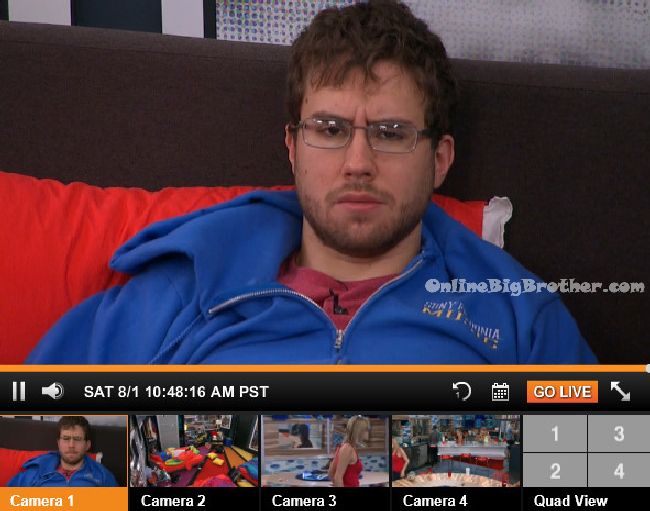 Vanessa tells Austin see how the lines are drawn. He didn't pick you. Vanessa says come on man you're not a dumba$$. you're his backup though. Austin says backup to go or for to make sure one of them goes. Vanessa says I actually think you're good. I have a lot to talk to you about. We're actually not sitting that bad. Austin says I just want to know if he is going to pull something and try and take me out? Vanessa says no, but next week you're free. Austin says I'm just trying to get to next week. Vanessa says you need to fake a fight between you and the twins or Shelli and Clay. Think about it he (James) needs to see a division. Think if you're replaced with Johnny Mac. There's a chance we could keep our whole 6 and Johnny Mac could go home.
10:55am – 11:05am HOH room – Austin comes up to the HOH room and tells James that Clay is pissing him off. He keep saying that James is coming after me. He keeps telling me you need to do this, you need to do this. You need to give me support. James says I promise you man I'm not going to do that. Austin says he just needs to stop. He says he never talked bad about the twins. I just don't buy it because who else would he throw under the bus to keep himself safe. He has to. There's no one else he could have thrown under the bus. James says wow man I can't believe he… Austin says don't say anything. James says I won't, I don't care about that any more. Austin says I'm at the point where I want to say stop! He keeps giving me looks acting like I'm the traitor. WHat did I do to you. If he was up there against one of the twins I wouldn't pick him to stay. He is almost like you're working with James now. I'm just trying to keep myself safe. Why can't he get mad at Johnny Mac. Everyone is fine but him. James says that even Vanessa isn't upset. James says one of us just need to win the veto and seal the deal. James says I've been Clay every time I've gone up against him. Worst case even if one of them does win the veto ..one of them still goes home.
James says What pisses me of is that Clay came here to play for himself and they got into a showmance .. she wants him to use it on her and he's down with it. I'm like come on man! If he wins it and tries to use it on her I'm going to be straight up and be like "Clay you're a freaking ret@rd man and straight up Shelli you better be marrying this guy when you get out! Because if you not and you're just bullsh*tting him to get a little further… " Austin says she hasn't even kissed him. Come on at least get a kiss for all that sh*t! James says my family would kick my a$$! Clay is just so blinded. But if really loves her.. I don't know man.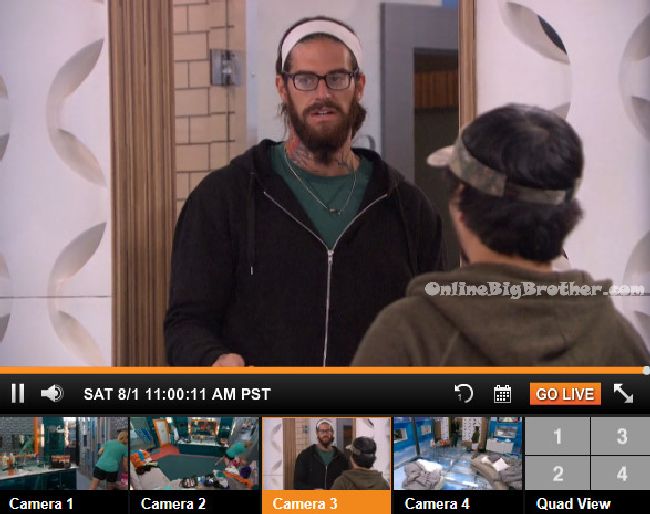 11:15am Vanessa tells Austin that Shelli and Clay have his back and now one of them is going to go home even though they're the ones who saved him. Vanessa says James is lying about Clay and Shelli to get them to split up. Austin tells Vanessa he doesn't trust James and he's just staying on his good side so he doesn't go up this week. Vanessa tells Austin that she took a bath in blood to keep him. Austin says I'm not going to do anything to hurt you. Austin says he's learned his lesson after last week and won't go up to the HOH room without Vanessa.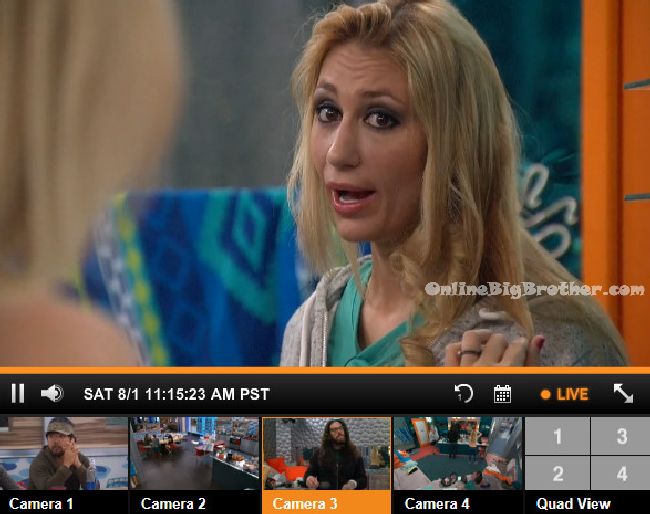 11:20am – 11:30am HOH room – Jackie, Becky and James talk about their strategy if its the Veto with prizes where you can steal what others have won. They all agree to take the veto over prizes. Jackie asks what is Vanessa going to do. James says that Vanessa said she is going to keep the noms the same. James says that if Vanessa take the 5K I would throw her a$$ up. Na just kidding. James says we have the votes to get whoever we want out. Becky says no matter what one of them is going home. They have to decide which one is going. This veto doesn't save two people. Even if I won it and use it .. one of them still goes home. It doesn't change anything. What would I say to them. James says just tell them you have to look out for your game. James says that Clay is already telling lies about Austin. So if he stays and Austin wins HOH he has a reason to go after him. James says for anyone's game its best to take out one of them.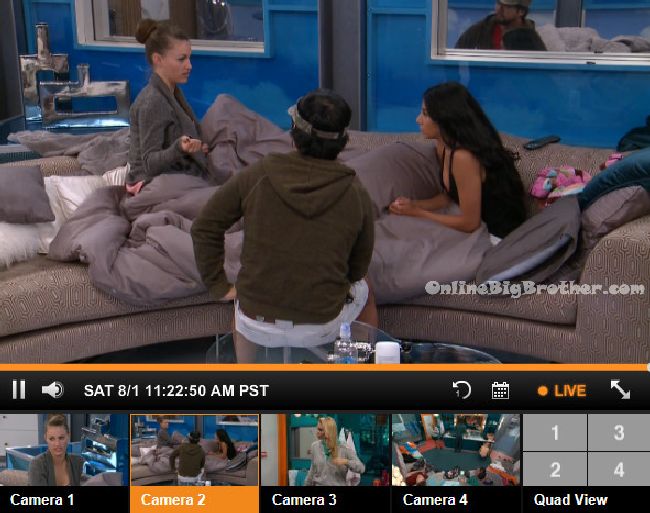 Julia scared by the camera's behind the mirror @bigbspoilers #bb17 pic.twitter.com/p6HAzHaiAy

— Dawg (@DawgsBigBrother) August 1, 2015
12pm – 12:10pm Bathroom – Vanessa says I am stressed right now. Why do I always have to put in these horrible positions. Self preservation leads me to having to win the veto and then I am put in a terrible terrible position. It's lose, lose. Johnny says just play for yourself and then worry about it later. Vanessa says that's good but in taking care of myself I risk my long term survival by pissing people off that I'm closest to. Johnny says do what you've got to do and worry about it later. You're going to make some friends and you're going to make some enemies. Some ones got to go each week. Vanessa says even if I win and use it on one of them.. they could put up another one of my close allies. Liz says basically the house wants you to not use it if you win it.
12:15pm Cabana room Vanessa talks to Becky about her dilemma of whether to win it or not. Becky says I'm going to go in it to win it and then I'll sit and listen to what Shelli & Clay have to say and then what James has to say. I'll base my decision off what they say. Vanessa says why do I always have to be the center of the sh*t storm. Becky says at the end of the day this is a game. We all won the day we walked in the door. Vanessa says thank you, that's what I needed to hear. Becky says this isn't hunger games people don't die. We don't banish them. They are a showmance that will be loved. They'll be on the amazing race. They will have so many opportunities when they get out. Cool sh*t happens after this.. we're losing the game and winning in the long run!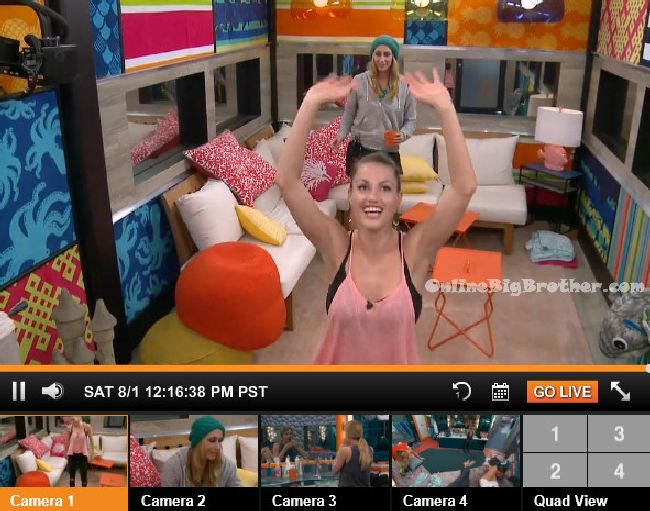 12:30pm – 12:40pm Shelli asks James asked you not to use it? Vanessa says not in so many words but that's the consensus. Shelli says he can't bully people in what to do. Vanessa says its not that. At the end of the day I can't sense what he wants to do. I'm in danger of being backdoored so I have to play to win. Shelli heads back to bed.
[polldaddy poll=9004995]