POV Holder:
Next POV
Aug 1st
POV Used
?
POV Ceremony
Aug 2nd
HOH
James
Next HOH
Aug 6th
Original Nominations:
Shelli and Clay
Current Nominations:
?
Have Nots
Austin, Liz, Julia
TRY the Big Brother 17 Live Feeds FREE for 1 WEEK:
Click here to ensure your live feed subscription supports OnlineBigBrother.com at no extra cost to you.
1am In the living room – Liz, Julia, Austin, Shelli, Meg, Vanessa, Steve and Johnny Mac are playing charades for tv shows. Breaking Bad, My Cat From Hell, To Catch a Predator, Malcolm in the Middle, Days of Our Lives, etc.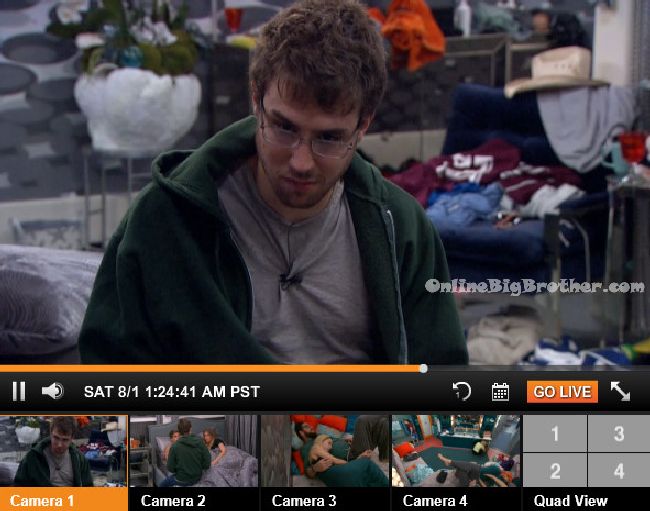 1:25am Bedroom – Steve goes to talk to Shelli and Clay. Steve says can I talk to you for a second. Just a thought so I can explain where I am to try and give you what you need. First week of big brother 12, Brenchel went up on the block. They were both close to a girl names Annie. What happened was one of them got house guest choice for the veto and picked Annie. Brendon won the veto and saved himself. People were too worried that they were too close with Annie and that she would vote to keep them. So Annie became the replacement nominee and she was the one evicted. That's why I am nervous about the house guest choice, because she was evicted for exactly that reason. For you guys not only does one of you have to come off, you have to get the right replacement nom. I think a strategy that might be worth considering is there anyone you might be able to convince James to put up or someone that you might be able to throw shade on. If you pick that person for House Guest Choice, that could be the beginning.. Big Brother blocks the feeds. Steve says if there is anyone that is riding in the middle (Becky) you could throw some shade on that very easily. Shelli says we were thinking the person we pick is someone that will help us and that people already know we're with. Steve leaves.

1:30am Vanessa tells Shelli and Clay that Steve was talking about Becky. She says that Becky would probably throw it so its actually a good idea. Shelli says it gives up more of a chance to win it. Vanessa says its a great idea, it plants the seed that you need. Shelli says she came down and told us everything. Vanessa says well if it's between her or you guys. Clay says I would rather take my chances than throw her under the bus. Clay says I would rather pick someone playing for us to win to give us a better shot at winning. Becky throwing it doesn't help us. Shelli says there's more people fighting for us to win, is less chance for James to win it. Shelli asks Vanessa if she threw that fight on purpose at the nomination ceremony. Vanessa says only if I could get in your head and make you say that statement! Which means clearly no! NO I was f**king pissed. Shelli says that people are trying to pin us against each other and its making me mad. Vanessa says picky Becky casts doubt. You're never going to get what you want without his co-operation. Shelli says there's been a divide and I just don't feel good about this group. I don't think ya'll have our back at all! I don't feel like they would vote for us, I feel like they will get swayed. I feel like there is no loyalty being shown back after what we did last week for them. I feel it, just like last night when I felt I shouldn't have made that deal with James. Vanessa says I can't help you them! I've f**king done enough!! You know what I'm f**king done here! I can't f**king do it any more!!! DON'T talk to me right now!!! Big Brother blocks the feeds.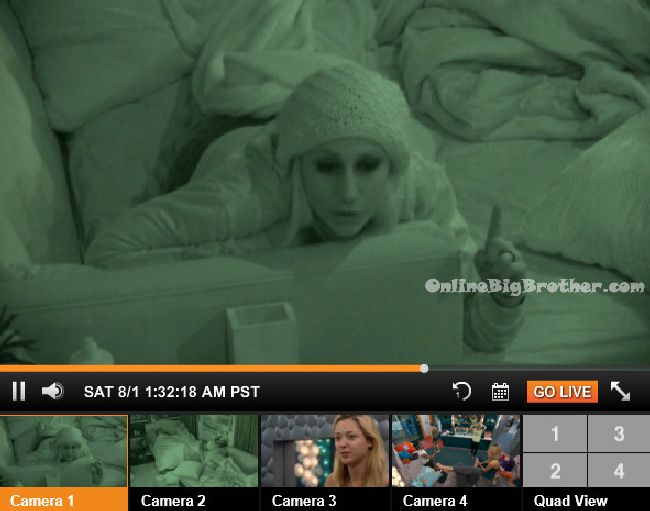 1:40am – 2am Shelli is talking to Vanessa. Shelli says Clay and I sided with Austin last week so now what are they doing. They're hanging out with Austin and the twins when they never spoke to them before. They're talking to Steve when they've been so mean to Steve. They're doing things they've never done before because they're trying to get numbers and I'm worried its going to work. They avoiding us completely. We jumped on board last week to save our alliance and now people aren't even looking at us. We flipped on this entire plan to save Austin and would they do the same for us, I don't think so. Vanessa says I am just trying to help and I am being accused of god knows what. If anything I have reasons to be mad. Not to mention you mad a deal for you two without mention of me. No one has your back as much as me and that's a fact! Vanessa says if it was one of you on the block I would vote for you to stay. Vanessa says I have to tread carefully because he could put me up as the replacement. Becky is riding the middle and getting way scot-free. Why not sell out Becky who is betraying him (James). Shelli says betraying him to help us.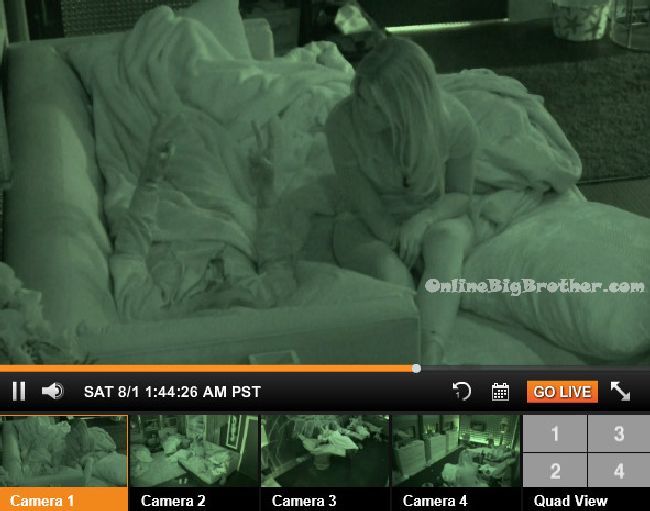 Try the Live Feeds FREE for 7 DAYS! Click here for your: FREE Trial
2:20am HOH room – Becky and Jackie are talking. Becky says this is the first week we can really feel safe about not going up. Jackie says the thing is if she (Shelli) wins veto and stays I feel like she is going to put up me and James. Becky says I think the best thing is for James to keep building relationships with Austin and the twins. Jackie says yeah he is doing that. Becky says at least its pre-jury. At least James won't have to face the wrath of two and its only one in jury now. Becky says one of them will go home on Thursday and then next week will probably be double eviction. We just have to be super smart about target eviction. Big Brother switches cameras.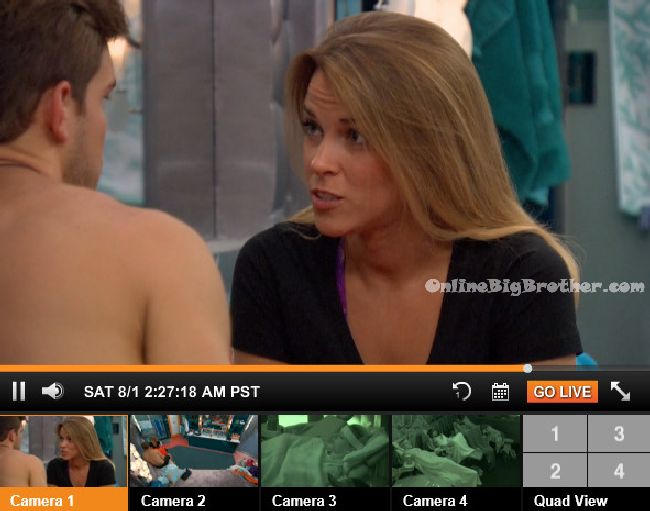 2:30am – 3am Shelli says I have no problem getting Austin as the replacement. If one of us wins the veto we go up and tell James about all the occasions that Austin threw James under the bus. Austin is in no way repaying us for saving him. Clay says what if someone win but us? Shelli says then this won't work. I just need to think about options that give us hope. Shelli says this won't work unless one of us holds the power. Shelli tells that Vanessa is on our side You need to stop with the emotions because he is making people mad. Stop it! You can't burn bridges right now. Shelli tells Vanessa if one of us wins then any deal we spin with him we will bring you up there with us. Vanessa says You understand I am just saying what I need to, to him. Next week he can't play for HOH. I know where the lines are drawn, I'm not a dumba$$. I'm a loyal f**king person but at the end of the day I'm not a doormat! If you want to pick me for house guest choice I'm okay with that. Shelli says but you think they'll come to you with a deal? Vanessa says of course. Clay says I can't lose my peach! Vanessa says you have to understand I'm losing someone too. Shelli says if you play and win you could save one of us and you're safe. Vanessa says you pick me and I will play as hard as I can to win. They consider other options for house guest choice if in the unlikely chance they both got it. Vanessa tells them to pick Austin. He is loyal and doesn't want to get backdoored. Vanessa heads back to bed. Clay says lets just leave it up to fate. Clay and Shelli head to bed.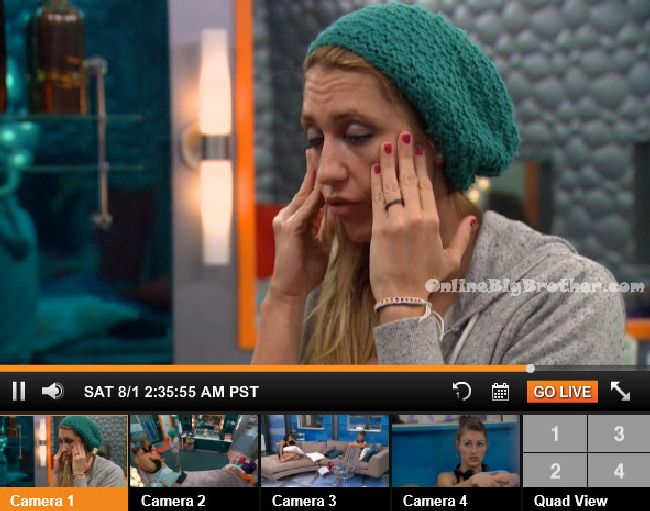 3am HOH room – Becky and Jackie see Clay walk by on the spy screen. Becky says too bad, he does look good with his shirt off. Jackie says I know, he's adorable. I feel bad. I hope he stays. I really don't want him to give up his game for her. Becky says I don't think he will. They bicker a lot! I mean I guess Brendon and Rachel did anyway. Becky says I wonder if they would figure out that Shelli is a more risk at going out. Jackie says she would probably figure it out because she's won more than him. James joins them. Jackie says I can just picture one of them (Shelli & Clay) picking me (to play in the veto) and hating their life. James says Clay is going to pick Austin. How crazy is that!? Jackie asks but what if you get it first? James says I'm picking Austin. But that would be weird. Clay would be like what the hell. Jackie and Becky head to bed.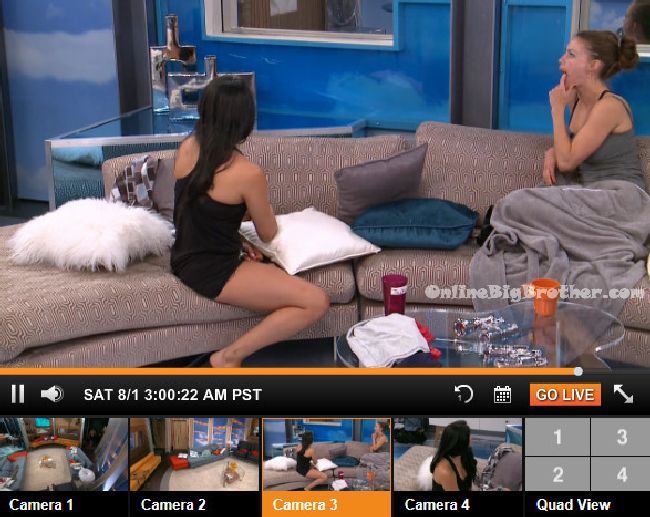 3:20am All the house guests are sleeping..
8am – 10am Big Brother wakes up the house guests. Meg, Shelli, Jackie, James get ready and go back to bed. Everyone but Johnny Mac are back sleeping..
10am Big Brother blocks the feeds for the picking of the veto players.
[polldaddy poll=9004995]