POV Holder:
Frankie
Next POV
Sept 6th
POV Used
No
POV Ceremony
Sept 7th
HOH Winner
Frankie
Next HOH
Sept 10th
Nominations:
Cody and Victoria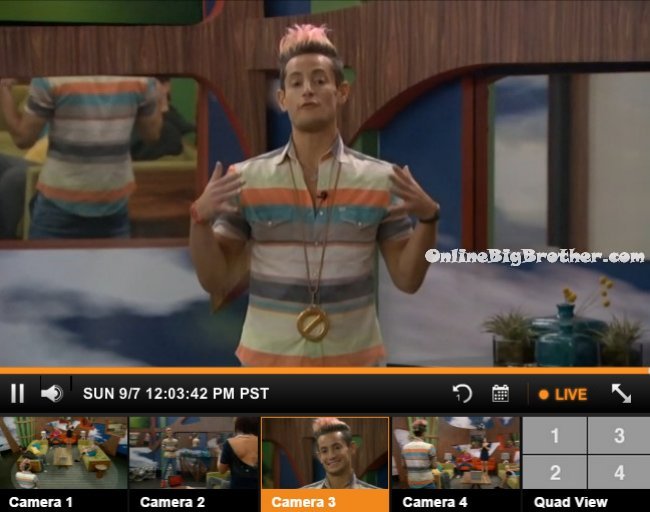 11:20am – 12pm Big Brother blocks the live feeds for the power of veto meeting to take place.
12pm LIVE FEED LEAK OF THE VETO CEREMONY – The live feeds come back during the veto ceremony. Frankie says Cody and Victoria you have been nominated for eviction this week but I have the power to veto one of those nominations. Now I would like to give you the chance to tell me why I should use the veto to save you. Cody you go first!
WATCH the next 48 hours for FREE – Big Brother 16 Live Feed TRIAL!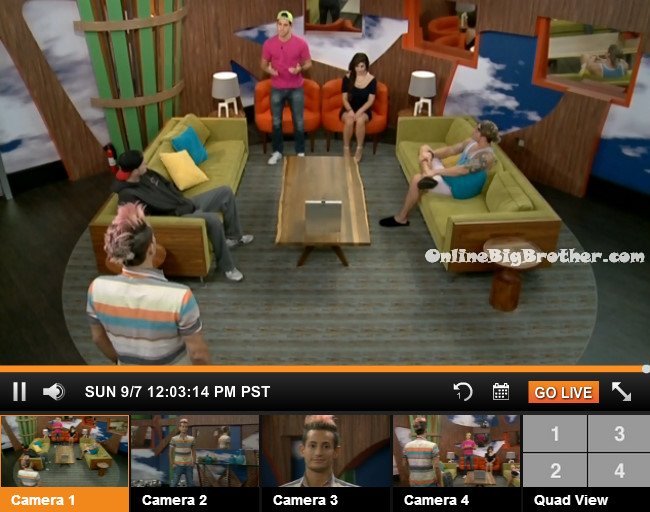 Cody's speech: You know this is an amazing game, I love being a part of it and I would love to come off the block and be safe this week but honestly looking out at the replacement nominees. These are two of my best friends in the game and I would not want to see one of them sitting in my spot. Umm.. I would love for you to use the veto on me man but I know you've earned it. You put us up here and I think its only fair that you keep the nominations the same. I don't expect you to use it but I would really appreciate it if you do.
Frankie says Victoria now its your turn to speak.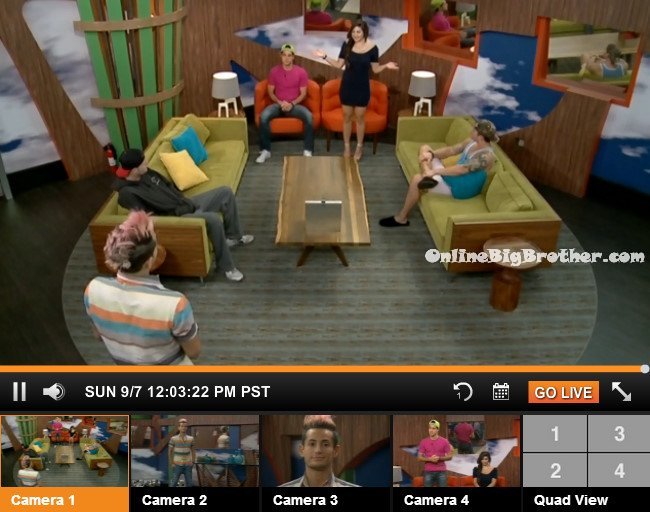 Victoria's speech: First I want to say congrats that we made top 5 and I'm very grateful that I'm the last girl standing with you guys. You guys are like my older brothers. We're like family and I don't expect you to use the veto on me. You won it fair and square and I'm very happy for you and I wish me and Cody the best of luck. It is with a very heavy heart that I've decided not to use the power of veto.
Frankie's veto speech: Frankie says I've wielded a tremendous amount of power in this game and never more than this week. But there comes a time in this game when there are just too few people and too little power to keep everyone that I love and everyone that I trust safe. Big Brother blocks the feeds again.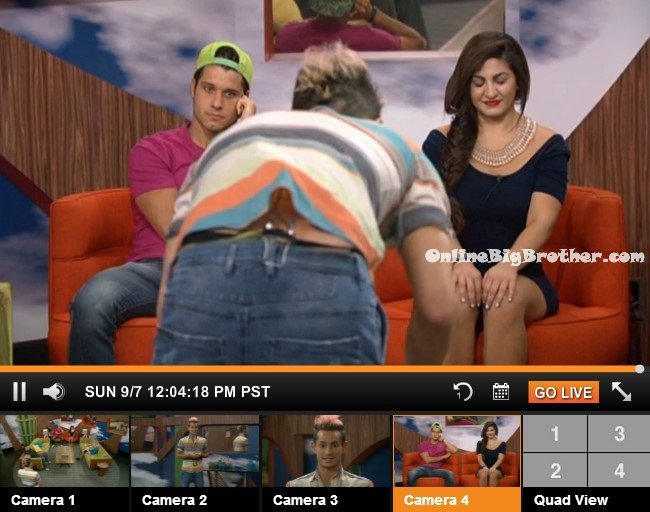 One way to support this site that doesn't cost you anything extra is making your
Amazon purchases through the links Below
For in Canada use the following link:
Amazon.ca
12:08pm In the fire room – Victoria is crying. Meanwhile in the havenot room – Frankie, Derrick, Cody and Derrick speculate on what the reset button twist means. Derrick says that he thinks all the mirrors means something to do with reflecting on your game. Frankie says the fact that it ends at 5:30pm on Wednesday during episode time I think we have a live show that night. Cody says there could be a eviction on Wednesday and another on Thursday. Caleb says the fact that the word game is spelled right side up and upside down it could mean your game is turned upside down or remains the same. Meanwhile
12:30pm – 1pm Derrick, Caleb and Cody head up to the HOH room to talk. Caleb explains how Frankie got nervous last night when I said if I get home and find out people were talking sh*t about me in the diary room I would delete their phone number. He tried to justify that everyone talks sh*t in the diary room. Caleb says he is definitely talking sh*t about us. They talk about how many competitions Frankie has won. Derrick says that Frankie is definitely coming back for all-stars. Cody says looking back on Frankie's game he hasn't been a competition beast until now he's gotten lucky. Derrick says one of us has to win the HOH and then if we win the veto he (Frankie) is going. They agree that if Frankie pull a shiesty move and we wouldn't vote for him in the end. Derrick wonders if he reset button brings the Battle of the Block back and then Cody & Victoria have to compete against me and Caleb. Caleb says that wouldn't be fair to not be able to compete in the veto. Derrick says and you know what they would say … you pushed the button. Cody says but that would be predictable. Derrick says and Frankie needs to be worried too because in the BOB the HOH isn't safe. Cody says I just don't get why today we had the veto meeting. Expect the unexpected. Frankie joins them. Caleb says whatever it is, it ain't changing. It's set in stone. If its a game changer and it gets one of us sent home .. its just a game. Derrick, Frankie and Cody head down to the kitchen to make something to eat.
1:15pm In the kitchen – Frankie asks Derrick we should give her a little hope right? Derrick says she could be staying and one of us could be going home. Frankie says its very possible. Frankie says he thinks his one idea is possible that big brother changed the veto day to today to increase live feed subscriptions. People could be mad that they bought the feeds just to watch on Sunday and all we do is sleep. Cody and Victoria join them. Frankie tells the others that production told him in the diary room before the veto ceremony that it was going to be live. (So it wasn't a live feed leak it was intentionally aired on the live feeds.)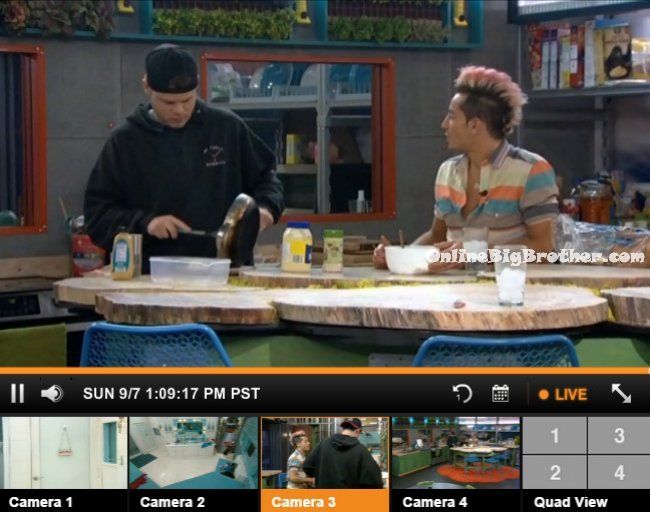 Caleb asks name one person that have ever won America's Favorite and has only won 1 competition. Cody says Jeff hasn't won much and he won. Just because you call yourself Beast Mode Cowboy doesn't mean people love you. Caleb flexes his American tattoo and says American made. Cody flexes and show his chinese symbols. Caleb asks what's that?! Cody says it means family. Caleb says let me see your barb-wire. That's what I really like Cody rushes at Caleb and Caleb goes to grab the fork but misses. He says if I had grabbed it I would have stuck it in your jugular. Caleb asks Cody if he's got a staring problem. Caleb says I'll hit you so hard my fist will show up on your drivers licence. Cody says cops wouldn't like that one! Cody gets ready to run in the backyard. Victoria asks Derrick if he's going to come nap. Derrick says yes.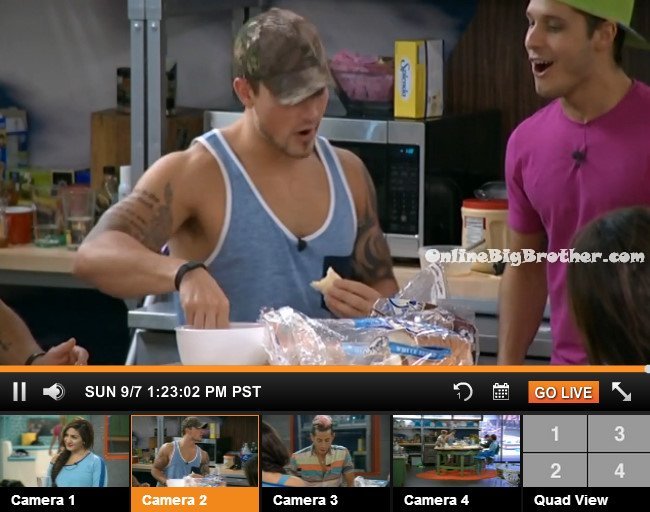 One way to support this site that doesn't cost you anything extra is making your
Amazon purchases through the links Below
For in Canada use the following link:
Amazon.ca