POV Holder:
JohnnyMac
Next POV
July 11th
POV Used
?
POV Ceremony
July 13th
HOH Winner Team 1:
Vanessa
HOH Winner Team 2:
Austin
Nominations 1 :
James & Johnny Mac
Nominations 2:
Jason & Meg
Battle of the Block Winner
Jason and Meg
Next HOH/ Next BOB
July 16th / July17th
Original Nominations:
James & Johnny Mac
Current Nominations:
?
Have Nots
No HAve nots this week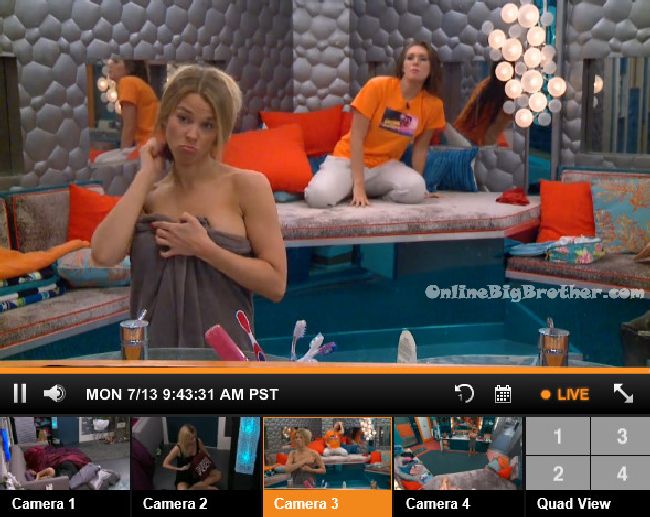 TRY the Big Brother 17 Live Feeds FREE for 1 WEEK:
Click here to ensure your live feed subscription supports OnlineBigBrother.com at no extra cost to you.
9am – 10:10am Big Brother wakes up the house guests. Julia, Shelli, Audrey, Meg are getting ready for the Veto Ceremony that will happen today. Audrey and Shelli comment on how the backyard door is locked. Audrey says maybe its locked so we don't mess it up. Shelli says I think they're setting something up. Audrey says I wonder what it could be. Shelli says its nice when its quiet like this. Audrey says I would normally agree but its judgement day. Julia comments on how maybe its a Gronk Party. They're definitely building something. Jason joins them in the kitchen to eat breakfast. Jason says Gronk says he likes winners, so what are you going to do to reward the winner?!
10:15am – 10:40am
Big Brother switches the feeds to the live feed highlights. When the feeds return. Meg says it was so sweet. It was like 5 different juices. (They had to choose a glass of juice and chug it. The winner was the one with something in their cup.) It was like a jungle juice, just no alcohol. Vanessa says that's exciting. Clay says Megs going to do a little tongue action on Gronk. Julia asks hashtag jealous! Meg you can come visit me and party before your cruise!! Jackie says Gronks family is going to love Meg. Meg says my family is not going to let me go. Just kidding. They tell her she probably gets to bring a plus one. Meg says I never win sh*t like that! Like chance sh*t like that. Meg won a free cruise on Rob Gronkowski's party ship over the next yaer that sails from Miami to Gronk's private island in the Bahammas. Clay says I really wanted to win that! That would have been cool!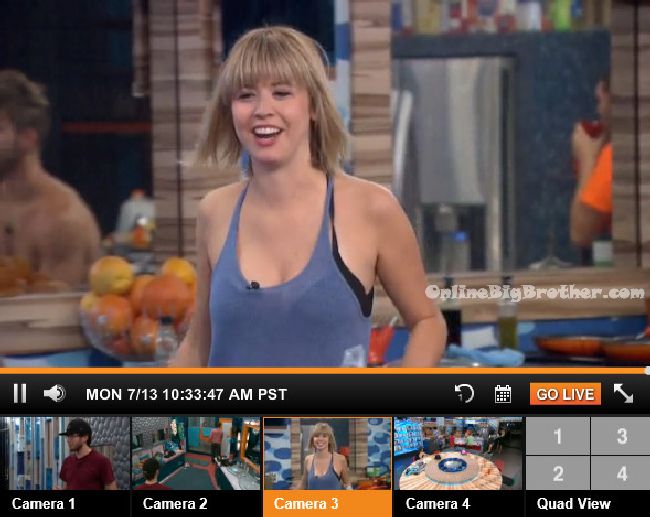 10:55am – 11am HOH room – Vanessa talks to Julia about what she will say during the Veto ceremony. Julia asks what is the compliment you're going to say? Vanessa says this person is hysterical, fun to be around, athletic, intelligent, charismatic, persuasive, and has all the ingredients to win this game which makes him a huge threat and on top of that this week I did some fact finding.. Vanessa says ugh I'm going to suck. Julia goes to get Austin to help Vanessa with her re-nom speech.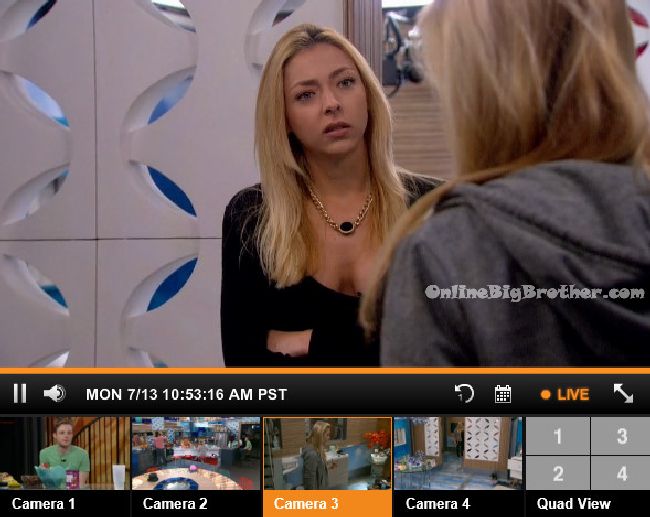 11:10am – 11:25am Jason and Johnny are in the backyard talking. Jason says it better to say what you're going to do and stick with it because then people leave you alone and stop bugging you. I still don't know what I'm going to do. Clay joins them. Johnny says if Audrey talks to me I just talk really loud so everyone can hear. Jason heads inside. Clay says I told Shelli it sucks we're loosing one of our guys but.. Johnny says he talks to much. Clay says he's in too many pockets. Johnny says my relationship with Becky .. when we talk we don't mention names. She can keep her mouth shut. She would be a good replacement. Clay says that's good to know. Clay says everybody likes her as far as you, me and Shelli. I don't think she would ever throw one of us under the bus. But yeah we'll look into that once whoever goes this week. Johnny says he just talks to much. Clay says that's why I came to you and said talk less and listen more. Clay says you can't burn any bridges because you don't know who is going to be here and who isn't.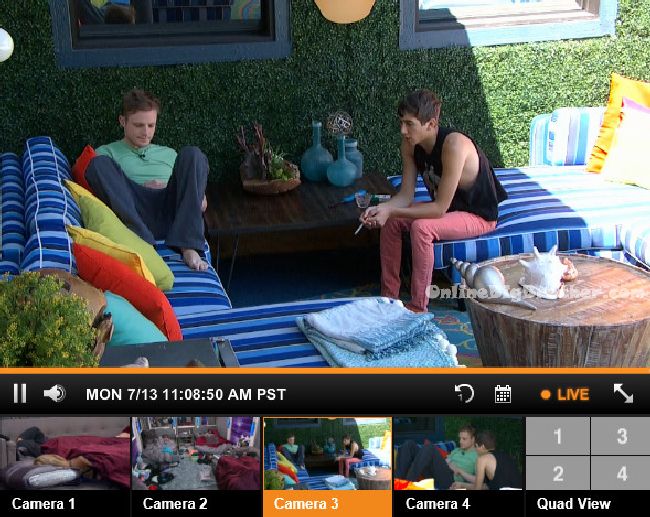 11:35am HOH room – Vanessa says I want to minimize people being pissed off. Shelli says I don't think anyone will be surprise with what you're going to do or pissed off. It's obvious you guys didn't have a good night. Vanessa says so I should take the opportunity to persuade people of the dangers of keeping someone in the game that will look you in the face in a room full of people and slander your name and let you take the fall for things for he's done. Shelli says I would try not be too harsh. Because there are people that don't want Jeff on the block. Meg, Jason and James. Shelli says its obvious that you turned on Jeff and that he is now your target. Everyone understands that Jeff is in the hot seat right now. Vanessa says last night Jeff built up this big thing on someone that betrayed me and it was Audrey. Shelli asks is that all he has?! Vanessa says I don't trust Audrey but I don't trust him more. I don't want someone who is brilliant, talented, charismatic and has no morals to remain in the game. Vanessa says if I wasn't HOH he never would have admitted it. Vanessa says he was scary in that moment. He lied in an attempt to make me become a target. Vanessa says that Jeff is implying that you started that alliance. Shelli says he is saying that I started that?! He started that! I never sent him to get other people because if he said that … that is some big a$$ bull!!! Vanessa says he was implying that you were the mastermind. Vanessa asks do you still trust Jackie? Shelli says I think I could. I think I could work on it. She doesn't talk game but that's kind of her strategy. Vanessa asks are you going to tell her you're voting her out? Shelli says yeah I would be honest about it. Clay and Austin join them. Vanessa says I am like bathing in a bath of blood. I bit the bullet for the benefit of us. Public perception it can either come off as just me or it would make me feel a whole lot better if I had 3 allies backing me. I don't want you to have this puppy dog look like you had nothing to do with it. Austin says that he apologized that it got to a blow up because I don't like fights.

12:05pm
Big Brother switches the feeds to the live feed highlights of the veto ceremony to take place.
Live Feed subscription gives you CBS All Access thousands of archived shows. Live Shows like Big Brother, all the Big Brother Seasons, and 24/7 coverage of what is happening inside the Big Brother House. Plus there's flashback that lets you go back to any second of the feeds and rewatch what happened. Simon and Dawg will index the season just watch the parts worth watching. All this for $5.99 a month try it out 1 week free. Support our efforts and get your feeds via a link on this site. Live feed subscription Sign up
[polldaddy poll=8972565]
Share it YO!!
Tweet