POV Holder:
JohnnyMac
Next POV
July 11th
POV Used
Yes
POV Ceremony
July 13th
HOH Winner Team 1:
Vanessa
HOH Winner Team 2:
Austin
Nominations 1 :
James & Johnny Mac
Nominations 2:
Jason & Meg
Battle of the Block Winner
Jason and Meg
Next HOH/ Next BOB
July 16th / July17th
Original Nominations:
James & Johnny Mac
Current Nominations:
Jeff & James
Have Nots
No HAve nots this week
TRY the Big Brother 17 Live Feeds FREE for 7 Days!:
Click here to ensure your live feed subscription supports OnlineBigBrother.com at no extra cost to you.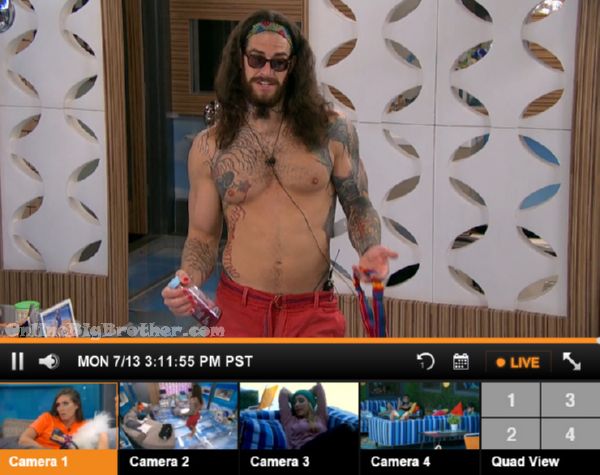 3:06pm HOH Austin, Audrey and Shelli
Talking about Jason, Meg, Jeff and James going around saying that the whole house wants Audrey out but in reality it's just them bullying the outside players.
Austin – they're trying to alienate and bully you (Audrey)
Austin says JohnnyMac's game is to lay low and throw the HOH's HE's not going to be surprised if JOhnnyMac makes it to the end. At this point nobody would use a HOH to evict him.
Audrey says she had a dream that JohnnyMAc won.
Austin says they have to remember the parties for the HOH.
Audrey suggest they spread confusion about the Gronk party orders.
Audrey is worried if JAckie and Becky won HOH they would put her up.
Austin thinks if Becky is in power she'll "Level" with him and he'll be able to get some information. Austin adds that's a tough pair for them to win HOH.
Audrey asks them if she has the votes to stay if she goes up next week. Austin says it depends who's she up against. They agree as long as she has sleeper cell votes and Liz she'll be safe.
Austin saying it's getting harder and harder to backdoor someone, If Audrey is nominated straight up it's not that terrible new she can now play in the BOB.
Austin warns them Jeff is going to go on a rampage this week. Jeff told him he's going to out a huge alliance before he goes, something that will rock the house. Austin wonder what it's going to be.
Audrey says it's the Meg, Jason, James, Jeff alliance..
They agree Jeff is using Jackie as an object
Shelli – it sucks
Audrey – It's pathological
Austin – It's degrading.. it makes me really sick.. jackie is a nice girl and she's caught up in something she has no idea
Austin brings up Jeff saying Jackie was EAsy to sleep with
Shelli suggests Austin to tell Jackie what Jeff's been saying. Austin doesn't want to says Jeff is such a salesman right now he's going to be able to twist it around and Austin will look like the bad guy.
Vanessa comes in Followed by Steve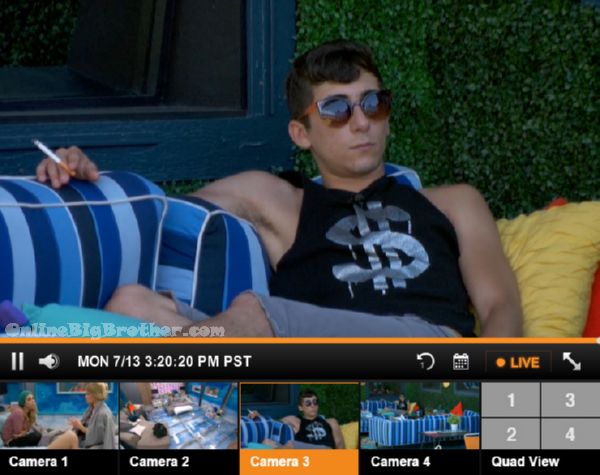 3:19pm Jason BAckyard
(Prior to this Jason was talking to Vanessa and Steve.. Sounds like JohnnyMac was also near but Jason didn't know. JohnnyMac sensitive information may have been leaked to him)
Jason talking to himself "Goddamn why didn't I notice JohnnyMac over there.. and why are steve and JOhnnyAmc on opposite sides of the yard.. Steve is the rat.. that's his game"
Jason – Please let him not hear all that
Jason starts studying..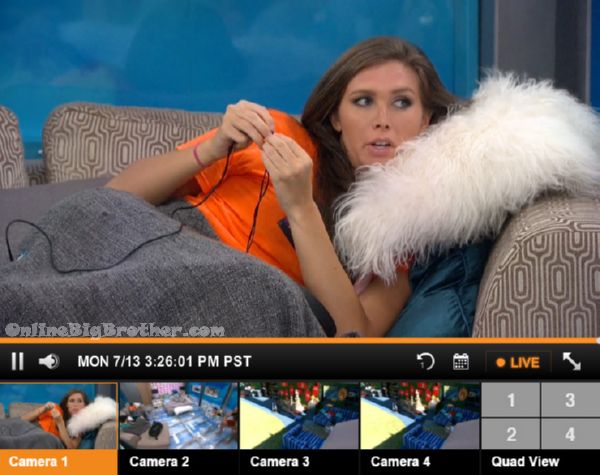 3:23pm Steve, Vanessa, Austin, Shelli, Audrey
Vanessa asks them what has been going on after the POV ceremony.
Austin says after the veto he just works out immediately he's too scared to linger around
Audrey ran up to listen to music
Shelli started doing laundry
Vanessa says John came up here and told her he's voting to keep Jeff.
Shelli – Fine.. that's fair.. I keep hearing what Jeff said about me so my vote is to keep James
Austin – Is johnnyMac being smart doing that
VAnessa doesn't think so. They agree Johnnymac is in a good position right now because he's been going with the house majority once he upsets that he might not become a target.
Shelli leaves
Austin brings up being in a moral dilemma if he should tell Jackie that Jeff has been calling her "Easy" (Among other things) .
Vanessa – that's 100% your call
Austin doesn't want it to be looked as a play to get him out.. It's a moral dilemma.
Steve wants to know what Jeff said
Austin says it was sexual, "Some nasty things… he was joking when he said them but he was serious in his bro talk.. his frat boy talk"
Steve suggests Austin say it to her in the Diary room that way she'll know it was said and on his mind but won't cause a blow up in the game.
Austin – I feel like I have to say something.. it crosses the line especially because I like her.. She's a great person.
Vanessa asks is Jason was implying he wants Jeff to go.
Austin – "to me Jason definitely is implying that but he's also implying I orchestrated this with Audrey and Vanessa"
Austin says Jeff told him this is his hurdle if he can survive this week he's going to make it far in his game because of all his connection. He wonders why Jeff would tell him that, wonders if he's trying to imply he's got the votes.
Vanessa agrees thinks that is why he was able to get JOhnnyMac's vote.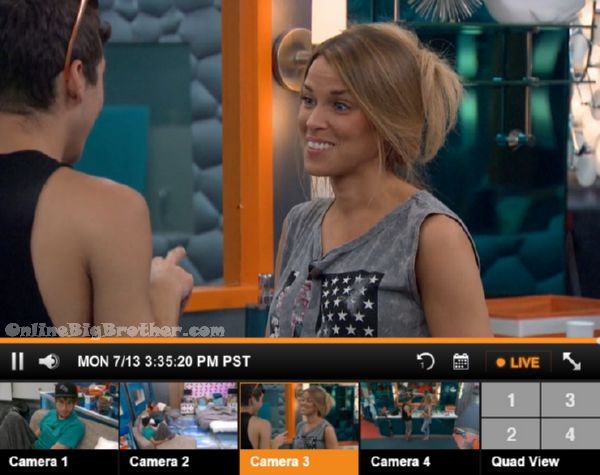 3:35pm Jason and Shelli
Jason asks if they want Jeff to go
Shelli yes
Jason – me to
Jason says he was talking to Vanessa and Austin and they want Jeff gone. Mentions that JohnnyMac may have listened in and he's voting to keep Jeff.
Jason – Meg is saying she's not sure now.. I know in the long run James will be more loyal to me..
Jason says Jeff tried to bully him, he's the wrong person to be doing that to.
Jason – He can sell water to the ocean he's such a salesman.. He's in everyone's ear
Jason – Too many hands in too many people's cookie jars you dun bake some of these peoples cookies
jason – It's going to be a close vote this week, Jackie, JohnnyMac, and Becky could go either way
Jason – I trust James more..
Jason says he's not stressed at all it's done.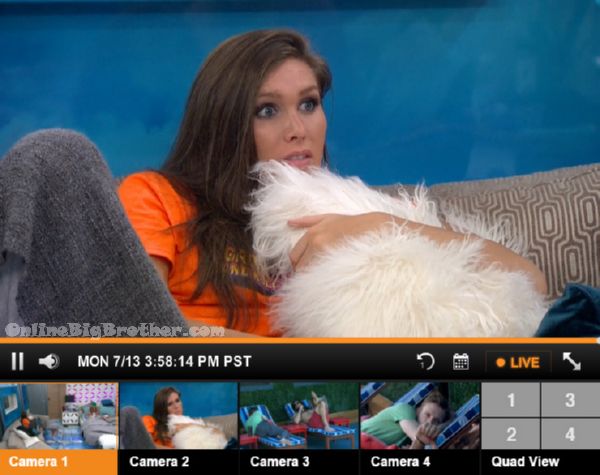 3:40pm HOH Audrey and Vanessa
Audrey will threaten to backdoor JohnnyMac to see where he's at in the game.
Audrey starts analyzing Jackie's horoscope she's a Scorpio decedent with Aries moon.
4:00pm audrey saying that Meg is like this season Christine she's centered around all these guys. Vanessa asks her what JOhnnyMac's strategy is.
Audrey thinks he's really smart, "I think he's slipped up" Audrey brings up Johnn saying his assistant calls him Doctor Audrey thinks Johnny Mac is something else. Vanessa says Dentists are called Doctor
Audrey – Oh..
Vanessa says she heard JohnnyMac say "I'm dead inside"
Audrey – And he's always saying he only cares about money
Vanessa – He seems like a nice guy
Audrey – You Know Ted Bundy seemed like a sweet guy
Audrey read about psycho path and they don't blink. Tells her to notice next time she's talking to John.
Clay comes in.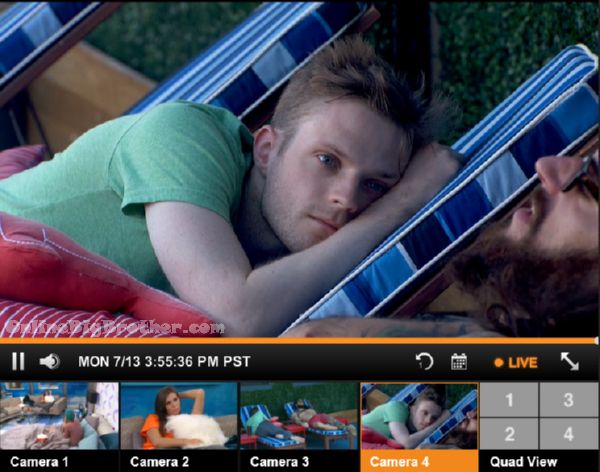 3:40pm Austin and Johnnymac
Austin saying that Jeff is throwing his name under the bus. Austin tells him all the people Jeff is saying are voting James out have told Austin they are voting out Jeff.
Austin says he's telling the difference between the liz' he's drawn to one of them, "They're like totally different people"
Austin brings up his moral dilemma should he tell Jackie that Jeff called her easy or should he wait.
Austin tells him James is going to stay the only guaranteed votes he has is Jackie. Austin points out that Jeff is a real good salesman he might be able to grab votes but that's a lot of votes to get when you're hand is in so many cookie jars.
Austin mentions Jeff calling Vanessa a liar when she's HOh and has the power to put him up. They are surprised things went down like they did on Saturday and agree Jeff didn't handle it well.
Johnnymac mentions Vanessa would have been stupid for not putting Jeff up.
Austin – You cannot throw the HOH under the bus
Austin thinks Jeff is a little bit jealous of him because Liz hangs out with him an Jeff likes Liz.
JohnnyMac agrees he can see that from Jeff.
Austin says Jeff is telling everyone the same story to get their votes. they compare some notes to verify. Basically Jeff wants to pull them in on an alliance but wanted to wait until Audrey is gone. etc.. etc..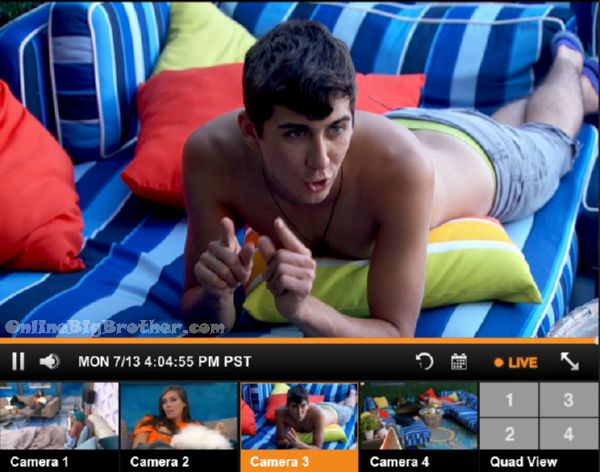 4:03pm Meg and Jason
Jason – You always loose one (member of their alliance)
They agree it's going to make them and James stronger. James doesn't go around talking to people.
Jason points out that voting out Jeff builds trust with Shelli and Clay
Jason says Shelli and Clay will start trusting them more, "I've already noticed a big difference in their interactions with me"
Jason – Clay makes me more nervous.. you have more of a latch with him and I have more of a latch with her
4:30pm (Feed cameras are flipping through conversations)
Meg says Jackie is on fire if Jeff leaves. She's threatening to put Austin and Vanessa on the block and Backdoor Audrey.
Jason thinks there's something more between Jeff and Jackie. He adds they could have picked so many other Amazing race players
Meg – the boys are going to knock themselves out
Meg calls the guys in the house "Little Dumb Dumbs" and "Lady Girls"
Jason – Bitchy snitches..
Meg – they've been doing the gossiping around the house
Jason now saying he thought he was going to be the big mouth but he's not.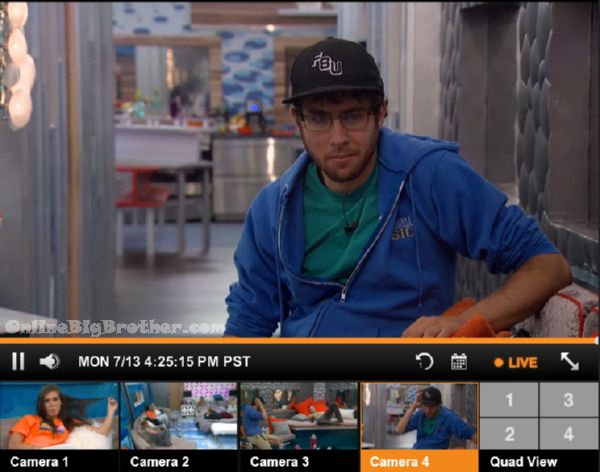 4:24pm BAthroom Steve and JohnnyMac
Steve says get as much information as you can and use that to form a decision on vote.
Steve – Some Kids Grew up on Blues Clues or Hey Arnold I grew up on Big Brother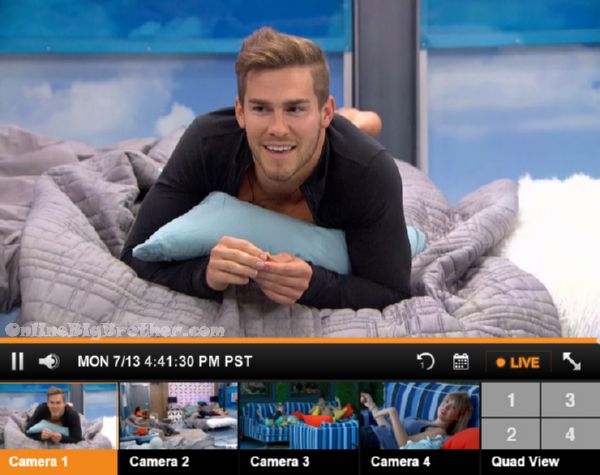 4:40pm Clay, Audrey, Shelli and Vanessa
Telling Audrey tonight's is going to get crazy people are going to start throwing her name under the bus.
Shelli says in this house the name Audrey is starting to be funny and she's tired of it
VAnessa – It's an adjective to describe un trustworthiness,.
Vanessa says most of the Audrey bashing is coming from Jeff.
Vanessa called in the Diary room
Clay and Shelli telling her she is safe and doesn't have to worry they are trying to improve her image but there's only so much they can do.
4:54pm Audrey tells them she wants to go to final 3 with them because she feels she can beat them in the final HOH. Points out that nobody else in this house will want to bring a couple to the end.
Audrey, Shelli and Clay doing Clay's laugh #BB17 @DawgsBigBrother pic.twitter.com/rx65cOJss9

— OnlineBigBrother.com (@bigbspoilers) July 13, 2015
Audrey making the face Meg makes @bigbspoilers #bb17 pic.twitter.com/NPJ7zRtnLO

— Dawg (@DawgsBigBrother) July 14, 2015
Live Feed subscription gives you CBS All Access thousands of archived shows. Live Shows like Big Brother, all the Big Brother Seasons, and 24/7 coverage of what is happening inside the Big Brother House. Plus there's flashback that lets you go back to any second of the feeds and rewatch what happened. Simon and Dawg will index the season just watch the parts worth watching. All this for $5.99 a month try it out 1 week free. Support our efforts and get your feeds via a link on this site. Live feed subscription Sign up
[polldaddy poll=8972565]
Share it YO!!
Tweet