POV Holder:
James
POV Competition
Aug 29th
POV Used
Yes
POV Ceremony
Aug 31st
HOH
Vanessa
Next HOH
Sept 3rd
Original Nominations:
Meg and James
After POV Nominations:
Meg and Julia
Have Nots
Johnny Mac, Julia, James, Meg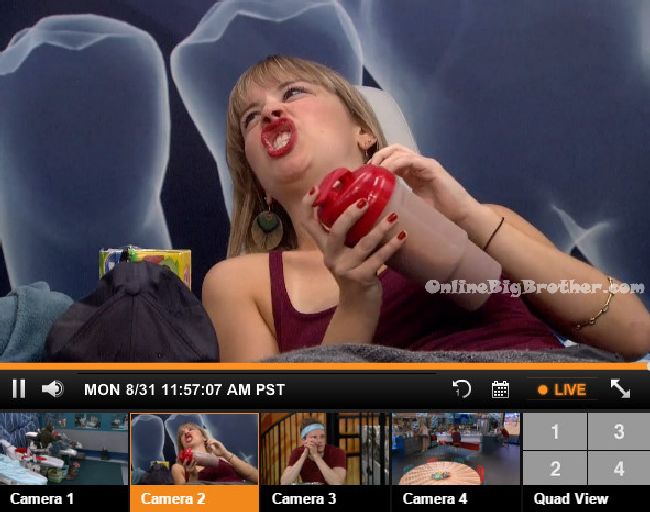 11:10am – 11:45am Big Brother blocked the live feeds for the Power of Veto ceremony to take place. As the veto holder James used the veto to remove himself from the block. Vanessa then nominated Julia as the replacement nominee. Last night Vanessa practised her Meg replacement nominee speech with Steve.
11:45am – 12pm Meg is alone in the havenot room. James joins her and asks if she is okay. Meg says I am a bit more now. James says trust me it was a really hard decision for me. I did want to use the veto on you, I really did. Meg says you're crazy!! James says I know, I know, I know I'm crazy. Meg says I would never let you do that! James says if it was just me single then I would have. Meg says I never would have let you. James says after if I had it would have been bad. James says I know you said you're mad. Meg says Livid! James says I know you think your fate is sealed but don't give up. Steve might want to get her out. He might. You don't have any loyalty to her. You don't have to be nice or anything. Meg says I just had to kiss her a$$ for 2 days and now I want to be like here is how I really feel!! James says I do believe she thought it was a good deal and that she believed both of us. Meg says its personal. James says I see how its personal but also how its a game move. She is with Austin and it would piss Johnny Mac and Steve off. I see it as you don't have as much leverage because you haven't won HOHs. If you had she would know that theres a good chance you could win and save her. Meg asks are you drinking her jungle juice right now!? Her Koolaid!? James says I am trying to look at it rationally. That's what a good friend would do. You don't know Steve might want to break then up. Meg says no her. Its not going to happen. Meg says she said I'm like her friends. Not to be a mean girl but she is not like any of my friends back home. James says I'm not like any of your friends either. Meg says your personality is. James says just remember its just a game. Meg says I know I just can't stand I kissed her a$$ for the last few days!! Meg says "NEXT WEEK ON BIG BROTHER… James and Vanessa are in a new showmance not showmance!" James asks why would you even say that?! Meg says I just know she's going to pull you and and try and work with you. She is trying to work with you. I'm not saying its a bad thing. James says if she is then you called it way early on. James says I wish I had some sort of a coup d'etat.
Watch the NEXT WEEK of the Live Feeds for FREE! Click here for your: 1 Week Trial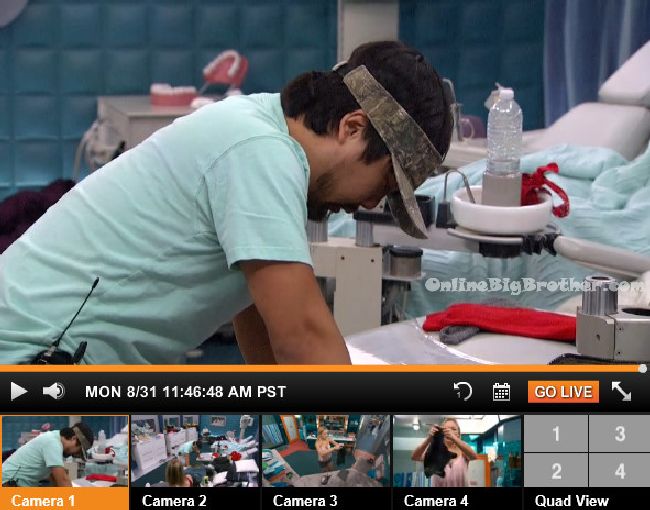 11:45am In the bathroom – Julia says I am trying to act mad. But if I did go I would never ever forgive Vanessa. Just know that! Julia leaves. Vanessa joins Liz. Liz says Julia is acting mad. Vanessa says she is doing a really good job. I actually thought she was. Vanessa says the thought of her going up mad me almost cry. The words coming out of my mouth did not make me feel good.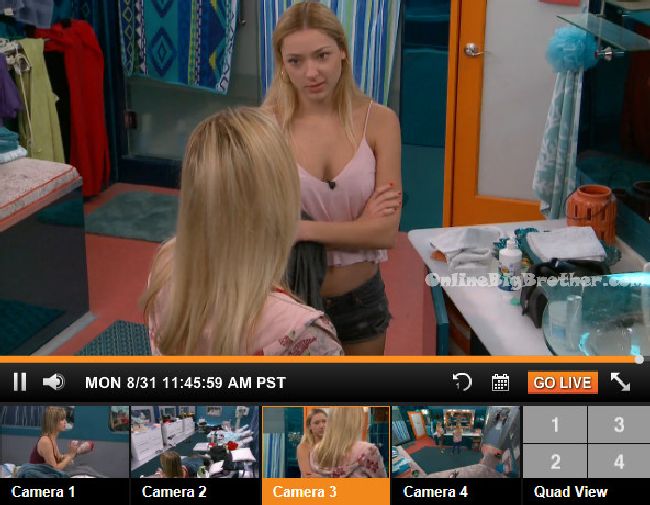 12:15pm In the kitchen – Vanessa is talking about music.
12:25am Meg returns for the diary room and says everyone is best friends with Johnny Mac right now. James says they're making sure they're good with him just in case he wins HOH. You've got my vote! Meg says thanks James! James says I can't believe its come down to needing 3 votes. Meg says and that seem like so many. I look like a dumb boat this week. I do. James says Steve is not going to vote Julia out. Meg says oh thanks for that! James says he and her have been hanging out a long time. Meg says I can't get over we're havenots this week. James says 3 more days. Meg says so dirty! So dirty! James says it doesn't bother me. Meg says it should bother you. James says its just going to make you more mad. That's what they wanted us to do get more mad and upset at them. They're just a bunch of babies. You get more respect if you play the game.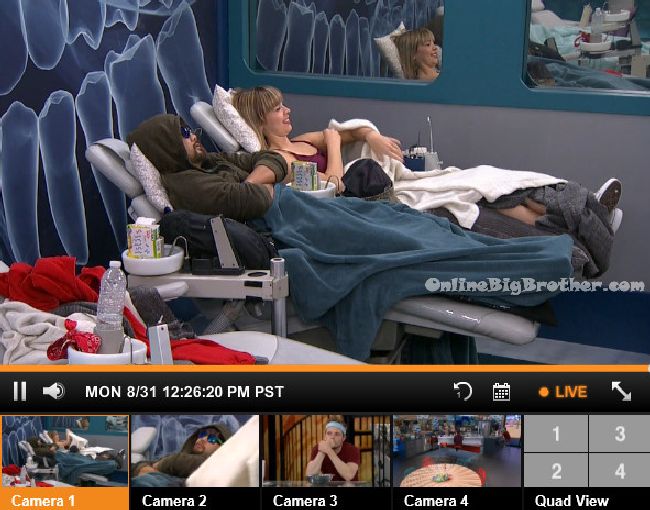 12:30pm Liz and Julia are in the storage room talking. Liz tells her about the conversations James had with Vanessa. James isn't even going to campaign for her because it betters his chances once she's gone. Julia says I am not happy about this. I didn't want to be on the block. Liz tells Julia to tell Meg I am not going to campaign against you. I don't think we should drag our names through the mud. Julia says I am not going to say that. I don't need to campaign. I have the votes. Liz tells her to say you just hope you can do this amicably.
Julia goes to talk to Meg and tells her that she isn't happy about being up on the block either. Meg says I know I campaigned for you not to be up there. Meg says Julia I have not thing against you. This sucks and she is just trying to finish what she started. You're going to be fine. Julia says I know you need to do what you need to do. Meg says I sold my life way trying to make it not happen.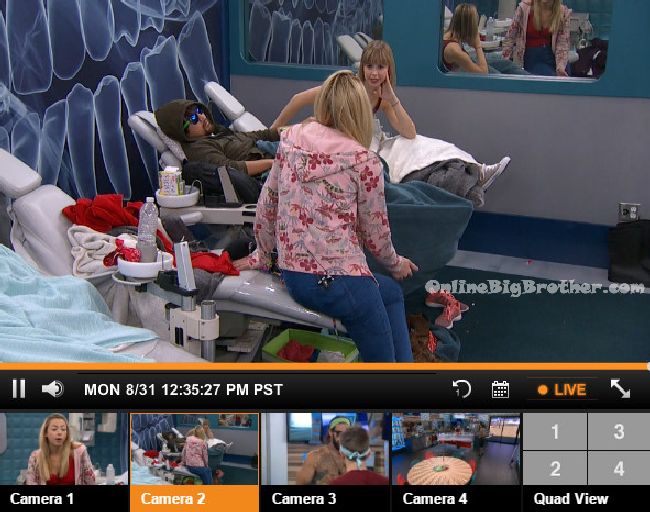 12:35pm – 12:40pm Vanessa tells Austin that she doesn't think James is going to even campaign because he knows its better for him if she is gone. If he does it will be a mock campaign. Even when he came up there it was like he was just going through the motions. Julia comes to tells Vanessa what she just told Meg. Vanessa tells her how she doesn't think James will campaign for her. Its better for him if she's gone. Vanessa talks to Johnny Mac. She says that James sees its better for him to not be a pair. Its better for him to be an individual. She was crying. It was hard for me to say no. This game is teaching me how to say no.
12:50pm – 1:05pm Backyard – Liz says I am just worried about Johnny Mac. We didn't vote for him. Austin says yeah neither did they. I made sure I told him I'm not like Clay. I said I knew I wasn't able to protect all three and putting up Julia shows that. Julia joins them. Austin says Johnny Mac said he is voting out Meg 100%! He is good. He wants to work with me. Johnny Mac knows Steve isn't going to change his vote. James knows its not our fault and he won't hold it against us. If I had the veto I would have officially had to betray them, so I'm glad I didn't have to. If it didn't happen this week it would happen next week. Julia asks what would we do next week .. John and who is the pawn? Austin says I could still put up John and Steve. They would know, what else am I going to do. If Meg goes Steve is in a really safe spot with no one after him. The chance of Steve leaving is zero percent next week. Johnny Mac is due to win HOH? Julia asks do you think he will go after James? Austin says I think he will, if he doesn't he is really good at lying. Liz says if I hear her say one thing about my sister.. I will go crazy! I wanted to go to her and say you can't flip the vote. Steve knows you tried to flip the vote on him last week so there's no point in even talking to him. Julia says this makes me want to win HOH even more. I need to win this. I won't make it to the end if I don't start winning. Liz says you winning right now is the difference between 50k and 500K!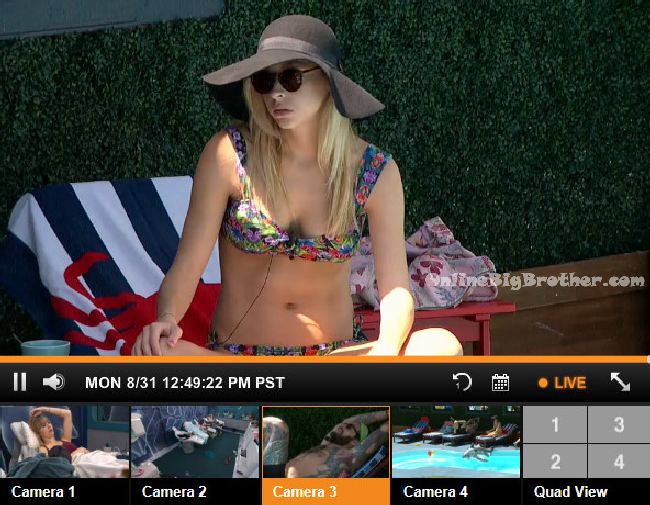 1pm – 1:10pm James and Meg continue to talk. James says Austin was worried about me and Johnny Mac pairing up. If we did then it would be me, Johnny Mac and Steve against Austin, the twins and Vanessa. And Julia isn't going to win HOH. They plan to talk to Steve & Johnny mac but so no one sees them do it. We can definitely talk to Johnny Mac in here but Steve you are going to have to catch him at 5am. Meg says I want to make it clear to them.. if its Steve and Julia go up. They're (Austin & Liz) in control of the votes because all you need is 2 votes from here on out. I am going to throw Austin under the bus a little bit too. James says sell him on how its a game changer that would be a good selling point to the jury. We could make a big move here getting Julia out. Meg and James get ready to head outside.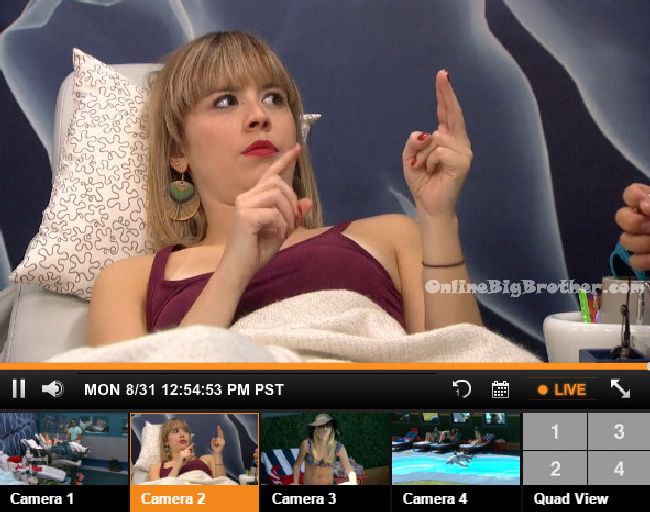 If you've enjoyed our live feed updates this season, please consider donating.
Simon and I work 24/7 all season long to keep you updated on everything that happens inside the house. Any amount is greatly appreciated! Your donations go directly to paying the fees required to run this site.
Make your Amazon purchases through the links below it Supports this site
ALLIANCES:
"Goblins/Gremlins" = James and Meg
"The Generals" = anyone allied with Becky
"SOS" (Students of Sound) = Steve and Vanessa
Rockstars = Steve and Jmac
AUS-Twins = Austin, Julia and Liz
"Austin's Angels" = Austin, Liz, Julia, Vanessa
"Brass Tacks" = Gobins and Austwins
The new "Brass Tacks" = Aus-Twins, Meg, James + Vanessa
"Freaks and Geeks" "The Scamper Squad" = Aus-Twins, Vanessa, Steve
"The new Freaks and Geeks minus Vanessa" = Austin, Liz, Julia, Steve, Johnny Mac
"The Authority" = Austin, Liz, Julia, Steve
[polldaddy poll=9046808]