POV Holder:
James
POV Competition
Aug 29th
POV Used
?
POV Ceremony
Aug 31st
HOH
Vanessa
Next HOH
Sept 3rd
Original Nominations:
Meg and James
After POV Nominations:
?and ?
Have Nots
Johnny Mac, Julia, James, Meg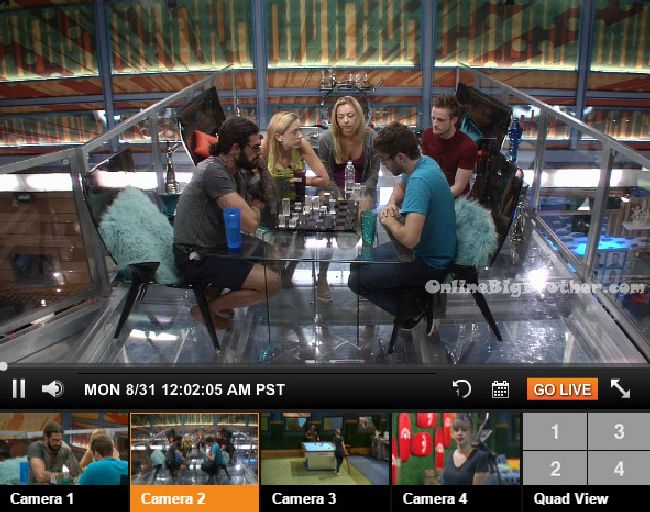 12am Austin and Steve continue their chess game. Vanessa keeps giving advice and pointers. Vanessa says no no don't do that. Is there any other move you could do!? Austin figures out another move. Steve says this is bullsh*t! I am sick of this Vanessa non-sense. Shut your mouth!! I do not have to put up with this! Austin says the boy suddenly has a voice. Vanessa asks Austin on his next move – Do you want my advice? Steve says I was playing Austin, not Vanessa! Steve says I want to says this .. I lost this game because of Vanessa. Johnny Mac plays Austin next. Meg joins them to watch.

12:55am HOH room Vanessa asks Liz what do I say when they come to me. Liz says it reminds me of when James put Clay and Shelli up and they came up giving a plea of a lifetime.. throwing Austin under the bus and he had it in his mind the whole time what he was going to do. He just listened and then did what he wanted to do. Vanessa asks how do I end it though? Liz says I'm going to sleep on it is a great one. Just say I'm in a really vulnerable spot. Austin said that they're both (James & Meg) willing to throw HOH next week. Vanessa says except James is out there pumping iron and going a million miles a minute on that elliptical. And when I came out he tired to slow down but couldn't. Liz says they're isolating themselves. Vanessa says when I was on the block I was begging people to hang out with me. Liz says maybe they won't come up here. Its not even a question she (Meg) has to go! Liz leaves.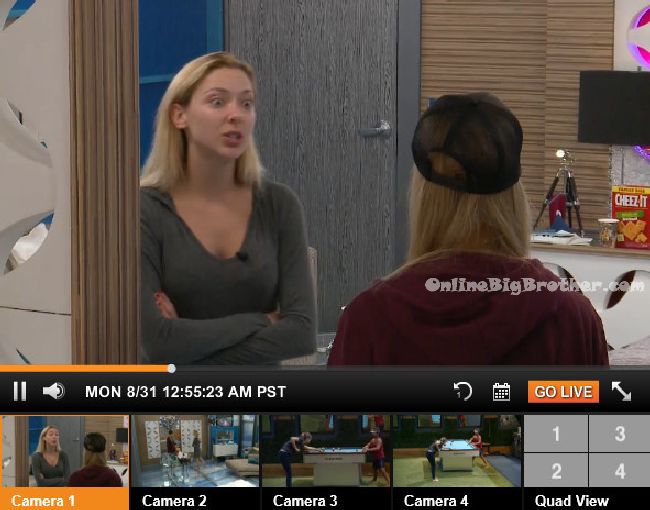 1:10am – 1:25am Steve joins Vanessa. He asks her if her speech ready?
Vanessa's Veto Ceremony speech:
I made it very clear at the beginning of the week when I made nominations that there is no specific target in mind which meant that James congratulations on winning the veto and pulling yourself off the block. That's very admirable that you were able to do that and honestly coo dos. Unfortunately that leaves me in the position of having to find a pawn to put up next to Meg and Julia I adore you but you haven't been up on the block yet. I have no doubt that you'll be staying this week. I'm so sorry Meg but its a game move.
Vanessa asks is that good? Steve says I would throw on something about how Meg doesn't need too feel ostracised over the next few days. Vanessa says something like I think we should play pot ball every night. She is ostracising herself, we're not doing it. Should I say something about the ball moving too far forward to change it. Steve tells Vanessa she stresses too much. Steve says goodnight and leaves. Steve rejoins the chess game. After he comes back to talk to Vanessa. She says that she was trying to sleep so that she didn't need to scamper if the come to me I don't have to talk to them. Steve says its the same thing I'm going to have to do in a couple days when they come to me for my vote. But I'll tell them I already promised my vote to Julia which I did.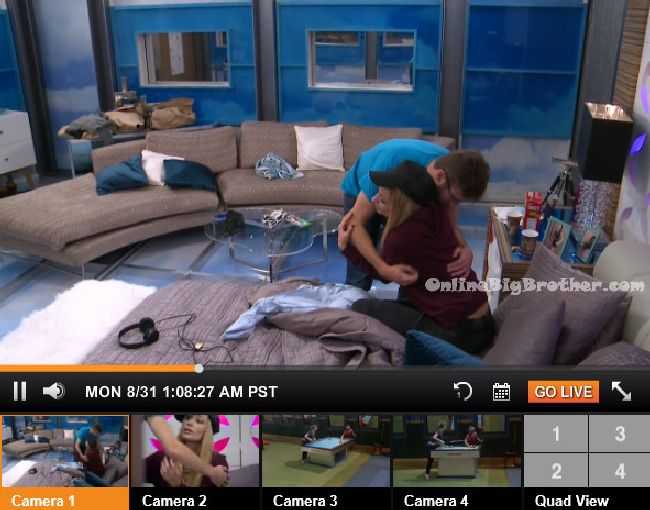 1:35am – 1:50am Backyard – Steve joins Johnny Mac on the hammock. Steve asks how did your talk go with Vanessa? Johnny says I told her I would vote out Meg. Johnny says everyone is cool with everyone. Do we even need to win HOH? Steve asks are you going to throw it? Johnny says if I win it, then I would just get double evicted. Steve says by that logic you should never win HOH. Johnny says if I won HOH and put the twins up .. Liz would go. Steve says if the veto doesn't change anything. Steve says that three person thing has to be taken care of. If this week we had flip and take out Julia .. then there would be Austin, Liz, James, Meg alliance. That's why we have to vote out Meg. We have to. But ideally we have to win HOH.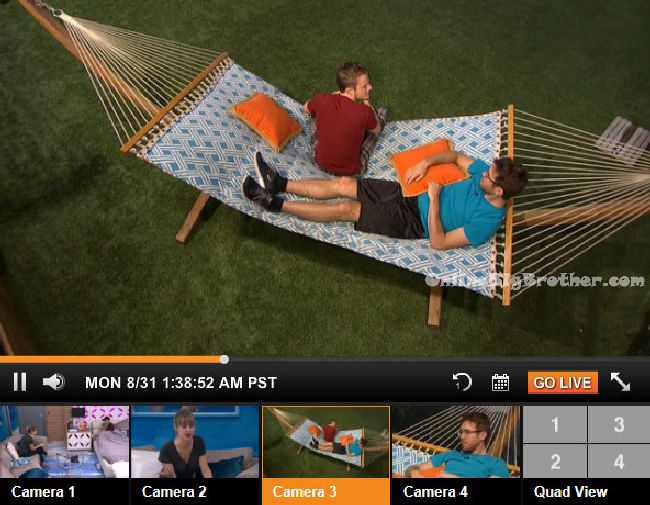 Watch the last month of the feeds for ONLY $5.99! Try it 1 week for FREE!

1:30am HOH room – Meg comes to talk to Vanessa and finds her sleeping. Why do I always interrupt you sleeping. Sorry this is so bad. I just wanted to come to you. I feel like its down to the wire and my back is against the wall. I just wanted to bring to you what I feel I can offer. Game-wise, deal-wise, whatever.. I don't know what you're necessarily thinking is the best move. I have a sense that you want me to go. Not go but you know what I mean. Was your plan to break James and I up. So that is why I am coming to you with the ideas that I have as to why I think you should keep me. Vanessa says I am happy to hear you out. I have nothing but respect for you and if you didn't do this .. you would have to. Meg says first off I will throw the HOH .. which I don't think I will win anyways but for me to say that I feel doesn't really mean much because I'm not really in a position to ever really win HOH. So what I look at is what I can control in the game. What I can control in the game is voting. If for some reason you were up on the block I would promise you my vote. And why I feel like I would be a better contender to keep in this game over someone else is that I do think I can sway James a little bit as well. James and I usually vote together as a team. Numbers are getting very important and next week is 2 – 2, with a tie breaker. Vanessa says I believe you in that and I know your word is good in this game. Meg says I would not say this stuff if I was not willing to do it. Meg says James said that he will throw it to have me stay another week. For me I will not let him do that.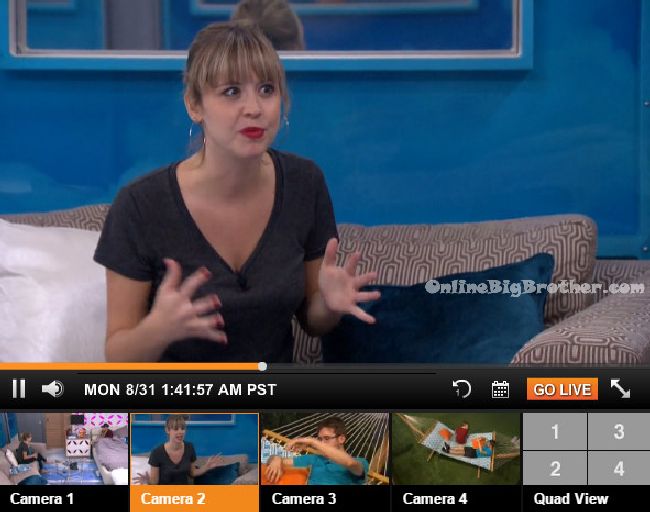 What I will let him do is if he wins HOH he will not put you up, he will put me up. In replacement of you, no frontdoor, no backdoor. I will go up in your place, on his block. He has sworn up and down that he will do it. Vanessa asks why would he do that? So put you up as a pawn. Meg says he would put me up next to another target in the game and let it play out. But you would not be touching his block. Vanessa says alright and you're saying he will confirm this? Meg says yes. I want to be here as long as possible. Give me another week. If I get through this week I would be open minded to work with you. Vanessa asks how do I know he would do that though. Meg says he is going to do what I want. He swore up and down. He will actually do it. Then it leaves it up to the house. Vanessa says its very compelling. Its a great offer. It comes down to whether I can believe it. I look at incentives. Incentively why would you be incentivized. Meg says I would intern be owing you. Vanessa says I will sleep on it. Send James up in the morning to talk to me. The one thing I am worried about is I said I would not put him up but then did so he will look at that as I broke that so he might look at it as a reason not to follow through with the deal. He also broke the deal with Shelli. Now if he will swear on something really important to him that might be different. But people have lied and I would have to go on my read of whether I could trust. Meg says he is also making a deal with me and if he goes back on it, I would not be okay with it. Vanessa says its a good offer. Meg says I feel like this is too soon for me to go out of this game. Give me a couple more weeks, another week. Vanessa says there are only 3 more weeks. Vanessa says I have made deals and so my options are limited what I can do. Meg says if James crosses me on not putting me up. I will go after him. Vanessa says okay that's compelling, let me sleep on it. Meg says James is expecting to be on the block each week and know that he needs to win. He just wants to win vetos.