POV Holder:
James
POV Competition
Aug 29th
POV Used
?
POV Ceremony
Aug 31st
HOH
Vanessa
Next HOH
Sept 3rd
Original Nominations:
Meg and James
After POV Nominations:
?and ?
Have Nots
Johnny Mac, Julia, James, Meg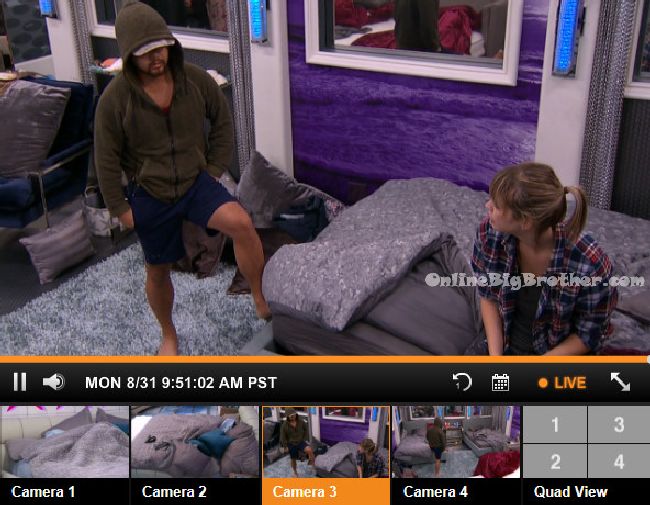 9:40am Big Brother wakes up the house guests. James asks Meg is Vanessa still in the diary room? Meg says f**k! They wouldn't do us dirty and call her in already? (for the veto ceremony) I would be so pissed if they did that. James says all right I'm going to talk to her. Meg says don't do what you don't want to do. James says I have a good speech for her but I was to make sure its genuine. Meg says do what you can. James heads up to the HOH room.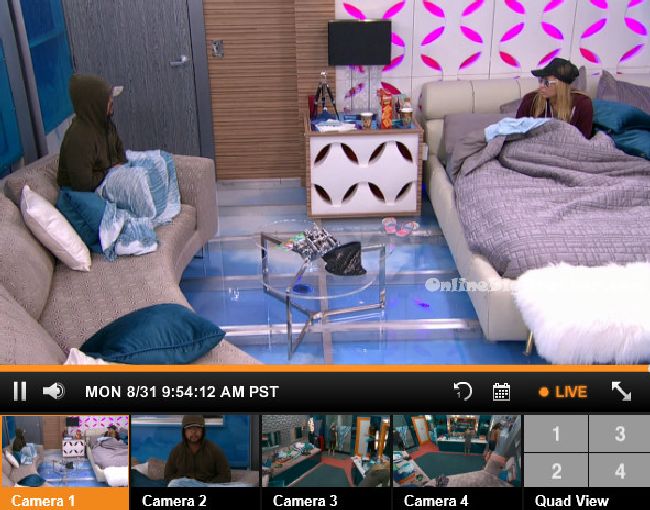 9:53am HOH room – Vanessa says that Meg came up last night with an offer. Its a good offer. I would love to believe it but in big brother I would wonder if its too good to be true. I said I would hear you out. James says I am not coming up here to force your hand or anything. I am coming up as a last plea. Big Brother blocks the feeds. James says If I win that's what I would do. I would put her up. There is no benefit to keeping Meg by my side. I am doing it on a friend. I was honestly accepting the fact that she could go home. Vanessa says on a game level its not good for you because you would always go up next to her and you would always go next to her. Do you even want to offer all these things? James says Meg is a friend and I know I am doing this as a friend. I want to let you know, you have my word. Anything I can say on a personal level I can say that. If it doesn't happen I am fine with that too. I don't want to cause any waves. I am not going to try to beat around the bush or break deals. I am doing this for Meg as a friend. It is kind of my fault that she is in this position. Vanessa asks why because you won? James says yeah. Vanessa says then you would have gone. If Meg goes up next to anyone, pretty much everyone would go. I do believe you James. I do. I know you think you're going to go on the block each time but I think you're in the same position that I'm in. We would be the only individuals left and likely not be the targets. We are getting close to the finals and people are going to want to break up the groups. I think its a good thing for your game (for Meg to go). On a personal level I love Meg. I just made a really bold statement when I put you two up. If I had a preference I would have wanted you to stay. Beyond that I declared both of you were my targets so to not follow through with that.. It seems really stupid. Unless I can know for sure. I am the easy play for you if you are trying to just take one person out without getting blood on your hands. Everyone respects you in this house. You've come out of tough situations without looking like a jerk. I totally respect you. I am pretty sure I need to do what I need to do and finish the job here. I think the next week is good for me but its two weeks out that look scary. James says with double eviction its scary for all of us. Vanessa agrees.
Watch the last 3 weeks of the feeds for ONLY $5.99! Try it 1 week for FREE!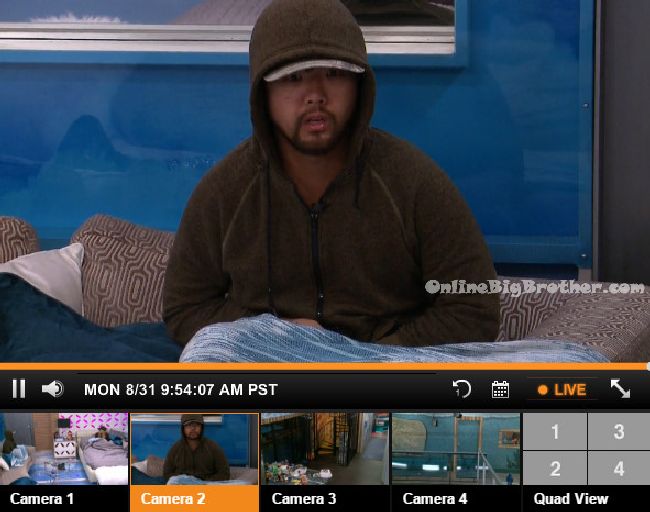 10am – 10:18am I think things in the house are going to change a lot next week. I think somethings that I didn't see coming will happen. I think some big things are going to happen from conversations I've heard. James says that sounds like a good thing. Vanessa says I want to apologize to you if I said anything or did anything that you perceived that wasn't cool. My intentions were good. James says we're good. I made you cry. We're square. Vanessa says because I was solo in the house I had to break up the structure. If you were in my spot I almost bet you would do the same thing. Vanessa says if I go to jury and you're still here, you have my vote. I respect you. Austin can't protect a fourth and I can't protect all of them. Lets say Austin and I do have a deal. I am still 4th on the list with him. And Liz will always choose her sister over me. We have a respect for each other. I have a stronger history of working with him but he has priorities over me. If you win HOH, I can hope that you keep an open mind and hear me out. If I am a number 4 for someone, why do they get to be my number 2 or 3. Austin really likes you. I spent 2 hours last night thinking it over and I am pretty positive its not the right play for me.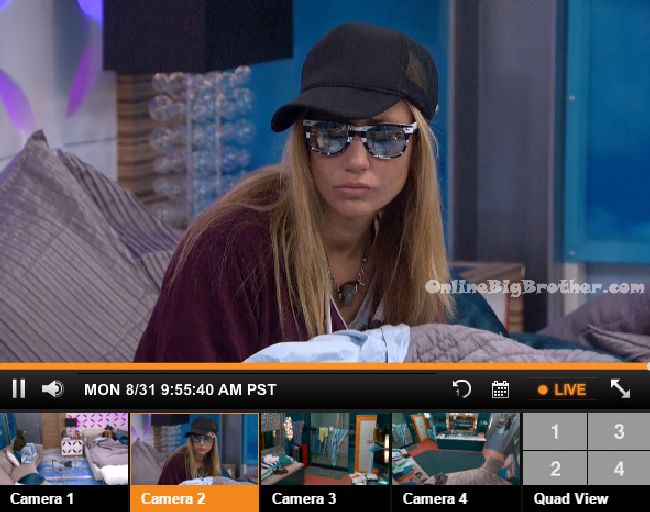 10:25am James says I had pretty much accepted that fact that she was going home. I wanted to spend as much time with her as I can. Vanessa says I wanted to tell her to enjoy her time here on a personal level. James says if you want me to tell her I will. Vanessa says wow you're a really good ally. It sucks for me to be all alone. Vanessa says have her come up and I'll explain it to her. I really thought it all through I just can't do it. If I go for Johnny Mac.. I piss Steve off. I've pissed you and Meg off and will have Johnny Mac pissed off in jury. It would be like a wrecking ball. People already aren't a fan of me in jury. I can only hope people look at it strategically. I had it rough coming in .. I was in a relationship and on top of that I am gay. Big Brother calls Vanessa to the diary room.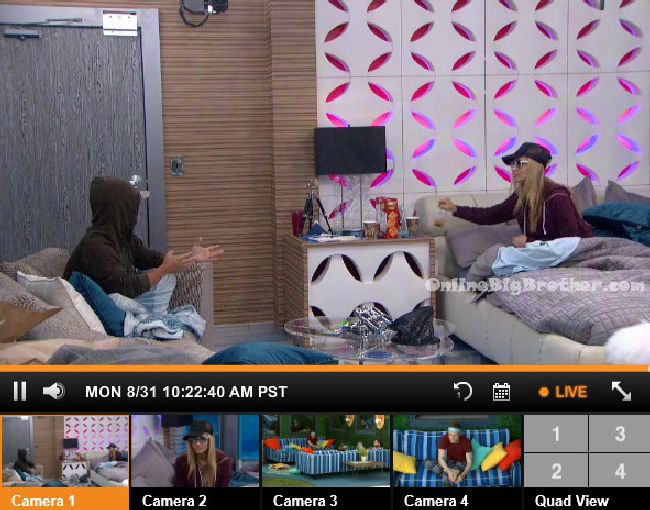 10:20am – 10:30am Austin talks to Johnny Mac about how Meg talked with Vanessa last night. If anything was to change I would think she would pull us up there and tell us. Meg doesn't seem to be in the best of spirits either.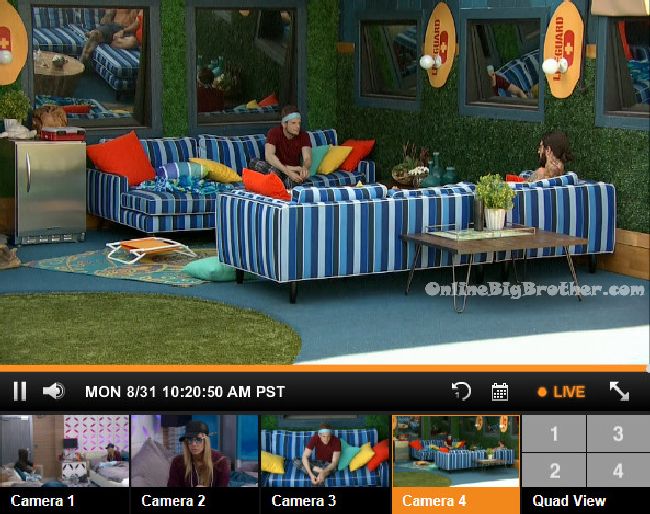 10:35am – 10:45am Meg heads up to the HOH room. Vanessa says I stayed up for 2 hours thinking about all scenarios and of all hail marys that was the best thing I could have ever heard. It was extremely compelling. It was almost too good to be true kind of thing. I actually believe James that he would do it for next week and I believe you and your part of it. The problem for me is when I think about the next week and or when it brings me back to the fact that I am still left in the house with 2 duos and a trio .. and I haven't accomplished anything. Do you see that … or lets say I send Johnny Mac home .. I am going to break up another duo and I piss Steve off. I piss Steve off, I've already pissed you guys off, and I've pissed Johnny Mac off by blindsiding him. And he is going to be in jury with a bunch of other people that are already pissed off at me. I have the most in common with you outside the house. I like you so much and I don't want to hurt you. I don't want to blindside you but it will probably be a nominee that you won't like. I went after you and I have to finish the job. On a social level you are the life blood of the house. I might be making a mistake and I might go home next week. Meg says I know its out of my hands. I did the best I could do. Meg starts to leave and then starts crying. I feel like there is nothing I can say now. Vanessa says you said the best possible thing you could have. I considered it. Its too much of a gamble. Meg says I wish you didn't feel so alone in this house because you could have people if you wanted to. Vanessa says I do have people but there is not one person that I could reasonably believe I would be their top priority. Meg says I think you're really making the wrong move. I have so many gut feelings about this and this is not the way I should go. My best friend is willing to put me up. You would be my top priority. I would be fighting for myself. Vanessa says I can't have any more blood on my hands. Meg says you're sending one person home that you could have 2 people that would have your back. Why would you choose 1 person over two. Vanessa asks do you want 1 more reason.. If I leave you in the house as a posed to Johnny mac or Steve. If I end up next to you on the block I am going home 1000%. Meg says I think you have a way better shot at getting yourself off the block in that case. Vanessa says I have the same shot next to anyone else. I am sorry. I respect you for the way you've handled this. Meg leaves crying.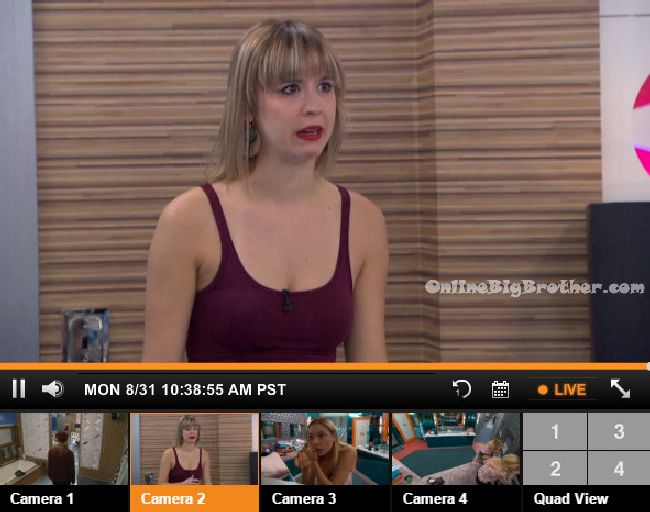 10:45am – 11:05am Meg heads into the havenot room upset. James says I really tried. Meg says I know, its not your fault. There is nothing that could have been said. James says she said she believed me. Meg says I know that is what is pissing me off. It feels so personal!! Meg asks why didn't she speak to us before all this. Everything that she says I have something against it. Its now not on a game level. Its fine you'll be better off in this game without me. James asks why do you say that. Meg says because now you won't go up as much. She'll be your number 1. James says she will not be my number 1. I will not just jump on board with another group. We were the easiest group to go after. Minimal blood on her hands. Meg says this is the chance to change things. Whatever, I'm over it! I feel like I look like an idiot in this game. James says you don't look like an idiot. Meg says I can't win competitions! I can't get myself off the block! James says remember Enzo.. he won 1 competition. Meg says he got far. James says because of a strong social game. Our group was taken from us. Meg says I should have been able to fight myself off of this. James says I think you did pretty good, to make it to 8th place. No regrets.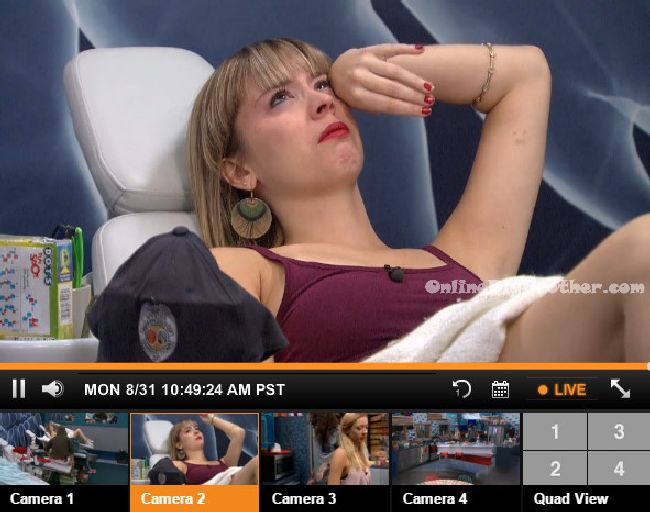 11:10am Big Brother blocks the feeds for the Veto Ceremony to take place… (James will use the veto on himself and Vanessa will nominate Julia as the replacement.)
Help support all the live feed updates we provide.
Show your support by making a donation. Any amount is greatly appreciated!
ALLIANCES:
"Goblins/Gremlins" = James and Meg
"The Generals" = anyone allied with Becky
"SOS" (Students of Sound) = Steve and Vanessa
Rockstars = Steve and Jmac
AUS-Twins = Austin, Julia and Liz
"Austin's Angels" = Austin, Liz, Julia, Vanessa
"Brass Tacks" = Gobins and Austwins
The new "Brass Tacks" = Aus-Twins, Meg, James + Vanessa
"Freaks and Geeks" "The Scamper Squad" = Aus-Twins, Vanessa, Steve
"The new Freaks and Geeks minus Vanessa" = Austin, Liz, Julia, Steve, Johnny Mac
"The Authority" = Austin, Liz, Julia, Steve
[polldaddy poll=9046808]