POV Holder:
Clay
Next POV
July 25th
POV Used
Yes
POV Ceremony
July 27th
HOH Winner Team 1:
Jackie
HOH Winner Team 2:
Vanessa
Nominations 1 :
James & Liz
Nominations 2:
Clay & Becky
Battle of the Block Winner
James and Liz
Next HOH/ Next BOB
July 30th / July 24th
Original Nominations:
Clay and Becky
Current Nominations:
Jason & Becky
Have Nots
Shelli, Clay and Steve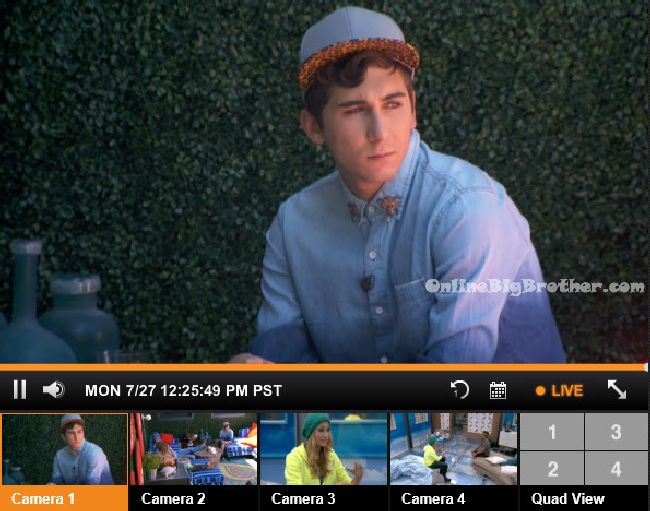 TRY the Big Brother 17 Live Feeds FREE for 1 WEEK:
Click here to ensure your live feed subscription supports OnlineBigBrother.com at no extra cost to you.
11:40am – 12:20pmBig Brother blocks the live feeds for the Veto Ceremony. As the veto holder Clay used the veto to remove himself from the block. Vanessa then nominated Jason as the replacement nominee. This was a blind side as the original target was Austin however Vanessa switched to wanting to keep Austin and get out Jason. This move officially draws a line in the sand as Meg, James, Jason were left in the dark. Jackie also didn't know but it was so she wouldn't tell the others.
Get your live feeds now because this week is about to get crazy! Try them FREE for 1 week!
12:20pm Backyard – Jason tells Clay that everyone already gave Becky their word they would vote for her. I'm not some major strategist that will be able to work my way out of this. Just so you know work with Meg. We were going to roll with you. You can trust her, she will be honest. Good thing I got dressed up, I almost didn't! I should steal my 4 cigarettes back from the bit*h! Its okay, I already won by being here. I have to go back to being unemployed but… f**k! Meg comes out crying. Meg says that alliance lasted a long time. Jason says shout-out Dark Moon! Jackie says obviously I was played for a f**king fool! This is all my fault. I'm sorry I put you in this position. Shelli says Vanessa is an honest player.. she was definitely on board with Austin as the target. Becky agrees. After the BOB things spiralled. Jackie says doesn't Vanessa think her place is a little riskier now because of this. Meg says there's definitely a lot more going on than we know about. Jason says whatever lets have fun tonight. BB can we get some alcohol? I'm not going to go out like a bitter bit*h! I got one more week than I thought I would. Jason says I don't even have any dirt on Becky. I can't even say anything bad about her.
BOOM – Jason's on the block @bigbspoilers #bb17 pic.twitter.com/5tHQUp2Gj1

— Dawg (@DawgsBigBrother) July 27, 2015
12:25pm – 12:50pm HOH room – Vanessa tells James that a part of the puzzle was that you corrected the name and tried to win the BOB. Vanessa says I was backed into a corner and made to pick a side. Vanessa asks James why did you correct the spelling? James says she counted it out before we even corrected the "i" and realized she was missing a letter. James says they were already on to me throwing it .. so I had to protect my game. Vanessa says I understand that. This is not easy. This was really hard to do. I had to go with the majority of the house and what they wanted. Everyone I talked to wanted him up there. That line in the sand is drawn. It's pretty obvious. Vanessa says that loyalty is very important to me. And someone could exploit me for that. Thank goodness I'm not the one to put the cracks in the foundation. And you know who I'm talking about. James says I don't know where the cracks are at. Vanessa says its not your fault that this happened to Jason. I had to make a choice and unfortunately I had to blind side Jason. I don't think he had any idea. James says he didn't .. neither did Jackie, Meg or I.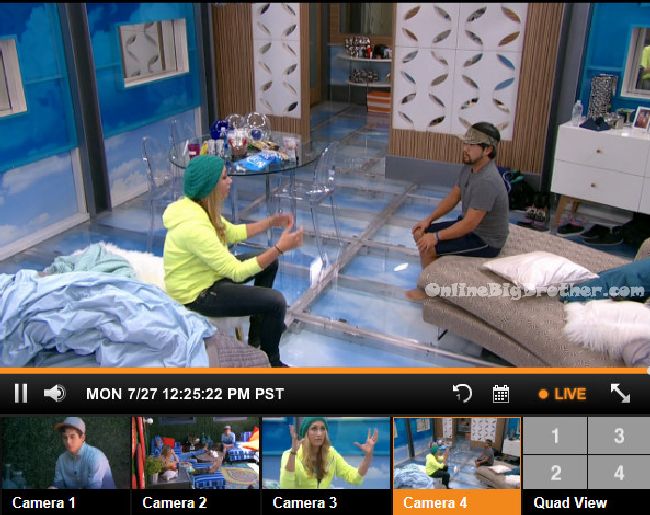 12:50pm – 1pm Meg hugs and talks to Johnny Mac. Johnny says he had no idea. I thought it was going to be Austin all the way up until she said Jason. Meg leaves and talks to Becky in the other bedroom. Becky tells Meg that everything has fallen a part since I volunteered to go up. I had no idea it was happening. Becky says second time I am f**ked. I volunteered to go on the block. Meg then talks to Clay in the storage room. Clay asks if he knew. Clay says he got a bad vibe last night. Meg says she's more mad that she feels like she's been lied to. Jason joins them and hugs Meg. Jason asks if he should go talk to Vanessa. Meg says that Vanessa isn't even doing damage control. Clay tells Jason to just go ask what happened. Meg says I'm not ready to talk to her right now. Jason says Yeah I'm not going to right now.
In the living room – James tells Liz and Austin that Meg keeps getting all her guys ripped away from her. She should have chosen the right guys. I'll probably be shacked up with her next week.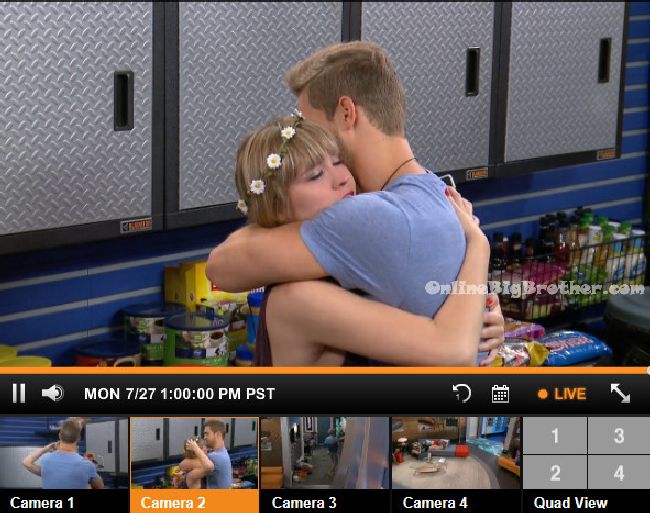 1pm HOH room – Liz talks to Vanessa. Liz says she is so happy. Everyone is scrambling down there. Vanessa says its fine put me up, I'll have allies on my side. Vanessa asks if Meg was crying. Liz says yes. Wow Meg you actually have to play that game now. You can't be carried along. They need to not play like the victims. I'm not even going to talk to anyone. I knew this was coming and I'm not going to say otherwise. Jason you need to go home. You tarnished my name.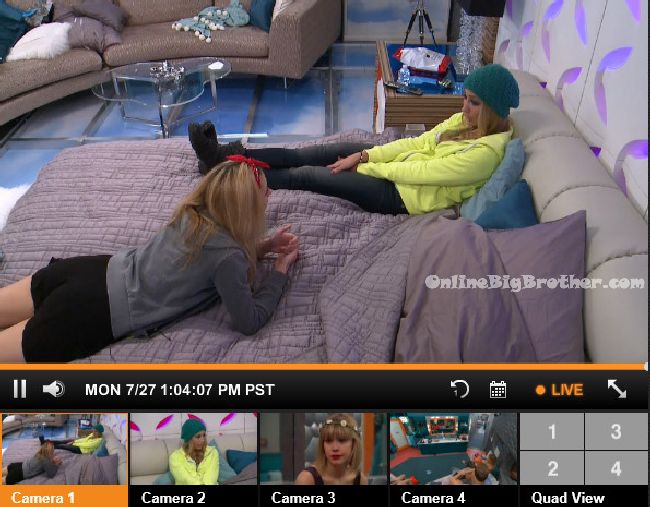 1:05pm – 1:15pm Bathroom – Shelli says that Austin was so weird during the meeting. He was sitting staring at Jason. Jason says I'm sure he had to do with my demise. James says that someone threw me under the bus. Jason tells James I did nothing to sell you out this week so you can buy whatever their selling. James says I don't know what to believe. Jason says I've been loyal to all these f**King people and never said anything bad about any of these people. James says well maybe you should go up and talk to Vanessa. Jason says I will but I'm not going to go up right now and feed her grapes. James says that Vanessa said that Meg and Jason were agreeing with what she was saying. Meg starts crying and asks what things? She says I don't know why you would believe what she says. Meg leaves crying. James tells Jason I don't know why you're not up there?? Clay asks James what was said. James says that Jason was talking sh*t about me and clearly the alliance wasn't a real thing. She said that Jason was bad mouthing me. Jackie asks what did she say he said? James says she said she wouldn't say until after Jason was gone. Jackie says no there's something wrong with that!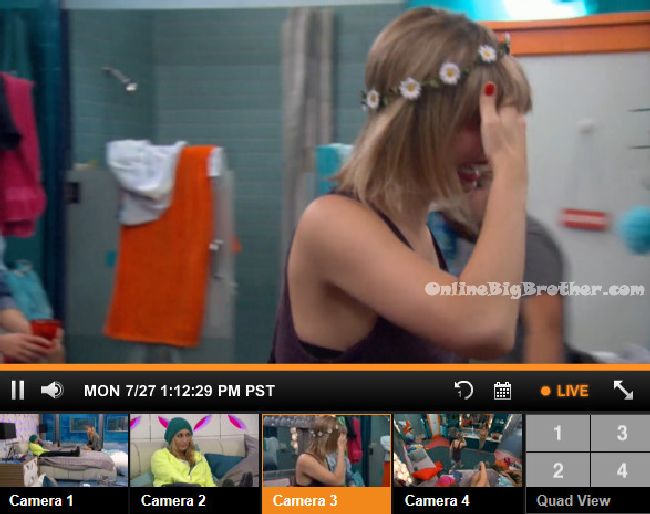 [polldaddy poll=8994045]
Share it YO!!
Tweet