POV Holder:
Clay
Next POV
July 25th
POV Used
Yes
POV Ceremony
July 27th
HOH Winner Team 1:
Jackie
HOH Winner Team 2:
Vanessa
Nominations 1 :
James & Liz
Nominations 2:
Clay & Becky
Battle of the Block Winner
James and Liz
Next HOH/ Next BOB
July 30th / July 24th
Original Nominations:
Clay and Becky
Current Nominations:
Jason & Becky
Have Nots
Shelli, Clay and Steve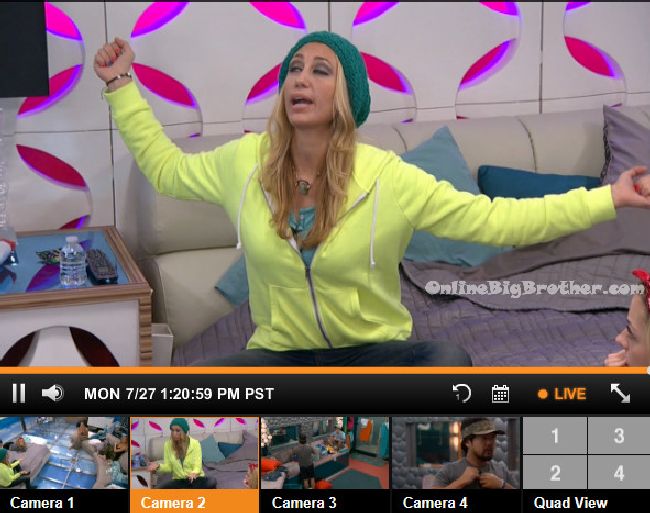 TRY the Big Brother 17 Live Feeds FREE for 1 WEEK:
Click here to ensure your live feed subscription supports OnlineBigBrother.com at no extra cost to you.
1:25pm HOH room.
Jackie heads up to the HOH room asking what happened. Vanessa says that she was put in the position to trust people that she didn't feel like she could trust. I was expected to jump into a concrete pool expecting people to catch me and I don't think they would. Its pretty obvious that James and Jason have been working together. So when I am the newest person to gain Jasons loyalty do I think I can trust it no. I think the people that were backing me in the Austin decision weren't really going to be there for me. I gave you my word I wouldn't back door you and I stuck to that. There are two sides and we're foolish if we don't believe that. This decision was terrible. I believe that Austin didn't have ill intention against me. Can I trust Austin more or Jason. Austin has made it clear he isnt' playing for first and to have Jason who is playing for first place for sure. I believe that Jason should go. Jackie asks Shelli if she wants Jason to go. Vanessa ask Shelli you don't want Jason to go?!! Shelli says I don't want anyone to go. Vanessa says You weren't behind me in the decision we made?! Shelli says no I was behind it. Vanessa says that Austin confided in Jason about the twins and within 5 seconds he told everyone. I can assure you if he had confided in me I wouldn't have told any one. Jackie says I just wanted to know because I am loyal to you. Vanessa says I wanted to tell you but I knew you would be upset. I know for a fact that those people can't be trusted. Jackie says you're fine with me. I'm not mad, I just wanted to know why. Its your HOH, you can do what you want. Jackie asks why is James mad at Jason. Vanessa says I don't know.. he is going to say what ever he can to save himself. He was down there asking Jason why he said that about him? He said that Jason was up here talking sh*t about him. Jason is going to come up and lose his sh*t on you! Vanessa says well let him, I'll lose mine right back on him! Jackie says well not lose his sh*t but come talk to you about it. Vanessa says those words never came out of my mouth. Jackie asks so you want Jason out? Vanessa says I want everyone else to decide. I think its best that Jason goes home and Becky stays.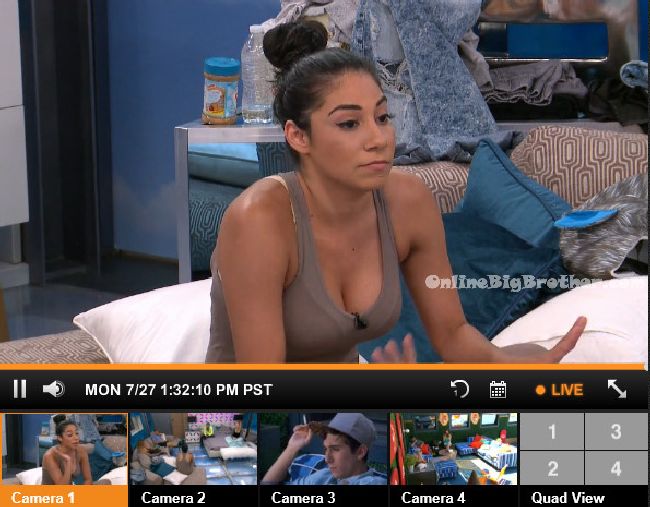 1:35pm Bathroom – Jason tells James there is no way I would have done you like that! No way. I wouldn't and Meg wouldn't have done you like that. They head out to the backyard and sit with Becky. Jason says Vanessa has shown she can't be trusted. Becky says the first thing she said when she won was oh f**k. She didn't even want to win. Jason says she can't look me in the face after last week I gave her everything. Becky heads inside. James says lets just get it all out on the table. If it blows Vanessa's game up then oh well. Where does Clay and Shelli stand? Jason says I think they're voting for me unless that's not what the house wants. Meg comes out and asks James what's going on? James says people are telling me things. Meg says you need to not trust them!! James says she saved me that week Jeff went home. Jason says if I go you're next! She's not going to forget that you were her target. Even if she changed her mind for that week .. you're still on her list of targets. Meg says what happens next week if someone comes to you and tells you not to trust me .. are you going to listen to them?!! Meg says it doesn't make any sense on why you would do that. James says if ya'll don't see what is happening. Liz and her sister are picking a part our group one by one. James says our group is getting smaller and smaller. Jason says I will be way more loyal to you than Becky ever would!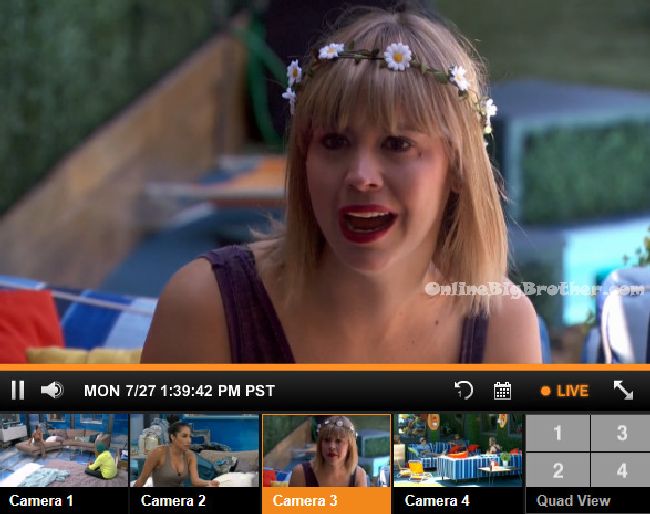 1:45pm – 2pm Havenot room. Shelli tells Clay and Austin about what happened in the HOH room with Vanessa calling her out on being behind the decision. Austin start rubbing Liz's back and Liz tells him not to. Shelli and Clay tells Austin that his plan to do the vote against Johnny Mac .. that was a brilliant plan .. why didn't you tell us?! Austin says he was scared to do it. Austin talks about how it was Judas and not him. Meg & James join them and says she is just so upset that she is always the last person to know. This house isn't what I thought it would be! Meg says I am just so hurt personally! Jason, me and James were in the bedroom talking so much personal stuff and I actually thought I knew her. Her whole plan was to target Austin. I wasn't on board with that. Shelli says that Jason was the one started all that. From my understanding it was a group decision. Meg says James and I were the last people to be brought up. Shelli says no you weren't. Meg says when James, Jason and I were called up ..there was a plan already set. Clay tells her that Austin doesn't even care to win .. he thinks he's already won with Liz. Meg says I don't believe that for a second! Clay says his game doesn't matter to him. Meg says okay maybe I have no soul! Shelli says I agree with Meg. Meg says he has the tattoo and everything. James says Vanessa said Jason said some things that were disloyal to me and asked how is she supposed to take a swan dive expecting him (Jason) to catch her when he isn't loyal to one of his closest friends.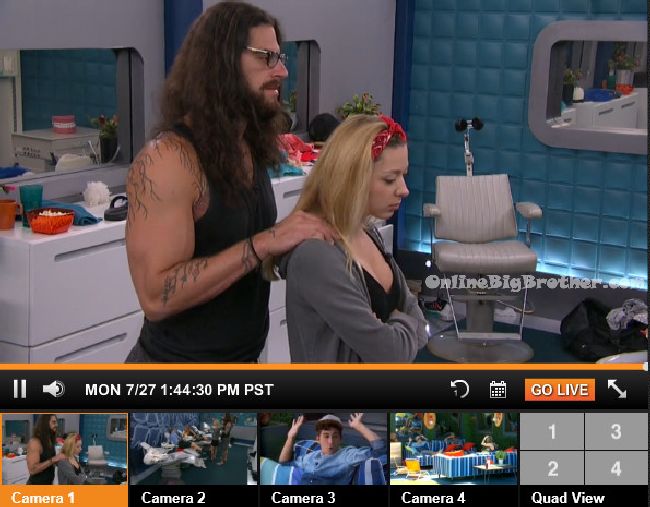 2pm – 2:10pm Backyard. Austin says they saved me this week and I can't even speculate on them. I was telling them more about wrestling and Judas. Austin says the speculation is that Meg and Jason were those two other votes for Audrey. (It wasn't it was Steve & Liz) Lis says yup Meg and Jason. Liz says she's worried Jackie will come after her now. Austin says I am taking Jackie out next week. You don't even have to worry about it. It done.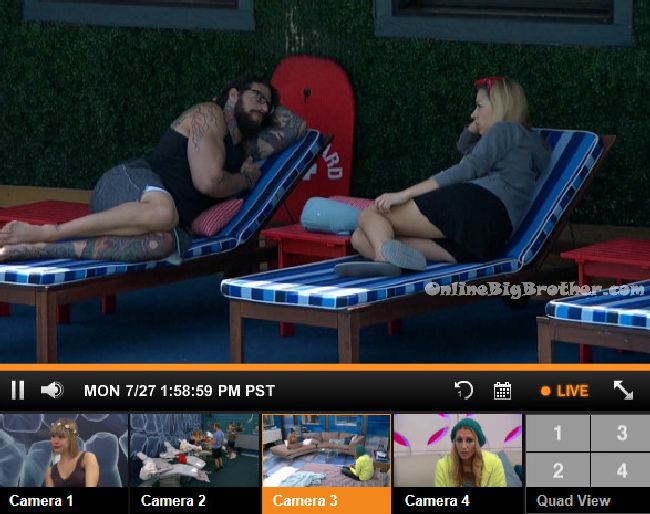 2:15pm Havenot room – Meg says I can't wait for next week to see which of my two good friends are on the block! James says I'll tell you what I am not volunteering to go up or throwing anything. Clay says you know what sounds good right now… a big o'bowl of slop! They head out of the room together.
HOH room – Vanessa says that everyone has their own reasons for wanting to get Jason out. I will tell you of all the things about Jason.. He said comments not to me but to others about how he didn't have any long run plans with James. This is about someone he has been working with since the beginning so that worried me. Jackie says it just sucks that I am not part of the numbers. Its clear I am working by myself. Vanessa says there are a few of us that are (working alone). Jackie says it doesn't sound like it. Big Brother blocks the feeds. Jackie says Jason said he didn't talk sh*t about James. Vanessa says well he did talk shit about him and a lot of people came to tell me that. I believe he did. Maybe he didn't .. that was a small piece of icing on the cake. Jackie says I'm worried about that happening to me.. I'm being as loyal as I can and when its my time to go I'm worried people are going to talk sh*t about me. Vanessa says I'm worried about that too but the redemption is the truth will be on tv.
2:30pm Bathroom – Jason says everyone before me that got blind sided got a warning .. I'm the first person in big brother 17 to get blind sided. Meg asks why didn't she start this all last night with him. It just doesn't make sense how it all went down.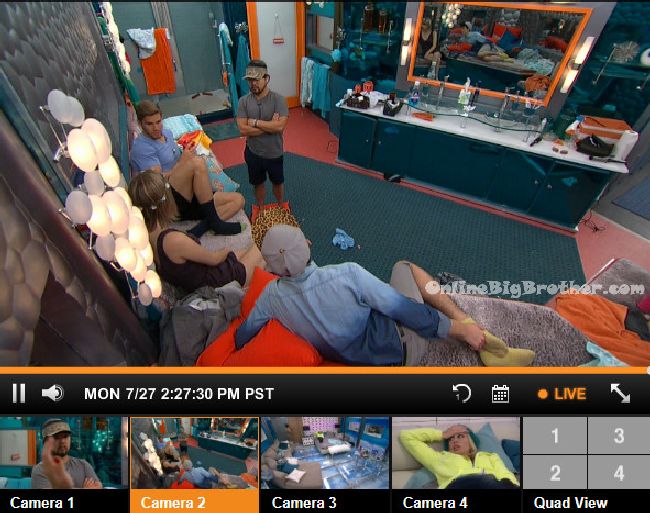 [polldaddy poll=8994045]
Share it YO!!
Tweet