POV Holder:
Clay
Next POV
July 25th
POV Used
?
POV Ceremony
July 27th
HOH Winner Team 1:
Jackie
HOH Winner Team 2:
Vanessa
Nominations 1 :
James & Liz
Nominations 2:
Clay & Becky
Battle of the Block Winner
James and Liz
Next HOH/ Next BOB
July 30th / July 24th
Original Nominations:
Clay and Becky
Current Nominations:
?
Have Nots
Shelli, Clay and Steve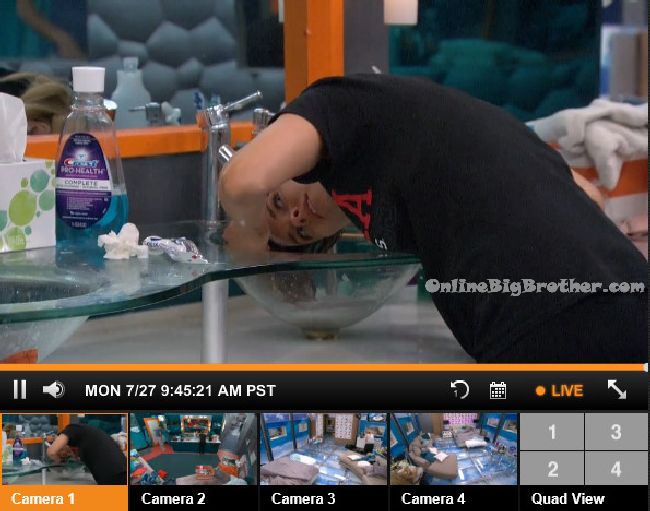 TRY the Big Brother 17 Live Feeds FREE for 1 WEEK:
Click here to ensure your live feed subscription supports OnlineBigBrother.com at no extra cost to you.
9:45am Bathroom –
Shelli is washing her hair in the sink to avoid having a cold havenot shower. Jason asks how Shelli slept. Shelli says she didn't sleep well and had bad dreams.
9:50am Backyard – Johnny tells Becky that Steve came to him to make a final 2 deal. I said yeah but I don't think he is going to make it that far. He's expendable. Do you have a final 2 deal with anyone? Becky says no. She says that's why she is okay with Jason going. I don't even talk game with Jackie. Johnny asks her do you want to go to the end of this game? Becky says she doesn't want to any alliance or finals until we get close? Even my weekend has changed so much. Johnny says there's a lot of stuff I've known about that I haven't been about to tell you about. This change up is alright. At any point just let me know. Becky talks about the BOB and how it was supposed to go one way with James throwing it but he was the one that told Liz she was missing an "i" in Christine which made them win it in the last seconds. Jason joins them.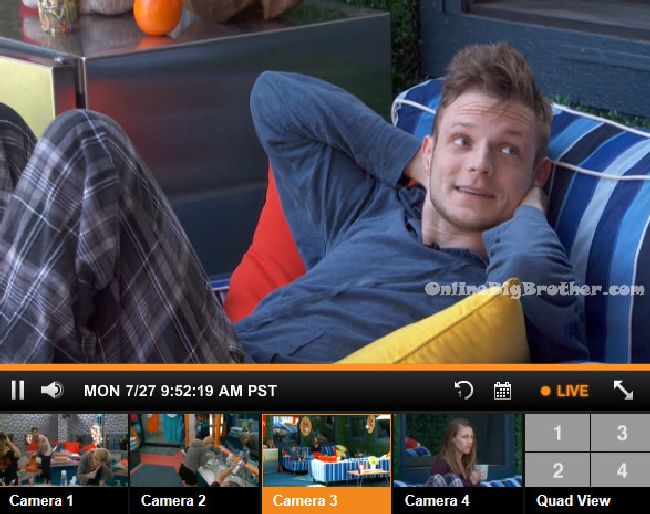 10:15am – 11am HOH room – Vanessa asks Jackie do you know is actuality who had the phone booth thing? Jackie says yes. Vanessa asks is it someone other than Day? Jackie says no. Vanessa says so you know for a fact because she told you? Jackie says Jason told me. Vanessa says so you believe based on what someone told you .. you don't know for a fact. There's a difference. Jackie says right. Vanessa says doesn't it make sense who she excluded. Jackie says she didn't nullify Clay because that would have been too obvious. Vanessa tells Jackie I have some things that just don't add up. I knonw that after this week people are going to go back to lying to me. Information came my way only because I'm HOH. Jackie says that she can trust her. I didn't get that much information. Vanessa says it comes after, closer to.. The information came within the 8. Jackie asks so someone's lying to you? Vanessa says yeah. Jackie asks is it affecting your decision today? Vanessa says it does. It affects whether we have a solid group of 8. Jackie says I think we need to sit down as a solid group of 8. Like hey this is the deal, any questions, this is what's going on. Jackie says everyone is excited about it. Its like taking a limo to the top 8. But of course past stuff is going to pop up from the past before we were together. So people in our 8 talk about our 8? Vanessa says yes. Vanessa says I am being backed into a corner from 3 different sides. I don't know if people are seeing an opportunity or what? I'm just going to do what I was going to do. Its good. I believe everything you've said. You have nothing to worry about, I shook your hand. I would never go back on that. Same with Becky. Jackie asks why are we going against our people already. Why?! It could be so easy! Vanessa says because there are people that are paranoid and flip floppy. I have Austin on one side that lied to me and then this other person within our alliance. Vanessa says there is no long term loyalty within this group. Vanessa says I'm just going to do what I need to do and then address it with that person after. Jackie says this is why we can't have nice things. Vanessa says exactly. Vanessa says if you could pick 2 people within the 8 that you can trust completely who would that be? Jackie says she isn't sure. I know Shelli doesn't really trust Jason. Vanessa says 1 million 100% your a$$ is safe! This has nothing to do with you other than you're within the 8 just the same as I. Jackie says the only person I am questioning is Shelli because I haven't talked to her. Jackie says James, Jason and Meg are all excited about this and getting down to the final 8. Vanessa asks do you think things have gone to far and that people have their loyalties. Jackie asks why can't we just wait till we get to that point. Do you think they're trying to sway your decision today because that's not cool either behind our backs. If someone is trying to change your mind behind our backs then we are going to have a problem. Vanessa wonders if everyone wanted to be in the 8 or if some were strong armed into it. Vanessa tells Jackie does it not concern you that James was supposed to throw the BOB and in the final seconds he told Liz to get the "i" in Christine. Isn't that concerning to you? They won by 3 seconds. Why would you correct the spelling if you were trying to throw it.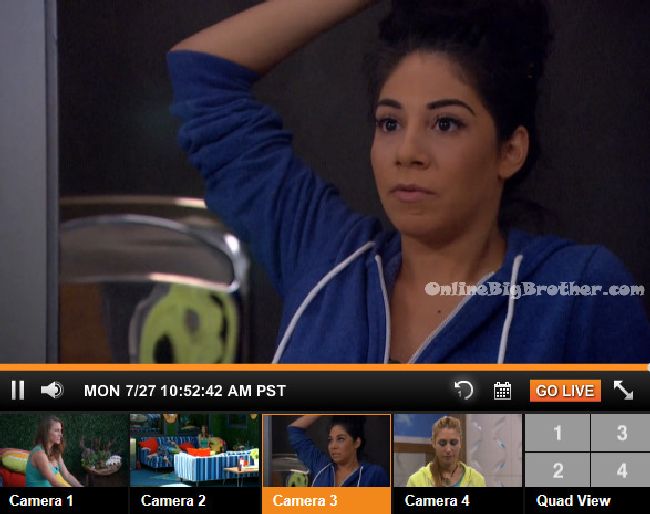 11am – 11:10am Kitchen – Becky asks Clay if they ask me if I knew do I tell them? Shelli tells her that its better you act like you didn't know. Becky says it will be hard because I don't have a good poker face. Becky asks Vanessa if she should say she knew the target is changing with in the hour and Vanessa says sure. Vanessa tells them that she just asked James if he corrected Christine's name within the last few seconds and he said YES! Why the f**k would he do that if you're trying to throw it?! Vanessa goes upstairs and tells Jackie. Vanessa says like that really f**king pisses me off! That put us in this position!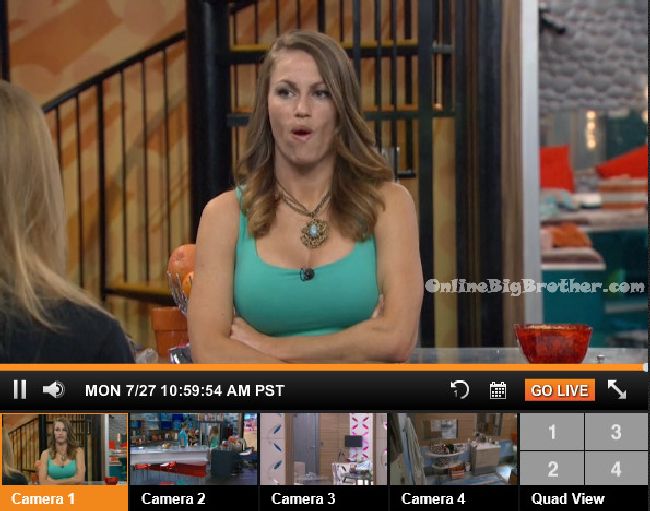 11:15am James says Vanessa just asked me a weird question? She asked me if I spelled I with Christine. Jason says yeah it has two "i's". James says it kind of make me paranoid. Jason says don't worry about it. Jason says it sounds like Liz had one wrong and you tried to correct her. Jason says people don't ask questions in here for no reason. James says she's insinuating that I was the one that got it right to win the comp. James says he didn't put up any of the names. That was all Liz. James says I need to nip this in the bud before it turns into something else.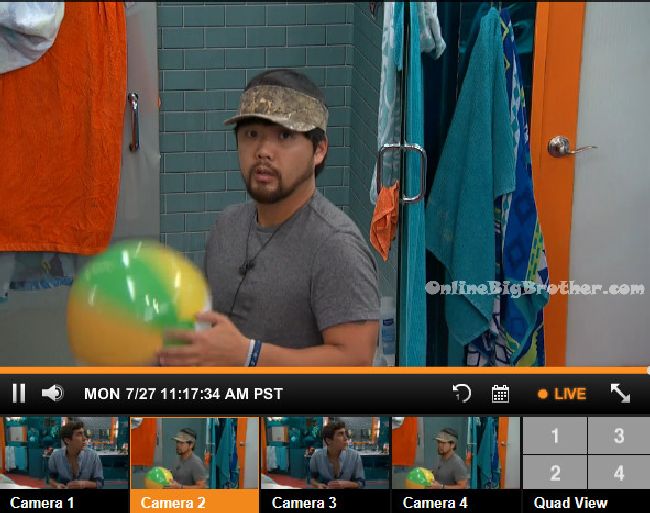 11:25pm James talks to Clay by the hammock. Clay asks did you put the "i" in Christine? James says no, I told her it was spelt wrong. Clay says maybe now she thinks you were trying to win the comp when you were supposed to throw it. James says yeah probably. Clay says if you hadn't put the "i" in it then we would have won. James says I don't like that though. Clay says I'll talk to her. You're safe any ways. James says I don't want her going to Becky saying I tried to win it. Clay says I'll feel her out. Clay says I'm taking myself off and Austin should go up. It doesn't matter. James says that's why I don't get why this matters. Plan A didn't work out but you got yourself off the block so it all worked out. James says there are no rules that say you have to throw a comp this way. Clay says this is what you say .. you can only do so much to throw a comp before it affects my game.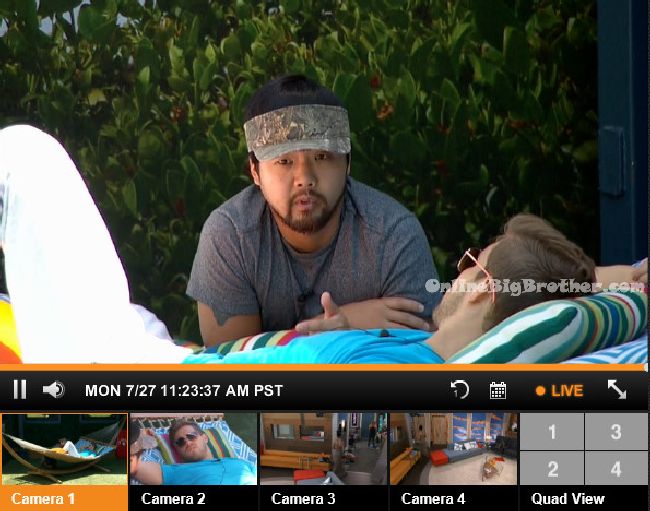 11:30am Comic bedroom – Jackie and Vanessa talk about Day Phone Booth thing. Shelli says that it doesn't make sense who was nullified if it was Day. Jackie says I don't know why we would go against each other. Shelli says all I know is it got really weird when Vanessa found out James didn't throw that comp.
11:35am Havenot room – Shelli tells Vanessa that Jackie just pulled me into the room and said that you're acting really weird. Vanessa says I told her someone within the 8 is lying but I didn't tell her who. Vanessa says the line is going to be very clear once I say my speech. I just need to know that you and Clay on board with this? Shelli says we are.
11:40am Big Brother blocks the feeds for the veto ceremony to take place… Get your live feeds now because this week is about to get crazy! Try the live feeds FREE for 1 week!
[polldaddy poll=8994045]
Share it YO!!
Tweet