POV Holder:
Vanessa
POV Competition
Aug 22nd
POV Used
No
POV Ceremony
Aug 24th
HOH
Austin
Next HOH
Aug 27th
Original Nominations:
Steve and Jmac
After POV Nominations:
? and ?
Have Nots
No have nots this week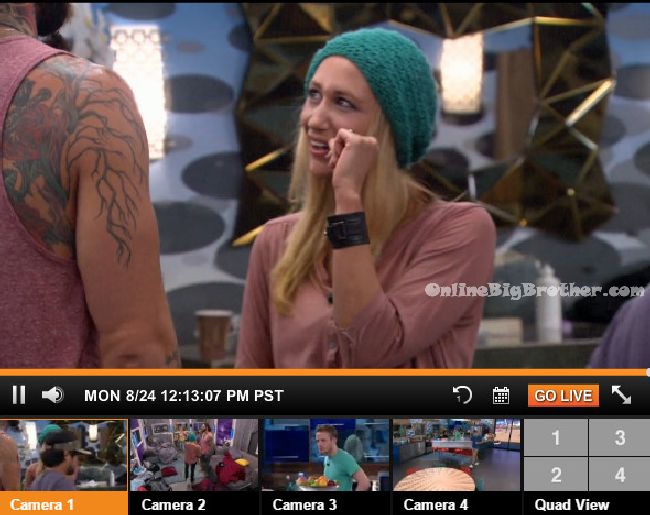 11:15am – 12:13pm The live feeds are blocked for the veto ceremony to take place. When the feeds return – As the power of Veto holder – Vanessa did not use the veto. The nominations remain the same and so either Johnny Mac or Steve will be evicted on Thursday. Which ever is evicted will have an opportunity to return along with Becky, Shelli, or Jackie.
Bedroom – Austin says I love your metaphors. Vanessa says I am not a phony! If I tell you we're f**king cool we're cool! If I tell you we ain't, we ain't! He was always hugging me! Austin says oh yeah I forgot he always hugged you.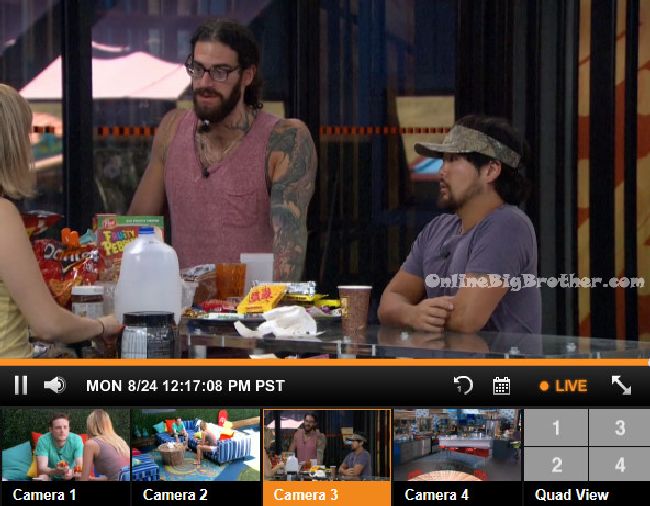 In the kitchen – Meg asks Austin what the hell was that earlier? Austin says it was Johnny Mac trying to throw us under the bus to her. He tried as a last ditch effort to try and flip it on us.
Watch the NEXT WEEK of the Live Feeds for FREE! Click here for your: 1 Week Trial

12:15pm Backyard – Liz tells Johnny everyone wanted Vanessa out at one point but you doing that makes me feel like when your back is against the wall you will blab your mouth. Johnny says I just felt like you not willing to put up James or Meg made me feel like you were more with them than me. Johnny says I understand why it would piss you off. Liz says she came at me and I admitted it was true. You're not out of this house yet. Johnny says I feel like I am. I know you guys are closer to Steve. Liz says Steve has done a lot too. You're not out of the game yet. Johnny says if there are deal with everyone .. what can I do. I felt like I had to do it. I'm sorry though. Liz says I know me and Julia are probably the swing votes and Vanessa too. It is what it is, its just a game. It makes you do erratic things. Johnny says sorry. Liz heads inside.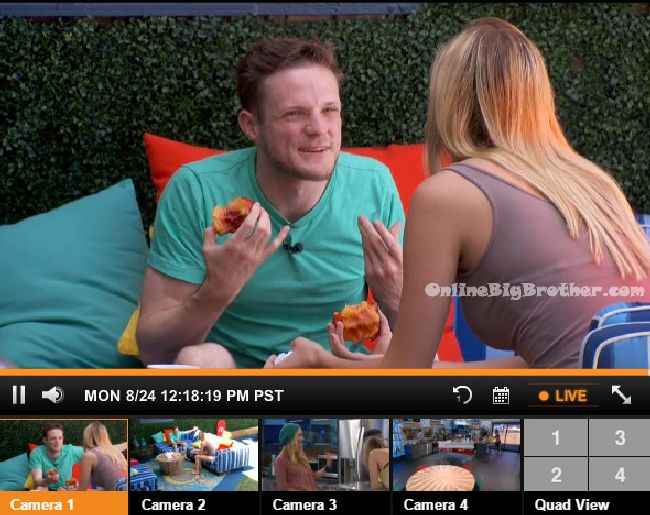 12:25pm – 12:30pm HOH room – Liz tells Austin about her conversation with Johnny Mac. He said he knew he was the target by the order of which photo went up first in nominations. He said he knows he's going home. Austin says no Steve is going home. Vanessa wants Steve out badly. Liz says I want Johnny out. Steve is good for her her game not for ours. Austin says Johnny Mac is out for blood. Steve I don't know. Austin leaves to confront Johnny Mac. Liz says I don't care what Vanessa wants, I want Johnny Mac gone. You need to start helping us out Julia you are literally doing nothing. Julia says I didn't start any of this sh*t. I woke and didnt know what was going on.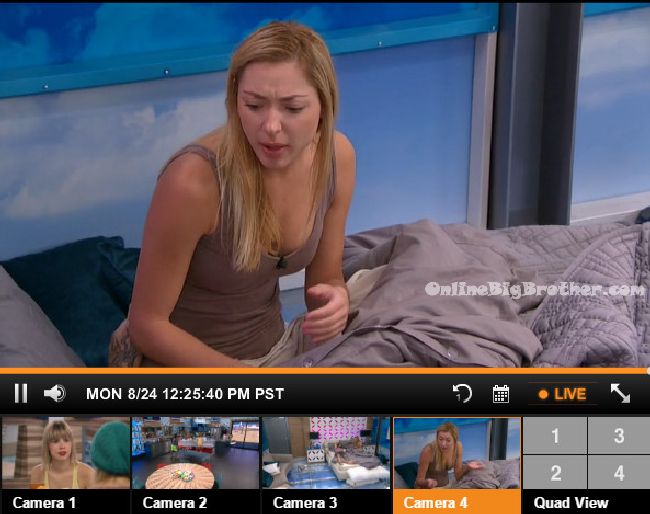 12:30pm – 12:50pm Backyard – Austin comes outside angry to talk to Johnny Mac. Austin says the whole deal about not putting up James and Meg was because I made a deal with them. Johnny says whoa.. lets calm down a bit and talk about it. Austin says this wasn't some mastermind by Meg and James .. if it was then I would have let James win and take you out. Austin says everyone was coming up to me asking if it was being used or not. Its wasn't my call with Vanessa using it (Veto) or not. Austin says I'm not that mad. I just came down to make a dramatic scene. Johnny says we all have a reason to be mad. Johnny says I'll go tell her (Vanessa) that it was my idea too. Austin says I wouldn't do that because right now she wants Steve out .. unless you want it to be even again. If you can calm the girls down you might be able to flip them. Austin says its not personal. Johnny says I don't think it was a mastermind thing. I think there were just a lot of deals and I was at the short end of the stick. Austin says I don't want you to think because your key went in first that I was coming after you because I wasn't. Johnny says just like you had to make a deal with James, I had to do what I had to do. I knew it wasn't being used at that point. Johnny says I don't blame you for anything you did. You did what you had to do. Austin says don't think your fate is sealed. Johnny says I know you guys are close to Steve…. I'm going home. Austin says not necessarily. Johnny says I hope you understand why I did want I did. Austin says I do. They head inside. Johnny announces we're good.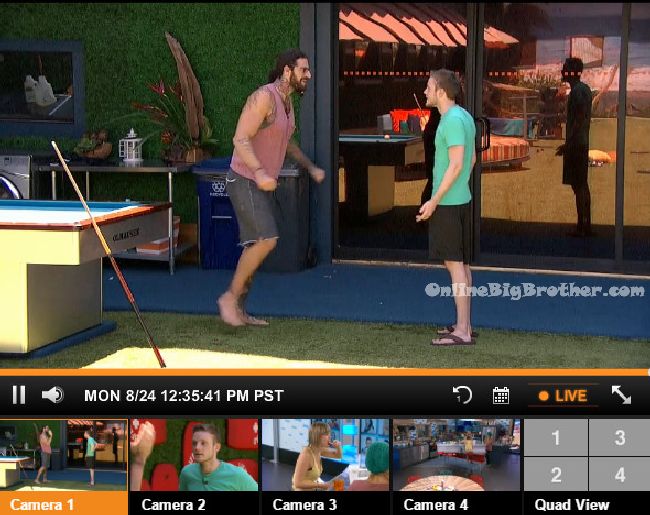 Austin fake being mad at JOHNNY Mac @bigbspoilers #bb17 pic.twitter.com/iH2FkVoHSt

— Dawg (@DawgsBigBrother) August 24, 2015
12:50pm – 1pm Backyard – Julia talks to Vanessa. Vanessa says I don't blame you girls or Austin at all. In the same spot I made the same mistake. You guys did the same thing. I want you guys to know it was primarily orchestrated by Steve. And I confronted him. He admitted it. I told Meg and James if they want Steve out I am voting him out. Then Steve came out and blew everything up to everyone. Julia says I do not like Johnny Mac. I cannot talk to him. Vanessa says if you guys really feel like we should (Vote out Johnny Mac) then I will. I'll listen to you guys. More than anything I am hurt. I'm acting mad but I'm hurt! All I've ever had is the best of intentions for our group. I understand though. Julia says everything happens for a reason and now the air is clear.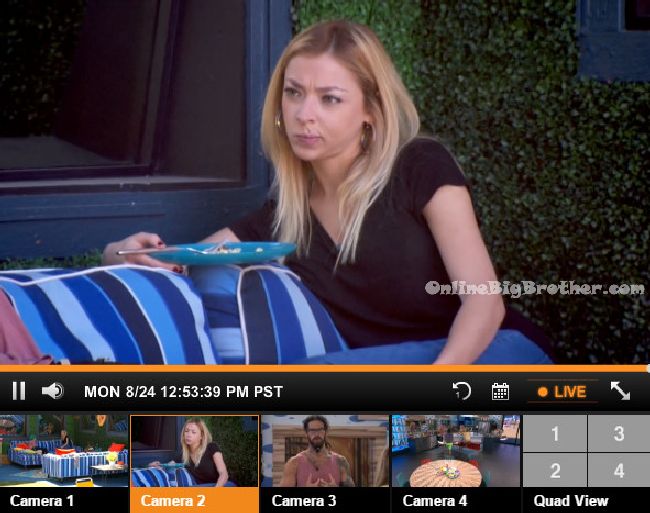 Kitchen – Austin tells James and Meg about his conversation with Johnny Mac. Austin says I think we could all get together and get Johnny Mac to throw the HOH next week. Austin says Steve tried to throw me under the bus in front of everyone. Austin brings up how Johnny Mac asked if he should go tell Vanessa it was part his idea to make an alliance to get Vanessa out. I told him no! What are you doing?! Meg says I don't get why he (Johnny Mac) won't just campaign against Steve to stay. Austin says that's all he needs to do. Vanessa already wants Steve gone.