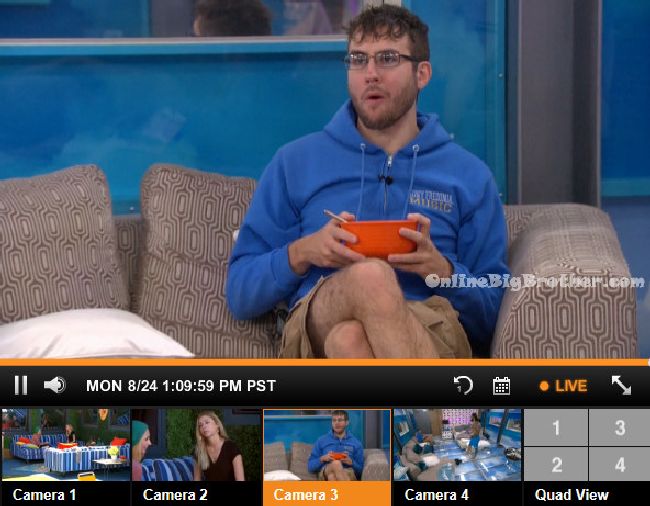 1:07pm – 1:20pm HOH room –
Steve comes up and says he has zero desire to game talk. I just want to get away from the awkwardness. Austin says I know why Vanessa is mad at you but she just has to calm down for a bit. Steve asks why is Vanessa mad over John? Austin says she is mad at you .. not because you orchestrated it.. She is mad because you came up to her and being over the top phony with her. She thought you were two faced. You were coming up to her being nice and at the same time ready to send her out the door. Austin brings up how Johnny Mac doesn't know the game .. he said he wanted to go to the final 4 with us and that he would back off and let us decide. Like if he won the veto he would let us decide. That's not how it works. Like we would decide which one of us dies?! Steve says that's a strange deal. Austin says there in no incentive in that deal. Vanessa wants you gone but the twins want you here. Johnny Mac has hinted that you think me and the twins are too strong. Steve says Johnny Mac is going to say whatever he needs to say. And I wouldn't be trash talking you while I'm on the block. Steve asks so you think I have the twins vote? Austin says as of right now, yes you do. They don't like how Johnny Mac says anything when his back is against the wall. The vote is up to James and Meg want to do and Vanessa could be the swing. Steve asks what should I do? Austin says tells him to leave her alone. I will talk to her. I need to convince her to keep you. And I'm not just saying that because you could come back. The way Johnny Mac says things just rubs me the wrong way. Careful what you say to James and Meg. I think they're going to group vote again. Their conversation turns to talking about how Austin originally started watching BB1. Steve says he didn't watch it.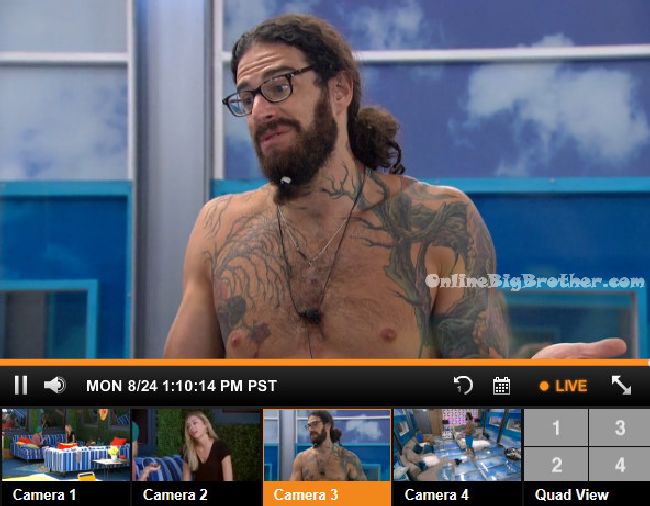 1:25pm – 1:40pm Vanessa comes up to the HOH room. Austin starts to defend Steve but Steve stops him and asks Vanessa if she wants to talk. Vanessa says she wants to talk but later. She says that she is on tv and doesn't want to act a fool. Steve heads out. Vanessa asks Austin did I do something wrong acting the way I did. Austin says no, I told Steve that I've been yelled at Vanessa before and you just need to let her cool down. I told him to talk to you after you cool down and tell you why he was being so phony. Austin says that he was going off of us all being so hesitant with you. He was going off info that Johnny Mac had told him and Becky. Once I talked to you he was back on board with you because he trusts me. When he came up to you after you were picked for the veto and hugged you he was being genuine. Johnny mac is lost to us now. He is going to come after me and the twins. Vanessa asks why did you go off on him. Austin says because he thought not putting up James and Meg meant we were more with them. And his key coming out first meant he was the target. He wanted to come in and say it was just as much his idea. Vanessa says what he doesn't understand is that it was Steve was being phony. All last week he was acting like my best friend. DON'T be my fake friend if you're not. Austin says my only concern is that James and Meg are okay with this and then we figure out who should go. I feel like if we can quell Steve it would be better because Johnny Mac is so rogue. He will lie to your face and stab you in your back. He will make a deal and then go right back on it. Vanessa says I never saw you so mad before when you came down saying you wanted to rip Johnny's head off. Austin says I was mad because he mad Liz upset… but I came down and wasn't that mad. Johnny mac was actually really scared. He kept saying lets just talk this out, I like you, I like you.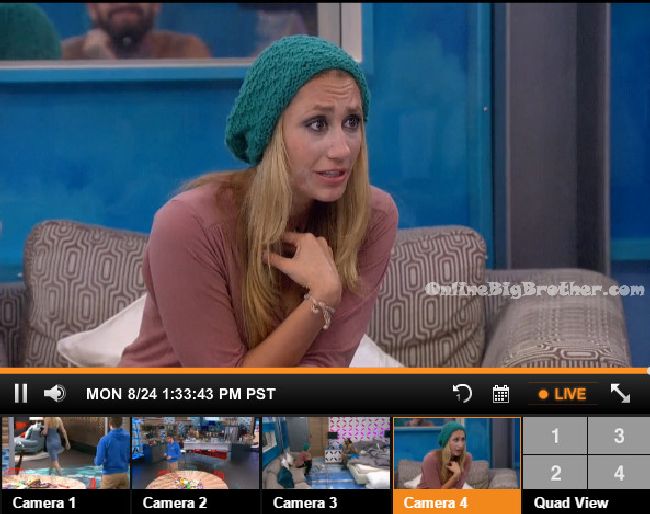 1:43pm – 2pm Liz joins Vanessa and Austin in the HOH room. Vanessa asks do you think I should talk it out with Steve. Austin says I think you should let it marinate for a while. I think we should make good with both of them so we can make our decision. Johnny will pick up the person that comes back and try to take me and the twins up. Vanessa asks if Steve even feels bad. Austin says yes. Liz says she thinks they're both going to come after us now. Vanessa doesn't think Steve would go after them. Austin says lets just see how the next few days play out and decide Wednesday. Vanessa says Steve cant be trusted. Austin says that John can't be either and John could link up with the returning juror. Austin says right now, my feeling is to keep Steve over Johnny Mac. Liz agrees. Vanessa leaves. Julia, Liz and Austin talk. Austin talks about his conversations with Steve and Vanessa. Austin says Steve is becoming everyone threat and its concerning that Johnny Mac could fly under the radar again and make it till final 2. Austin says we should get Steve to swear on the bible he won't come after us because he doesn't like to break his word. I don't want to touch the bible but Vanessa will. Any ways I think Vanessa should go. Austin goes to work out.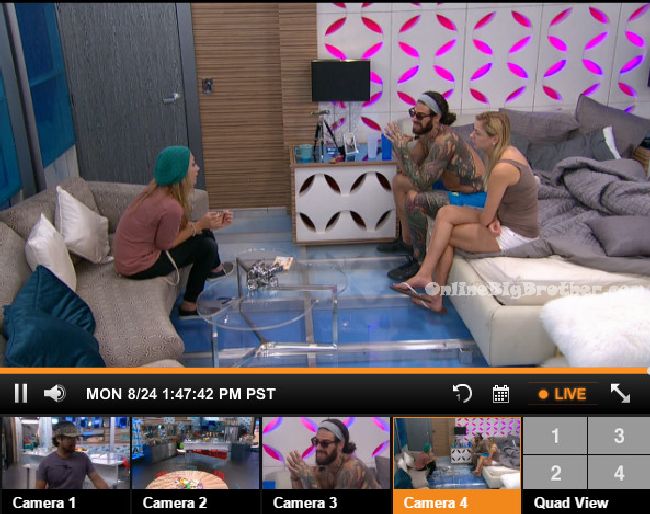 2pm – 2:20pm Julia says I want Johnny Mac gone. Liz says I want Johnny Mac gone. He said if he comes back from jury he is coming after us. I am over it, I am not talking to him. If this was bad girls club I would have hit pot and pans over his head and then thrown his clothes in the hot tub. He is counting on our votes, does he not realize that!? We are the swing votes. Julia says I don't want to vote against Johnny Mac and then he stays. I think we could let it .. well not let it go with Steve but I think we've worked this long with Steve. Julia asks will Vanessa vote with us? Liz says I don't know because I think Vanessa and James want Steve out. Johnny Mac go back to sleep. You were more useful when you were sleeping.
Julia says that Johnny Mac's veto speech was "Asking you to use the veto on me would be like asking a lion and a gazelle to hangout and not eat each other. Don't use the veto on me!" Julia says that wants to hide Johnny Mac's clothes. Lets make something up about him. If Johnny Mac wins he is going to put up you and Austin and put me up if one of you come off. Liz says if anyone puts us up together .. they are 110% not getting my vote. I don't care if its Meg I have to vote for.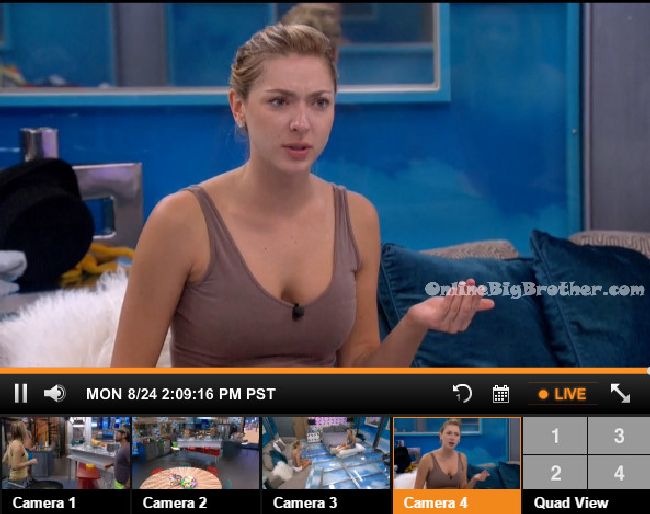 2:05pm Kitchen – Austin, James and Meg are talking. Austin says we could potentially get Johnny Mac to throw the next HOH and then we can all target the person who comes back. James says if Shelli comes back I am just going to give her my key. I know I would go up if she won.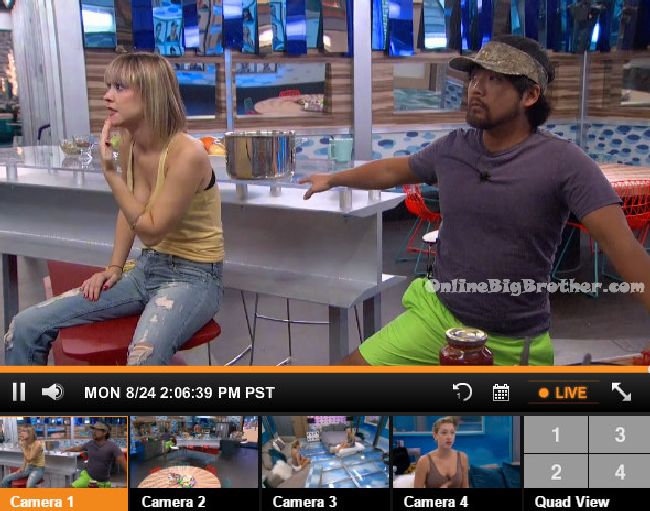 2:20pm Austin and Johnny Mac are working out.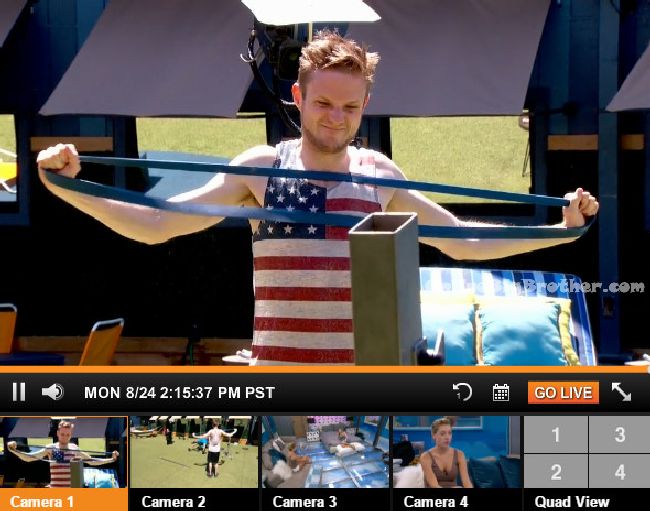 Help support all the live feed updates we provide. Show your support by making a donation. Any amount is greatly appreciated!